Sisolak campaign raises $1.6 million in 2019, has $2.3 million in cash more than three years before next election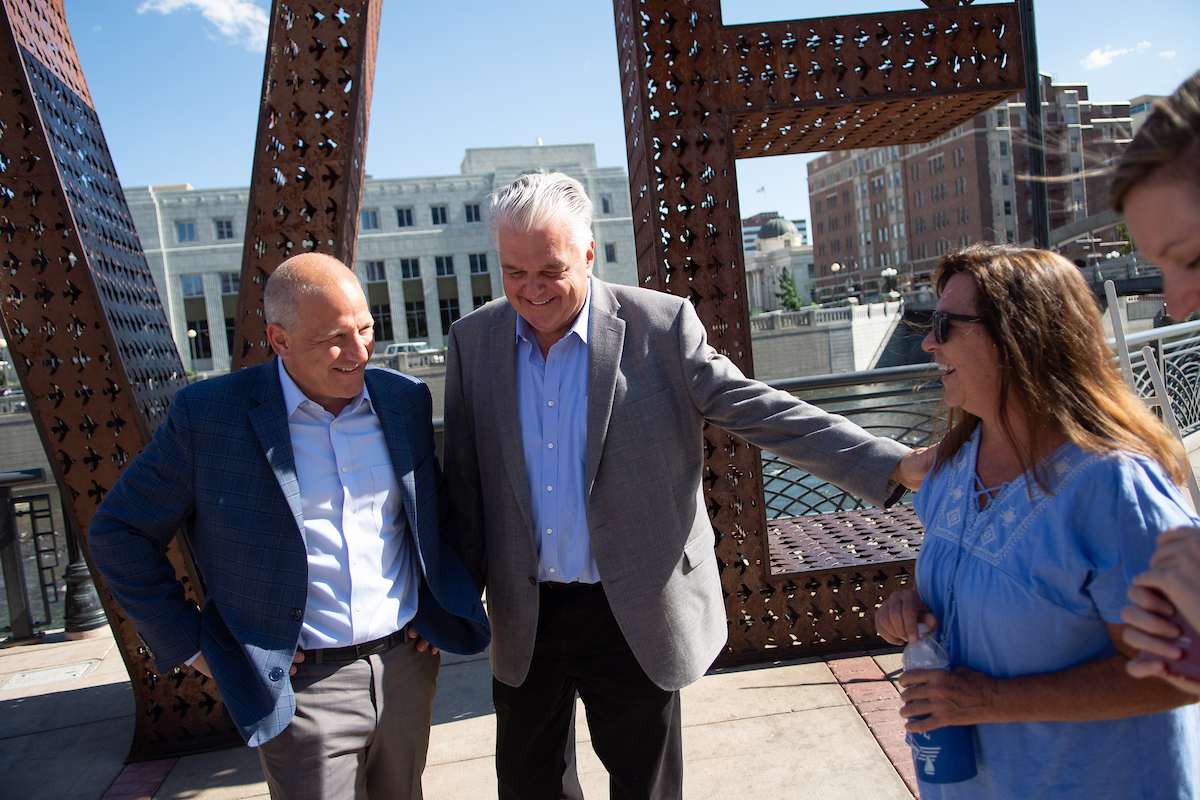 Gov. Steve Sisolak raised more than $1.6 million and substantially padded his campaign war chest during the first year of his term, giving the state's first Democratic governor in 20 years a significant financial advantage ahead of an expected re-election campaign in 2022.
Sisolak's Contributions and Expenses report was released on Wednesday and shows the governor's campaign spent $164,000 throughout the year while pushing his cash on hand total to more than $2.3 million. The report covers all contributions and expenses in 2019.
Almost all of the funds raised came after the close of the 120-day legislative session, owing to a state law that prohibits the governor, lieutenant governor and members of the Legislature from accepting campaign contributions during and immediately before and after the body is in session.
"That level of support shows a wide cross-section of Nevadans appreciate that the Governor fought for better schools, great jobs and affordable, accessible healthcare," Sisolak finance director Eva Black said in a statement. "People are responding in unprecedented fashion to the governor's agenda of enhanced opportunity for all Nevadans."
In addition to his campaign account, two political action committees affiliated with Sisolak reported raising another $1.7 million throughout 2019. The Sisolak Inaugural Committee, which funded inauguration events for the new governor, raised more than $1.5 million throughout the year, and the Homes Means Nevada PAC (which has run ads supporting the governor on TV and online) raised another $947,000 (which includes a $686,000 transfer from the inaugural PAC).
Sisolak's total contributions tops the figures reported by Nevada's past governors over the first year of their term; former Gov. Jim Gibbons reported raising $110,200 after his first year in office, and former Gov. Brian Sandoval's campaign raised nearly $673,000 during his first year.
It also highlights the wide variety of business and other interests that have sought to influence or win favor with the state's new governor, including casino companies, mining corporations, developers, Las Vegas-based businesses and labor unions. Most of the donations came from big-money donors; only $1,458 was raised by individuals giving $100 or less, while the campaign received 81 contributions of $10,000, the largest allowable amount.
The largest individual source of contributions came from Las Vegas contractor and developer Steve Menzies, who directly and through nine affiliated business entities contributed $100,000 to Sisolak's campaign. He also received maximum contributions from a pair of donors mostly linked to Republican political efforts; South Point casino owner Michael Gaughan and Treasure Island Casino owner Phil Ruffin, a business partner with President Donald Trump.
Notable individuals who gave maximum contributions to Sisolak's campaign include former Diamond Resorts CEO and Democratic Party megadonor Stephen Cloobeck, former Congressman and lobbyist Jon Porter, longtime Sisolak confidant and lobbyist Jay Brown, prominent criminal defense attorney David Chesnoff and wife Diane, and lobbyist Alisa Nave-Worth.
Many well-known businesses also made maximum contributions to the campaign, including $10,000 each from mining giants Barrick Gold and Newmont, $30,000 from entities associated with M Resort President Anthony Marnell, and a maximum contribution from pharmaceutical industry lobbying group PhRMA.
Sisolak raised more than $11.1 million for his gubernatorial bid through 2017 and 2018, a larger total than the amount raised by his general election opponent, former Attorney General Adam Laxalt.
Political contributions to state candidates are capped at $10,000 per election cycle ($5,000 each for primary and general elections), but donors can easily circumnavigate those limits through making contributions through multiple business entities or through political action committees.
Top contributors to Sisolak's campaign account include the following:
$100,000 total from entities related to Las Vegas contractor and developer Steve Menzies; Focus Concrete, Focus Electric, Focus Fire Protection, Focus Framing, Focus Plumbing LLC, GTI General Account, HB Commercial Holdings LLC Steve Menzies, PostRoad LLC and Seashore Holdings LLC ($10,000 from each entity)
$30,000 from entities associated with Anthony Marnell; Benny's Holdco LLC, Anthony Marnell and Marnell Gaming
$20,000 total from Treasure Island Hotel and Casino owner Phil Ruffin and his wife, Oleksandra
$20,000 from long-time Sisolak confidante and lobbyist Jay Brown
$20,00 from Diana and David Chesnoff, a prominent criminal defense attorney in Las Vegas
$12,500 from political action committees funded by the Laborers Local 872 union; $2,500 each from 872 PAC, DNC PAC, G.O.P PAC, Laborers' for Solid State Leadership and Nevada Progressives United PAC
$10,000 from The Cosmopolitan
$10,000 from Steelman Partners, an international architectural design firm based in Southern Nevada
$11,000 from Wildcat Properties and Power House Plastering, Inc.
$10,000 from former Diamond Resorts CEO Stephen Cloobeck
$20,000 from South Point Las Vegas owner Michael Gauchan and the casino itself ($10,000 from each)
$10,000 from F&M Advertising
$10,000 from Centennial Hills Animal Hospital
$10,000 from Jayana Dils, a retired nurse from Las Vegas
$10,000 from Home Building Industry PAC
$10,000 from James Nave, a prominent southern Nevada veterinarian and owner of Centennial Hills Animal Hospital
$10,000 from lobbyist Alisa Nave-Worth
$10,000 from South Valley Animal Hospital
$10,000 from attorney James Awad
$10,000 from the trust of Fennemore Craig attorney Samuel Lionel
$10,000 from Nevada Heart & Vascular LLP
$10,000 from The D operator and owner Derek Stevens
$10,000 from Konami Gaming
$10,000 from Lee's Discount Liquor
$10,000 from former casino operator Jack Binion
$10,000 from David Ducommun, an executive with Cannae Holdings, Inc
$10,000 from the campaign account of former Nevada Sen. Harry Reid
$10,000 from Richard Massey, a former bank executive who lives in Little Rock, Ark. 
$10,000 from Resorts World, Las Vegas
$10,000 from Terrance Kwiatkowski, a doctor in Las Vegas
$10,000 from Lawrence Canarelli, a developer in Las Vegas
$10,000 from Coyote Springs Investment LLC
$10,000 from casino developer Gary Primm
$10,000 from Red Hawk Land Company
$10,000 from Village Pub Management LLC
$10,000 from International Union of Operating Engineers Local 12
$10,000 from Union City Partners, LLC
$10,000 from Peter Palivos, an attorney and businessman in Las Vegas
$10,000 from Caesar's Enterprise Services
$10,000 from health insurance giant Centene Management Company
$10,000 from personal injury law firm Eglet Prince
$10,000 from Marshall Retail Group, a specialty retailer focusing on airports and casinos
$10,000 from the Peppermill Casino
$10,000 from Warren Volker, founder and CEO of WellHealth Quality Care
$10,000 from Ernest Lee, a land developer in Las Vegas
$10,000 from Ainsworth Game Technology
$10,000 from Barrick Gold
$10,000 from the law firm of Bradley, Drendel & Jeanney
$10,000 from Cortez Gold Mine
$10,000 from Republic Services
$10,000 from Eric Kurtzman, an attorney in Las Vegas
$10,000 from Rudolph Family Trust
$10,000 from Judith Siegel, an executive with Las Vegas-based real estate firm The Siegel Group
$10,000 from Switch
$10,000 from BPS Management Services
$10,000 from Linda Schimberg
$10,000 from Todd Marshall, the former CEO and a board member at Marshall Retail Group
$10,000 from Mohave Dermatology
$10,000 from Reshma Shah
$10,000 from PhRMA
$10,000 from Sunrise Health Care System
$10,000 from Southern Highlands Investment Partners
$10,000 from Las Vegas Paving Corporation
$10,000 from Newmont Ventures Limited
$10,000 from former Nevada Rep. John Porter
$10,000 from Southwest Gas Company
$10,000 from Thomas Dolan, founder of Dolan Auto Group in Reno
$10,000 from Westar Development Corp.
Updated at 3:56 p.m. on Jan. 15, 2020 to include more details on Sisolak's fundraising with affiliated PACs.
Comment Policy (updated 4/20/2021): Please keep your comments civil. We reserve the right to delete comments or ban users who engage in personal attacks, use an excess of profanity, make verifiably false statements or are otherwise nasty. Comments that contain links must be approved by admin.