Sisolak, Giunchigliani vie for votes in one of Nevada's most Republican counties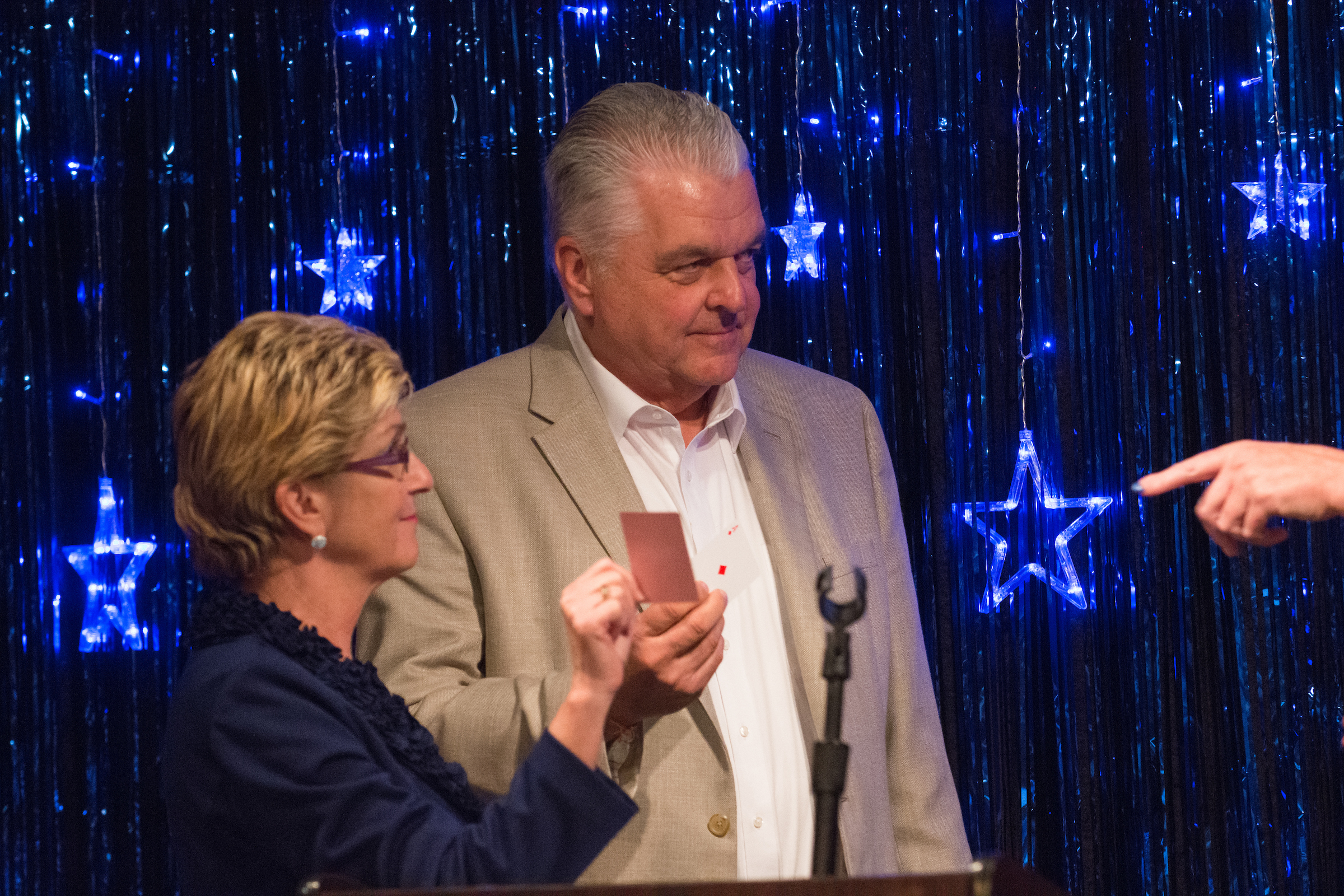 MINDEN — In a room full of Democrats in one of Nevada's most Republican counties, Democratic gubernatorial candidates Steve Sisolak and Chris Giunchigliani shared their confidence in a midterm "blue wave" and underscored the importance of swaying rural voters — while hinting at future attacks ahead of a likely contentious primary election.
The two were among several top Democratic candidates to address the Douglas County Democrats at their Blue Stars Rising Dinner on Saturday.
The Las Vegas Democrats campaigning to win back the Governor's Mansion for the first time since 1998 stuck to a similar script on Saturday in Douglas County. Other than a few jabs about Sisolak's ardent support for the Raiders stadium, they shared a common goal: Stop Republican Attorney General and gubernatorial candidate Adam Laxalt from winning.
In her speech, Giunchigliani doubled down on her opposition to the $750 million in hotel taxes approved for construction of a new stadium in Las Vegas to host the Oakland Raiders — a project championed by Sisolak.
"We can't just sit back and let politicians and wealthy NFL owners be the raiders of our children's education fund," Giunchigliani said.
Sisolak defended his vote in support of the stadium saying the Las Vegas resort community would never go for an increase in room tax to fund education and said the project would bring thousands of permanent jobs to the state without costing taxpayers.
Sisolak spent most of his speech criticizing Laxalt's platform and noting the similarities between his views and President Donald Trump's policies.
"The best way to fight back [against Trump] is by making sure we put up a firewall between Donald Trump and Nevada," Sisolak said. "That firewall is made up by Nevadans voting blue up and down the entire ticket come this November. Especially for governor, because we are facing a dangerous choice with Adam Laxalt."
Sisolak called Laxalt "a poster child of the anti-immigration stance in the United States of America," criticized his 2015 decision to join a lawsuit challenging President Barack Obama's executive order protecting Deferred Action for Childhood Arrival recipients from deportation and questioned Laxalt's decision to send a letter to Nevada Planned Parenthood facilities in 2015, inquiring about their procedures following publication of controversial videos discussing fetal tissue use.
Laxalt will face off with state Treasurer Dan Schwartz in the Republican primary with a platform that includes opposing federal funding for Planned Parenthood and sanctuary cities while supporting stricter immigration policies.
Both Sisolak and Giunchigliani spoke in favor of marriage equality and Sisolak criticized Laxalt's defense of a ban on same-sex marriage.
The primary opponents also said that rural counties will play a major role in the midterm election.
But winning the rurals will be a tall order for either candidate — Douglas County has only voted for the Democratic presidential candidate twice since 1904. In 2016, Trump received 62 percent of the vote in the county, while Hillary Clinton received 30 percent.
Candidates who spoke on Saturday included attorney general candidate Aaron Ford, lieutenant governor candidate Kate Marshall, secretary of state candidate Nelson Araujo, controller candidate Catherine Byrne, treasurer candidate Andrew Martin and 2nd congressional district candidates Vance Alm, Clink Koble and Rick Shepherd.
A common theme shared among the candidates was the hope of the Democratic victory predicted in the November midterms making its way into Douglas County and other historically red counties.
Although both Sisolak and Giunchigliani expressed the need of the Democrats to do better in the rural vote in this election, they acknowledged different strategies in how they planned to win Northern and rural voters despite living in Las Vegas.
The primary opponents have different approaches to getting their names and platforms out in rural areas. Sisolak said his message will come through primarily via paid advertising.
"The vast majority of people that are going to vote in this election are people who are concerned about making their car payment, buying groceries and getting their kids to school," Sisolak said. "Those are the issues they face on a daily basis. We have to communicate with all of those people, not just the activists. You have to do that through paid media."
Giunchigliani said she believes in spending time in the area, and reminding Northern Nevadans about the years she spent in Carson City as a member of the Legislature.
"That is not bad track record," Giunchigliani said. "It is better than Adam [Laxalt]'s who has only been here six years. It is better than my Democratic opponent who has never lived up in this area."
Editor's note: The Nevada Independent endeavors to cover key political events as often as possible. We sought to cover both the Storey County GOP brunch and Douglas County GOP event that featured Sheriff Arpaio on Sunday, Feb. 18. Our reporter was denied access.
Disclosure: Steve Sisolak and Chris Giunchigliani have donated to The Nevada Independent. You can see a full list of donors here.
Updated at 10:42 a.m. to include Andrew Martin as one of the speakers at the event.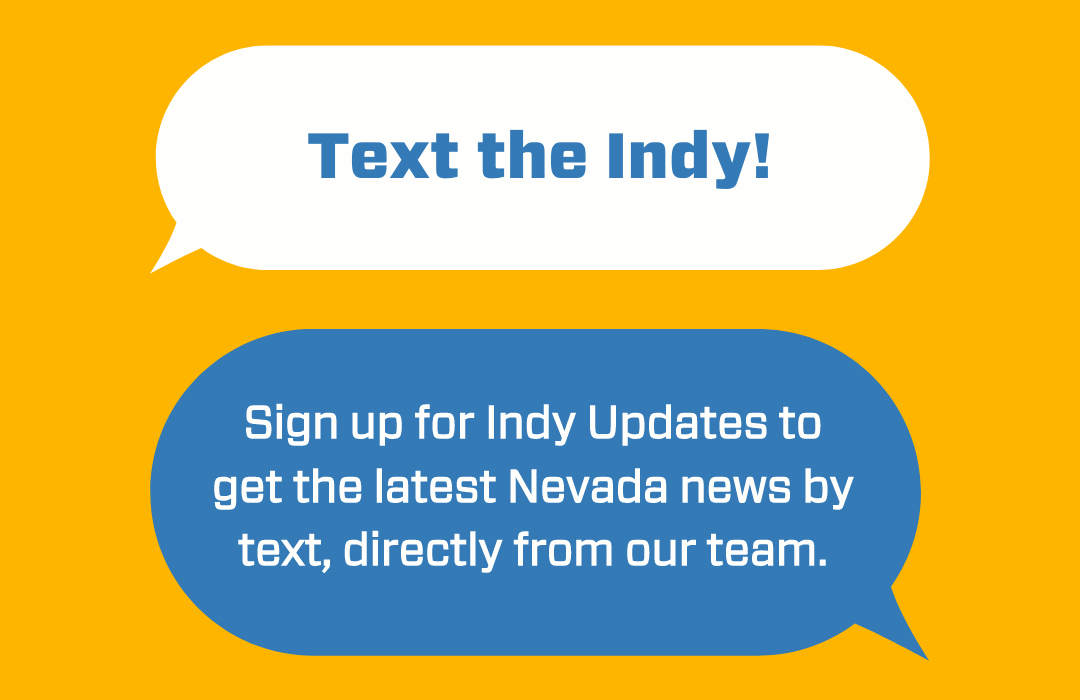 Featured Videos