Sisolak touts expanded unemployment insurance programs, backdating of claims to help people locked out of system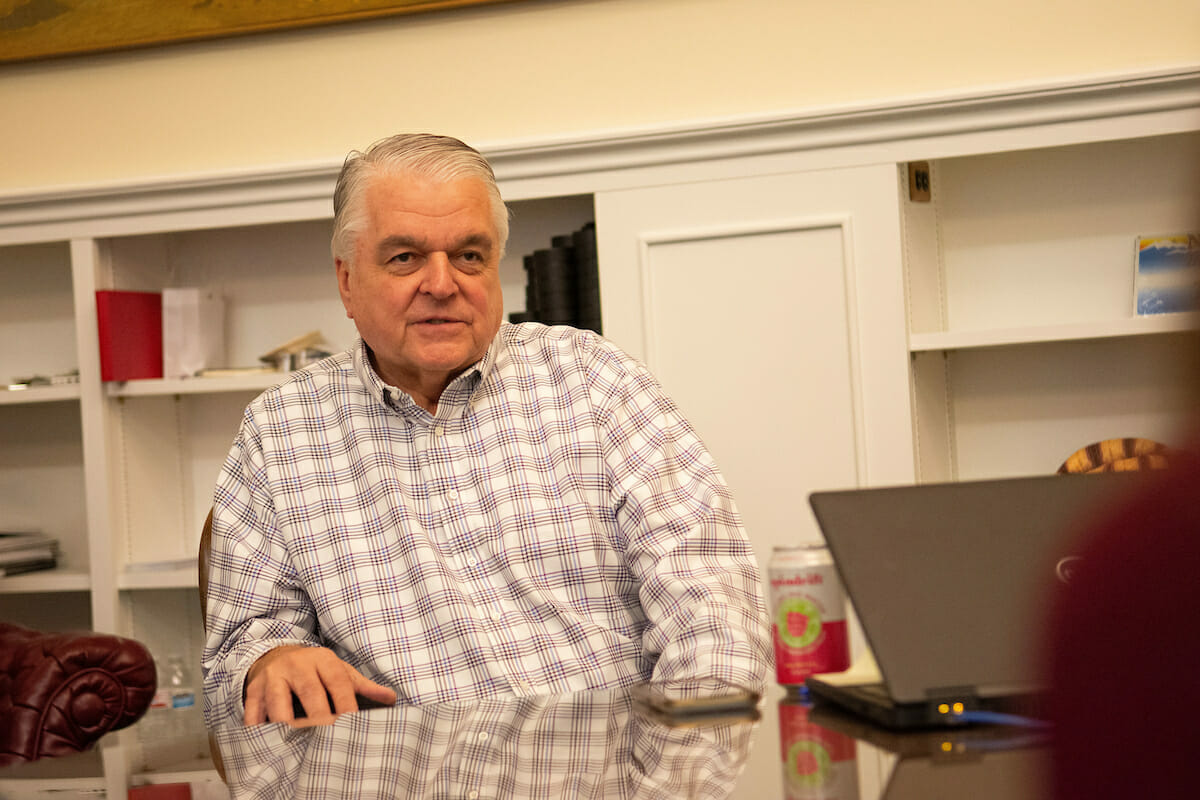 Gov. Steve Sisolak says that he has ordered Nevada's unemployment insurance agency to pay out claims retroactively — to as early as March 15 — as claimants struggle to get through in a system overwhelmed by unprecedented job losses.
At a press conference in Carson City on Tuesday afternoon, Sisolak touted a tripling of unemployment insurance staff and the hiring of an outside vendor to add about 100 people to man a call center starting this week. But he also urged residents of the state to have patience with the unemployment system as they encounter jammed phone lines, problems resetting passwords and other complications.
"I am listening to your concerns. I hear you. My office has received calls and emails from Nevadans across the state, and they bring me these messages, every night," he said. "I've read them. I hear them. I sympathize, and we're doing something about it."
Sisolak also said the Department of Training, Employment and Rehabilitation (DETR) will begin issuing additional weekly payments of $600 in "Federal Pandemic Unemployment Compensation" to those currently receiving unemployment benefits, making Nevada one of the first states to do so. The additional funds could start showing up for beneficiaries as soon as Wednesday.
Already, DETR officials said, more than $200 million of the state's $2 billion unemployment trust fund has been paid out in little less than a month. The governor said more than 300,000 people in the state had filed initial unemployment claims over the last 30 days, increasing at a rate far beyond what Nevada experienced during the Great Recession or at any point in the state's history.
"I know this is hard. I get your frustration. I remember when my dad was laid off, and what it meant to our family," he said. "We've brought in experts to look at our system, and the analysis shows what we expected to be true: The system was never set up to handle this volume of calls and claims."
Sisolak said the analysis indicated that a "complete overhaul" of the unemployment system was not feasible or practical and would exacerbate issues claimants are having now if executed immediately. The system already went dark for part of Saturday as programmers prepared it to administer several new federal unemployment benefit programs, including a program for independent contractors, freelancers, gig workers and others not covered by standard unemployment insurance.
DETR administrator Kimberly Gaa warned that additional closures would likely be needed in the near future to upgrade code necessary to handle the changes. She said DETR is "doing our very best to fast track the system" for processing those kinds of new unemployment insurance claims, but that a module to distribute the funds to gig workers would likely not be ready for applicants until sometime in early or mid May.
"Nevada has never managed disaster unemployment assistance, which is what this is modeled after, so we don't have a mechanism currently to do that," she said. "So we're working as rapidly as we can to get the methodology in place."
Sisolak also noted that past proposals to expand the capacity of the system — which was only equipped to field about 2,800 calls a week and struggled to handle call volumes while unemployment was at historic lows — "never got legislative support." DETR officials told lawmakers last year that, largely because of cuts in federal funds provided to states to administer unemployment programs, the state's unemployment insurance system was facing near-record low staffing and budget levels heading into the coming budget cycle.
"I want to emphasize that we saw that there was a need for expanding and updating the system and staffing and unemployment, and it did not get through the Legislature," Sisolak said. "We inherited the system as it exists."
Shortly after the press conference, the governor added on Twitter that cuts to the system were "NOT the fault" of the Legislature, and was instead because of decreases in federal funding and an inability to use a penalties and interest budget account to backfill cuts in funding.
Sisolak also announced a new plan that aims to curb the massive volume of calls into DETR. The employment agency is asking individuals to file for claims on a staggered, last-name basis on Sundays for (last names between 'A' through 'K'), Mondays ('L' through 'R') and Tuesdays ('S' through 'Z') to ease strain on the system.
"We're hoping that that would alleviate some of the perception that they can't access the system and maybe stagger that out, so people have a better opportunity to get in quickly and get out and get their weekly claim filed," Gaa said.
Business shutdown and other issues
At the Tuesday press conference, Sisolak took a range of questions related to the pandemic from reporters.
Asked if he was invited to join a working group composed of the governors of California, Oregon and Washington who are together coordinating plans to reopen their economies, Sisolak said those governors are his friends and that he communicated with California Gov. Gavin Newsom several times yesterday.
"I am going to base the decision … based on the advice given to me by the medical team that I have put in place … We are not there yet," Sisolak said. "I don't know when we're going to be there, but we're working in concert. Those governors all have the same goals that I do and I'm happy to work with anybody and everybody as it relates to recovery as we come out of this pandemic."
He said he didn't have exact numbers on what would prompt him to reopen businesses, although he said he's getting lobbied by many groups on the matter and there are "no shortage of business and interest groups volunteering information and suggestions along the way."
"The issue I have is the infection rate, the hospitalization, the intensive care hospitalization and ultimately, ventilator use and fatalities. Those are the issues that I'm looking at," he said. "I certainly don't want to be premature, have to come back and say 'we went too fast.' So, we're going to take it slow and steady and listen to the doctors."
Sisolak also told reporters that the state has thus far distributed 1.9 million pieces of personal protective equipment — items such as protective masks, gowns, gloves — to state health districts since the start of the pandemic. Asked whether he was concerned about reports of medical professionals in the state going without necessary equipment, Sisolak said it was "concerning" to see those reports but that his options were limited because the state primarily dealt with county health districts, not individual hospitals.
"We do not provide directly those facilities," he said. "It comes up through the channels the same way it comes down the channels for distribution."
The governor said he doesn't know whether schools will be able to reopen in May, once the existing directive ordering closures of schools and nonessential businesses lapses.
"That'll depend on what our medical experts say, in terms of where we're at on the curve," he said. "I'd like nothing better to get those kids all back in school, and I know the parents would like to have the kids go back to school, but our focus is all the same on making it an appropriate time."
The governor said agencies are due to provide him with proposals on where to make cuts as the state anticipates a revenue shortfall, but said he doesn't have any special legislative session planned.
"I haven't had enough time to think about calling a special session," he said. "Right now we've got things as best under control as we possibly can. I appreciate the legislative leadership who we're in contact with, and keep them informed about what we're doing."
Asked about the Nevada Sentencing Commission's recommendation Monday that he convene the pardons board and consider strategies such a releasing inmates early as a way to prevent the spread of COVID-19 in prisons, Sisolak said he had a phone call scheduled with Sentencing Commission Chairman James Hardesty and expects to hold a meeting of the pardons board but was not sure when.
"I want to do the right thing. At the same time, there needs to be a release plan," he said. "These are all situations that need to be thought through before you release a whole bunch of folks. I'll need a lot of answers, and I'm counting on Justice Hardesty and fellow members of the pardons board to come up with a plan, but I would assume he's gonna recommend we get together in the next couple of weeks."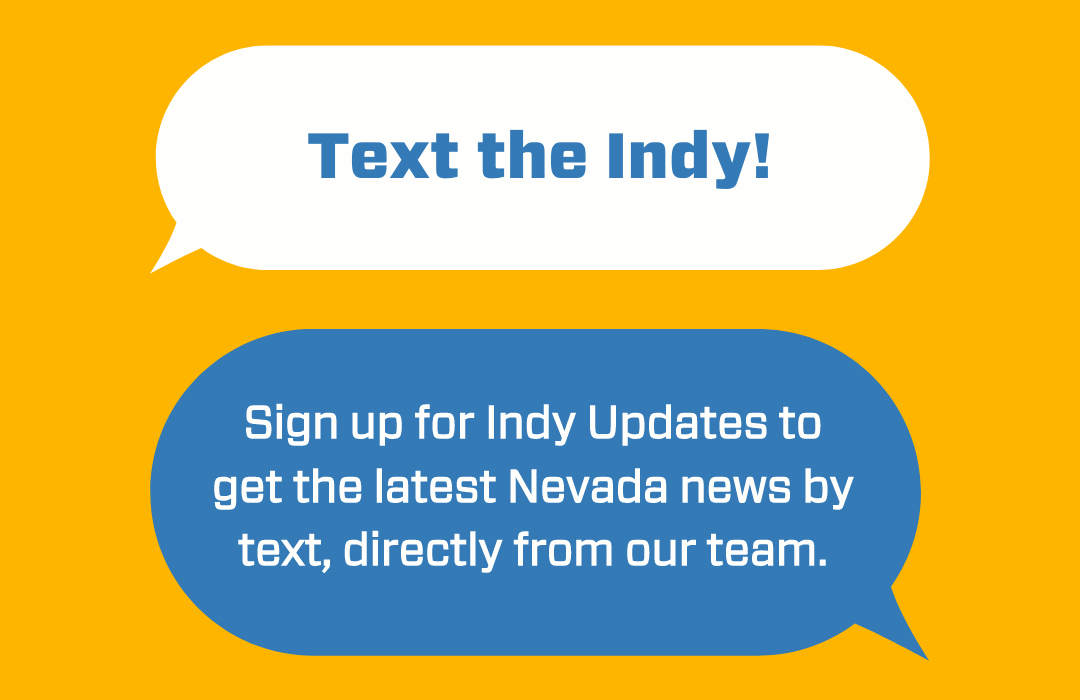 Featured Videos
Comment Policy (updated 4/20/2021): Please keep your comments civil. We reserve the right to delete comments or ban users who engage in personal attacks, use an excess of profanity, make verifiably false statements or are otherwise nasty. Comments that contain links must be approved by admin.