State and local officials mull mandates for facial coverings amid troubling COVID-19 trends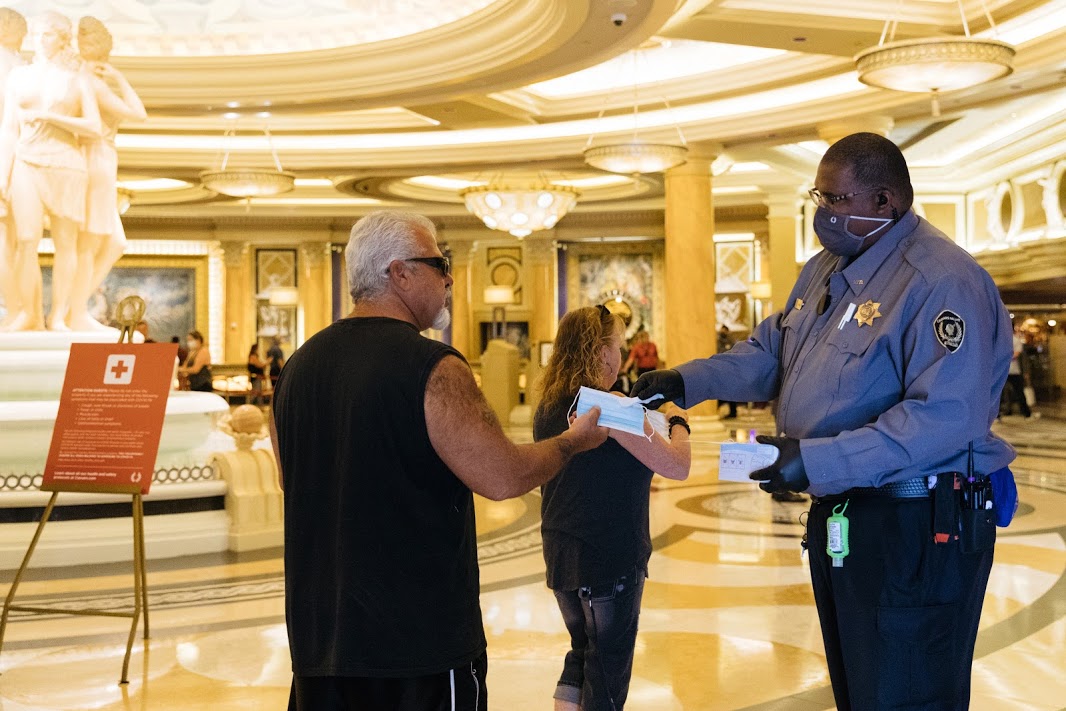 Facing upticks in COVID-19 cases and hospitalizations, Gov. Steve Sisolak and some local governments say they are considering requiring or expanding requirements to wear a mask while in public.
Coming a day after California made facial coverings mandatory in public or high-risk settings, Sisolak said in a pair of tweets that his administration is considering beefing up face-covering requirements in Nevada, where they are currently only mandated for public-facing employees and not for members of the public.
"As the State evaluates the latest COVID data here and around the country, I am asking the Medical Advisory Team to evaluate potential options for enhanced face covering policies and to provide any recommendations for consideration to strengthen our response to this pandemic," the governor tweeted on Friday.
Although no action has been taken, the governor's public consideration of adopting a stricter mask policy is another sign that the state's trajectory of COVID-19 cases, hospitalizations and other metrics is plateauing or even reversing amid the "Phase 2" business reopening.
Sisolak has previously hesitated to order any kind of state-wide policy on mask-wearing for members of the public, saying "I don't want to go there if we don't have to" during a press conference on Monday. The governor previously said he was concerned that a mask requirement could lead to violence, as it has in other states.
The governor's initial orders for the state's phased-in business reopening requires employees who interact with the public to wear masks, and he has strongly urged members of the public to wear facial coverings when possible. But governors in other states have taken more forceful steps to require individuals to wear facial coverings while in public.
The World Health Organization advocates for the use of masks in addition to following social distancing practices and taking other preventative measures such as handwashing. Masks can limit the spread of COVID-19 by preventing outward transmission of the virus from an infected or asymptomatic individual as well as protecting oneself when surrounded by people who could be carriers.
Sisolak has also granted local governments the power to implement stricter safety requirements — such as requiring facial coverings in public — than the state, but so far no counties or local governments have taken steps to implement any stricter requirements.
But that may change.
Even though Washoe County has not yet mandated mask-wearing, County Commission Chair Bob Lucey said the local government is working with other jurisdictions in the area to develop a unified policy that could include a mask requirement.
"Due to the increased positive cases and seeing the community becoming relaxed in social distancing, mask wearing and hand washing, the Commission may consider a mask-wearing mandate," he wrote in a statement to The Nevada Independent. "It is imperative to stay open in order to move toward reopening our schools for the next school year, ensure the economic vitality of our region, and allow us to enter Phase 3."
In Reno, Mayor Hillary Schieve was one of the first officials to encourage face coverings in public settings. Even before the state issued guidelines, she was outspoken about wearing masks as a preventative measure against the spread of COVID-19. In recent Twitter posts, she has reiterated the importance of masks and highlighted local businesses following CDC recommended guidelines.
During an interview with The Nevada Independent, Schieve said she "felt strongly" about mandatory mask-wearing and encouraged all residents and businesses to follow guidelines to save lives.
"We are the only effective weapon to fighting this virus so masking, social distancing and washing our hands are the best preventative measures to slowing the spread," she said. "The numbers should speak volumes to the fact that this virus is highly contagious and deadly."
Despite supporting the concept, Schieve said she doesn't believe she has the direct authority to enact an emergency ordinance to mandate masks without a vote of the full Reno City Council.
Sisolak's emergency directive superseded any powers Schieve had after the city declared a state of emergency surrounding the pandemic and per Reno municipal code, the council must unanimously approve emergency city ordinances.
Schieve said she hopes to bring up an agenda item related to face coverings but is still working on it.
Las Vegas Mayor Carolyn Goodman, who offered the city as a "control group" during the shutdown to test if social distancing measures were effective, said that she would follow the governor's orders.
"The top executive of the state of Nevada is the governor, and he has not mandated, but has encouraged everyone to wear a mask when in public except in specified situations," Goodman said in a statement. "We comply with the governor's mandates."
Clark County Commissioner Marilyn Kirkpatrick could not be reached for comment, but county spokesperson Dan Kulin said that the county is following state guidance.
"At this time we are strongly encouraging people to wear a face covering and follow social distancing guidelines. We will continue to monitor the situation in Southern Nevada and are regularly reevaluating the restrictions in place," Kulin said.
Some Nevadans would like to see the governor follow California's lead on requiring face coverings.
Jeanette Neikirk, 80, said she wants the governor, local officials and private businesses to make wearing a mask mandatory inside buildings. Neikirk, who lives in North Las Vegas and has mild chronic obstructive pulmonary disease that affects her lungs, said she and her asthmatic daughter don't enter any building or business that doesn't require patrons to wear a mask.
She used to love shopping at Target, but said she won't go there anymore as it has no mask requirement. Now, she shops exclusively at Smart and Final, a store she's never shopped at before, because of its mask requirement.
"I don't know whether or not these people are asymptomatic," Neikirk said. "They don't even know if they have the disease 'cause a lot of people have it and they never have a symptom."
Other Nevadans have questioned the legality of enforcing mask-wearing.
At the Washoe County primary voting site last week, one voter — 52-year-old Rob Piller — refused to wear a mask and insisted on voting in a booth, saying that forcing him to wear a mask was infringing on his rights. County officials had to clear the room so that he could vote at a machine.
"We're losing rights left and right. They're imposing guidelines and trying to act like they're laws," Piller said. "They're going after my Second Amendment rights. They're going after my First Amendment rights. They're trying to impose draconian laws by wearing a mask, but it's a guideline, not a rule."
But for public health issues, experts say there are no major legal barriers to mandates implemented for safety purposes.
"Your freedom to determine your own life doesn't give you the right to put other people's health at risk," UNLV Boyd School of Law Health Director David Orentlicher said, responding to a question about the potential for mask mandates to infringe on rights. "If mask-wearing were just about protecting you, you might have a case … but the fact is if you're not wearing a mask, you're putting other people at risk."
There are always exceptions, he noted, such as people with disabilities or health conditions that do not allow someone to wear a mask who should be exempt from such ordinances.
Before enacting an ordinance, Orentlicher — who is also running for a seat in the Assembly — emphasized that mandates can promote backlash, and it would be more ideal to normalize mask-wearing through providing free masks or using messages from celebrities or respected community leaders. He added that a well-established social norm is critical for people following laws.
"I think it comes down to a policy question, what's the best way to get people to wear masks?" he said. "It's useful to try alternatives … but sometimes, we've seen a number of public health issues, drunk driving, seat belts, where having legal mandates was essential to solving the problem."
The Nevada Independent is raising $200,000 by Dec. 31 to support coverage of the 2024 election.
Tax-deductible donations from readers like you fund this critical work.
If you give today,your donation will be matched dollar-for-dollar.
Give + Get Matched
Featured Videos