Statewide graduation rate dips for Class of 2020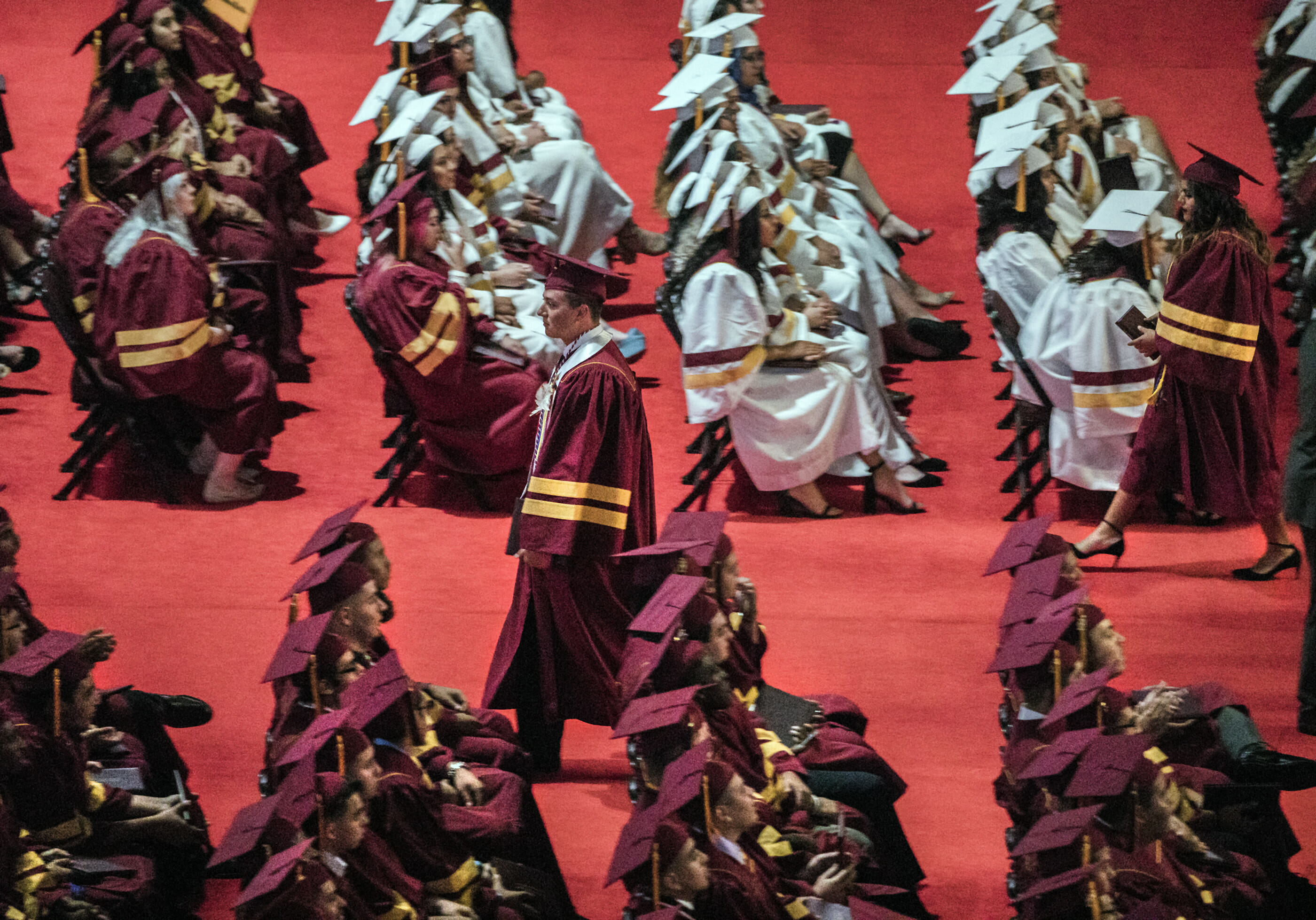 The statewide graduation rate for the Class of 2020 fell slightly after years of growth, fueling concerns about pandemic learning disruptions and widening achievement gaps.
Across Nevada, 82.6 percent of students in the Class of 2020 graduated, down 1.5 percentage points from the prior year, according to data released Thursday by the Nevada Department of Education. While the graduation rate remained above 80 percent for the fourth consecutive year, it marked an end to what had been an upward trajectory. The share of students receiving a diploma hit 80.9 percent in 2017, 83.2 percent in 2018 and 84.1 percent in 2019.
Ten school districts posted graduation rate gains this year, but the state's two largest systems did not. The Clark County School District posted a graduation rate of 83.2 percent, down 2.6 percentage points from last year, while the Washoe County School District's rate fell just shy of a percentage point to 85.1 percent.
State Superintendent Jhone Ebert said she was "pleasantly surprised" by the statewide graduation rate given the unconventional final quarter. Schools abruptly switched to distance learning in mid-March, forcing educators and students to adapt on the fly.
But Nevada's top education chief also acknowledged some ongoing hurdles, particularly diploma obtainment differences among various student groups.
The graduation rate for Pacific Islander students fell most sharply — down 3.5 percentage points to 85 percent, which is still higher than the statewide average.
But only 69.5 percent of Black students received a diploma, a 2.6 percentage point decrease from last year. That's significantly lower than the graduation rate for Asian students (93.4 percent), white students (86.4 percent), Pacific Islander students (85 percent), multi-race students (85 percent) and Hispanic students (81.3 percent).
The graduation rate for American Indian or Alaska Native students essentially remained the same at 74.4 percent.
The achievement gaps persisted long before COVID-19 thrust school systems into emergency mode, but new research suggests the pandemic has worsened academic inequities for children of color and other vulnerable students, such as those from low-income households.
The graduation rate for students from families experiencing poverty decreased 1.7 percentage points to 79 percent. Likewise, fewer students who are learning English as a second language obtained a diploma this year. The graduation rate for that student group decreased 1.5 percentage points to 75.3 percent.
"We need to dig down deeper and be more intentional in how we're supporting students, their families, their environments," said Ebert, who added that the pandemic has forced educators to think differently about these issues. "... And so we as the adults in the room need to do a better job in that and we fully intend to make changes going forward."
The Clark County School District, which educates the lion's share of Nevada students, has continued remote learning since the spring. Other districts' learning models have fluctuated based on evolving health situations in their areas.
Ebert said it's too difficult to project how those circumstances could affect the Class of 2021's graduation rate, but she hinted that it may take some students longer to cross the finish line.
"I think we need to be open this year to not only a four-year graduation rate but looking at a fifth-year graduation rate," she said. "It's OK because we want our diplomas to be meaningful and we want our children to be prepared to go out in the the workforce, higher education — whatever they may choose to go on to — and they need to do it at their pace."
But the data did reveal some bright spots. Among them:
The White Pine County School District posted the largest increase in its graduation rate, moving from 66.9 percent in 2019 to 82.9 percent this year.
Five school districts — in Pershing, Lincoln, Mineral, Humboldt, and Eureka counties — graduated more than 90 percent of students in the Class of 2020.
Students enrolled in career and technical education programs had a graduation rate of 93.2 percent this year. In 2019, this group of students had helped propel an increase to the statewide graduation rate.
Here's a look at the Class of 2020 graduation rates by school district:
Carson City School District: 84 percent (down 2.8 percentage points)
Churchill County School District: 76.9 percent (up 3.9 percentage points)
Clark County School District: 83.2 percent (down 2.6 percentage points)
Douglas County School District: 88.9 percent (down 2.4 percentage points)
Elko County School District: 82.5 percent (down 1.4 percentage points)
Eureka County School District: 90.9 percent (down 2.4 percentage points)
Humboldt County School District: 91.3 percent (up 5.2 percentage points)
Lander County School District: 83 percent (up 4.6 percentage points)
Lincoln County School District: 94 percent (up 6.2 percentage points)
Lyon County School District: 86.6 percent (up 0.1 percentage point)
Mineral County School District: 91.7 percent (up 6.7 percentage points)
Nye County School District: 77.3 percent (down 2.7 percentage points)
Pershing County School District: 94.9 percent (up 0.3 percentage point)
State Public Charter School Authority: 84.1 percent (up 6.3 percentage points)
Storey County School District: 85 percent (up 1.1 percentage points)
Washoe County School District: 85.1 percent (down 0.9 percentage point)
White Pine County School District: 82.9 percent (up 16 percentage points)
Comment Policy (updated 4/20/2021): Please keep your comments civil. We reserve the right to delete comments or ban users who engage in personal attacks, use an excess of profanity, make verifiably false statements or are otherwise nasty. Comments that contain links must be approved by admin.