Steyer calls Warren health care plan a 'huge risk,' weighs in on Anaconda Copper Mine contamination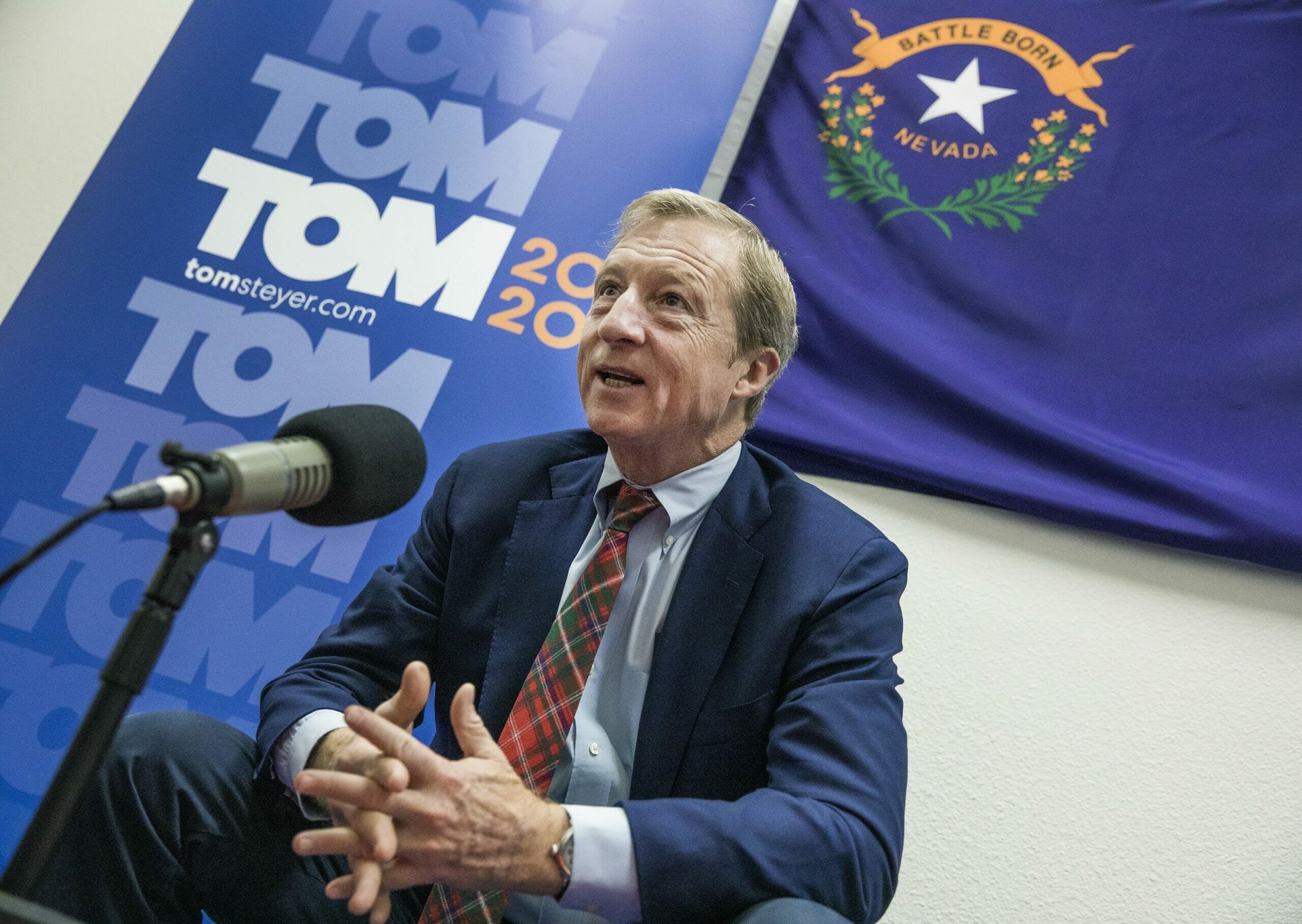 Billionaire Tom Steyer believes the math behind Massachusetts Sen. Elizabeth Warren's Medicare-for-all plan could work but that it makes a lot of "heroic assumptions" he's not willing to concede.
Steyer, who is polling fifth among the Democratic presidential field in Nevada, favors a public option health care plan that would allow Americans to opt into a government-run health insurance plan, while Warren's proposal would require mandatory insurance in the government's plan in what's known as a single-payer system. The Massachusetts senator has long supported Vermont Sen. Bernie Sanders' Medicare-for-all plan but released on Friday her proposal on how to pay for it, which includes additional taxes, payments by employers and cuts in government spending.
Steyer first criticized Warren's health care plan during an interview with Fox News over the weekend but elaborated on those comments in an interview on the IndyMatters podcast this week.
"Everything that it accomplishes, we're going to be able to accomplish. But we're not going to have to turn society upside down," Steyer said. "We're not going to take this huge risk and we're not going to have to make all these heroic assumptions, which could turn out to be true, but definitely could turn out not to be true."
Warren projects that implementing her Medicare-for-all plan will cost $20.5 trillion compared to the $34 trillion the Urban Institute, a research group, has estimated, paid for by employers, state and local governments, corporate taxes, IRS enforcement, capital gains taxes, cutting Pentagon spending and immigration income, among other sources.
"There's a bunch of savings in there that we all hope to get, but we can't be sure of," Steyer said. "There's a bunch of assumptions in there that are huge assumptions that may or not may not turn out to be true, and obviously she must think they are, but there are a lot of people who think they definitely aren't. We don't need to take that risk."
Like other Democratic hopefuls who support a public option — including former Vice President Joe Biden and South Bend Mayor Pete Buttigieg — Steyer also doesn't like the idea of forcing all Americans onto a government-run plan if they are happy with their existing private insurance. In the interview, he embraced the sentiment behind what Buttigieg has couched as a "glide path" toward Medicare for all.
"If the public option is such a great program, it's cheaper, it's better, then everybody can choose to do it and it's their choice without taking the kind of risk of turning everything upside down in society and demanding that people do it," Steyer said.
He did, however, note that he and Warren — as well as other Democratic hopefuls — share the belief that health care is a right, as well as the overarching goal of reducing its costs.
"I think that's the goal of her Medicare-for-all plan," Steyer said.
During the interview, Steyer also elaborated on his recently released rural policy, which includes $112.5 billion to modernize the country's energy grid, promote clean energy and create green jobs in rural areas.
"Nevada is the state in the country that is best suited to solar energy, the best, and it should be something that is a great economic strength for this state in terms of generating energy, in terms of creating businesses, in terms of creating jobs and good paying jobs," Steyer said. "So, from my standpoint, that is a perfect example of what's going to have to happen."
Steyer — whose first summer job in college was working as a ranch hand in Gardnerville, getting paid $100 a month — said that his plan is going to take buy-in from farmers and ranchers too.
It will require "asking rural America ... to be partners in solving the climate crisis, to go and talk about how we can do it together, how we can use the open spaces to sequester carbon, to basically reverse the process that's been going on," Steyer said.
Steyer also weighed in on groundwater contamination associated with the Anaconda Copper Mine near Yerington, calling it the "poster child" for how mining projects shouldn't happen.
"I think what we've seen with mines in the past has been that there has been a sense that you can go in and mine and contaminate and promise to clean up and never do it and then walk away and leave the state or the federal government or the locality to pay for it and to suffer," Steyer said. "I know that with that Anaconda mine, it has contaminated the water, that people can't drink the water."
But Steyer didn't go as far as former Housing and Urban Development Secretary Julián Castro in calling for tribal consent in order for mining projects with the potential to contaminate groundwater to proceed.
"I think that you have to get a permit in order to do mining from local places to make sure that you're meeting the requirements and safety, and so exactly who that is will depend on exactly where you are," Steyer said. "But yeah, you need to get a permit if you're going to go forward and disturb the natural environment and threaten people's health. Absolutely."
On impeachment, Steyer said that he's hopeful that moderates who have been skeptical of or had questions about the process so far will be able to make their own decisions as the inquiry moves into a new, public phase. House Democrats voted last week to formalize the impeachment inquiry into President Donald Trump over his dealings with Ukraine, paving the way for televised hearings.
"Put it on TV. Let them show us in televised, open hearings the truth, and let us decide. Don't worry about what the Republican electeds say. Don't worry about what the Democrat electeds say," said Steyer, who has been calling for impeachment for more than two years through his Need to Impeach group. "Let's figure out what we think, because I think the evidence is so overwhelming that this man is corrupt, that he's abused his office, that he's obstructed justice. I want the American people to be able to see that. I want us to be the court that matters."
Steyer also elaborated on his views on marijuana, which he supports legalizing nationwide. He said that he would like to see the pot industry regulated through a combination of state and federal regulations, similar to the liquor industry.
"I guess I'm working off the way that we deal with alcohol. You know, there's state regulations and there are federal regulations," Steyer said. "The states have different rules about alcohol in terms of when it's available and who's allowed to sell it and licensing and all that stuff, but what the feds have done in terms of alcohol is say unless 21 is the legal limit for alcohol consumption in your state, we won't give you highway funding. They've used money as kind of a bludgeon to make sure that the states pass laws that suit them."
As far as his chances in Nevada, Steyer is counting on the race breaking late. Shortly after the interview, The Nevada Independent released a poll showing Steyer with 4 percent support in Nevada, placing him only behind Biden, Warren, Sanders and Buttigieg.
"All the political junkies are totally focused on it for a year, but normal citizens start to focus on it about a month before the election," Steyer said. "That's what I think will happen in every state, and that's what's going to happen in Nevada, too."
This episode of IndyMatters was the third in a series of interviews with Democratic candidates for president. Listen to the first episode, our interview with South Bend Mayor Pete Buttigieg here and our second, with tech entrepreneur Andrew Yang here.

The Nevada Independent is raising $200,000 by Dec. 31 to support coverage of the 2024 election.
Tax-deductible donations from readers like you fund this critical work.
If you give today,your donation will be matched dollar-for-dollar.
Give + Get Matched
Featured Videos