Steyer touts public health insurance option, 12-year congressional term limits at Culinary Union town hall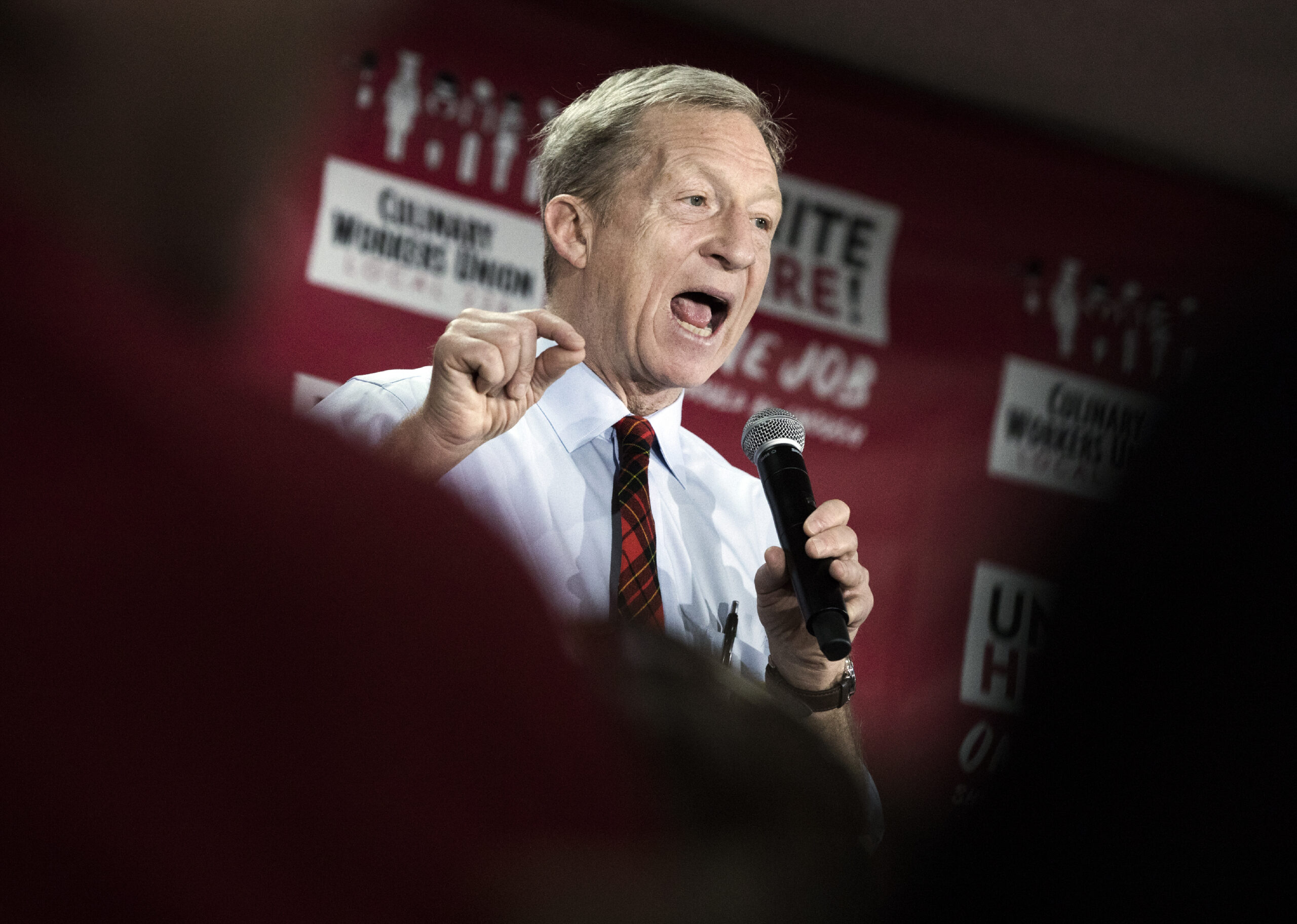 Democratic presidential hopeful Tom Steyer came to the Culinary Union Thursday morning with a pitch for a government-run health insurance proposal that would allow union members to stay on their beloved health plans.
Steyer, a California billionaire, told union members he believes health care is a right — something the union itself has stressed in voicing its opposition to sweeping health care reform proposals, such as Medicare for all — but that he plans to build on existing federal law if elected president instead of dismantling it. It was the same message several of his moderate peers in the race, including former Vice President Joe Biden, former South Bend Mayor Pete Buttigieg and Minnesota Sen. Amy Klobuchar, have delivered to the union at similar town halls in recent weeks.
"You leave choice for the 160 million Americans who work hard to get their health care through their employment," Steyer said. "They get a choice. They can keep it the way it is or they can take the public option. But I hate people telling me what to do. I don't want to tell other people, including the people in this room."
The politically powerful Culinary Union, which represents 60,000 hospitality workers across the state, has not tipped its hand as to whether it will endorse in the Democratic presidential primary. But if it does, candidates' positions on health care are likely to be key in a decision by the union, which has run its own health trust for decades that is much loved by union members.
The Culinary's parent union, UNITE HERE, will host a meeting at the end of the month to decide whether it will endorse on a national level. If not, the union's secretary-treasurer, Geoconda Arguello-Kline, has said that the Culinary is likely to endorse as a local.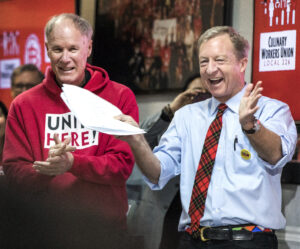 During the town hall, Steyer didn't stop at touting his proposal for a public option to members of the Culinary Union. He also criticized a lack of government action on bringing health care costs under control, an issue the Culinary Union has helped lead the charge on at the state level.
"We're all paying too much for health care. And you know what I said to you. I'm running for president, because these corporations own the friggin' government," Steyer said. "And that includes drug companies, and it includes insurance companies and includes private doctors. They own the government, and somebody has to get in who does not care, and only cares about the American people."
The California billionaire was also pressed during the event by a union member on what he would do to stop foreign wars, in light of the recent escalation between the U.S. and Iran. Steyer framed the Iran nuclear deal, a 2015 agreement reached between that country and six others to end sanctions in return for restrictions on Iran's nuclear program, as the "one picture in your head of how we should be doing this."
"That's exactly what we should do," Steyer said. "We had values. We made America safe. Other countries in the world and us worked together."
Steyer said that the United States has, in the last two decades, "accepted this role of being the world's policeman and the world's military might on a unilateral basis" without congressional approval, referring to an Authorization for Use of Military Force passed by Congress following the Sept. 11, 2001 terrorist attacks that has since been cited as authorization for broader military action all over the world.
"The president just goes to war, and we can see what's happened: Failure," Steyer said. "This has been a terribly failed policy where we have been reckless with the lives of American service people."
At one point during the town hall, the candidate received a warm round of applause from the Culinary Union members while discussing term limits, a policy position that distinguishes him among the Democratic presidential field. Steyer has proposed placing 12-year term limits on members of Congress.
"There's no one else who's even against it. They won't use the word term limits," Steyer said. "You know, as they say no turkey has ever voted for Thanksgiving."
Steyer also framed the issue of family separation at the U.S.-Mexico border as a "moral question" and promised to end the practice on the first day of his presidency. He also not only accused President Donald Trump of violating international law but of "committing crimes against humanity," for the administration's policy on the issue. 
"We're breaking the law, but more than that, look, this is about racism," Steyer said. "This is a racist president, who is not actually against immigration. He's against immigration by non-white people."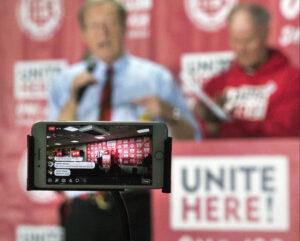 He told the group he had personally spent $3 million to pay for lawyers for people under thread of deportation and pitched himself as the "the biggest individual contributor to the labor movement in history," through his work with the progressive organization NextGen America that he founded.
"If you guys are wondering if I care about unions, this is absolutely something I talk about all the time and work on," Steyer said.
To that end, the candidate also took a shot at a longtime Culinary Union antagonist, Station Casinos, during the event. The union has been locked in a yearslong fight with the casino company in its attempt to unionize its properties in Nevada, beginning with Boulder Station in September 2016.
"Let me start by saying Station Casinos stinks. They're famous for fighting against working people's rights," Steyer said. "So I'm not from Las Vegas, but I know their history, and I know their attitudes and this does pain me but it doesn't surprise me."

Steyer was the seventh Democratic presidential hopeful to join the Culinary Union for a town hall. Biden, Buttigieg, Klobuchar, Massachusetts Sen. Elizabeth Warren, Vermont Sen. Bernie Sanders, and California Sen. Kamala Harris, who dropped out of the race in December, all made appearances before union members in the last two months.

Steyer has been climbing in the polls in Nevada and will return next weekend to keynote Battle Born Progress's annual progressive summit in North Las Vegas.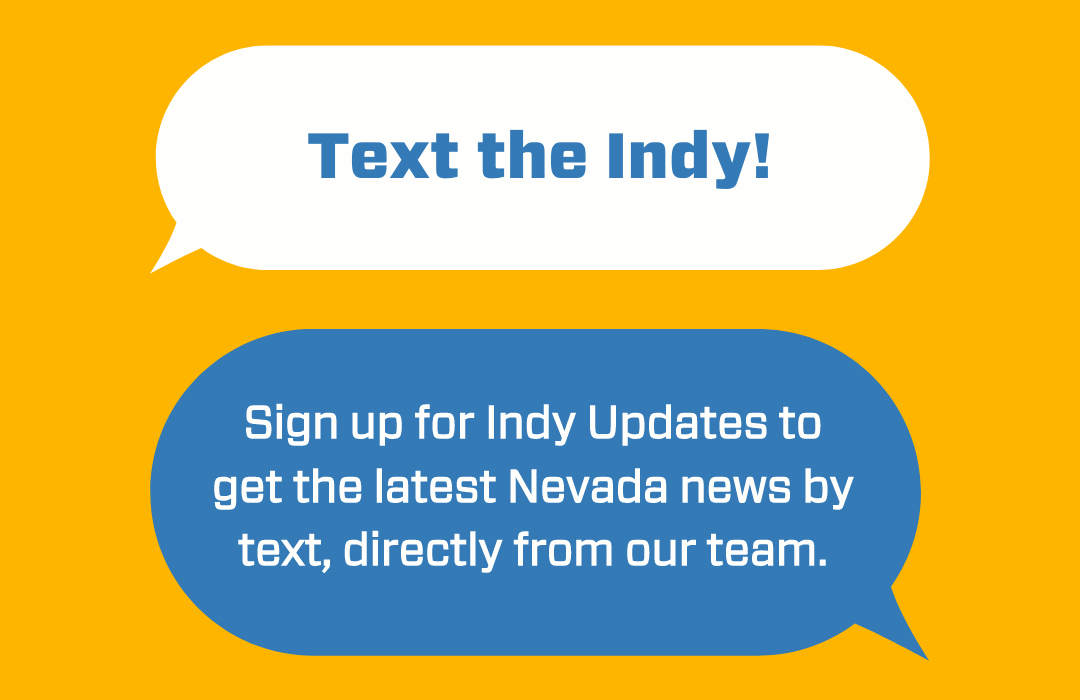 Featured Videos
Comment Policy (updated 4/20/2021): Please keep your comments civil. We reserve the right to delete comments or ban users who engage in personal attacks, use an excess of profanity, make verifiably false statements or are otherwise nasty. Comments that contain links must be approved by admin.