Strip resort workers picket to send a message as contract negotiations stall
Employees lament that hotel-casino operators 'are making money' but 'won't share in the profits.'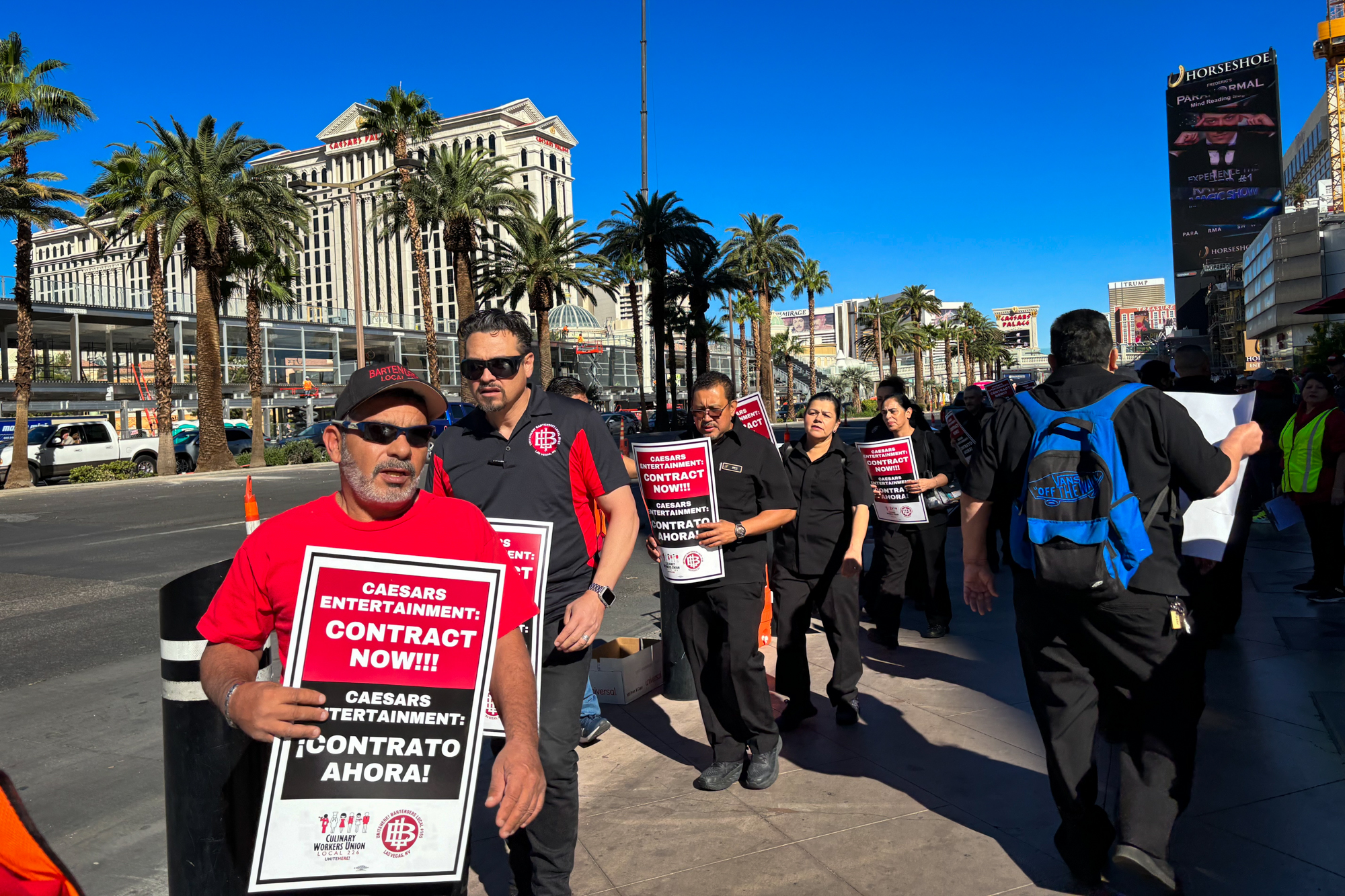 Visitors seated at Paris Las Vegas' outdoor cafes with tables facing the Strip had a front row seat as more than 200 Culinary Union members picketed Thursday morning, demanding the resort's parent company provide workers with a fair labor agreement to replace their expired contracts.
The informational picket lines, one of three organized on the Strip by Culinary Workers Local 226, was designed to send a message to Caesars Entertainment, which operates Paris and the adjoining Horseshoe Las Vegas. Culinary officials say the two sides are far apart on the union's calls for higher pay, better benefits and lighter workloads for housekeepers.
The message resonated with Philip Burgess, who is visiting Las Vegas from Illinois. He said his stay at Caesars properties cost him and his sister hundreds of dollars. With the Strip drawing more than 3 million visitors a month, Burgess suggested hotel companies should be able to pay their employees enough to live.
"[The hotels] charge an arm and a leg. They make their money off people like me and [my sister]," Burgess told The Nevada Independent while passing by the sign-toting, chanting Culinary members in red T-shirts. "So why can't they get what they want? I'm sure they're not asking for that much more."
Union leaders said on Monday they would ask visitors not to cross the informational picket line and visit the casino. However, protesters' chants didn't explicitly call for any boycott, and Caesars had security officers posted near the casino doors.
The Culinary has been involved in contract negotiations with Caesars, MGM Resorts International and Wynn Resorts — the Strip's largest employers — since April.
Javier Sanchez, 66, is a waiter at Horseshoe Las Vegas who was part of the 1984 citywide Culinary strike. While he's ready to retire, he said he was picketing on Thursday so that younger workers, even if they're against the union, can have good pay and benefits for the future.
"Some of the younger folks don't like the union because they feel it doesn't let them move up. Some of us that have been here longer and have seniority, gives us an advantage," Sanchez said in Spanish, stepping away from the picket line at one point to rest so he wouldn't be too tired for work later. "The hotels are still making money. They raise prices whenever they want but they don't want to share the profits with the workers."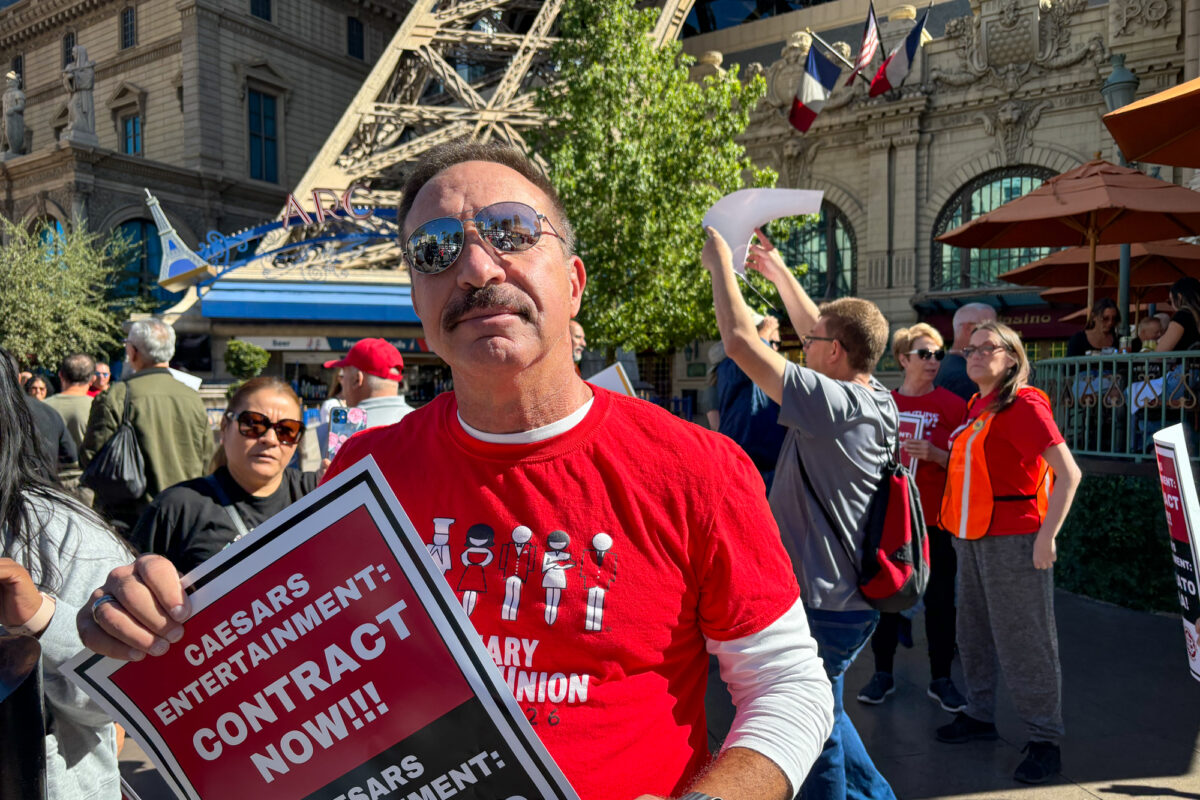 Union members overwhelmingly voted last month to authorize a strike on properties operated by MGM Resorts, Caesars and Wynn.
However, the Culinary has not set a strike date covering some 38,000 non-gaming workers, which would disrupt operations along the Strip. Gaming analysts said they expect some sort of deal — with double-digit wage increases over the course of a five-year contract period — to be reached before Las Vegas is in the international spotlight for the mid-November Formula One race, which is expected to draw tens of thousands of high-spending visitors to Las Vegas.
James Franklin, a food and beverage worker at the Bellagio Hotel and Casino, said he has sat in for contract negotiations and the hotel companies "just say no" and that "the only way the needle gets moved is through demonstrations like this."
"We're eager to have a contract. More eager than the companies," Franklin said. "The companies forget who mops the floors. They forget who makes the drinks. We're here to remind them that's what we do. And they can't operate without us."
Hornbuckle expects a settlement
MGM Resorts International CEO Bill Hornbuckle said during a keynote session at the Global Gaming Expo on Tuesday that labor unrest in Las Vegas was at its highest level since the 1984 citywide strike.
In response to a question from CNBC reporter Contessa Brewer, who moderated the discussion, Hornbuckle said the recent Hollywood writers' strike and the auto workers' walkout in Michigan add to the situation, but he was optimistic a strike would be averted and the two sides would come to a "rational," long-term solution.
"Myself and the other CEOs in town are engaged at the highest level with the union," Hornbuckle said. "I'd like to think and believe that we will get to a satisfactory place here in the coming weeks."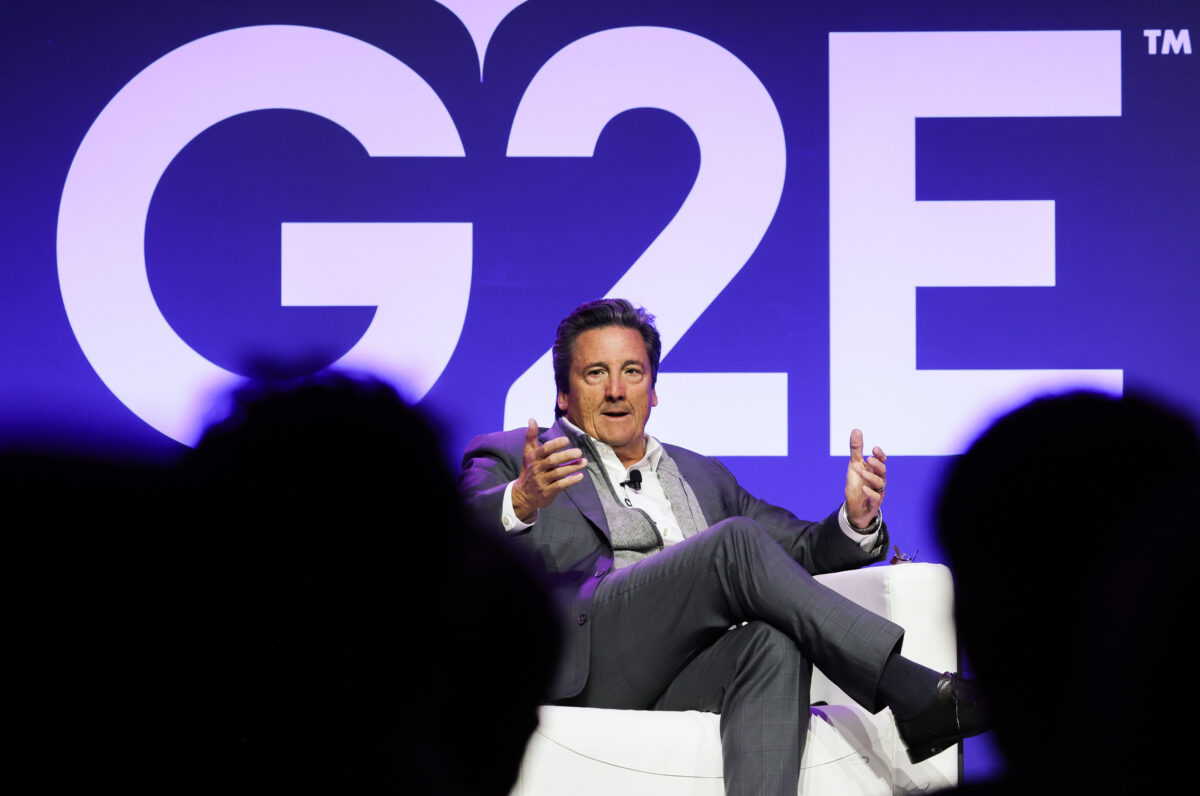 On Monday, Culinary's Secretary-Treasurer Ted Pappageorge said the sides were "dollars apart, significantly," adding the companies "made zero economic proposals or counters, and one made something so minimal — that was really not consequential."
Hornbuckle said Las Vegas has changed since the pandemic. He said tipped employees, such as food servers, are "making more money than they've ever made before."
However, non-tipped employees, such as guest room attendants, have seen a change in working conditions.
"Some of the work rules have been put in place [match] what the consumer now wants," Hornbuckle said. "A large percent of consumers don't want their rooms cleaned, which means if you're a guest room attendant, you're getting nothing but checkouts to do. So there is that added pressure. We understand that and we need to adapt to that."
Union leaders said the major groups of issues on the table include salaries and benefits, workload reduction in housekeeping, safety and the use of technology.
Contracts between the properties and unions formally expired at the end of May, but the union said it reached an agreement on contract extensions with most Strip properties and that any wage increases agreed to in a final contract would be retroactive.
However, in September, the contract extensions with MGM, Caesars and Wynn ended. While terms and conditions of an expired collective bargaining agreement covering wages, benefits and job security largely remain in place, the no-strike provisions are no longer in effect, allowing workers to walk off their jobs.
The Nevada Independent is raising $200,000 by Dec. 31 to support coverage of the 2024 election.
Tax-deductible donations from readers like you fund this critical work.
If you give today,your donation will be matched dollar-for-dollar.
Give + Get Matched
Featured Videos