Democratic presidential candidate, Rep. Eric Swalwell (D-CA), addresses members of the Democratic Party of Washoe County at their headquarters in Reno, Nev., on Monday, April 6, 2019. (David Calvert/The Nevada Independent)
Swalwell: Mnuchin almost 'impeachable-worthy' after refusing to release Trump tax returns
California Rep. Eric Swalwell, a 2020 Democratic presidential hopeful, said Monday that Treasury Secretary Steven Mnuchin is "getting pretty close to being impeachable-worthy" after refusing to release President Donald Trump's tax returns.
Swalwell, who has previously called for the impeachment of Attorney General William Barr, said that closing in on Trump's cabinet will "send a message to the president that he is not above the law." But, as he has in the past, Swalwell stopped short of saying he would support an effort by House Democrats to impeach the president.
"I think we're on the road to impeaching the president, but I want to do it in a way that respects the rule of law, that follows the evidence, that's not Donald Trump justice," Swalwell said. "If this was Donald Trump justice, he would be impeached by now. But I still believe in the rule of law, and I want to do it in an orderly fashion so that the American people are bought in and support it."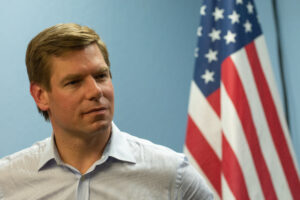 But he did indicate that his calls for Barr's impeachment may soon extend to Mnuchin, too, after the treasury secretary said that he wouldn't release six years of Trump's personal and business tax returns to House Democrats.
"We're going to move on his attorney general. Steven Mnuchin, I also think is getting pretty close to being impeachable-worthy because he's not turning over the president's tax returns in light of the law that says he has to," Swalwell said. "So this administration needs to start seeing that there will be consequences for lawlessness."
His remarks came in a brief interview with reporters following a meet-and-greet with several dozen Democratic voters at the Washoe County Democratic Party headquarters in Reno. The trip marked the California congressman's second visit to the state and his first to Northern Nevada since announcing his bid for the presidency last month.
Swalwell also told reporters that he would support "regulated" online gaming, a practice that has been in jeopardy since the Department of Justice issued an opinion this year that moved toward blocking it. (However, he also conflated concerns over online gaming with a U.S. Supreme Court decision opening up legal sports betting nationwide.)
"I do support online sports betting, but I want to make sure that they have to follow the same standards as the casinos, particularly in Nevada, I mean they have very high standards when it comes to their workforce when it comes to employment law, when it comes to, like, awareness that gamers have to have," Swalwell said. "And so, you know, online gambling without any regulation, I do not support."
During the event, Swalwell touched on several key goals, including creating a public health-care option, zeroing out student loan interest rates and ending gun violence. He also talked about his support for the restoration of voting rights to formerly incarcerated individuals, raising the cap on Social Security payroll taxes and reinstating the inheritance tax in response to audience questions.
But, above all, he couched himself as someone who could woo Republican voters away from Trump in a general election, touting that he passed more bills as a freshman Democrat because of the working relationships he had with Republicans.
"Those relationships started as a kid. I'm the son of two Republicans. I married a Hoosier from Southern Indiana. I had to reach across the table to work with a Republican before I had to reach across the aisle," Swalwell said, adding, "I go on Fox News just so my parents see me on TV."
Stories
Candidate Trackers
Endorsements, Ads, Policies, Visits
& More
visit now
Comment Policy (updated 10/4/19): Please keep your comments civil. We reserve the right to delete comments or ban users who engage in personal attacks, use an excess of profanity, make verifiably false statements or are otherwise nasty.