Presidential candidate and Rep. Eric Swalwell (D-Calif.) speaks during a campaign event inside the UNLV Student Union in Las Vegas on Monday, April 14, 2019. (Daniel Clark/The Nevada Independent)
Swalwell touts millennial-centric policy plan during town hall at UNLV
April 16th, 2019 - 2:05am
California Rep. Eric Swalwell — one of the latest Democrats to enter the crowded presidential race — cast himself as a frustrated millennial ready to take on national matters such as student debt, health care and gun violence during a town hall Monday at UNLV.
The 38-year-old Democrat announced his candidacy on the "Late Show With Stephen Colbert" earlier this month and held his first official campaign rally Sunday in his home district of Dublin, California. His Las Vegas stop is part of a 10-day swing through early-nominating states.
"I'm running for president because I don't want to play defense every year that I am in Washington," Swalwell said in Las Vegas. "And you don't want to be playing defense every year that you're asked to fire people up to go to the polls. It's time to go on the offense."
The fourth-term congressman said that means restoring the "promise of America to all Americans."
As the founder of Future Forum, a collection of young congressional Democrats, Swalwell said he toured nearly 50 U.S. cities and talked to the nation's up-and-coming generation. The visits to college campuses, brew pubs and coffee shops, he said, painted a portrait of an America that's not providing enough opportunity to its younger members.
"There I saw the hollowed-out communities where the best export for too many places was a young person who went off to college and would never boomerang back," he said.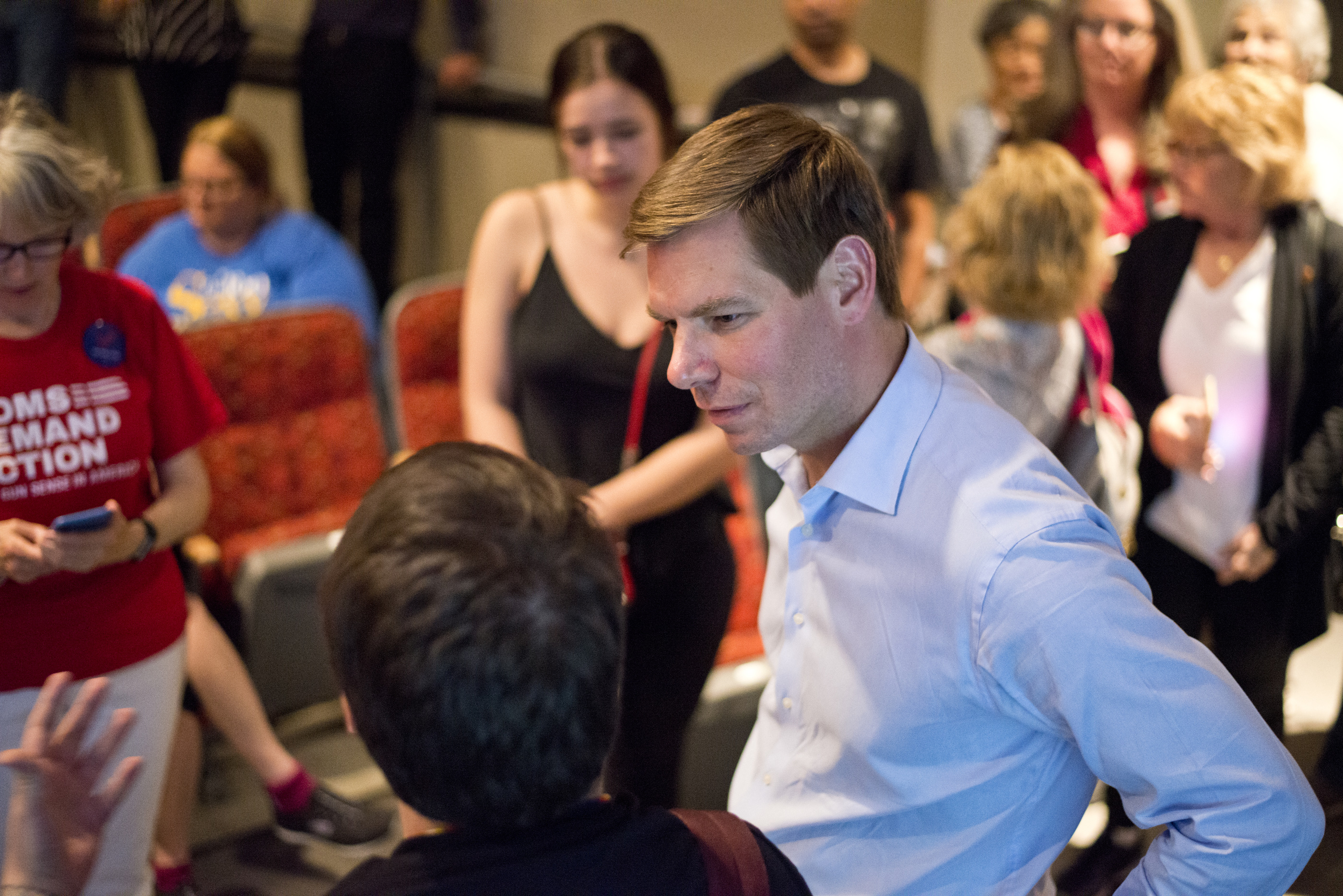 And for those who do leave their communities in search of higher education and better job prospects, the presidential hopeful said it often comes at a cost — crippling student debt. Swalwell, who attended the University of Maryland for his undergraduate and law degrees, said he's still paying off just under $100,000 worth of student loans.
If elected president, Swalwell said he would ensure the government doesn't make "a single penny off" student loans. He wants to see interest-free federal student loans and a system in which businesses can make tax-free contributions to their employees' student-loan debt.
He also has proposed a work-study program that would give students a debt-free higher education at public universities.
Swalwell reiterated his desire to ban assault weapons, calling himself the only presidential candidate willing to take that step and introduce a buy-back program to go along with it. He also supports gun background checks, gang violence prevention programs and more community-oriented policing.
The son of two Republicans said he's "not afraid of" the National Rifle Association.
"We've been told for too long that this is a divisive issue, but what I've come to learn is that's just a tactic," he said. "It's divisive for a very vocal, tweeting, bullying minority, but they don't represent the overwhelming majority of us who believe you can keep your rifles, keep your pistols, keep your shotguns, but let's take the most dangerous weapons out of the hands of the most dangerous people."
As for health care, Swalwell said he supports a public option — in other words, allowing people to join Medicare or stay on private health insurance. A single-payer system, he said, would take away choice for Americans.
Swalwell also said American leaders should go beyond the border and actually work with Mexico and South American countries to improve security and economic opportunities, thereby potentially curtailing the flow of immigrants seeking refuge in the United States.
"That is harder to do, but that's what the next president should do," he said.
On the local front, Swalwell said he doesn't want to see nuclear waste wind up at Yucca Mountain. "I'd like to find a way to reprocess it so it could not have to come here," he said.
Swalwell, who was the 18th Democrat to enter the presidential race, has not reached the donation threshold set by the Democratic National Committee for participation in the first presidential debates this summer. The congressman said his campaign is "working on it" but didn't disclose how close they are from reaching that goal.
"We hope to meet it," he said.
Stories
Candidate Trackers
Endorsements, Ads, Policies, Visits
& More
visit now
Comment Policy (updated 10/4/19): Please keep your comments civil. We reserve the right to delete comments or ban users who engage in personal attacks, use an excess of profanity, make verifiably false statements or are otherwise nasty.