Teachers' anger spills into school board meeting cut short by trustees as strike threat looms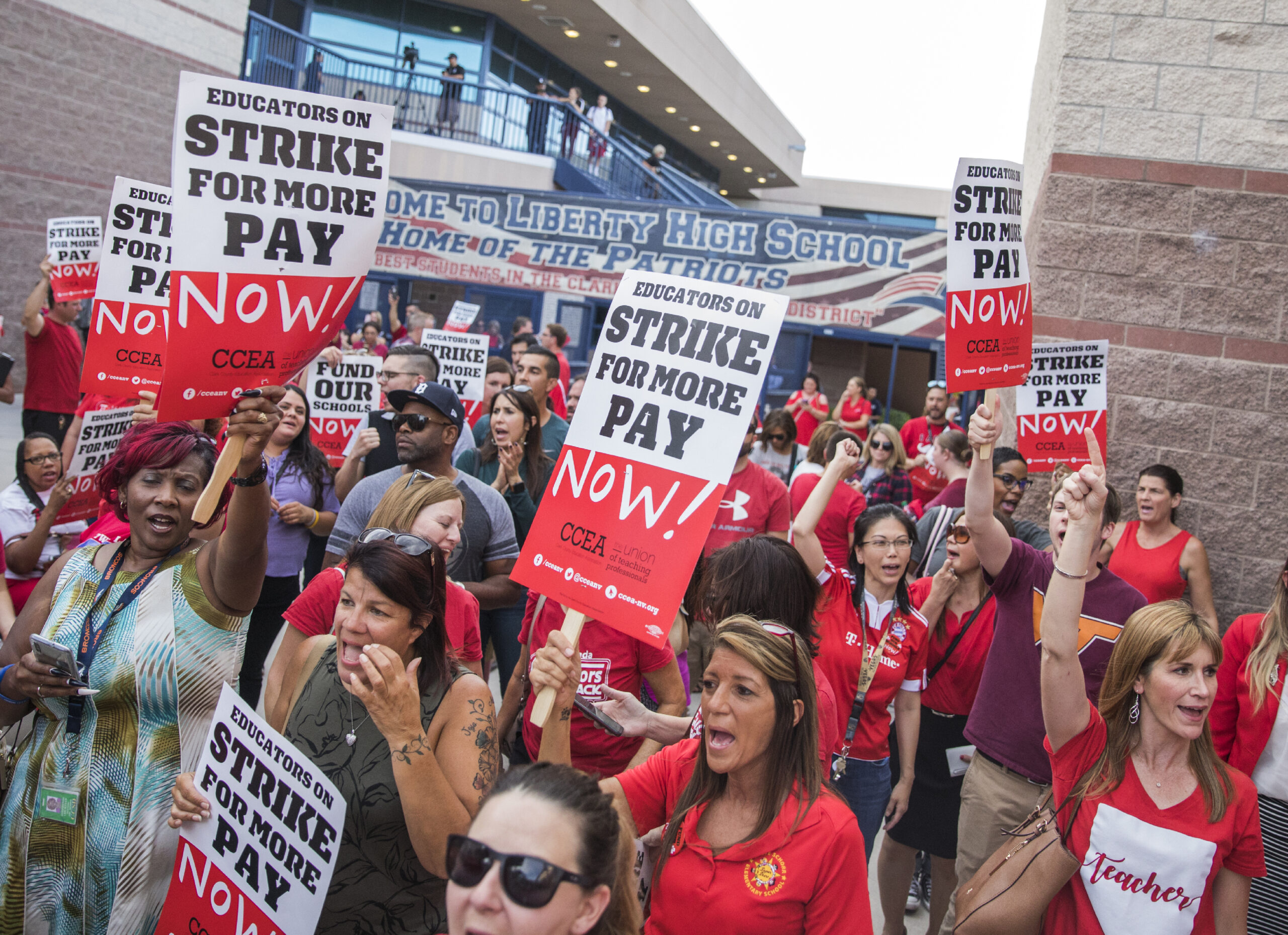 Teachers' anger over an ongoing contract dispute rooted in promised pay raises boiled over during a public meeting Thursday evening that the Clark County School Board of Trustees ultimately cut short.
Hundreds of educators — many wearing red shirts — packed the Liberty High School auditorium, creating a standing room-only environment to greet the district's seven trustees and Superintendent Jesus Jara. 
The Clark County Education Association (CCEA), which has threatened to strike if the district doesn't produce a better contract offer, held a rally outside before the board meeting. The union estimates that more than 1,200 people showed up, many bearing signs reading "Educators on strike for more pay now!" (A Clark County School District police officer did not have an official crowd count.)
Just after calling the meeting to order, President Lola Brooks announced that educators' anger was "displaced," igniting outrage among an already-frustrated crowd.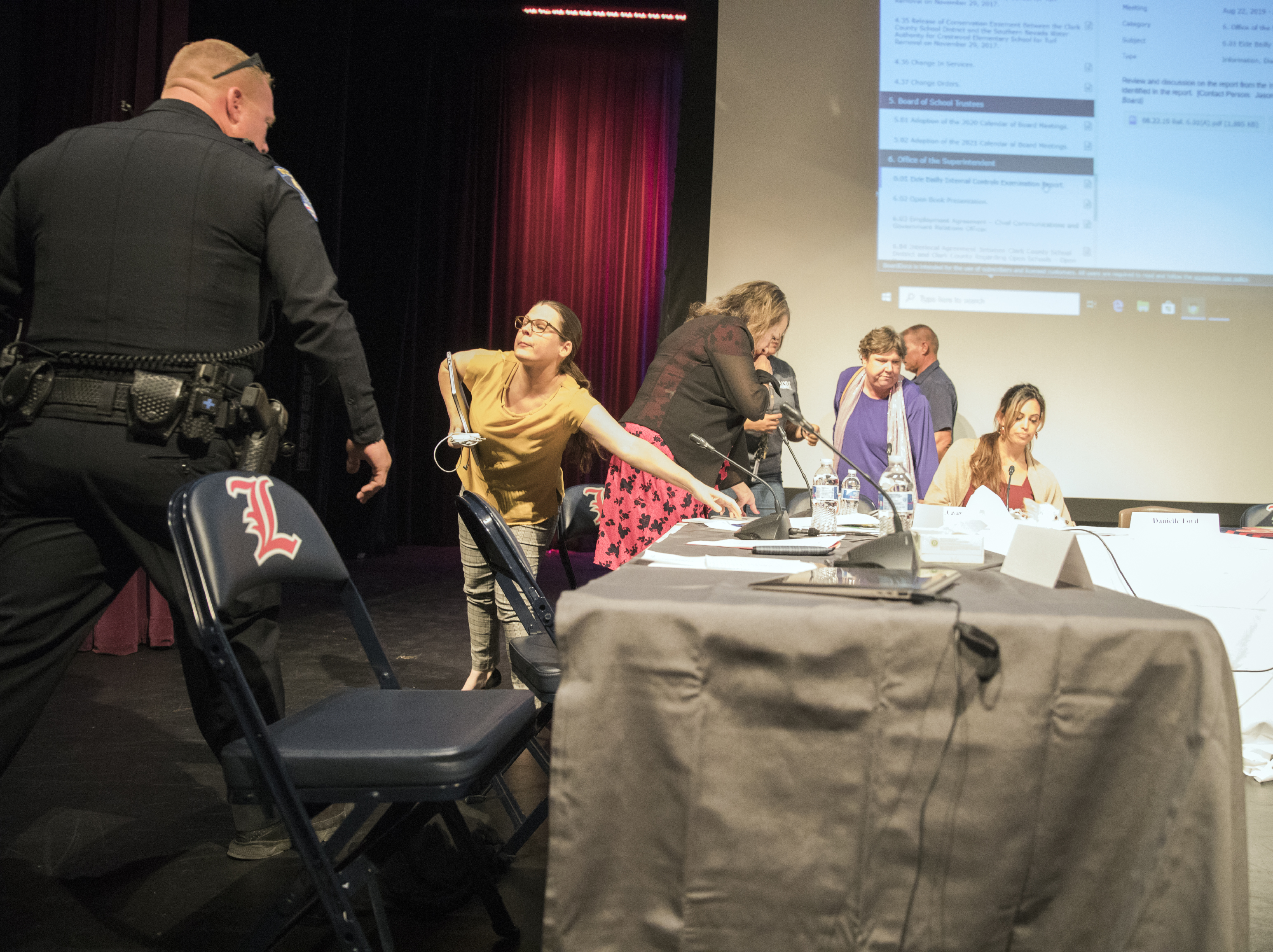 The room quickly filled with chants of "shame on you," escalating tensions before the start of the public comment period. One by one, educators approached the microphone and lit into the district for what they perceive as a breach of contract.
"We expect to be treated with respect in the same way we kept our part of the contract and supported this district in working together to get more than $56 million per year of the biennium funding for our schools at the state Legislature," CCEA President Vikki Courtney said.
The teachers' union rejected the school district's contract offer last week, saying it didn't provide all the pay raises promised to teachers. The district proposed a 3 percent pay raise this year, step pay increases for eligible employees in the 2019-2020 and 2020-2021 academic years and a 4 percent increase in the district's medical plan contribution for those two years.
But the teachers' union says the contract also should include pay raises promised to educators who have completed professional development and, thus, earned so-called column movement worth roughly $5,000 annually. 
Trisa Swenson, a science teacher at Green Valley High School, had planned to use her column movement salary increase to pay off credit card debt. She described her disappointment using an analogy: Teachers tell their students they can receive a good grade if they take certain steps such as completing homework and studying. In this case, she said, teachers have done their due diligence and are now being deprived their promised raises.
But she said her frustration goes beyond money.
"The reason you do all this stuff," she said, referring to the professional development, "is to help the kids. We obviously didn't go into education to make money."
It's a sentiment shared by many who held posters or chanted outside the high school. Some teachers showed up in solidarity with their peers whose column  movement pay raises are in jeopardy. Others lamented large class sizes, lack of resources and school-based fundraisers to save jobs or pay for supplies.
Laura McCubbin, an art teacher who has worked at the district on and off for 30 years, isn't eligible for the professional development-related pay bump, but she wants to see her younger colleagues receive the money. So on her 61st birthday, McCubbin stood outside the school where she works hoisting a sign that said, "You can't put students first if you put teachers last."
McCubbin said she supports a strike if necessary to improve the working environment for current and future teachers.
"It's a good job, but would I tell people to go into it here?" she said. "I'd have some trepidation about that."
The theme continued inside the auditorium, as educators predicted a mass exodus — on top of the 750 teacher vacancies — and questioned why the district didn't appear eager to solve the problem. When the board stopped the initial public comment period after 30 minutes, which is slightly longer than the normal amount allotted, the mood grew even more heated.
"Let us speak! Let us speak!" the crowd shouted.
The unrest led to the board declaring a recess and school police officers escorting trustees and the superintendent off the stage. Brooks appeared a short time later and announced the meeting would be permanently recessed and rescheduled.
Educators proceeded to congregate in an outdoor courtyard and chant, "We'll be back."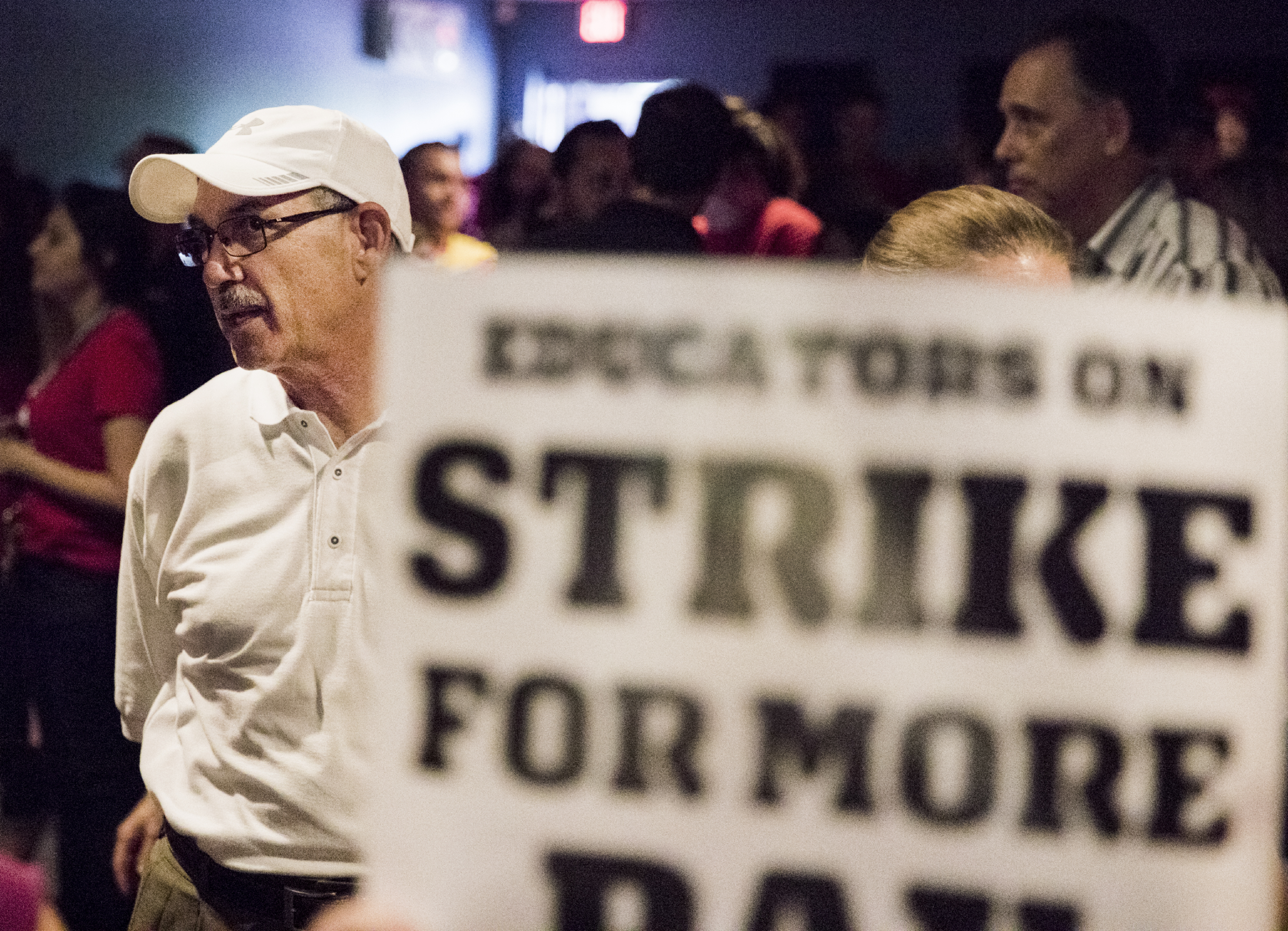 The teachers' union has vowed to move forward with a strike Sept. 10 if the district doesn't propose a better offer by Friday. Gov. Steve Sisolak and legislative leadership met with Jara and John Vellardita, executive director of CCEA, on Wednesday and urged the parties to make a compromise happen.
A resolution appears elusive at this point. Part of the problem is that money for the column movement apparently wasn't factored into funding requests during the legislative session.
"They gambled," Vellardita said. "They thought they would get more money and they didn't."
Vellardita said the union has another bargaining session with the district on Friday.
Jara released a statement Thursday evening calling the meeting's early end "unfortunate" but necessary for safety reasons. He expressed disappointment in the outbursts and threats hurled during the meeting, saying it doesn't set a good example for students.
"As we continue negotiations with the teachers union, it is vital that cooler heads prevail in order to maintain the integrity of this process. Talks are not over and the district is very interested in continuing discussing possible solutions that will lead to a fair compromise for all involved," he wrote.
In the meantime, at least one state lawmaker weighed in on the problem. Republican state Sen. Keith Pickard said he'd like to see the district conduct a "summary audit" to determine where state dollars already have been committed and whether other money exists to fund the raises. If there's a gap, he suggested pulling money from the $174 million in the state's ending-fund balance that exists above the mandated 5 percent threshold.
"If the district doesn't have enough money, we've got the money sitting in a bank," he said. "Use that."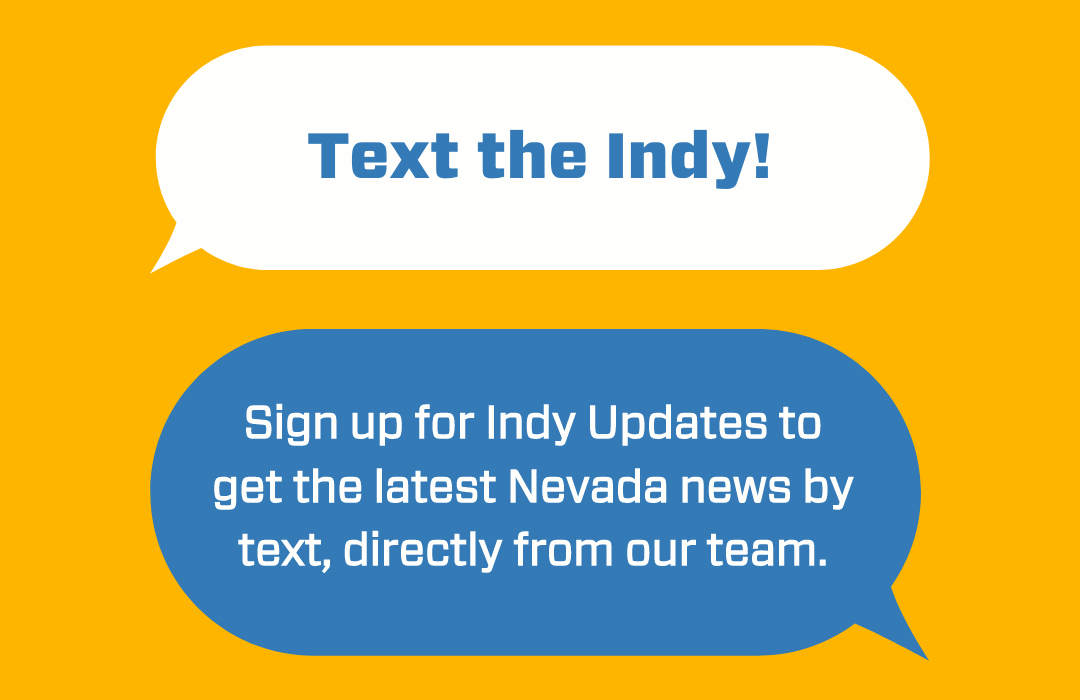 Featured Videos