Teachers turn coronavirus into classroom learning moments, dispelling myths along the way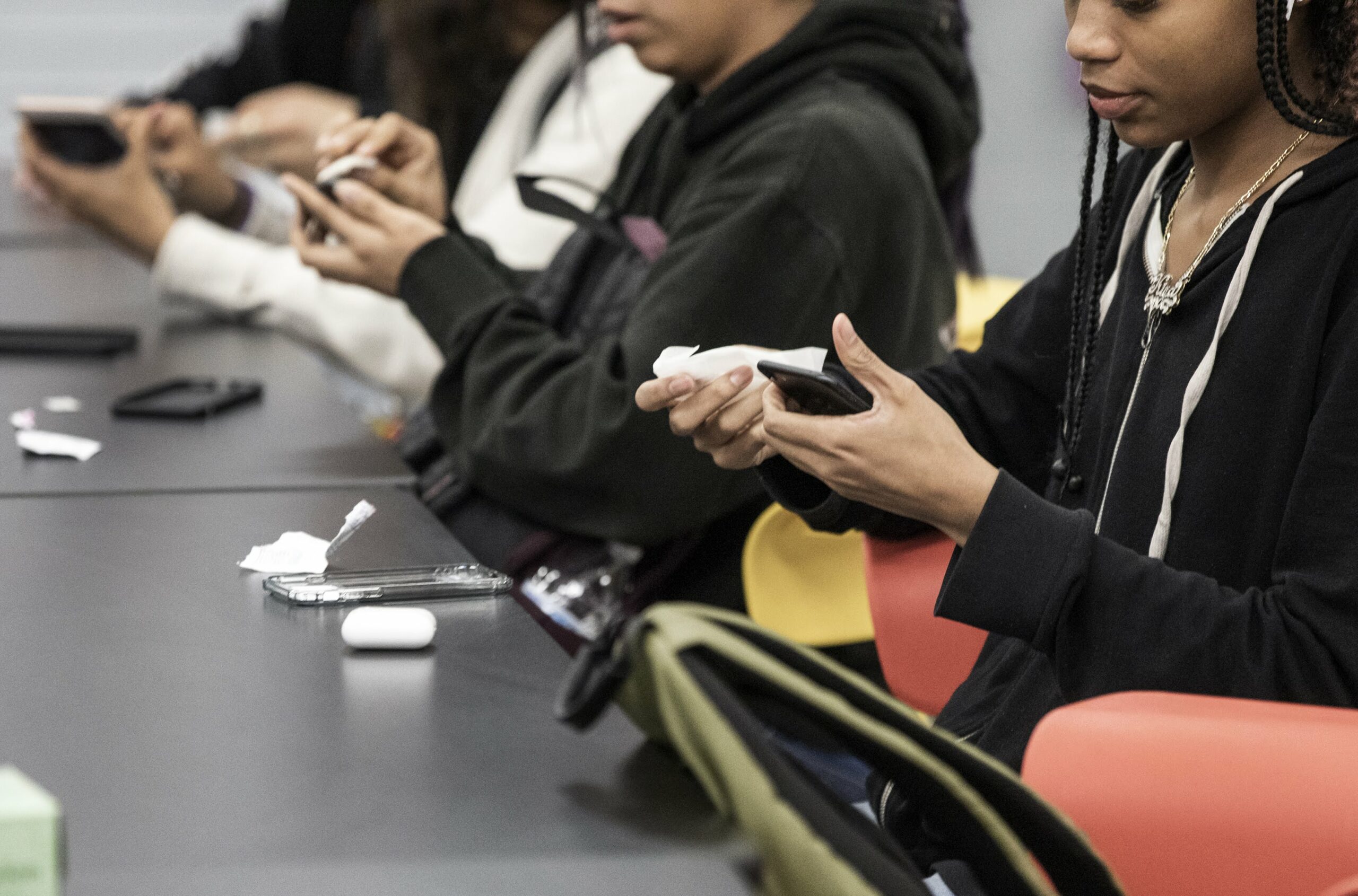 Cell phones generally hide in students' pockets, purses and backpacks during instruction, existing as a kind of schoolwide contraband that shouldn't be seen or heard.

But not Wednesday in one Las Vegas classroom.

"Grab a wipe," Maggie Cox, the medical magnet instructor at Desert Pines High School, told her students as they entered the room. "Go ahead and wipe your phone."

The activity wasn't entirely out of the blue in this medical magnet program, where students study community health science. Cox runs the classroom like a medical office, instructing students to perform proper handwashing and sanitation techniques before and after using equipment or interacting with fictional patients.

This standard operating procedure, however, has taken on a heightened meaning given the novel coronavirus outbreak officially declared a pandemic by the World Health Organization. The upper-respiratory disease has stymied education around the world, closing schools or forcing them into online-learning formats in some areas.

It also has provided a learning moment inside still-open schools as students come armed with questions and teachers do their best to dispel myths and provide accurate information. Last week, the Clark County School District released a digital lesson about COVID-19 — the formal name for the disease — that can be used with all sixth- through 12th-grade students.

Cox is among other teachers who are tweaking their lesson plans to address the unfolding worldwide phenomenon. Gone are partner activities such as blood-pressure testing, replaced with plans that can be accomplished individually. In recent days, that has meant learning about microorganisms and the chain of infection — topics the educator conceded might not normally perk up students' ears.

"They are hanging on my words when I talk about droplet prevention," said Cox, president-elect of the Nevada Association for Career and Technical Education.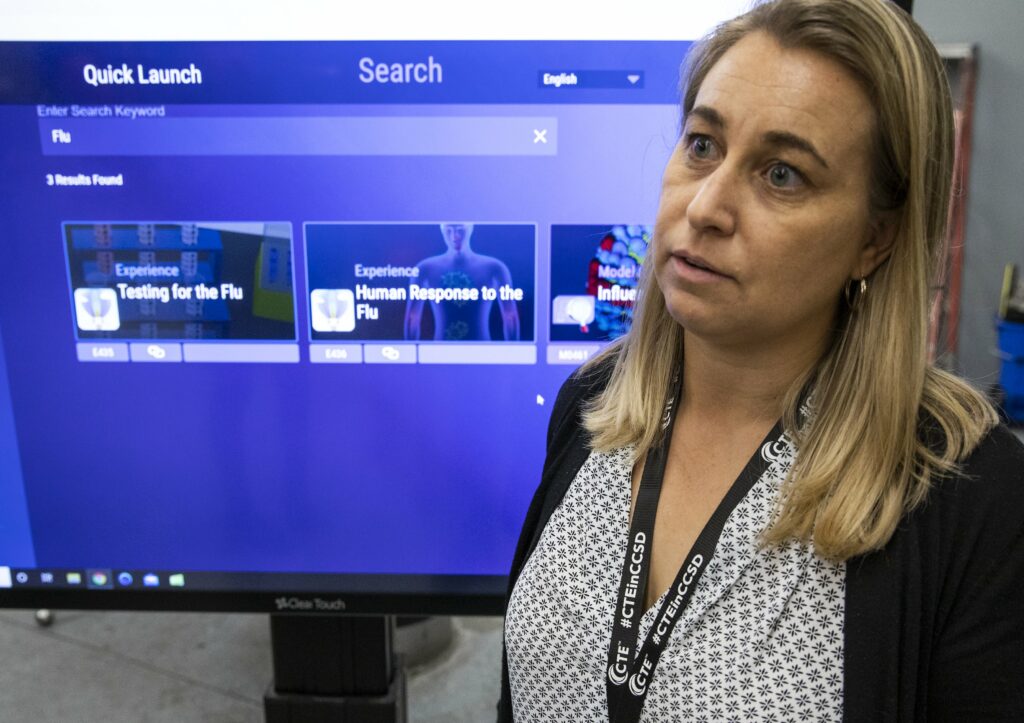 On Wednesday afternoon, her students donned sanitized 3D glasses and digital styluses as they turned on special computers equipped with virtual and augmented reality programs. Their assignment: Complete a computerized lab activity that simulates the testing process for identifying influenza.

Cox said students' comments and questions — whether about the mortality rate or cleaning supplies wiped off store shelves — started to increase last week, coinciding with the first presumptive positive case in Southern Nevada.

"There's a level of panic that I did not expect," she said.

But as the old saying goes, knowledge is power; hence, retooled lesson plans. Cox began talking about previous fast-spreading illnesses, the importance of vaccines, and the differences between viruses and bacteria, emphasizing basic prevention methods along the way. As a certified athletic trainer and mother of two young children, Cox said she realized what may be second nature for her wasn't for her students.

In other words, the sanitation skills they harp on all the time in class weren't necessarily viewed with the same seriousness elsewhere.

"They haven't had this experience where they realized how significant it was to, you know, wash your hands," she said.

Emanuel Melendez, a junior in her Health Sciences II course, has carried that message home, making sure his younger sister washes her hands every time they return. But aside from extra sanitary diligence and a heightened interest in how viruses work, the 17-year-old hasn't lost sleep over the novel coronavirus.

"Since I'm young, I'm pretty sure I'll be fine," he said. "I'm worried about maybe catching and spreading it to other people, but that's about it."

And while older students may be studying infectious diseases, age-appropriate lessons are happening in the lower grades as well. Virginia Mosier, a kindergarten teacher at Myrtle Tate Elementary School, recently brought out glue and green glitter for a demonstration.

She filled a Styrofoam bowl with glue, sprinkled it with glitter and high-fived surfaces to show how germs —in this case, the glitter — spread on contact. The same thing happens with actual germs on pencils and doorknobs, she told them, underscoring the need for proper handwashing.

Never once, however, did she use the word "coronavirus." The lesson was simply framed around staying safe and healthy, which Mosier said has led to fewer fingers in mouths and eyes. Their morning greetings have changed as well.
"Now, they have a choice between an elbow bump or a fist bump," she said.

Back in Cox's classroom Wednesday afternoon, the teenagers shared their findings after conducting the simulated flu testing. Suddenly, they had more insight into health workers' frontline battle to curb the spread of the coronavirus and seasonal influenza cases.

"It's very complicated," one student said.

"You need patience," another replied.

"Pretty easy to contaminate," someone else chimed in.

Cox nodded and agreed before reminding students that elderly people and those with underlying health issues are most at risk for serious complications from the new virus. Still, she issued gentle advice to the possible night owls in the room.

"Don't stay up at night watching TikTok or playing games," she said. "Whatever it is you need to do to keep your body healthy, this is the time."

Featured Videos
Comment Policy (updated 4/20/2021): Please keep your comments civil. We reserve the right to delete comments or ban users who engage in personal attacks, use an excess of profanity, make verifiably false statements or are otherwise nasty. Comments that contain links must be approved by admin.