The Washoe County School District's logo as seen on an office building on Aug. 28, 2018. (David Calvert/Nevada Independent)
Tensions flare as Washoe superintendent plans return to work, school district closes administrative buildings
The Washoe County School District's embattled superintendent, Traci Davis, plans to end her leave of absence and start working again Thursday — a move that has triggered a closure of administrative offices.
Davis's attorney, William Peterson, sent an email to the school district's chief general counsel, Neil Rombardo, on Wednesday announcing her decision. In his reply, Rombardo strongly urged against any such action, calling it a "breach" of an agreement reached between the two parties.
Shortly after Rombardo sent his reply to Davis's attorney, the school district issued a message to staff informing them that three central administration offices would be closed until Monday.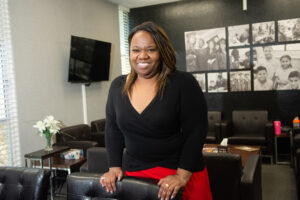 "The concern is that Ms. Davis and her attorney intend to create a disruptive confrontation at the expense of our District and Central Administration Staff," Acting Superintendent Kristen McNeill said in a statement. "Such tactics are abhorrent, and I am, therefore, doing all in my power as Acting Superintendent to protect you all and the interests of our District."
McNeill asked central staff to not report to the building and, if possible, work remotely. All affected employees will receive their regular pay for the next two days.
The office closures mark the latest development in a saga that has unfolded in the 10 days since the district announced Davis's leave of absence for personal reasons. The school board initially remained mum on details, but on Friday evening, the district released a lengthy statement and announced a special meeting July 1 to discuss her employment.
Davis is accused of leaking confidential information related to a workplace harassment investigation, according to a redacted letter the district made public Friday.
Davis told the Reno-Gazette Journal on Wednesday evening that she was "flabbergasted" by the district's statement.
"This is a clear indication of racial issues in the school district," she told the newspaper.
The latest email correspondence between Rombardo and Davis's attorney illustrates an increasingly hostile situation. 
Peterson wrote that Davis agreed to an "indefinite leave," not a "voluntary leave." Rombardo rebutted that assertion in his reply email, stating that Peterson made that representation to him and two other witnesses.
Peterson also took umbrage with the district terminating Davis's email account and other communication channels. He asked that those be restored when she returns to work.
Rombardo defended the district's decision to cut her access.
"With regard to your allegations that the District failed to follow its common practice of not terminating all communication access, email, badges, etc., this is not a common situation or a common employee," he wrote in a reply email Wednesday evening. "She is the CEO of this entity, and there is evidence that she and/or her direct reports used electronic communications to interfere with a workplace investigation from 2016-2017. These highly uncommon situations required a uncommon response."
Rombardo went on to accuse Peterson of lying in his email and said the district would be reporting him to the state Bar Association. The district's general counsel also wrote that Davis' return would constitute more evidence of her "creating a harassing and unprofessional work environment, which the Discovery clearly shows that she fostered."
Emails released Wednesday also show a strategic decision on behalf of district leaders to not fully disclose the reason for Davis's sudden and, at the time, unexplained leave.
"In the interest of full transparency, I want to let you know the District needs to inform leadership team members and direct report staff," Rombardo wrote in an email to Peterson on June 17. "However, we will not be informing all staff. I am planning on something very simple such as the 'Superintendent has taken a leave of absence for personal reasons.'"
Davis has been superintendent since 2014 and, before that, she served as deputy superintendent. Her leave of absence coincided with the departure of two other top administrators, Chief of Student Services Officer Byron Green and Chief of Staff David Lasic. 
On the same day Davis's leave was announced, a district spokesman confirmed Green and Lasic were no longer employees but declined to comment further, calling it a personnel issue.
The special board meeting about Davis's employment begins at 8 a.m. Monday.
Comment Policy (updated 10/4/19): Please keep your comments civil. We reserve the right to delete comments or ban users who engage in personal attacks, use an excess of profanity, make verifiably false statements or are otherwise nasty.