Children play at a jump-rope station during recess at Howard Hollingsworth STEAM Academy in Las Vegas on Tuesday, Feb. 20, 2018. Daniel Clark/The Nevada Independent
The art of play: Why one elementary school revamped its recess
February 27th, 2018 - 2:00am
Students at Hollingsworth STEAM Academy in downtown Las Vegas once treated jump ropes as lassos, whipping them in the air with wild abandon.
No more. These days, two children twirl the rope, slapping the pavement in a steady rhythm, as one child hops and they all sing the accompanying chant: "Ice-cream soda, cherry on top. Who's your boyfriend? I forgot."
The appropriate play is the result of what the elementary school's principal calls a "recess reboot" — a detailed plan to overhaul the treasured outdoor time, creating a more peaceful playground and instilling in kids the social and emotional skills they're not learning in their own homes or neighborhoods.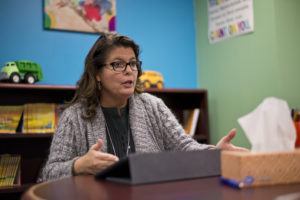 Yes, that's right: Schools are no longer just teaching reading, writing and arithmetic. They're also teaching today's youngsters how to play.
"When we were little, we used to play 'Red Light, Green Light,' 'Red Rover, Red Rover,' 'Mother May I?'" Principal Katie Decker said. "We played all these games out on the street. Kids don't do that anymore, so we actually have to teach them games."
In mid-November, the school launched its recess reboot with assistance from Playworks, a national nonprofit dedicated to improving playtime and, in the process, children's overall well-being. The Las Vegas-based Greater Good Council donated $10,500 to fund the school's partnership with Playworks.
Playworks sent Hollingsworth a coach that visited each classroom and taught students the rules for classic recess games such as four-square, tetherball, three-on-three basketball, jump rope, hula hoops and even tag, Decker said.
For instance, the coach introduced students to new versions of tag — a running game that can lead to injuries — that put a more creative twist on the popular playground pastime while also making it safer. Gone are shoves or near tackles. Instead, students apply a "butterfly touch" during the game.
But rules are meaningless unless there's enforcement, and that's where recess coaches play a key role. Each recess boasts at least 10 playground coaches — third- through fifth-grade students donning brightly colored jerseys — who monitor the games, remind participants of the rules and promote positive interactions.
Staff members remain outside to settle any disputes and ensure overall safety, but they want students to take the lead and create a better playground environment.
The school hasn't had any trouble recruiting recess coaches because it's treated as a leadership role, Decker said. The recess coaches leave class early, throw on their jerseys and take their spots on the playground, where they can also participate in the games.
"It's better because kids don't have to fight over what they play," said 9-year-old Crystal Enriquez, a recess coach overseeing jump rope on a recent morning. "It's fun."
The program has turned the playground into a virtually fight-free zone, said Decker, one of the district's franchise principals who oversees three schools. Before, the school was averaging about five fights per day at recess.
The playground problems weren't just a matter of kids being kids, Decker said. They're indicative of a larger issue — students coming to school nowadays without basic social and emotional skills. They don't always know how to share, control their anger or resolve conflicts among themselves.
It's not just about changing social norms, though. Some neighborhoods also lack park space or are simply too dangerous for kids to play outside.
"It's a different time," she said. "Kids are much more connected to TV and video. There's a lot less time being spent outside than ever before."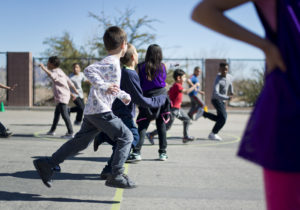 So as far as Decker is concerned, an extra emphasis on recess will pay dividends down the road if children learn how to get along with others and deal with losses.
"I always tell the kids there's no trophy for winning recess games," she said. "You're just supposed to have fun."
Soon, Hollingsworth students will have even more recess options.
A local doctor donated $400,000 to the school to fund a playground renovation project, which will convert an unused baseball diamond into a cozier space with artificial turf, a running track, trees, raised garden beds and outdoor musical instruments, Decker said. The project should be complete by late April.
From the Editor
The Nevada Independent
is a 501(c)3 nonprofit. We need help to attain the elusive goal of sustainability. We depend on recurring donations from you, the readers who believe in our mission of nonpartisan, transparent journalism. I know you are busy. I know you have many commitments. But if you would take a moment to
support our work
or bump up your current donation, I would be forever grateful.
Thanks for all of your support.
Best,
Jon Ralston
get our morning newsletter,
The Daily Indy
Double your generosity!
Between now and Dec. 31, every donation of up to $1,000 will be matched by a group of national foundations in support of local, nonprofit journalism.
Your donation is also tax deductible, so don't delay — give today.
#NewsMatch
@TheNVIndy ON TWITTER