Clark County School District Superintendent Jesus Jara speaks with media during his first school visit at Del Sol Academy of the Performing Arts on Thursday, June 21, 2018. (Daniel Clark/The Nevada Independent)
The deans are back — at least for now — but can Clark County's superintendent regain his employees' trust?
Two weeks before another academic year begins, the Clark County School District released a three-minute video showcasing teachers working with students, a mechanic fixing a bus, a custodian mopping a floor, kitchen staff plating salads and police officers greeting children.
Superintendent Jesus Jara narrates the video, describing the collective effort that goes into educating 319,000-some students as the district works toward a bevy of goals outlined in a five-year strategic plan.
"We can and we will achieve these goals we have set because of one thing — the people in this organization. Because of you," he says. "Thank you to every single employee of the Clark County School District for what you do for student success, and thank you for making CCSD number one for kids."
The back-to-school message, which the district posted Monday on its Facebook page, exudes positivity and gratitude following a summer mired in controversy over Jara's initial decision to eliminate deans. The move sparked outrage at public meetings, a lawsuit filed by the administrators' union and heated discussion on social media channels — all of which appeared to erode Jara's trust with his employees and the community at large.
"The whole thing was a major fiasco," said Meredith Freeman, a parent whose twin daughters attend Hyde Park Middle School. "It was horrible PR."
Last week, however, Jara changed his mind and reinstated the dean positions. After consulting with teachers, administrators and support staff, Jara decided to let budget cut decisions be made at the school level. 
But was the reversal enough to mend the fractured relationships?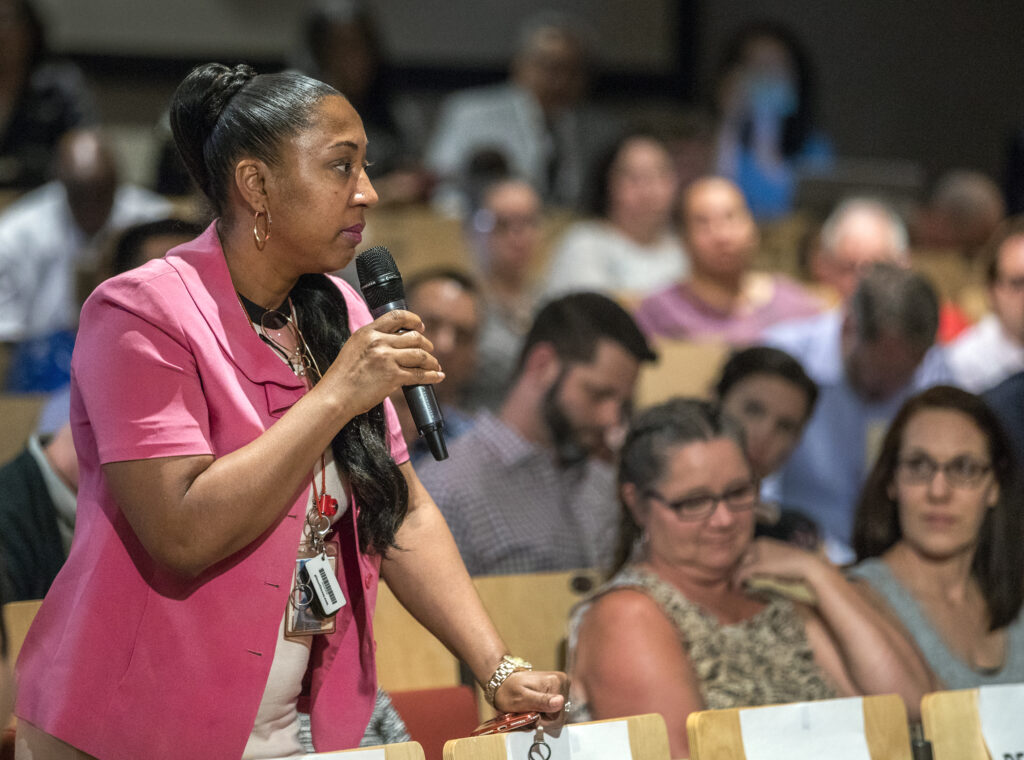 Cause and effect
The deans decision — and related summer saga — didn't drop out of thin air. It came exactly one week after legislators wrapped their business in Carson City, funneling enough money for the governor's promised teacher raises but not quite enough to make the school district solvent.
The school district faced a $33 million to $35 million deficit over the next biennium. The elimination of deans at middle and high schools, which Jara announced via a video message June 10, would have chopped the shortfall by about $17 million. The decision immediately rankled deans and many principals, who raised concerns about school safety and felt blindsided by the move. 
Jara apologized for the communication method two days later at an education town hall, saying he was simply trying to inform everyone at the same time. "Obviously, I didn't get it right," he said June 12. 
The Clark County Association of School Administrators and Professional-Technical Employees (CCASAPE), meanwhile, held a special meeting, where 72 principals took a unanimous vote of no confidence in the superintendent — the first such act in the union's history. The union then filed a lawsuit against Jara and the School Board of Trustees, alleging they violated the state's Open Meeting Law while making the decision.
Initially, Jara did not back down from his decision. After a fiery school board meeting, where educators aired their grievances during public comment on June 13, Jara told reporters afterwards that he wasn't rescinding his decision.
Trustee Linda Cavazos chalked up his reluctance to needing more feedback and actual dialogue with staff. Board members and the superintendent aren't allowed to carry on conversations with people speaking during public comment. 
Those conversations happened a few weeks later. Vicki Kreidel, president of the National Education Association of Southern Nevada (NEA-SN), said she received an email July 15 inviting her to participate in a teacher roundtable discussion about the issue. The invitation came a week after a District Court judge issued a temporary restraining order related to the lawsuit, putting the dean eliminations on hold.
Kreidel said Jara seemed genuinely interested in hearing their thoughts and ideas. She said he also mentioned several times the looming threat of a teacher strike and reiterated that budget cuts could not reduce teacher or support staff positions or increase class sizes. (Leaders of the Clark County Education Association — the larger of the two teacher unions — have said teachers will strike if any budget cuts are made to the classroom.)
"I did feel like it was productive," she said. "At that point, I said, 'OK, he really is looking for other solutions' because that's what it felt like."
The NEA-SN's overarching concern from the beginning, Kreidel said, was campus safety. Deans handle everything from student discipline and attendance issues to bullying investigations and supervision of athletic events.
"You have supports in place to make sure schools are a safe place for students and educators," she said. "If you yank these keystones out, you're not sure the wall is going to stand."
Ultimately, Jara decided to restore the dean positions while the district transitions to a new way of handling student discipline. Reducing the disproportionate rate that certain student subgroups — especially black children and teens — are suspended or expelled is a goal identified in his five-year strategic plan. That means the future of the dean position remains unclear beyond this year.
Cavazos, who expressed her unease about eliminating deans during a board meeting, said she agrees with his goal to ensure more equitable discipline but wants more information and planning time before implementing a new system or approach.
"I think he has gained a wealth of knowledge about our demographics and how people really want to be included," she said. " … Everybody's voices need to be heard."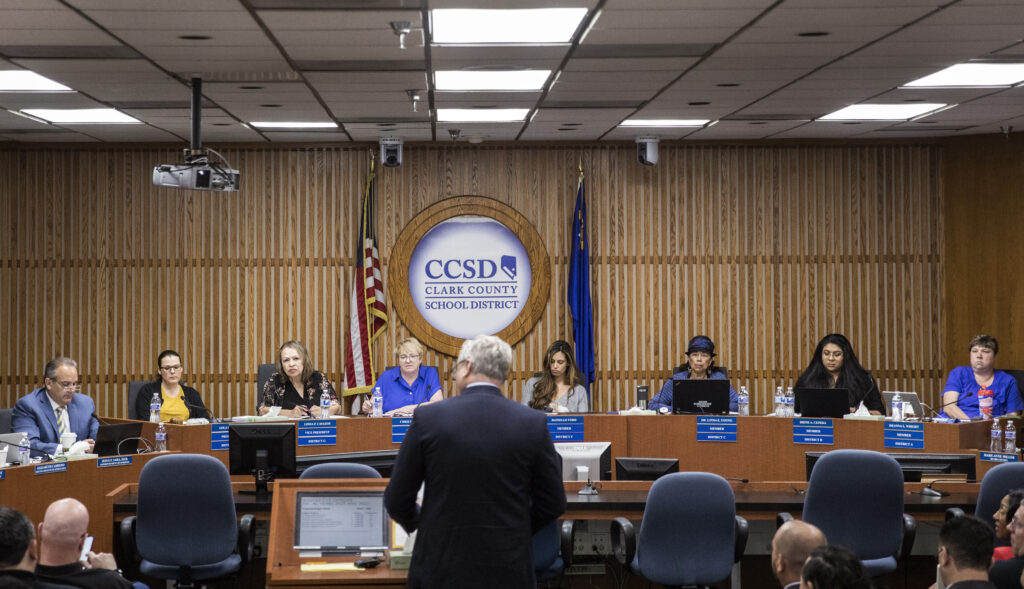 Moving forward
The school district still needed to make cuts somewhere, but this time, Jara left the decision up to principals and school organizational teams. The directive: Middle and high schools needed to reduce their budgets by $98 per student. 
The budget adjustments had to be completed by the close of business Tuesday.
Trent Day, principal of Centennial High School, said the superintendent probably would have arrived at a similar decision if he sought staff feedback in the first place. He doesn't necessarily view the end result as a win for any party, though.
"It's a budget cut. Period," he said. "And so how schools are working through that is a different scenario for every school."
Day said he drafted five different organizational charts during the summer given the uncertainty. Centennial High School's per-pupil cut amounts to $293,373, but Day said he will need to make another budget adjustment in early September after count day, which is when student enrollment is calculated. He used funds from Senate Bill 178, which directs extra money toward the lowest-performing students, to hire another counselor and social worker to help those at-risk teens. Day said he's leaning toward eliminating the dean positions but is waiting to see budget numbers after count day.
"We're going to have to get there anyway," he said, referring to the district's transition to a new discipline approach. "I may as well move in that direction now."
Tam Larnerd, principal of Spring Valley High School, said his team decided to use money set aside for new student success coordinator positions that Jara created after eliminating deans to cover its budget cut, which was $262,595. The new positions won't be in effect this year, so the school can use those funds to balance the budget along with money from its supplies line item. Larnerd expects carryover funds — which schools usually get back in October — to replace the money taken from the supplies budget. 
Larnerd said he has come to expect budget adjustments after a legislative session, so he purposely reserved some carryover funds.
Still, he questions why the cuts weren't spread out across the system as opposed to just middle and high schools. Larnerd said including elementary schools would have resulted in a per-pupil cut of $53 versus $98 for secondary schools only. While high schools have bigger budgets, Larnerd noted they also boast larger student populations and higher costs associated with things like athletics, marching bands and Advanced Placement textbooks.
"It just seems like elementary is almost always taken off the table when it comes to these kinds of things," he said.
Jara did not return a request for comment about why elementary schools weren't included in the budget cuts or, more broadly, why he decided to restore the dean positions. 
The decision, however, pleased those who worked closely on the state-mandated reorganization, which attempted to put more decision-making power in the hands of principals and advisory bodies called school organizational teams. The reorganization, a divisive and complex revamp of the district operating structure, was well underway by the time the school board hired Jara in May 2018.
Glenn Christenson — who chaired the Community Implementation Council, a group of appointees overseeing the reorganization — said Jara made the right decision in the end.
"I like the idea that the decisions are being made at the school level," he said. "Those leaders in the building know what's best for their school."
Christenson, a former Station Casinos executive, even cut the superintendent some slack about the way he handled the initial announcement. The video message was widely criticized as insensitive, but Christenson said communicating information — let alone negative news — and trying to keep it confidential while notifying all employees is challenging in any large organization.
"The superintendent of the Clark County School District is the hardest job in the state," he said. "There are so many constituencies that you have to try and please."
Despite restoring the dean positions, regaining trust could be the biggest challenge facing Jara during his second year as the district's leader. For starters, the administrators' union has not dropped its lawsuit. Union leaders say they still have concerns about the alleged Open Meeting Law violation and whether the superintendent has the authority to make unilateral personnel decisions. 
There are also lingering interpersonal issues. David Wilson, principal of Eldorado High School and past president of the administrators' union, said Jara hasn't apologized for eliminating deans without staff feedback and for plunging employees into uncertainty over their summer break. He has only heard him apologize for the video message.
"At no point did he say, 'I wish this had been handled better,'" Wilson said. "He never said the words, 'I'm sorry.'"
Wilson isn't optimistic the wounds will heal. 
"Once trust is broken, it's nearly impossible to bring back," he said.
But some administrators have signaled a willingness to attempt repairing the damaged relationships. Day, principal of Centennial High School, said the root problem remains lack of education funding and, therefore, large class sizes — an ongoing challenge that spills into many aspects of the district's daily operations.
Day said the dean decision morphed into "one of the most difficult situations" he has witnessed the district encounter during his tenure. 
"It has kind of pitted all of us against each other," he said, "and now we need to be in the rebuilding and mending process."
The new school year starts Aug. 12.
Stories
Candidate Trackers
Endorsements, Ads, Policies, Visits
& More
visit now
Comment Policy (updated 10/4/19): Please keep your comments civil. We reserve the right to delete comments or ban users who engage in personal attacks, use an excess of profanity, make verifiably false statements or are otherwise nasty.