The entire community owes a debt to Carol Harter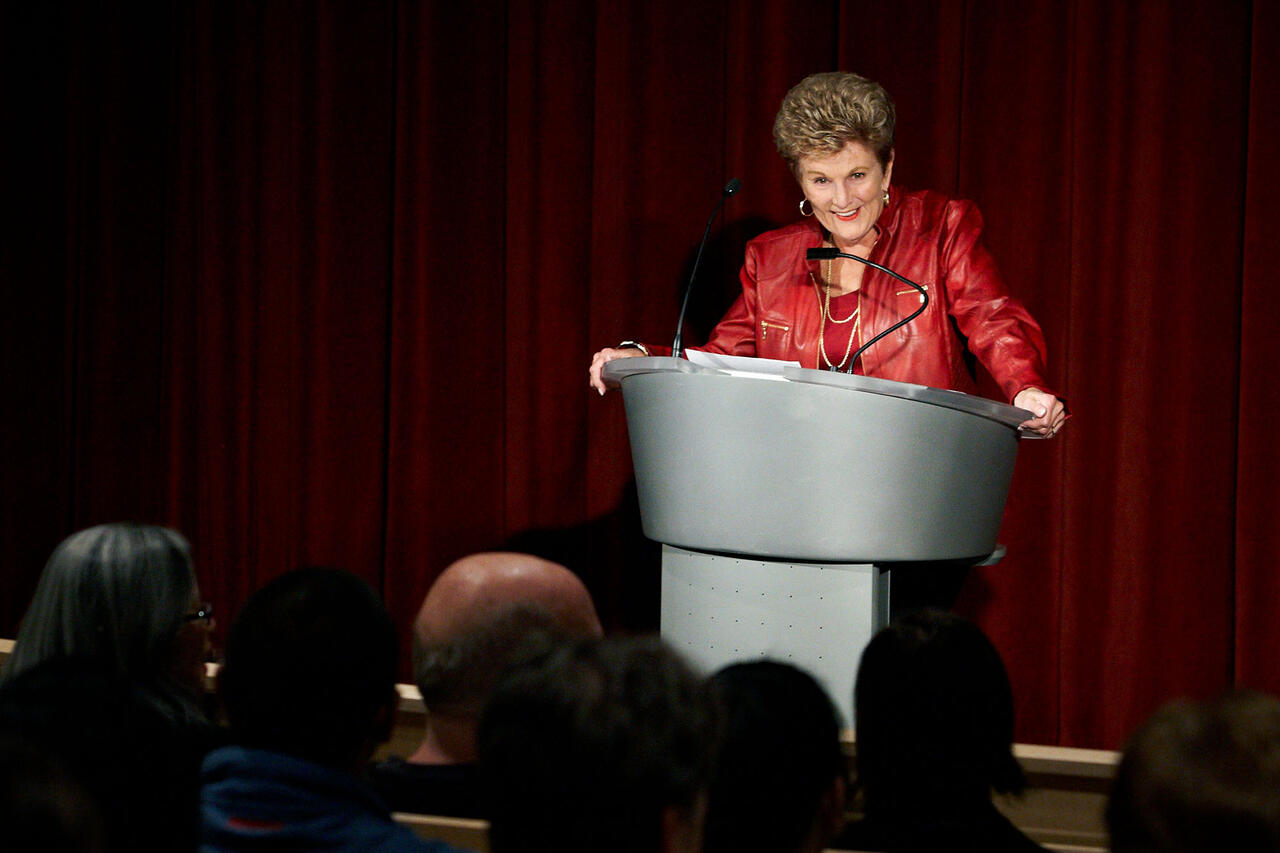 Lunchtime at Ferraro's Ristorante on Paradise Road found UNLV President Carol Harter at her regular table, smiling and welcoming me with a wave of a hand.
Gino Ferraro owned the popular place, but I would have sworn Harter had the run of it. Small in stature, she possessed an undeniable presence that commanded attention, and not just from the waitstaff.
In a boomtown forever chasing the next big thing, Harter was the real thing. With the face of a schoolteacher, a gifted intellect, and a spine of steel, she was a charming professional educator and administrator who could be bruising when necessary. You don't get to be UNLV's first woman president, let alone the longest-serving president in the university's history, without being a skilled political pugilist.
Her death on Sept. 14 at age 82 was remembered Wednesday with a tribute at Thomas & Mack Center. I was unable to attend, but was reminded all day of Harter's impact on the university and community, her friendship with philanthropist Beverly Rogers and so many others — and a certain lunch at Ferraro's.
She was nearing the end of her record 11-year tenure, one which had seen her endure the slings and arrows of outrageous state Legislatures and pick up her share of formidable critics, but she was still pitching for UNLV. Between bites of salmon and delivering the university's latest academic accomplishment, Harter paused. Then she leaned across the table and grabbed a hank of my hair. After tugging on it a couple times, she released it and said, "I just wanted to see if it was real."
Did I mention Carol Harter was not a shy person?
At a time when UNLV was a state university traditionally dominated by white men and buffeted by booster meddling and regent mischief, Harter offered experience, intelligence, energy and ethics. She almost didn't get the job.
One regent told her Nevada wasn't ready for a woman president. One predicted she wouldn't last a year. Another chided her belief in gender equity in the classroom and on the athletic field. Still another questioned her ability to understand and expand the university's athletic programs, despite the fact she had been a college athlete and had sat on NCAA's rules committees and knew far more about athletic compliance than anyone at UNLV.
She didn't budge and inch, and with regents Shelley Berkley and Jill Derby pressing her case, Harter's selection was unanimous.
"That first year that she was here, there was a strong possibility that she would not survive," Berkley recalls. "There was a lot of pushback. Different people that were not particularly interested in her succeeding threw a lot of roadblocks in her path. What Carol managed to do, and it was fully on display at this celebration of life, she was an academic; she understood the importance of sports to the university; she understood research; she knew that it was part of the culture of the community, and that the university was the center of the universe for the entire community.
 "I often laughed after she became UNLV's longest-serving president that when she was first selected, it was predicted that she wouldn't last six months."
From the time Harter beat the odds and was named president in 1995, she set a new standard for academic achievement, program expansion, and for the promotion of qualified women to leadership positions.
As Caryll Batt Dziedziak, director of the Women's Research Institute of Nevada, observed, "This was not a time of welcoming women's leadership, but she stood her ground and slowly won over scores of admiring business and community leaders."
That she did. At least most of them. And those who sought to replace her were in for a tangle. Not many people in Las Vegas history can say they got the best of the community's tough and unforgiving network of insiders, but Harter did it without breaking stride.
As psychology professor and former acting UNLV president Marta Meana put it, "Carol was our RBG, our DiFi, our woman warrior. She fought hard for UNLV and she won much more often than not."
Like any hall-of-famer, Harter's statistics are impressive. A few among many: leading the effort to create 17 new buildings, including a new library, the School of Dental Medicine, the William S. Boyd School of Law, and the Greenspun College of Urban Affairs. Add to that the development of more than 100 academic programs, push toward R1 research status, and the unprecedented attention to fairness, and you can see why the tributes she's received are deserved.
Today, UNLV is rightly celebrated for its programs and its diverse staff and student body. It hasn't happened by chance, but by the sweat equity of real leadership that largely began under Harter continues under President Keith Whitfield.
For my part, Harter's efforts to create an international literary center set her in a class by herself. Today, the Beverly Rogers, Carol C. Harter Black Mountain Institute reflect that dedication.
In her moving tribute, Rogers said, "Carol was tough and kind. She was smart and funny. She was bossy and right! She was generous and compassionate — I cannot put too fine a point on this — Carol was my hero."
For Rep. Dina Titus, Harter's strength of character prevailed over politics.
"President Harter succeeded at UNLV not by lowering her standards to satisfy her detractors, but by raising their expectations of what it took to be a great university," Titus says.
In an interview several years after leaving office, at a time she was still playing an integral role in the growth of Black Mountain Institute, she told me, "I used to say, 'We need to be like UCLA.' It's a great university in a great city with great academics, great culture and great athletics. I believed in it then. I still believe in it."
Carol Harter never stopped believing in UNLV and made believers of everyone who cares about the university's essential role in the Las Vegas community.
John L. Smith is an author and longtime columnist. He was born in Henderson and his family's Nevada roots go back to 1881. His stories have appeared in Time, Readers Digest, The Daily Beast, Reuters, Ruralite and Desert Companion, among others. He also offers weekly commentary on Nevada Public Radio station KNPR.
The Nevada Independent is raising $200,000 by Dec. 31 to support coverage of the 2024 election.
Tax-deductible donations from readers like you fund this critical work.
If you give today,your donation will be matched dollar-for-dollar.
Give + Get Matched
Featured Videos