The Indy Explains: How a pay raise tied to professional growth is fueling a teacher strike threat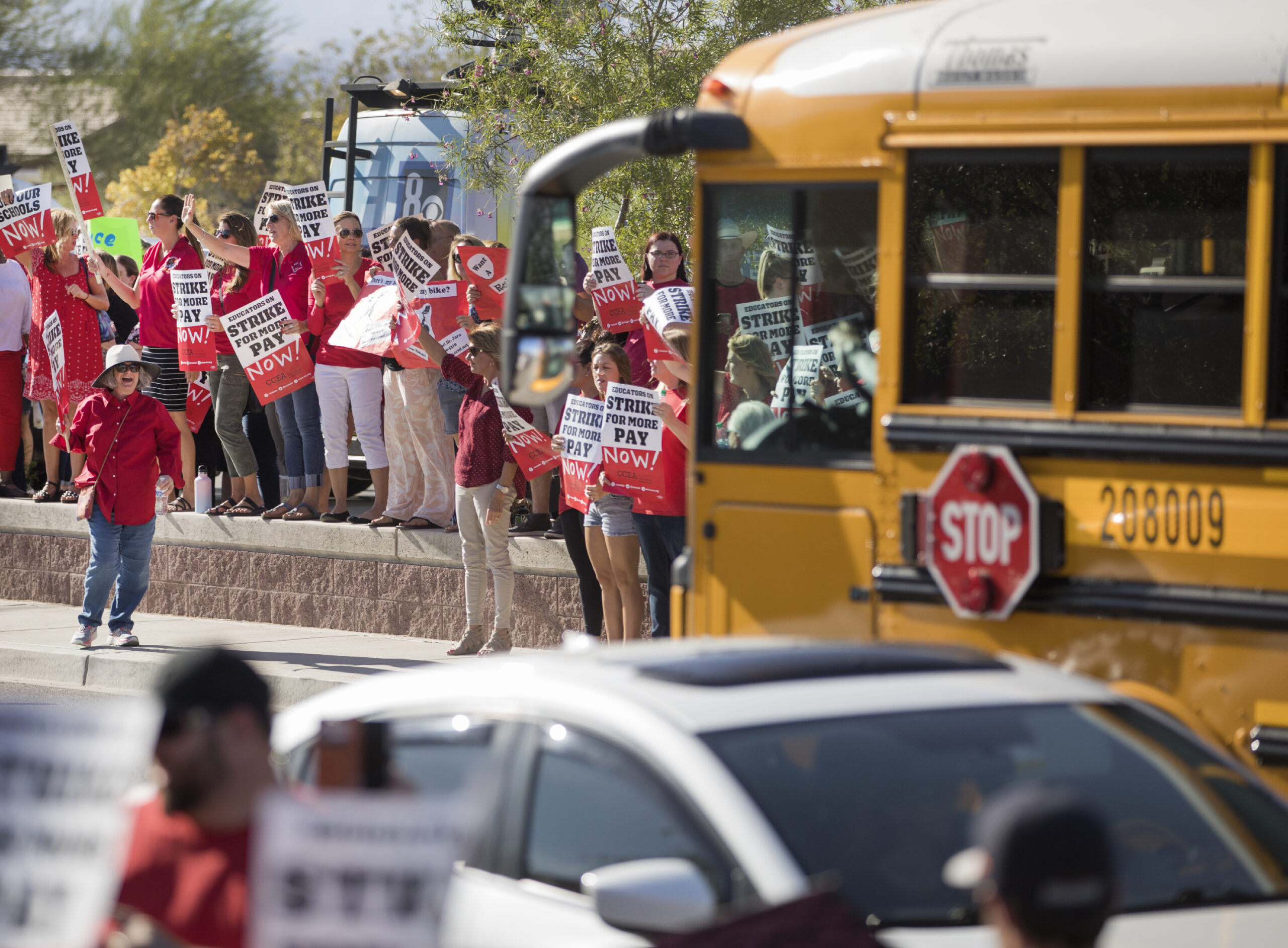 Take a time hop back to childhood for a moment. Picture the board game "Chutes and Ladders."
It's described as an "exciting up and down game for little children," and the board itself doesn't disappoint in that regard. The board features boxes and ladders and — you guessed it — chutes, creating a Byzantine maze to the finish line.
Now, let's talk about the professional salary table for the Clark County School District's licensed educators. To the outside observer, it may seem just as confusing as the patience-testing "Chutes and Ladders" game given moves up and across the table toward higher pay. But there's one notable difference: There are no chutes in this game. It's all about teachers moving up, not backwards, in pay.
The route to get there, though, isn't straight. The path involves step pay raises, otherwise known as seniority raises because they're based on length of employment, and so-called column advances, which refer to salary increases tied to professional development. There are also occasional cost-of-living increases.
The column advances, however, are caught in the middle of a bitter labor dispute and a looming teacher strike. So what exactly does column movement entail, and how did the school district and teachers' union wind up in this stalemate? Here's the background and summary of where things stand:
What is the Professional Growth System?
The Professional Growth System is the program that serves as the basis for column movement. The Clark County Education Association (CCEA) and the school district developed it during contract negotiations in 2015. It essentially gave licensed educators more flexibility in how they qualified for professional development-related pay raises.
But John Vellardita, executive director of CCEA, contends that the new system also better aligned column pay raises with classroom and student needs. 
"You could take another 16 college credits and move across. You could get another degree, move across. You could get a master's, a Ph.D.," Vellardita said, referring to the prior system. "You could do a number of things. But the disconnect was they didn't necessarily have to do with anything in the classroom."
The Professional Growth System has a reference guide, which spells out the activities that qualify for "contact units." Each contact unit represents three hours of time, and educators need a minimum of 225 contact units — or "CUs" — to advance on the pay scale. That means column movement equals about 675 hours worth of an educator's time outside of his or her regularly contracted work day.
How does it work?
It starts with the development of a professional growth plan based on educators' self-assessments and goal-setting with their supervisors.
"The plan should outline a clear path for action that will support the educator/licensed professional's professional growth and improvement, align with school and/or District goals, leverage existing professional development and expertise from within the school/District where possible, impact school climate, and may include teacher-generated school and District assessment(s)," according to the reference guide.
Ultimately, the teacher's supervisor must approve the professional growth plan, setting in motion the process. Along the way, educators need to document their progress, participate in a yearly review and submit final documents to receive approval for column movement.
Contact units can be acquired in a variety of ways — attending professional development courses, creating or teaching professional development courses, college coursework, mentoring colleagues, teaching summer school, writing grants, tutoring students, coaching or advising a student group, and serving on a school organizational team, among other activities.
The contact units vary by activity, with limits on certain categories. For instance, teachers can earn a maximum of 20 contact units for attending academic trips or competitions with students, although travel, meal and sleep time do not count toward the CUs. Professional development and graduate-level courses, on the other hand, do not carry a CU limit.
Why has it become the tension point in collective bargaining?
The Professional Growth System has been tangled in drama almost since its creation. More than two years ago, the teachers' union filed an unfair labor charge against the school district after it announced revisions to the reference guide that affected contact units. It was also part of an arbitration dispute that CCEA won last year.
Now, it's at the heart of the contract battle between the school district and teachers' union. 
CCEA has scheduled a strike Sept. 10 because the school district didn't include column pay in its proposed 2019-2020 contract. Instead, the district offered a 3 percent cost-of-living raise, a 2 percent seniority raise and an increase in the district's contribution to health care plans. 
Clark County Superintendent Jesus Jara said the district's offer gives $69 million to the union for compensation — well above the $45 million he believes the district owes CCEA, per the terms of an agreement they hashed out last year. 
The agreement stipulated that the district would calculate its "base minimum funding" — or the incremental per-pupil money needed for its budgets over the biennium, not including employee compensation increases or higher benefits costs. Any state Distributive School Account funds the district received in excess of the base minimum funding would be available for employee compensation and benefits. Per the agreement, the union would receive 70 percent of those additional DSA funds.
The union rejects Jara's assertion about the district providing more money than owed. Vellardita said the district never settled on a base minimum funding request.
"Their figure changed by about five or six times," he said.
The union, meanwhile, sought other avenues for employee compensation by backing legislation such as AB309 and SB551 that could funnel more money toward employee compensation, Vellardita said. AB309 gives county commissioners the power to increase the sales tax by a quarter-percent for specific education purposes, while SB551 extended the state's payroll tax rate. Both bills passed and were signed into law by Gov. Steve Sisolak, but their financial effect is unclear until the commission acts and/or the lawsuit over the payroll tax plays out.
The union argues that Jara signed off on the state's education appropriations in the final hours of the legislative session — indicating he had enough money to cover all employee raises as well as the district's operating costs. 
"I think, in the end, what happened was they mismanaged their efforts around exactly how much money they needed, and they clearly did not manage in their budget this money they should have been putting away for this column (advancement)," Vellardita said.
Jara said the district provided its Carson City lobbyists with all the necessary funding requests, including for column advancement. Shortly after the legislative session ended, though, the district announced a $34 million shortfall over the biennium and, two months later, didn't include column pay raises in its contract offer to CCEA.
How much would the column pay raises cost?
Union officials estimate the column advancement would cost the district no more than $15 million this year but probably a smaller amount. That's because roughly 2,500 teachers have submitted their documentation, which must be verified for column advancement. Not all teachers will receive approval for the $5,400 pay raise.
The district's projection is in the same ballpark. Jara said the district believes the column advancement would cost anywhere from $11 million to $14 million.
Where do the negotiations stand?
The school district offered a "one-time lump sum" to provide column pay raises to educators who are eligible under the Professional Growth System, but it came with two caveats — if the district can find additional money and if the union agrees to replace the system.
The union rejected the offer. Vellardita said it appears the district is "pivoting" and wants to turn negotiations into an unraveling of the Professional Growth System to replace it with a merit-based pay system.
"That is not going to fly here," he said.
Jara didn't elaborate on exactly what kind of system should replace the existing one, but he said column raises should be more heavily tied to moving the needle on student achievement. Of the roughly 1,100 educators who received column pay raises last year, he said only 30 demonstrated "positive impact in student achievement."
The superintendent expressed financial concerns as well, saying it would cost the district well beyond $100 million every three years if every teacher participated in the Professional Growth System and was approved for advancement. (The likelihood of full participation and advancement, however, is low based on current numbers.)
"We have to come up with a new system," he said. "Obviously, this system is not working, and it's not sustainable."
The two parties have agreed to mediation and will meet again Wednesday for another collective bargaining session, although it's unclear whether a mediator will be present.
The Nevada Independent is raising $200,000 by Dec. 31 to support coverage of the 2024 election.
Tax-deductible donations from readers like you fund this critical work.
If you give today,your donation will be matched dollar-for-dollar.
Give + Get Matched
Featured Videos