After two months of darkness, the sun rises on the Strip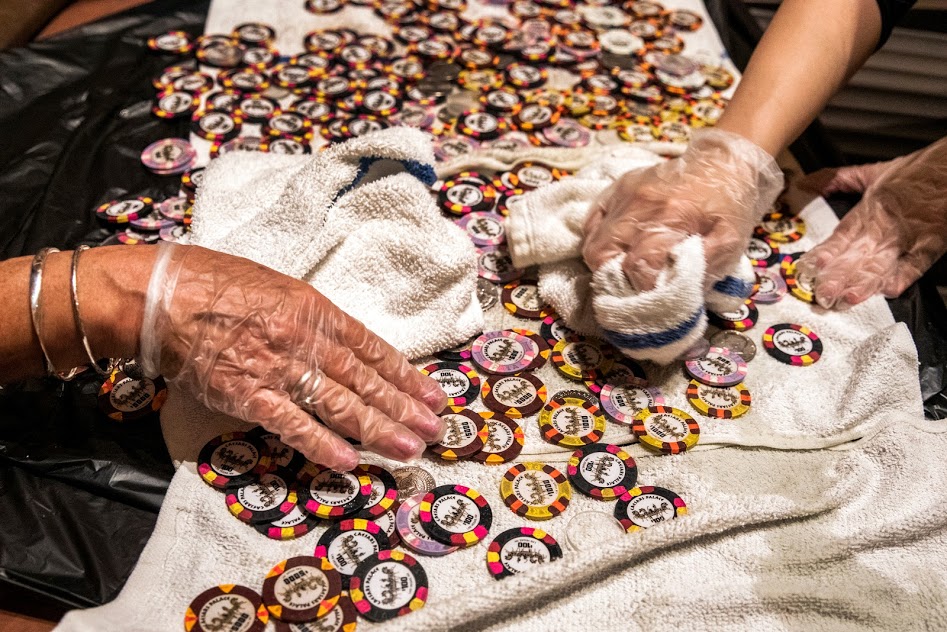 Even the flamingos knew something was wrong.
For three days after the gaming industry's abrupt shutdown in mid-March, the feathered flock at their namesake casino on the Las Vegas Strip only nibbled at their food. They were distressed. Gone were the throngs of tourists walking through their wildlife habitat.
An element typically absent from the Las Vegas experience — quiet — descended over the gaming and nightlife mecca. No more water shows at the Bellagio fountains. No more dinging slot machines. No more cheering crowds in sports books. And no more high-flying acrobatic acts at Cirque du Soleil performances.
"It was an eerie scene," said Sean McBurney, general manager of Caesars Palace.
The massive 54-year-old property with a Roman Empire theme had never closed its doors. Then came coronavirus and Gov. Steve Sisolak's directive March 17 ordering casinos and other nonessential businesses statewide to temporarily close. Caesars Palace employees scrambled to board up entrances with chains and padlocks.
And as weeks turned into months, weeds grew knee-high, flowers died and bushes lost their stately figures. The cosmetic needs on the property's exterior were a small part of the lengthy to-do list facing casino operators.
The governor's announcement in late May that casinos could reopen June 4 initiated a flurry of activity on and off the Strip as sprawling resorts — some offering amenities akin to a small city — prepared to welcome back guests. But the logistical undertaking really began months earlier as the gaming industry pondered a pandemic-altered future.
"I feel very good about the plans," McBurney said as he wandered a nearly empty casino dotted with social-distancing decals Tuesday afternoon. "We started working on a lot of these plans before we even closed."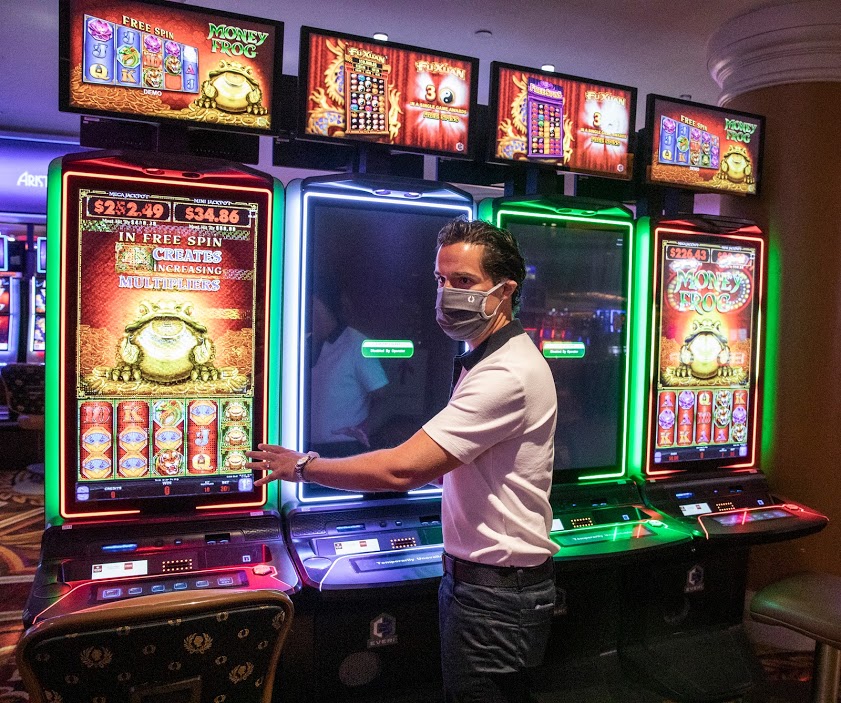 ***
In-person discussions turned into "a lot of Zoom meetings" for McBurney and other Caesars Entertainment executives as COVID-19 put operations on pause and forced an industry to reckon with a new reality — how to prevent a fast-spreading virus.
Like other gaming companies in Nevada, the Caesars team consulted with an infectious disease specialist, the Southern Nevada Health District and the Centers for Disease Control and Prevention. Even before the Nevada Gaming Control Board, the regulatory agency for the industry, issued health and safety policies, some moves were obvious.
Casinos needed hand sanitizer and lots of it.
Public areas needed social-distancing reminders.
And buffets needed reimagining.
"We really tried to make everything as visual as possible," McBurney said.
Floor decals in Caesars Palace mark the spot where guests should wait in line for restaurants or stand in elevators. Chairs have been removed from every other slot machine, and the screens display a "temporarily unavailable" message. Hand sanitizer stations greet guests at various points throughout the casino.
But signage is only one part of the battle against COVID-19. On Tuesday afternoon, bellmen in their standard brown uniforms gathered on the casino floor for a health and safety training session, which is a requirement for all employees returning to work. Nearby, other workers donning face masks and gloves sprayed disinfectant on casino chips and scrubbed them clean. The same cleaning process will happen "frequently" behind the scenes each day, casino officials said. Anyone playing a table game will be required to wear a face mask.
An Excel spreadsheet listing all the tasks required for reopening a property that sits on 85 acres with 130,000 square feet of gaming space, a 700,000 square-foot retail area and 4,000 hotel rooms became the guiding force.
"Each of these businesses are massive," McBurney said. "So we went through each of them and said, 'What is the critical path to open? What are the tasks that have to happen? And when do they have to happen by? How many people do you need to do them? And when do you need to bring them on?'"
In other words, the run-up to the casino's reopening at 10 a.m. Thursday was a carefully orchestrated production. The same could be said for other properties on the famed Las Vegas Boulevard or in suburban locales.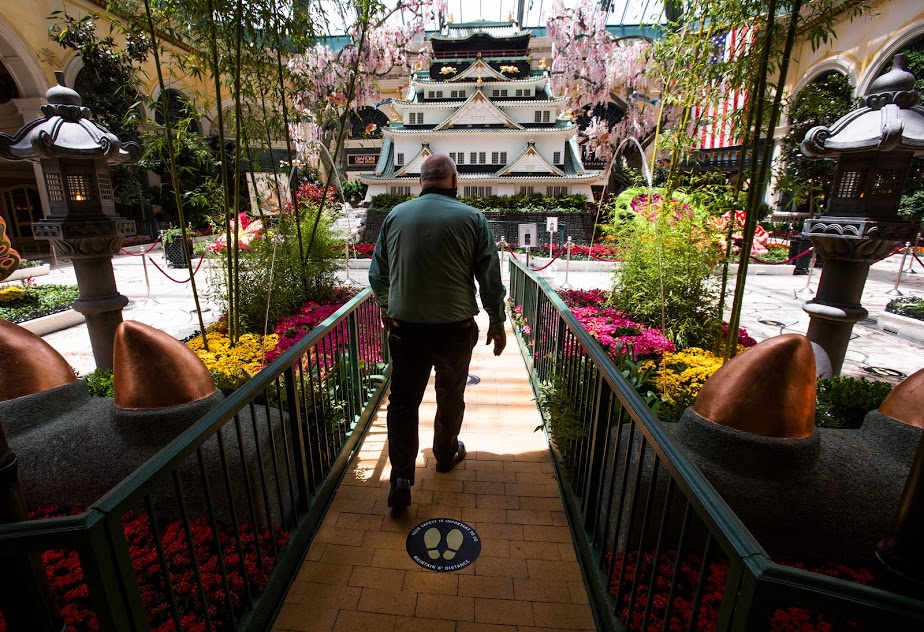 At the Bellagio, owned by MGM Resorts International, that meant rethinking traffic flow through its popular conservatory and botanical garden. Once a tourist-swamped attraction, the conservatory now will be a crowd-controlled venue. Guests will line up in a queue and gradually enter, following a path showcasing a majority of the room's 100,000 preserved flowers, 20,000 fresh-cut flowers and 30,000 potted plants.
Despite the potential wait time, Jerry Bowlen, the property's executive director of horticulture, said the social distancing creates some advantages.
"Any picture you took, you probably had somebody in the background," he said. "In this setting, it's probably going to be more friendly to picture opportunities."
Inside the gaming area, plexiglass dividers separate players and dealers at almost every table game. Patrons also must wear face masks while playing craps and roulette. But guests don't need to worry about bringing their own. The Bellagio is giving hotel guests an amenity kit, which includes a face mask and hand sanitizer, and staff will have supplies available on the casino floor, too.
Employees and guests will be subject to medical screenings, but what that looks like will differ by property. The Gaming Control Board's policy outlined two options — taking guests' temperature upon check-in or having medical personnel on site at all times and having guests take a symptom self-assessment.
Guests staying at the Bellagio, for instance, can check in through a touchless system, which will give them a digital room key after they answer a series of health questions. But the property will also have emergency medical technicians checking guests' temperature with a non-contact thermometer at the front lobby.
"There is no 100 percent solution for all of this," said John Flynn, MGM Resorts' vice president of administration, who oversees the company's health and safety strategies.
Across town at the Suncoast in Summerlin, a Boyd Gaming employee demonstrated a thermal imaging camera Tuesday that people will pass by as they enter all of the company's properties. If someone registers a temperature above 100.4 degrees, he or she will be asked to step aside for a second test with a non-contact thermometer.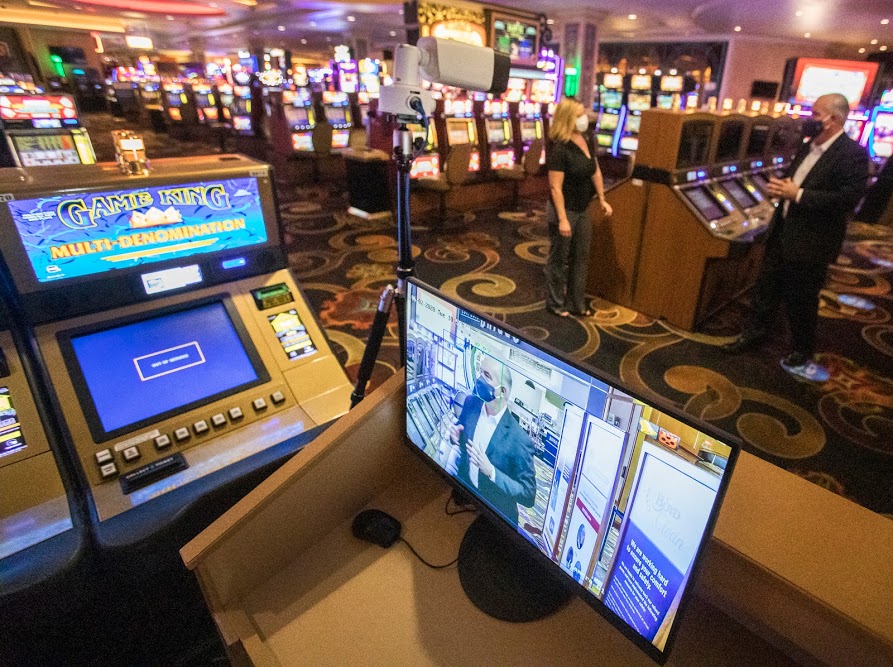 The company has already debuted the technology at properties in Louisiana and Kansas, and "false positives" haven't been an issue, said David Strow, a Boyd spokesman.
All these health and safety enhancements come with a price tag, though. Boyd officials pegged the cost of each thermal imaging camera at roughly $5,000.
Securing the needed medical equipment and cleaning supplies was another matter. Strow called it a "gargantuan task" for the company's Las Vegas-based procurement department, which hunted for mass quantities of in-demand products. Boyd bought 3 million disposable face masks for its properties nationwide.
"A lot of sleepless nights for our purchasing team," he said, "but they did an absolutely fantastic job. We couldn't have done it without them."
Caesars officials, meanwhile, acquired for its properties more than 2.5 million face masks and enough hand sanitizer for 250 million dabs — and that's just the beginning. The gaming company expects to buy about 900,000 masks every 10 days.
In essence, closing casinos was the easy part. Landscaping, room cleaning, uniform laundering, inventory restocking and staff training filled the gaming operators' reopening checklists on top of the health and safety changes occurring.
"Going through the process of reopening more than two dozen properties in 10 states over a period of just a few weeks is an incredible task," Strow said. "We're not reopening as we did before. We're reopening with a much different set of operating protocols. But at the end of the day, it's important we get this right."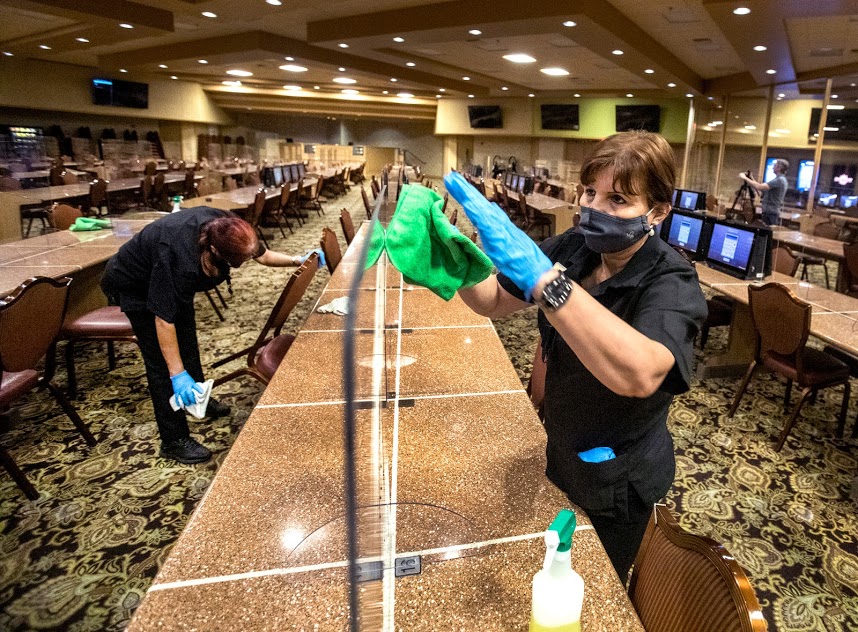 ***
Now, the industry enters the wait-and-see mode. Will gamblers return in droves or a steady trickle?
It's certainly not the same experience. Some casinos will remain shuttered for the time being. Plus, there will be no nightclubs, dayclubs, concerts or shows. Those activities remain prohibited by the governor's directive. The operating capacity in restaurants and on the casino floor has been reduced to meet social-distancing requirements, too, which means a large share of workers won't be returning quite yet.
Customer demand, however, led Caesars Entertainment to bump up Harrah's reopening date to Friday. Originally, the company only planned to reopen its Caesars Palace and Flamingo properties this week.
The reopening process has left McBurney, the general manager at Caesars Palace, hopeful.
"If you were listening in on calls to employees to call them back, you would have heard a lot of positive energy," he said. "And if you were listening in on calls that our hosts were making to our gaming customers, you would have heard the same kind of excitement."
Likewise, Strow said Boyd has received numerous inquiries from its loyal bingo patrons, some of whom used to play every day. He said the Suncoast bingo room, where employees were sanitizing new plexiglass partitions on Tuesday, is a social lifeline for many players.
And speaking of socialization, the flamingos, who have settled into a new routine on Las Vegas Boulevard, will face another adjustment — visitors. How many is anyone's guess.
The Nevada Independent is raising $200,000 by Dec. 31 to support coverage of the 2024 election.
Tax-deductible donations from readers like you fund this critical work.
If you give today,your donation will be matched dollar-for-dollar.
Give + Get Matched
Featured Videos