The state relies on old records to manage water. A new effort seeks to put them online.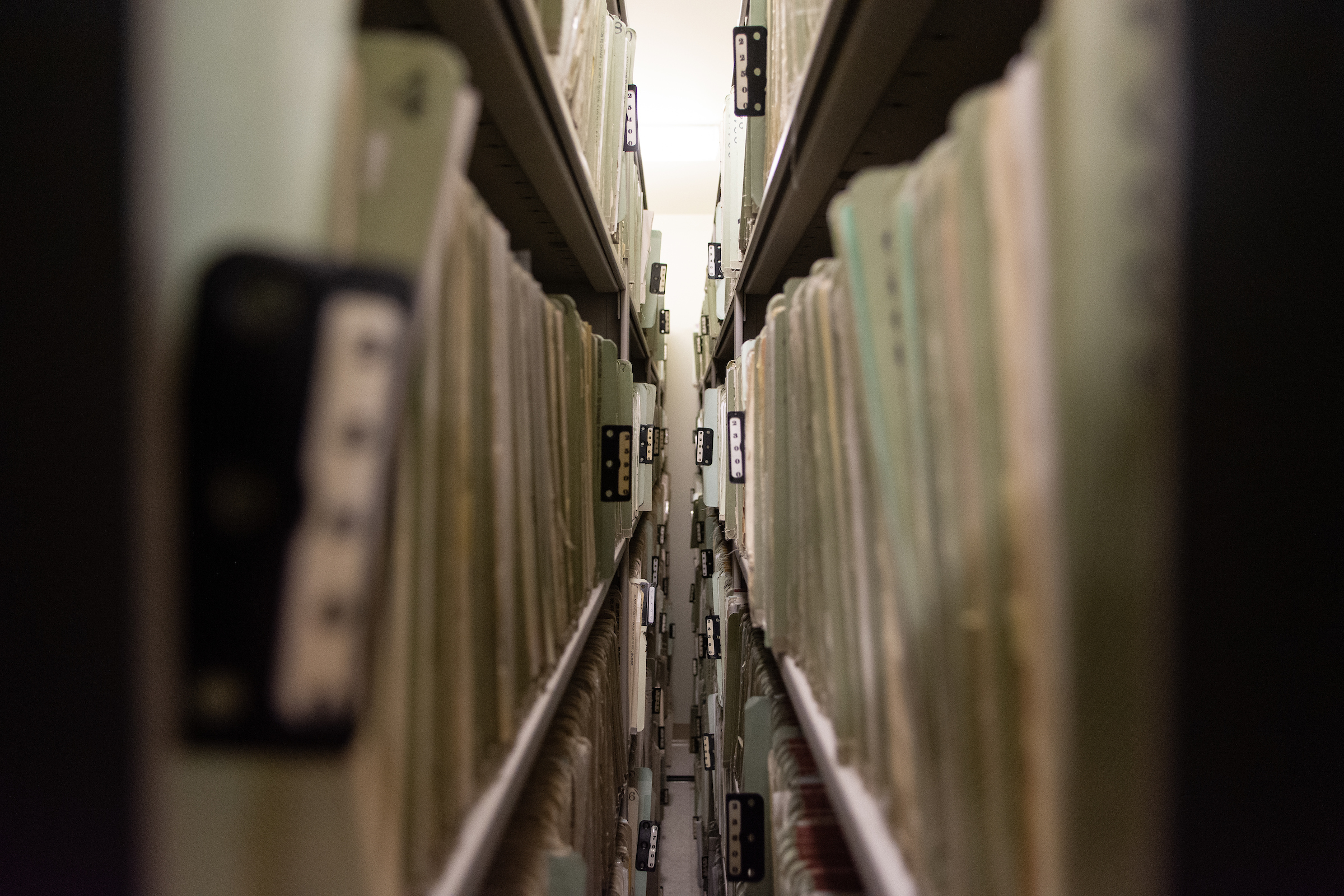 Good morning, and welcome to the Indy Environment newsletter.
As always, we want to hear from readers. Let us know what you're seeing on the ground and how policies are affecting you. Email me with any tips or suggestions at [email protected]
To get this newsletter in your inbox, subscribe here.
---
In the basement of Winnemucca's historic courthouse, walking distance to the Humboldt River, is a vault containing water records dating back at least a century, when officials started to divide up the roughly 330-mile river that stretches across central Nevada from Wells to Lovelock.
Such documents — maps, court decree files and state reports — are not just historic artifacts. In many cases, they offer the original record outlining how to manage water rights in Nevada. Like in much of the West, the right to use water is rooted in history. Those with the oldest, or "senior," claims to water are given a priority to use water in times of shortage: "First in time, first in right."
To lose those documents is to lose not only a part of this history, but a blueprint for managing water.
It's why it was so concerning when some of these courthouse records were nearly destroyed last year. According to Humboldt County Clerk Tami Spero, a staffer was pulling a file from the water records "vault" when she noticed it looked wet. Moisture had seeped into the vault, and it had damaged maps associated with the court decrees that first allocated the Humboldt's water.
"It's very, very rare that those maps would even come out of those drawers," Spero said.
Spero said she ran to the basement, saw the moisture for herself and contacted one of the state officials who helps manage the Humboldt River. Together, they were able to salvage the maps.
But the incident last year underscored the compelling case — for both Spero and officials at the Nevada Division of Water Resources — to digitize historical water documents, currently held in courthouses across the state and in Carson City, often consisting of just a single paper copy.
Over the next few years, state officials are looking to fix the problem.
"The goal is to digitize as much as we can," said Micheline Fairbank, deputy director of the division, as she walked between shelves of printed water maps. "There's a lot of historical stuff in here."
The central repository for state water records is on the second floor of a state building in Carson City. Here, in the Division of Water Resources, are stacks and stacks of records, so packed that staff have used clever storage systems, such as swivel cabinets and mobile bookshelves.
Using $1.3 million in funding from the American Rescue Plan Act, Fairbank said the state's plan is to digitize as much of the office's public records as possible — and at the very least review the voluminous information at the office: Administrative records, which can number hundreds of pages. Hearing transcripts. Official state reports on water (the agency's office is filled with notes, surveys and correspondence stored in bookshelves). Maps. Well logs. Dam files.
"The idea is to do this in the next three to four years," she said.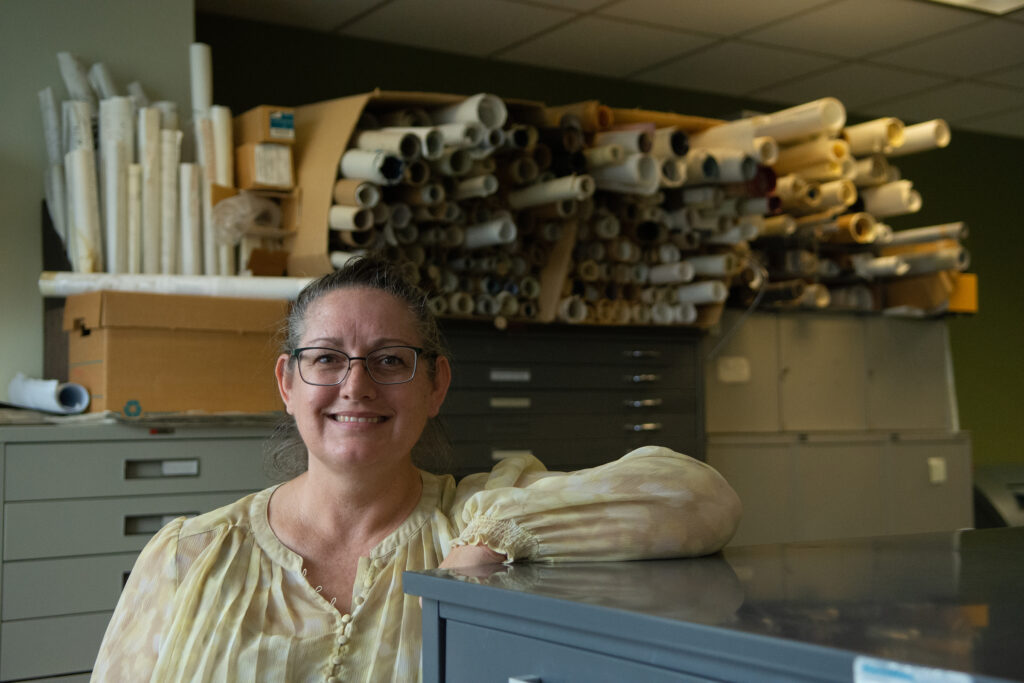 One room is filled with drawers and drawers of maps, compiled by engineering firms and often hand-delivered to the state office. They show, in specific detail, where water is diverted or wells are drilled.
In another room are original and bound copies of all the water rights and certificates issued by the state engineer. Flipping through tens of thousands of pages of water rights offers a glimpse into how the state grew over the past century, from growing alfalfa to growing homes.
When Fairbank flipped to the second water application received by the state after it adopted a process for appropriating water in 1905, the page was scribbled with elaborate cursive that was almost hard to read — markings from another time. The document lists "H.L. Dangberg Land and Livestock Co." seeking to irrigate 1,200 acres from the east fork of the Carson River.
Although some of these applications have been digitized, researching them in more detail can be a major accessibility challenge for the public, let alone for professionals who work with water every day.
In a nearby room, mobile bookshelves are filled with "permit files" that correspond with each water right. They tell the "story" of each permit, Fairbank notes. The files contain a century's worth of correspondence about how water came to be used, and in some cases, overused. It shows whether the water right faced any enforcement actions (if a right is not used, a user can be forced to forfeit the water, unless they receive an "extension of time" from state regulators).
The catch?
The records can only be accessed at the state's offices.
"These are not digitized," Fairbank said. "So if you are a water rights owner in Pioche and you want to look at your permit file, you can't go online" to see what is associated with your right.
It's also a problem for water professionals — hydrologists, irrigators, lawyers, even real estate agents — who might be trying to understand the value of a water right and how much water is truly available in an area, especially as demand for water continues to increase in many areas.
Nevada is not alone in this challenge. California is also working toward digitizing its records to improve its data and modernize its record system, the Los Angeles Times reported last year.
Another major reason to digitize the records: The public has a right to know how water is used.
While a right to use water can be appropriated by individuals and businesses, Nevada's water statutes state that water belongs to the public. Making records more publicly accessible could provide accountability, enhancing the ability to understand why state water decisions get made.
"We should be more publicly accessible without having to travel to Carson City," Fairbank said.
The effort comes at a time when Nevada is working to improve its water data. At a recent water conference, state officials previewed the Nevada Water Initiative, a collaborative effort with the Desert Research Institute and the U.S. Geological Survey to improve estimates of groundwater availability. And a new tool, OpenET — developed by the Desert Research Institute, NASA and others — uses satellite imagery to help estimate how water is used across the arid West.
There are important practical considerations too. In the coming years, the state is preparing to adjudicate old claims for water rights that predate Nevada's statutory framework. These claims, known as vested claims, are often proven using historical documentation, from local tax records to 19th-century correspondence. That can make preserving historical records all the more vital.
Moreover, officials with the Division of Water Resources rely on permit files for a "full picture of what's transpired" in the past. Fairbank said it can provide "the full story of what that right is." It is essential to understand the backstory, Fairbank said, in interpreting current water right issues.
Using the funding appropriated to the agency for preserving its paper records, the division is looking to fill two permanent and several temporary positions to guide the modernization effort.
But uploading the archive won't happen overnight.
Some of the records are extremely fragile and require care — the difference between using a flatbed scanner versus a simple document feeder. And the division still has work to do to create the software for displaying the records online, part of larger efforts to update an old website.
"Beyond public service, it's the record preservation" that's important to the agency, Fairbank said. "Because that's how we do our job on a daily basis."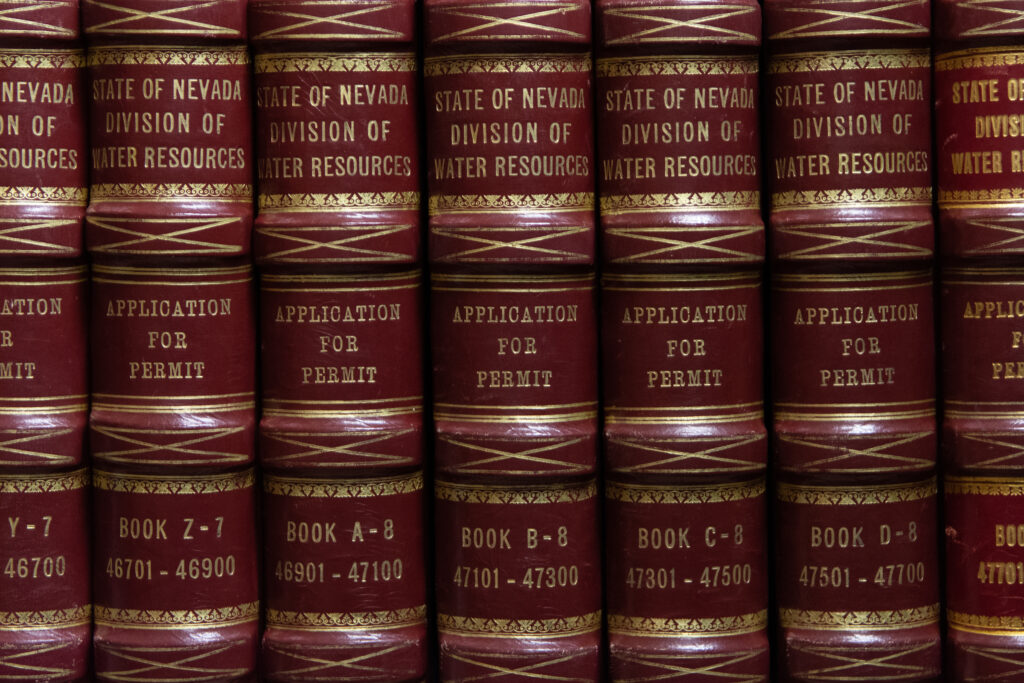 Here's what else I'm watching this week:
The Thacker Pass lithium mine breaks ground: Lithium Americas, the company developing the Thacker Pass lithium mine north of Winnemucca, started construction last week after the 9th U.S. Circuit Court of Appeals denied a request by environmental groups to temporarily halt work on the site, pending an appeal.
In a statement, Lithium Americas CEO Jon Evans said "starting construction is a momentous milestone for Thacker Pass." Initial construction includes site preparation work and building a pipeline, with major earthworks for the mine expected to start later this year. Analysts watching the race to develop a mineral supply chain for electric vehicles said it was a milestone, with one telling E&E News that the mine "would make Nevada sort of the Silicon Valley of lithium production."
Since a federal permit for the mine was approved in 2020, the lithium project has faced criticism from environmental groups, tribal governments and local residents over its impact on imperiled wildlife, Indigenous cultural sites and the character of rural communities surrounding the project.
In February, U.S. District Court Judge Miranda Du largely dismissed the challengers' arguments that the federal government erred in approving the mine permit and upheld the 2020 approval, a rare move after deficiencies were found in the government's interpretation of the Mining Law of 1872.
The plaintiffs appealed the decision to the 9th Circuit and filed an emergency motion with the federal court, asking it to halt construction until legal arguments on the appeal could be heard by the judges. But the court declined, paving the way for the mine construction to move forward.
"It's a truly unfortunate outcome for the land, wildlife, and cultural resources of this area," Talasi Brooks, a staff attorney with Western Watersheds Project, said in a statement on Friday. "This massive open pit mine has been fast-tracked from start to finish in defiance of environmental laws, all in the name of 'green energy,' but its environmental impacts will be permanent and severe."
The 9th Circuit will hear arguments on the pending appeal later this year.
Leadership change at Nevada Division of Environmental Protection: Greg Lovato, who led the Nevada Division of Environmental Protection since 2017, retired Friday, the Department of Conservation and Natural Resources confirmed in a press release on Tuesday. Jennifer Carr, a deputy administrator who has worked with the division since 1996, will serve as administrator.
The division is responsible for a variety of activities, from mine permitting to enforcing air and water quality standards and cleaning up contaminated sites.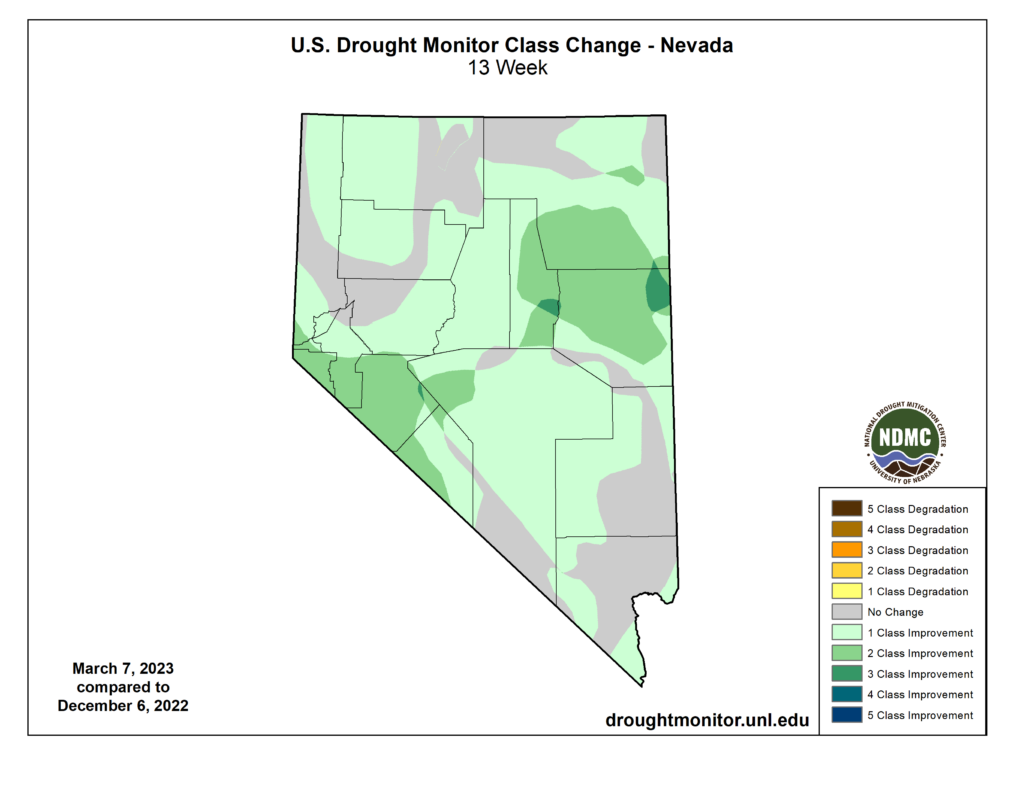 Approaching record snow levels, with more precipitation to come: Persistent snow storms have hit the Sierra Nevada and the Great Basin over the past several weeks. The storms have caused major delays, traffic accidents and even canceled several meetings at the Legislature.
From a drought perspective, the storms are welcome news. Although most of Nevada continues to face the lingering effects of prolonged drought, conditions have improved. Three months ago nearly all of Nevada faced severe to exceptional drought. Now, only about 54 percent of the state faces those conditions, according to the U.S. Drought Monitor.
And in basins across the state, snowpack levels are well above the median for this time of year.
First Environmental Justice Day at the Legislature: Environmental organizers lobbied at the Legislature Monday, backing proposals to protect outdoor workers, study environmental justice issues within state government and enshrine a right to clean air and water in the Nevada Constitution. My colleague Jannelle Calderón wrote more about the advocacy day and the legislation.
The Review-Journal's Colton Lochhead broke down what is in proposed legislation from the Southern Nevada Water Authority to bolster conservation measures of Colorado River water.
A map on how Americans (and Nevadans) heat their homes, via the Washington Post.
E&E News' Scott Streater reports on a delay in permitting the Greenlink West transmission line. "The federal review of a key transmission line to connect commercial-scale solar projects in Nevada to millions of households has been delayed by months over concerns about a likely route across a national monument designed to protect thousands of ice age fossils," he writes.
Attorney General Aaron Ford enters an environmental, social and corporate governance (ESG) investment lawsuit.
California lawmakers are considering ways to reform the state's water rights system, which has faced criticism for not giving policymakers enough enforcement capabilities and scrutiny after a report showed decision-makers are unrepresentative of the state's demographics, the Los Angeles Times' Ian James writes.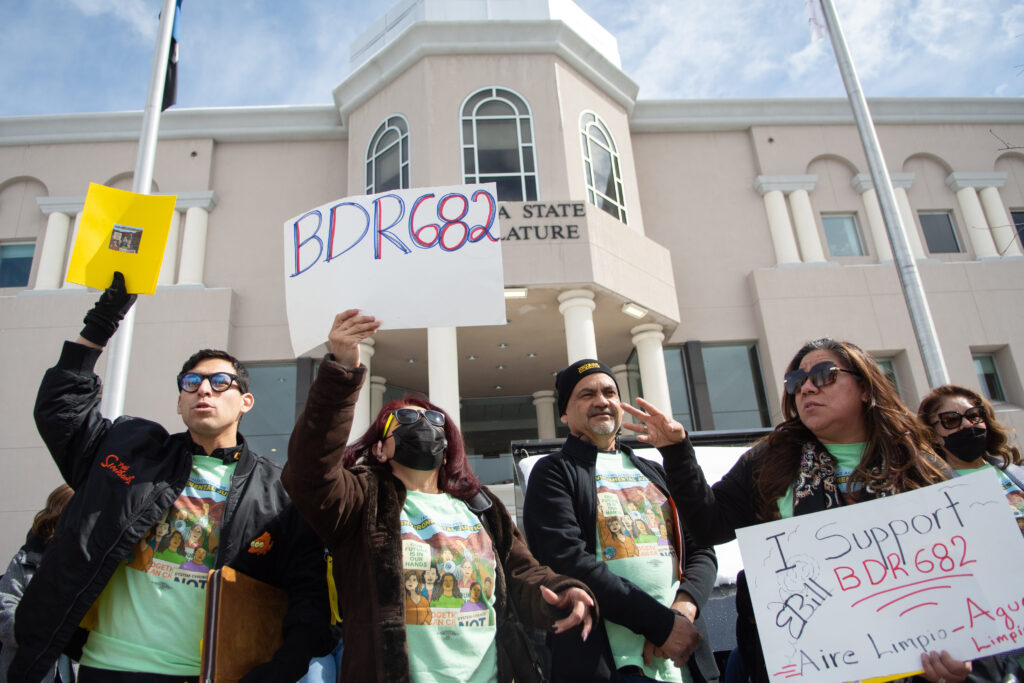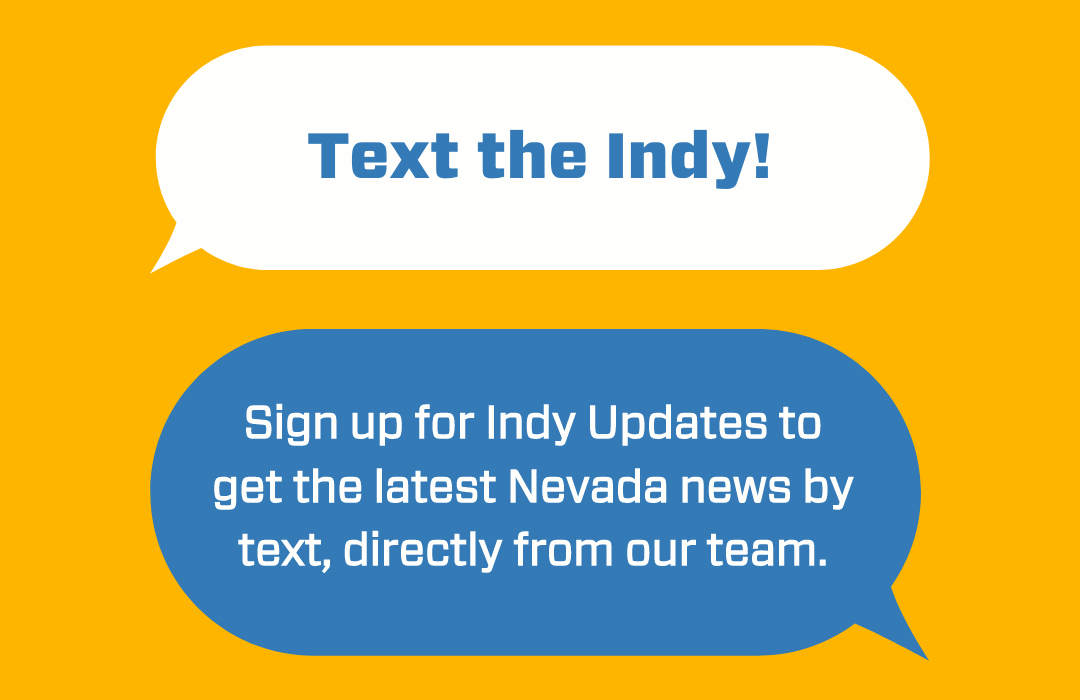 Featured Videos