Nevada researchers, NASA launch online data platform to help Western water users manage limited supplies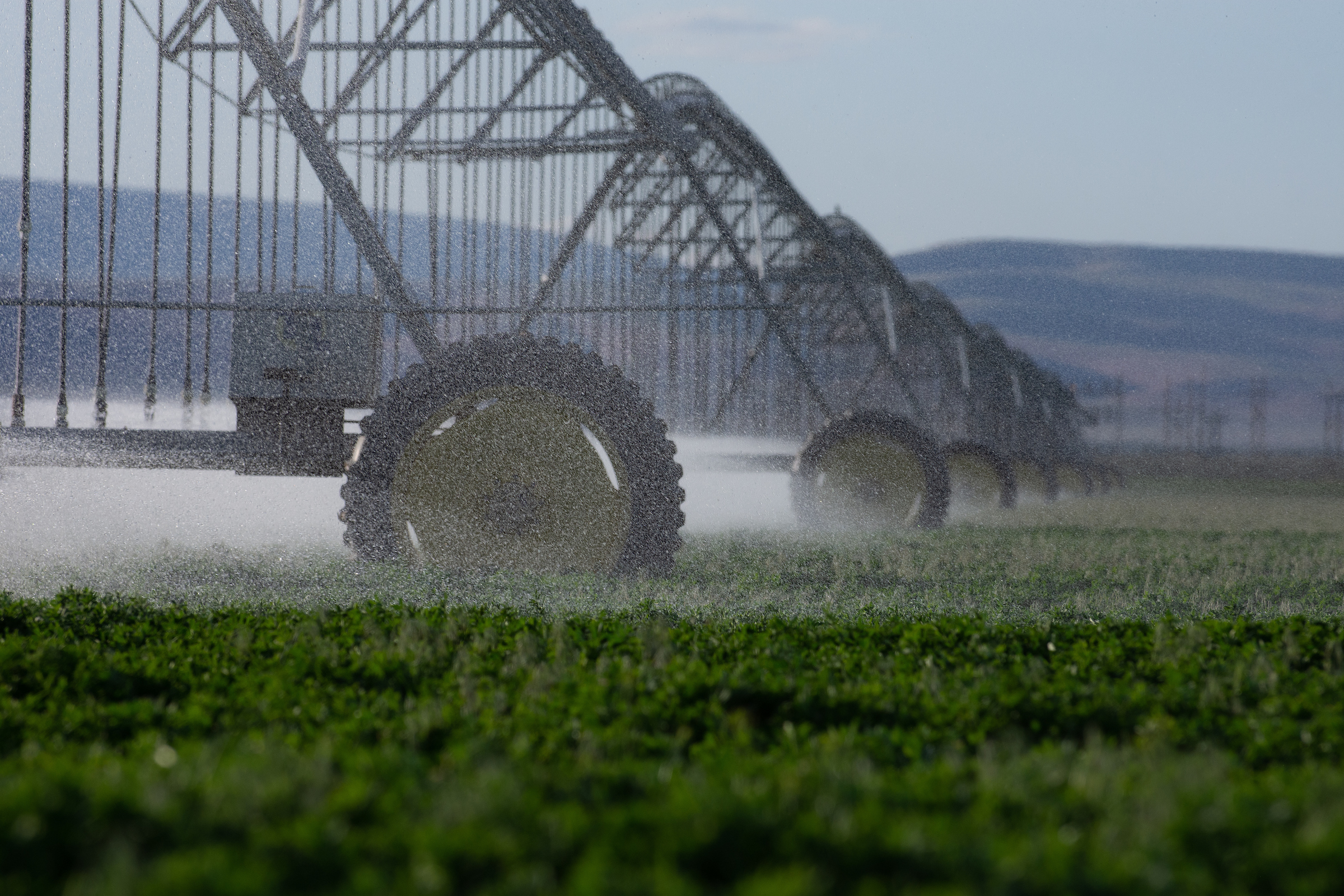 Good morning, and welcome back to the Indy Environment newsletter.
It's good to be writing again after several weeks off, and there is no dearth of news. Over the next few weeks, I'm planning to write more about the lingering impacts of drought, the Colorado River, the race for a lithium supply chain, and what the devastating fires this summer left behind.
As always, we want to hear from readers. Let us know what you're seeing on the ground and how policies are affecting you. Email me with any tips or suggestions at [email protected]
To get this newsletter in your inbox, subscribe here.
We talk a lot about precipitation, and for good reason. In many places across the West, our water supplies depend on runoff from snowpack. But what we don't talk about as often is the movement of water in the other direction — how water cycles from land to the atmosphere.
Yet understanding that movement is critical to managing water supplies and understanding how much water we are consuming. Scientists refer to the movement as evapotranspiration, or ET. It describes how much water evaporates from the earth's surface and transpires from plants. That might sound very technical and dry, but evapotranspiration is a crucial part of the water cycle.
Analyzing evapotranspiration data helps to approximate the amount of water that is consumed by an irrigated landscape — say a field or even your front lawn. For growers, understanding evapotranspiration can help them better schedule irrigation and implement conservation measures. For water managers, it can help them develop accurate water budgets — to better understand how water is being used. For state regulators, evapotranspiration data can be used to justify regulatory decisions or to set up programs that incentivize more efficient practices.
The problem: There is a big gap in this data. 
Evaluating evapotranspiration on the ground is costly and the data is not always accessible for many water users. That can leave water users and managers at a loss. Simply put, "you can't manage what you don't measure." The saying, in this case, is apt, said Justin Huntington, a research professor of hydrology at the Desert Research Institute.
For years, Huntington and a team of researchers have worked to fill that gap, turning to satellite data, models and weather variables to show evaporation data at a granular level — to about a quarter-acre. And last Thursday, they launched the data on an online platform, OpenET. 
That's a big deal, Huntington said in an interview, because it opens up evapotranspiration data to all users, making it readily accessible and affordable. It also marks a regional effort to better manage water resources amid an ongoing drought and a changing climate. OpenET, which is built on Google Earth Engine, provides near real-time evapotranspiration data in 17 Western states.
Forrest Melton, a program scientist for the NASA Western Water Applications Office, said in a press release that it closes "one of the biggest data gaps" in how Western water is managed.
"This easy-to-use online platform provides scientifically robust data that are invaluable for water management at all scales, from an individual agricultural field to an entire river basin," he said.
The project, led by DRI, the Environmental Defense Fund, NASA and HabitatSeven (a firm that builds data-driven web applications focused on the environment), has already gained traction among water managers, and regulators in the West, including in Nevada and the Colorado River Basin. The OpenET website lists a number of case studies across the West, ranging from the Sacramento-San Joaquin Delta to the Navajo Nation and the Salt River Project in Arizona.
The Southern Nevada Water Authority has used OpenET to understand irrigation practices along the Muddy River, which is a tributary to the Colorado River. And Adam Sullivan, Nevada's top water regulator, said earlier this year that his agency "strongly supports" the initiative.
Over the summer, Sen. Catherine Cortez Masto, Rep. Susie Lee, Rep. Chris Stewart (R-Utah) and Rep. Jared Huffman (D-California), introduced legislation directing the U.S. Department of Interior to establish a federal program for satellite-based evapotranspiration data. The bill draft also includes a $14 million appropriation to fund the program for fiscal years 2022 through 2026.
"Public access to these data will be increasingly vital to support water users and responsible water management needs into the future," Sullivan said when the legislation was introduced.
---
Here's what else I'm watching this week:
When it rains, it pours: On Sunday and Monday, the Reno-Tahoe Airport recorded 2.92 inches of rainfall, the highest ever for October. To put that in perspective, that's nearly as much water as the Reno airport recorded during the last year, according to the National Weather Service. That staggering statistic illuminates the intensity of the recent "bomb cyclone" that hit eastern California and Western Nevada over the weekend. Dan McEvoy, a climatologist at the Western Regional Climate Center, said the precipitation "couldn't have come at a better time." The big early storm helped improve soil moisture. That's important because when soils are too dry, they can make runoff from snowmelt inefficient. And runoff forms the basis for much of our water supply. But this one storm alone did not end the drought. Although the storm provided short-term relief, McEvoy said more precipitation this winter will be needed to pull the region from drought.  
Something to watch: the connection between the water cycle and fire. Areas in and around Nevada were hit hard by wildfires this summer. Some of those fires burned in areas that are part of the Carson River and Truckee River watersheds. Forest health, wildfire and the water cycle are all connected. And burn scars on the landscape can have lasting impacts, creating physical hazards and affecting water quality. The Los Angeles Times' Rosanna Xia wrote about debris flows caused by the recent storm.
What the Southwest is looking at this year: KUNC's Alex Hager reports on the high amount of precipitation that is needed to pull the Southwest out of drought conditions. 
Do we need a bigger "parachute" on the Colorado River? Earlier this week, climate scientist Brad Udall tweeted a thread of data showing combined storage at Lake Mead and Lake Powell, the two largest reservoirs in the Colorado River Basin, a watershed that is relied upon by about 40 million people in the Southwest, including Las Vegas. The result was alarming, though not entirely surprising to those who have been following the situation. It shows the precipitous drop in water storage across the system over the last two decades. Yes, there are plans in place to reduce demands if Lake Mead drops even lower. But Udall, at the end of his thread, raises an important point about their adequacy: "If these demand reductions plans are the equivalent of a parachute, there are legitimate questions about (a) the size of the parachute and (b) why are we deploying it so close to the ground given all that has transpired over the last 22 years."
It raises the question: What does a worst-case scenario look like? John Fleck, who researches and writes about the Colorado River at the University of New Mexico, did an excellent blog post on this very question. And it includes a quote from John Entsminger, the general manager of the Southern Nevada Water Authority, testifying in Congress on Oct. 15. In written testimony, Entsminger told the panel of lawmakers that "despite the fervent warnings from internationally renowned scientists like Jonathan Overpeck and Brad Udall that urge us to plan for a future with even less than 12.3 million acre-feet, the river community is far from consensus about how dry of a future to plan for."
How water should be used and divided remains a point of contention. That boiled over this week with the development of the Lake Powell Pipeline and St. George. Water planners and politicians in Utah have long pushed a new diversion from Lake Powell that would support growth in the Southern part of the state (St. George). Over the weekend, 60 Minutes aired a piece on the Colorado River with a quote from an Imperial Irrigation District board member saying that the proposal "simply doesn't make sense in the 21st century." Criticism of the proposed project, in turn, prompted a response from Utah Sen. Mitt Romney, as the Salt Lake Tribune's Alastair Lee Bitsóí and Brian Maffly reported. In the past, officials in Nevada and other states have raised concerns about the project.
Breaking ground on a pipeline in Northern Nevada: The Tahoe Reno Industrial Center and data center company Switch broke ground on a pipeline that Gov. Steve Sisolak described as a "win-win" in a statement on Tuesday. The pipeline, approved by local governments in the Reno area, will bring treated municipal wastewater to the nearby industrial park. The project has long been in the works but hit several roadblocks along the way, including criticism about the state contributing water rights to the project and a lawsuit with a property owner after a water board for the industrial park tried to exercise eminent domain. But local water managers have cast the project as a common-sense way to reuse limited water supplies. By sending treated wastewater to the industrial park, businesses can reduce their demand for additional water supplies. At the same time, cities can reduce their short-term expenses of treating wastewater. "This important project checks the box on several of our major environmental objectives," John Enloe, a water resources manager with the Truckee Meadows Water Authority, said in a statement on Tuesday. "This has proven a very innovative solution to an otherwise complex set of needs in the region."
---
Southwest Gas, Wall Street and Carson City: As of Wednesday morning, investor Carl Icahn had made an unsolicited bid to purchase outstanding shares of Southwest Gas, which is based in Las Vegas and serves customers throughout the state. Bloomberg News' Josh Saul has the story. At the center of Icahn's dispute with the natural gas utility is its plans to purchase a gas pipeline company for about $2 billion from Virginia-based Dominion Energy, which has been shedding fossil fuel assets. There is a lot to write about the purchase and Icahn's criticisms of the company. In an open letter on Oct. 5, Icahn criticized Southwest Gas' leadership for errors and what he describes as a frayed relationship with state regulators. Southwest Gas issued a statement in response and Icahn issued a rebuttal. At the same time, Southwest Gas continues to face pressure in Nevada to plan for a transition away from natural gas. On Friday, several groups, including Southwest Gas, filed comments with Nevada utility regulators as part of an investigation into the future of natural gas. I'll be writing more about all of this soon.
Nevada became the 16th state to adopt vehicle standards to reduce emissions in the transportation sector. The Las Vegas Sun's Jessica Hill has more on the story. 
"The Bureau of Land Management is evaluating three large-scale solar projects that could turn the southern Nevada desert into a major green energy hub," E&E News' Scott Streater writes. The projects would straddle the border between Nye County and Clark County. Kevin Emmerich, co-founder of Basin and Range Watch, told E&E News that he is concerned about the wildlife impacts of additional renewable development in the sensitive desert ecosystem.
The Nevada Independent is raising $200,000 by Dec. 31 to support coverage of the 2024 election.
Tax-deductible donations from readers like you fund this critical work.
If you give today,your donation will be matched dollar-for-dollar.
Give + Get Matched
Featured Videos