Third quarter fundraising race tightens in competitive congressional districts as election day nears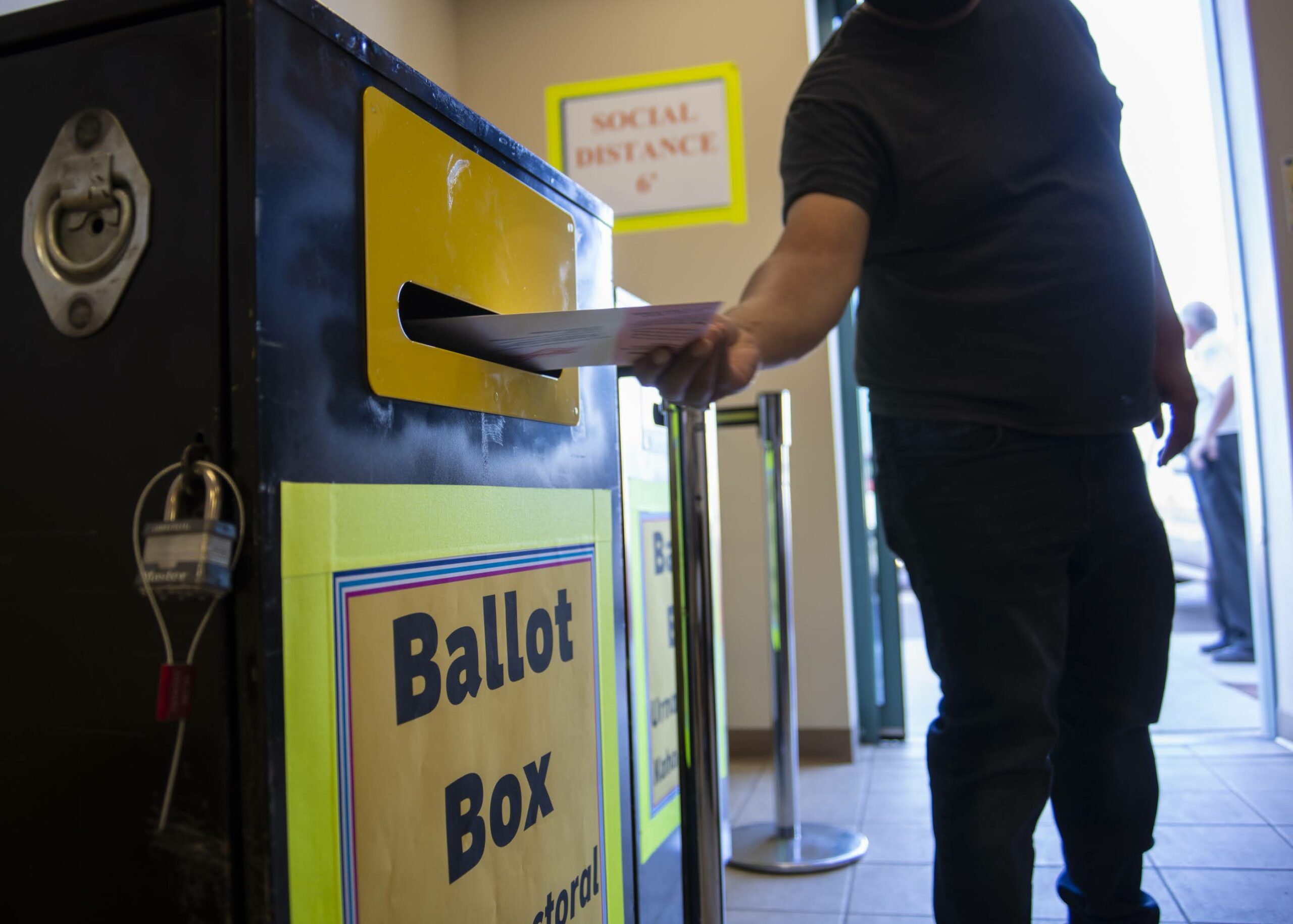 Incumbent Democrats no longer universally led the money race in Nevada's most competitive congressional districts, marking the first quarter this election cycle that a Republican — District 3's Dan Rodimer — led all fundraising among the state's congressional hopefuls.
With no statewide race at the top of the ticket, much of the attention — and therefore campaign dollars — has gone to the state's two potentially competitive House elections in Southern Nevada. Rodimer topped fundraising efforts among Nevada's House candidates with more than $1.4 million raised, while District 3 incumbent Susie Lee trailed with roughly $1 million raised.
In District 4, seen as marginally less competitive than District 3 because of voter registration figures favoring Democrats, incumbent Democrat Steven Horsford maintained a comfortable lead in the money race as he brought in roughly $680,000 to Republican Jim Marchant's $492,000.
Below is a breakdown of campaign fundraising and expenditure reports in each of Nevada's four congressional districts, with districts ordered from greatest cumulative fundraising to least.
---
DISTRICT 3
Susie Lee - Democrat (incumbent)
Q3 receipts: $1,005,787
Q3 spending: $2,501,619
Cash on hand: $924,353
Locked in likely the most competitive race in Nevada this election cycle, Lee dipped deep into her campaign warchest this quarter in spending more than $2.5 million over just the last three months — roughly $363,000 more than she spent in the same time period in 2018.
A vast majority of that spending went to advertising, including three payments totaling more than $2 million to Virginia-based Screen Strategies Media. Two of those payments, one of $500,000 and another of $1.16 million, came on Sept. 11, not long before Lee launched a major ad campaign targeting Rodimer on his run-ins with police.
Lee's contributions, meanwhile, came primarily from individual donors ($623,173), with the rest coming from a number of PACs ($201,427) and committee transfers ($176,471). Most contributions were below federal maximum contribution limits, though Lee did see maximum $5,000 PAC donations from Sen. Catherine Cortez Masto's PAC, All for Our Country Leadership, the American Resort Development Association, Barrick Gold, Cox Communications and Culinary Union-parent UNITE Here, among others.
Dan Rodimer - Republican
Q3 receipts: $1,412,578
Q3 spending: $946,308
Cash on hand: $719,485
Rodimer's campaign reported a massive gain in campaign contributions last quarter, raising roughly seven times as much as it did in the second quarter during the heat of District 3's Republican primary. Rodimer's $1.4 million in banked contributions also puts it among the largest single-quarter hauls in the district's history, topping the $1.38 million Lee managed to raise during the third quarter of her well-financed bid in 2018.
Still, with less cash on hand entering the quarter, Rodimer's campaign lagged Lee in spending and enters the final weeks of the campaign with a roughly $200,000 cash on hand deficit.
Like Lee, most of Rodimer's largest expenditures went to advertising, including two payments totaling $157,000 to the Maryland firm OnMessage Inc. Rodimer also spent big on campaign consulting, including $432,000 on ads and fundraising consulting services from Las Vegas-based Top AD Consulting LLC.
A large majority of Rodimer's fundraising ($1.23 million) came in the form of individual contributions, including $699,000 in itemized contributions and $532,000 in unitemized contributions. An additional $76,800 in PAC contributions and $103,000 in committee pushed Rodimer's total fundraising on the quarter to more than $1.4 million.
Like Lee, many of Rodimer's individual contributions came through online fundraising, this time through the Republican platform WinRed. He also saw maximum $5,000 PAC contributions from groups linked to current and former GOP elected officials, including South Carolina Sen. Lindsay Graham, ex-Interior Secretary Ryan Zinke and ex-Arkansas Gov. Mike Huckabee. Rodimer also saw a $68,000 windfall from a joint-fundraising transfer from the Cruz 20 for 20 Victory Fund, a group linked to Texas Sen. Ted Cruz.  
DISTRICT 4
Steven Horsford - Democrat (incumbent)
Q3 receipts: $692,759
Q3 spending: $704,709
Cash on hand: $1,557,543
Running for a second consecutive term and third overall term for District 4, Horsford dipped slightly into his campaign reserves last quarter with about $12,000 more spent than earned.
Horsford's single largest expense, like most candidates, came in the form of advertising. The Horsford campaign spent $406,214 on just one advertising firm, Sage Media Planning & Placement, including a $333,000 payment made one day before launching a TV ad campaign touting his work on pandemic relief.
Horsford's fundraising was roughly evenly split between individual and PAC contributions, with $329,000 raised from individuals and $304,000 from PACs. It marks the first quarter this cycle in which a majority of Horsford's fundraising came through individuals, though he still saw maximum $5,000 PAC donations from groups linked to Sen. Cortez Masto, the American Resort Development Association, South Carolina Rep. Jim Clyburn, the Communications Workers of America and Cox Communications, among others.
Jim Marchant - Republican
Q3 receipts: $492,641
Q3 spending: $406,559
Cash on hand: $228,018
Though he lagged behind Horsford's fundraising for another quarter, former one-term Assemblyman Marchant still more than doubled contributions from the second quarter, when he raised just $187,000.
With $382,000 in individual contributions, $35,000 from PACs and $74,000 from committee transfers, Marchant's biggest single contributions came largely through current and former Republican politicians, including a $62,250 joint committee transfer from the Cruz 20 for 20 Victory Fund.
Marchant also received maximum PAC contributions from the Gun Owners of America (and an additional $1,000 from the National Rifle Association) and the Conservative Leadership PAC, a group that bills itself as targeting "the millennial generation for conservative candidates."
Marchant's biggest expense was the nearly $241,000 spent on media placement through the consulting firm McShane LLC, which received more than $308,000 from Marchant during the quarter — about two-thirds of the candidate's spending.
DISTRICT 2
Mark Amodei - Republican (incumbent)
Q3 receipts: $297,676
Q3 spending: $168,173
Cash on hand: $395,808
Amodei's contributions include several donations from Nevada casino owners, including a combined $11,200 from four members of the Stations Casino-owning Fertitta family, and $2,800 from South Point owner Michael Gaughan. The congressman also banked $79,300 from a number of PACs, including $5,000 each from the American Academy of Pediatric Dentistry, Barrick Gold and NV Energy.
Much of Amodei's spending in the third quarter fell to a handful of advertising campaigns. Of note, the campaign paid nearly $43,000 to Reno-based Lamar Advertising Company, with roughly another $32,000 spent on a radio advertising campaign from Carson City-based Wyman & Associates.
Patricia Ackerman - Democrat
Q3 receipts: $238,304
Q3 spending: $172,507
Cash on hand: $101,391
Mounting a longshot bid to unseat Amodei in deep-red District 2, Ackerman has raised an uncharacteristically high amount for a Democratic bid in the mostly-rural district through the third quarter.
With nearly $240,000 raised last quarter alone and more than $101,000 left in the warchest through the final weeks of the election, Ackerman's cumulative fundraising of more than $338,000 more than doubles the roughly-$162,000 raised by Democrat Clint Koble during his District 2 challenge in 2018. 
Nearly all of Ackerman's fundraising came through small-dollar individual contributions made through the Democratic fundraising platform ActBlue, though she also received $2,500 from Reno-area Assemblywoman Sarah Peters and $1,000 from a PAC linked to former Senate Majority Leader Harry Reid. 
Much of Ackerman's spending went to consulting and advertising costs. That includes nearly $49,000 spent on advertising through California-based Pantograph Labs, which bills itself in part as a "boutique progressive digital firm."
DISTRICT 1
Dina Titus - Democrat (incumbent)
Q3 receipts: $121,928
Q3 spending: $53,716
Cash on hand: $394,646
Running for a fifth term in the bluest congressional district in the state, incumbent Democrat Dina Titus reported raising roughly $122,000 in the third quarter, roughly tripling the $42,000 she raised through the quarter prior.
A majority of that money, $72,325, came through PAC contributions, while the remaining $49,603 came through individual donations. Titus' largest donors included the Coeur Mining company, the national REALTORS PAC, the Service Employees International Union, the Transportation Workers Union and the Plumbers and Pipefitters Union, all of which gave the maximum $5,000.  
Running against a little-known Republican challenger, Joyce Bentley, in a rematch of 2018, Titus reported spending just under $54,000. Of that, the single largest payments went to consulting, including more than $12,000 to Maryland-based Kalik & Associates and another $4,500 to Washington, D.C.-based Next Level Partners.
Joyce Bentley - Republican
As of Friday morning, Bentley had not filed a contributions and expenditures report with the FEC or such a report was not yet available through the FEC website.
This story will be updated as those documents become available.
The Nevada Independent is raising $200,000 by Dec. 31 to support coverage of the 2024 election.
Tax-deductible donations from readers like you fund this critical work.
If you give today,your donation will be matched dollar-for-dollar.
Give + Get Matched
Featured Videos