Students are silhouetted against the afternoon sun while they have a snack at Rex Bell Elementary School on Thursday, Jan 11, 2018. (Jeff Scheid/The Nevada Independent)
Three meals a day is the new mantra of some Clark County schools
January 13th, 2018 - 2:10am
Staff at Rex Bell Elementary School once caught a boy grabbing extra breakfast and lunch food to bring home in the afternoon — a sign of hunger more than misbehavior.
That's why Principal Jaymes Aimetti didn't hesitate to say "yes" when the district's Food Service Department wanted to start a supper program at the Las Vegas school, which sits in an older neighborhood behind Palace Station Hotel and Casino. It wasn't uncommon for students to announce they hadn't eaten dinner the previous day. After all, about 30 families with children who attend the school are homeless, he said.
"When kids are coming to school and hungry, they are not learning," Aimetti said. "We need to make sure students are getting breakfast, lunch and dinner."
The elementary school already provided free breakfast and lunch to every student, but this year, it started offering dinner as well. It's one of 53 schools across the district participating in the new supper program, which ensures kids receive a third meal after school if needed, said Dave Wines, director of the Food Service Department.
The district piloted the program at Western High School and Bailey Middle School last year before expanding this year, he said. More than 300 students at Western High School participated daily last year, eating a free dinner — consisting of a fruit, vegetable, grain, protein and milk — rather than just a snack before heading home.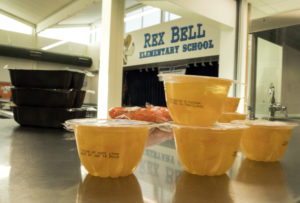 "A snack may not (hold) those children over until they eat breakfast the next day at school, so we saw a need for it," Wines said.
The extra meal, however, isn't driving up school district expenses. The initiative is paid for by the USDA's Child and Adult Care Food Program, which reimburses the district $3.32 for each dinner, school officials said.
And it's not just for students at each school: Designed as a community benefit, the program serves all children ages 18 and younger, who can eat dinner at the participating schools, meaning students' older and younger siblings can tag along as well.
Roughly 63 percent of the district's students qualify for free or reduced-priced lunches, underscoring the food-insecurity issues across Southern Nevada. Wines said the district hopes to continue expanding the supper program, but the catch is labor: The district needs more food-service workers to man the kitchens and distribute the meals.
Food-service workers earn $10 an hour if they're part-time or $11.42 per hour if they're full-time employees, school officials said. The requirements include passing a background check, obtaining a food-handler card from the Southern Nevada Health District and minimal food-service experience, but the school district also provides training to all department employees.
"If you show motivation and want to do it, we'll get you trained and up and running," Wines said.
Aimetti said the dinner option has been off to a slow start at Rex Bell, which he chalks up to lack of awareness. He's planning to drum up participation by informing parents via newsletters and the school's website. Students and staff moved into a new building, which boasts a larger kitchen, this year on the existing Rex Bell campus.
The principal considers the supper program a valuable option — analogous to the school's washer and dryer that are open to parent use or dental and vision programs. It's an approach rooted in the mindset that today's schools are no longer just academic centers. They're community hubs, too.
"It's at least there for them if they want," he said.
From the Editor
The Nevada Independent
is a 501(c)3 nonprofit. We need help to attain the elusive goal of sustainability. We depend on recurring donations from you, the readers who believe in our mission of nonpartisan, transparent journalism. I know you are busy. I know you have many commitments. But if you would take a moment to
support our work
or bump up your current donation, I would be forever grateful.
Thanks for all of your support.
Best,
Jon Ralston
get our morning newsletter,
The Daily Indy
Thanks to everyone who made our October #IndyGive drive a huge success.
With your help, we raised more than $461,000 and welcomed 397 new donors to The Indy family.
If you are new to The Indy, please take a moment to read more about our nonprofit news venture — and consider supporting our work.
@TheNVIndy ON TWITTER