Titus, Lee back congressional push to extend eviction moratorium; other Nevada reps hedge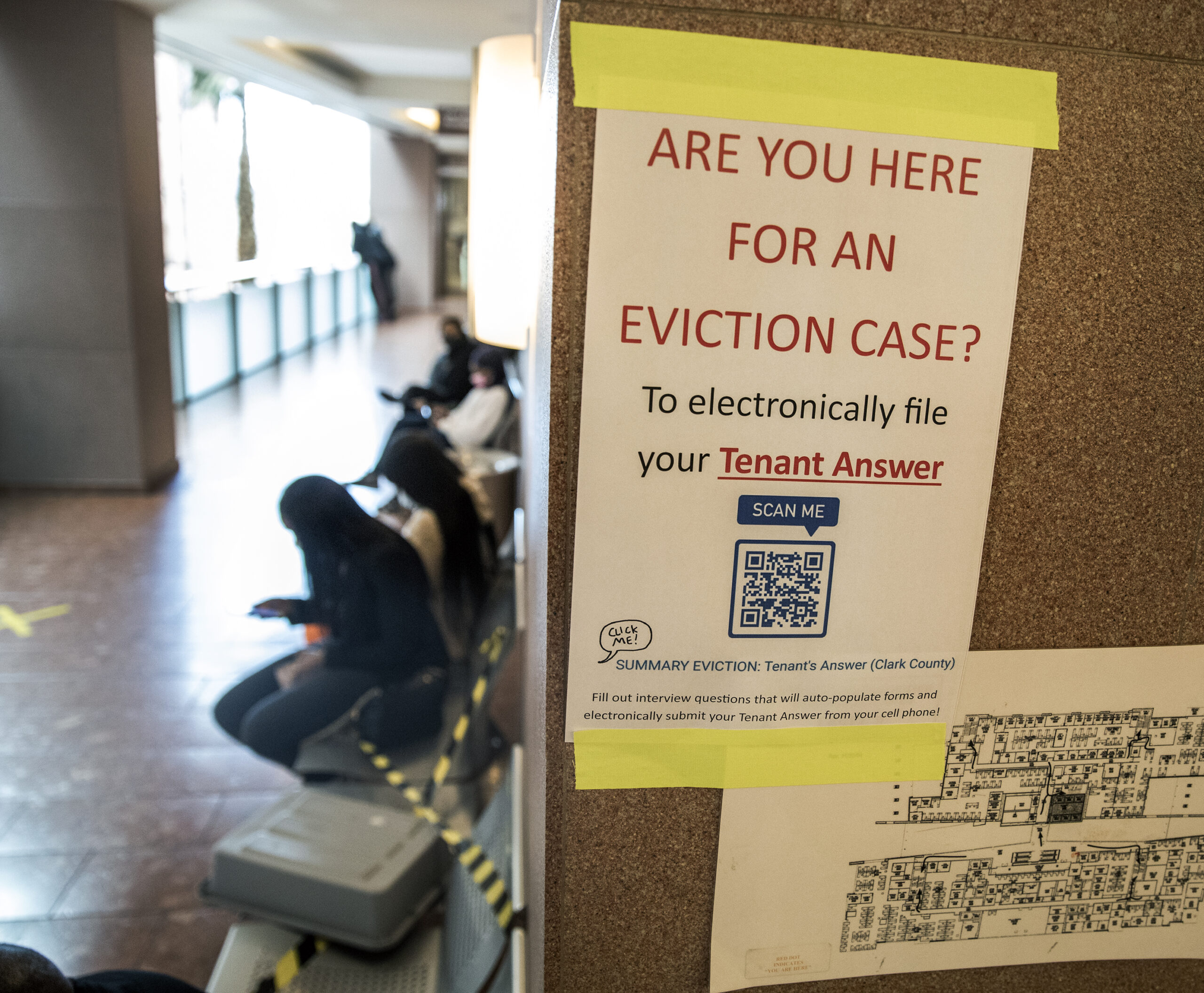 The White House's decision Thursday not to extend the national temporary evictions ban set to expire this weekend — and instead urge Congress to take immediate action on the issue — drew varied responses from Nevada's congressional delegation.
Rep. Dina Titus (D-NV) called on Democratic leaders to pass legislation to ensure people can stay in their homes. Titus, asked off the House floor on Thursday, said she believes "there should have been" an extension by the Centers for Disease Control and Prevention (CDC).
She noted that unemployment in Las Vegas remains high, at 7.8 percent in June, and that a wave of evictions would exacerbate that. An estimated 61,000 Nevada households — or 12 percent of renter households in Nevada — are behind on rent, according to a National Equity Atlas analysis of June 2021 U.S. Census Household Pulse Survey data.
She pointed to the 2008 housing crisis and its effect on Las Vegas.
"After seeing how bad that was, I don't want to see it again," Titus said.
Her comments come a day after Gov. Steve Sisolak, a Democrat, indicated he would not renew a state-level eviction moratorium that expired weeks ago. Asked Wednesday if he thought his no-extension position was still appropriate, he pivoted to emphasizing the importance of vaccines to ending the pandemic.
"The moratorium expires this weekend. I encourage everyone to get a vaccine as quickly as possible," Sisolak said in a virtual press conference touting rental assistance programs.
His office did not immediately respond to a request for comment on Thursday about whether he would support a congressional extension of the eviction moratorium.
Titus said that Democratic leaders were gauging support on an extension through the end of the year.
"There might be some action on that," said Rep. Susie Lee (D-NV) when asked Thursday during a vote series whether she wanted the CDC to act.
Lee said she backed an extension and added that ending the ban could hurt the nascent recovery in Nevada.
"The recovery is happening, but this is still unprecedented," Lee said. "It's going to be uneven, and I still think there's a need."
Titus' and Lee's reactions contrasted with that of Sen. Catherine Cortez Masto (D-NV), who — telegraphing the White House announcement — declined to call for an extension when asked Wednesday.
Instead, Cortez Masto said she wants state and local governments to increase the disbursement of rental assistance funds. To date, only about $3 billion of the $46 billion in emergency rental assistance appropriated so far had been distributed to stave off evictions, according to the U.S. Treasury Department.
"I've been talking and working with our local governments and our state governments," Cortez Masto said in a brief interview. "Their goal is to get it out as quickly as possible. I want to hear from them if there's any red tape at the federal level. This has been the push — to make sure the money gets utilized."
Nevada has distributed about one-third of the approximately $480 million it has designated for rental assistance as of June 30. Though Clark County has a backlog of about 8,000 applications, program administrator Kevin Schiller said Wednesday the county is "doing a pretty good job" relative to other jurisdictions in disbursing the money.
Washoe County's program, which serves some but not all of the applicants in the county, reports it has helped nearly 300 households through its rental assistance allocation and has 431 applications pending.
On the federal level, other Democrats including Senate Majority Whip Dick Durbin (D-IL) said that another extension is warranted.
"I think they should," Durbin told reporters. "There are a lot of people still struggling. Let me tell you, a wave of evictions in America is not good for landlords or tenants."
His comments were echoed by Rep. Pramila Jayapal (D-WA) who leads the Congressional Progressive Caucus.
She also took issue with the White House saying it could not extend the moratorium. A June Supreme Court ruling concluded that the White House does not have the authority to ban evictions, but left the previous moratorium in place until its expiration at the end of July. She believes that COVID-19 Delta variant cases rising fits the criteria of public health emergency.
"The federal government has the authority for public health emergencies to make these kinds of determinations, so I do believe that the administration can do this," Jayapal said in an interview.
But Titus said that despite the difficulty of passing legislation — especially in the Senate, which is split 50-50 between Republicans and Democrats and where 60 votes are needed to pass most legislation — it is worth making the push.
"The Supreme Court has made a ruling," Titus said. "The president said he can't do it. It's up to Congress. We should do it. We're going to do it. I feel confident."
Rep. Mark Amodei (R-NV), channeling what most Republicans have said on the issue, added that he believes the moratorium should be wound down. Amodei has also been critical of other pandemic aid, including enhanced unemployment benefits, that he argues disincentivize people from working because the program pays them more than most jobs would.
"This is becoming a way of life," Amodei said in an interview. "That's unsustainable."
Their comments come as Diane Yentel, executive director of the National Low Income Housing Coalition, called for another CDC extension during her testimony at a congressional hearing earlier this week on the state of evictions by corporate landlords.
She, too, cited increasing cases of the COVID-19 Delta variant and the slow distribution of $46 billion dollars in emergency rental assistance, including $21.5 billion dollars authorized in March through the American Rescue Plan.
"The newly surging Delta variant, low vaccination rates in communities with high eviction filings and the slow rate of distributing [Emergency Rental Assistance] make the necessity of an extension abundantly clear," Yentel said Tuesday at a hearing held by the House Select Subcommittee on the Coronavirus Crisis. "In turn, states and cities must improve and expedite getting assistance to the tenants who need it to stay housed."
Yentel said that 6.5 million people nationwide are in danger of being evicted.
The White House recently released data that showed that in June, the federal government doubled the rental aid funds it distributed to $3 billion, out of $25 billion available, and that it helped 291,000 households last month, compared to 157,000 households in May and 101,000 in April.
Christine Hess, the executive director of the nonprofit Nevada Housing Coalition, wrote in an email that the Biden administration's actions to ensure rental assistance reaches those in need alleviated some of her concerns surrounding the lifting of the moratorium.
She added that the Legislature's passage of AB486, a measure aimed at preventing landlords from evicting while tenants' rental assistance applications are still being processed, would also help renters affected by the pandemic.
"That said, I do share concerns that we may still not be reaching all those in need," Hess said. "Unfortunately, our eviction data in Nevada is not easily accessible to know the effects of the ending of the moratorium real-time."
Groups such as Home Means Nevada, the Clark County Commission and the Clark County CARES Housing Assistance Program have made efforts to reach out to renters in need and educate them about how the eviction process works and what steps they need to take if they are evicted. But "generally, people in crisis are the hardest people to reach," Bailey Bortolin, the statewide policy director for the Nevada Coalition of Legal Service Providers, said at a virtual press conference hosted by the progressive group Battle Born Progress.
Laura Martin, executive director of the Progressive Leadership Alliance of Nevada, said non-governmental organizations such as hers are trying to reach out to people through mail and text about eviction process updates, but that the state does not have the infrastructure to effectively reach out to everyone that needs rental assistance.
"We just don't have the infrastructure in this state," Martin said at the virtual event. "I have family in Hawaii and New York and Colorado ... they have texting that the state can do with alerts."
Bortolin encourages those who need rental assistance to reach out to their county commissioner or to legal aid organizations for help.
But advocates also noted that rent prices in Nevada are on the rise, and the eviction moratorium will not solve the lack of affordable housing for low-income Nevadans.
"The eviction moratorium in theory works, but it's not really working because in the end, people still have to pay that rent," Martin said.
She called for implementing a rent cap, which would prevent landlords from raising rent because of high demand or taking advantage of people who are desperate for housing, such as formerly incarcerated people who cannot pass background or credit checks.
Michelle Rindels contributed to this report.
This story was updated at 7:30 p.m. on 7/29/21 to add details from the tenant advocate forum.
IndyFest is proudly sponsored by:
Comment Policy (updated 4/20/2021): Please keep your comments civil. We reserve the right to delete comments or ban users who engage in personal attacks, use an excess of profanity, make verifiably false statements or are otherwise nasty. Comments that contain links must be approved by admin.