Judge denies temporary restraining order request by Trump campaign, Nevada Republicans to stop Clark County mail vote counting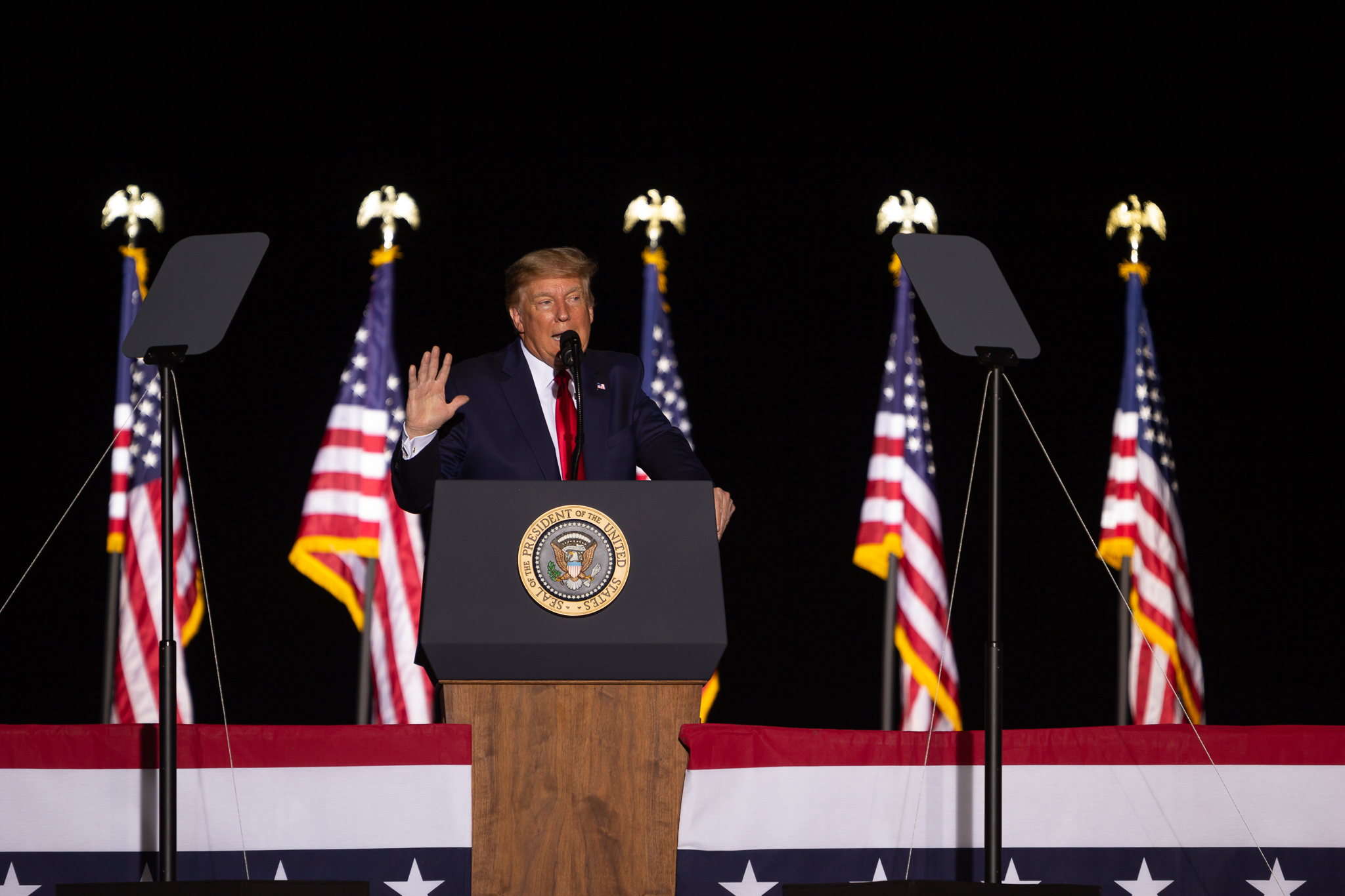 The same day the Trump campaign and Nevada Republican Party filed a lawsuit seeking to halt mail ballot counting in Clark County, a judge denied their request for a temporary restraining order.
That doesn't mean the legal battle is over, though. Carson City District Court Judge James Wilson has scheduled an evidentiary hearing for Wednesday morning.
The lawsuit — filed Friday in Carson City District Court — names Secretary of State Barbara Cegavske, a Republican, and Joseph Gloria, Clark County's Registrar of Voters, as the defendants. Fred Kraus, a registered voter in Clark County and volunteer poll watcher, is listed as a plaintiff in addition to the Trump campaign and Nevada GOP.
Kraus appears to be a former vice president and general counsel at the Venetian, a casino and resort property owned by GOP mega-donor Sheldon Adelson.
The lawsuit asks the judge to temporarily block ballot-counting procedures in populous Clark County until a "meaningful" poll and ballot-counting observation plan can be put in place by state election officials — a potentially major hitch in county plans to process the record number of mail votes expected to be cast in the 2020 election. Election officials are allowed to process mail ballots within 15 days of the election, which ensures a more rapid accounting of vote totals on Election Day after polls close and for any potential issues with a mail ballot to be addressed, or "cured" ahead of actual Election Day.
"Transparency is paramount to ensure Nevadans the right to a free and fair election," Nevada Republican Party Chair Michael McDonald said in a statement. "Clark County's refusal to allow people to observe the handling of ballots and their low standards for matching signatures should disturb all voters. It is troubling that those trusted to run our elections are going to have to be compelled by the court to follow state law and protect this election."
The lawsuit comes after the Trump campaign and state Republican Party threatened legal action earlier this week in a letter to Cegavske outlining many of the same alleged issues with Clark County's plan for election observers.
Attorney General Aaron Ford, a Democrat, celebrated the judge's decision to deny the temporary restraining order request Friday afternoon on social media.
"A 'proper procedure' is in place," Ford wrote in a Twitter post. "That's why my @NevadaAG's Office just defeated Pres. Trump's & @NVGOP's request for a temporary restraining order to stop the counting of the ballots. Again I say, we will always protect the right to vote, and we won't let it be suppressed."
The Clark County Election Department, through its spokesperson Dan Kulin, also released a lengthy statement Friday afternoon defending its procedures and saying the lawsuit "contains many misleading or inaccurate claims." County election officials' comments echo their response to the Trump campaign and Nevada Republican Party's letter earlier this week.
"Perhaps most notably, the judge commented during a hearing today that the County Election Department is complying with state statute regarding observation requirements," Kulin said in the statement released Friday afternoon.
The 16-page suit asks for a temporary restraining order, largely based on the assertion that Gloria did not submit a written plan for accommodating public observers by April 15.
"The result of the Registrar's disregard for his statutory obligations is a total lack of meaningful observation," the suit states.
As of Friday, more than 190,000 mail ballots in Clark County have been returned by voters to election officials, out of more than 1.2 million sent to active voters in the county. Under a law passed during a summer special session of the Legislature, all active voters in the state were sent mail ballots for the 2020 election, but voters are still able to cast ballots in-person through early voting or Election Day voting.
The lawsuit states that Gloria has deemed certain areas where ballots are handled, including a call center and a room dedicated to resolving ballot issues, as off-limits to observers.
"It is during these processes that ballots are most vulnerable to manipulation, degradation, or improper rejection," the lawsuit states. "Given these ballot review processes are necessary in the counting of ballots, observers must be allowed to observe."
It also claims that Gloria and county officials have "severely restricted" freedom of movement for poll observers, positioning them more than 25 feet away from certain processes or in locations where only portions of ballot counting or "cure" processes can be observed. The lawsuit also alleges that the county is requiring poll-watchers to be accompanied by an "ambassador" at all times, but that there are not enough "ambassadors" to "allow consistent and meaningful observation of the entire process."
Photographs and recordings by the general public are prohibited within polling places, but ballot counting is allowed to be recorded by the county, and Nevada statutes do allow for observers to request those photographs, recordings, or video reproductions of the counting process at central counting locations. A county spokesman previously said that it would be "inappropriate" for one political party to have exclusive control over any cameras or recordings of poll sites.
County election officials said in a statement that the department has gone "above and beyond" in terms of providing access to poll watchers, including by creating additional observation areas that provide more views of the process.
"We have met with representatives from both parties to discuss this issue and made some of the changes they have requested, and we will continue to work with them," county election officials stated.
The lawsuit also raises concerns that the county's process for reviewing and tracking rejected ballots could undermine ballot secrecy, as the process allows the same worker who reviews a ballot for errors to know how the individual voted, which "may become an incentive for the staff member to invalidate the ballot."
It also states that the county rejected a request from the state party and campaign to place cameras and other video equipment in ballot county facilities (as in-person observers are limited owing to the COVID-19 pandemic).
County election officials said the lawsuit's claims about ballot processing are "inaccurate." As part of a detailed description of how ballots are separated from envelopes, officials noted there are two-person, bipartisan counting boards that remove ballots from envelopes in batches — usually 75 at a time.
This is how election officials described the next steps:
"When initially removed, the ballots are within the privacy sleeve provided. Once they have a stack of return envelopes and a stack of ballots inside privacy sleeves, the return envelopes are moved to be kept in a secure location. Then the board separates the ballots from the privacy sleeves and reviews the ballots for damage. This means that when the ballot is being reviewed, there is no voter-identifying information connected to that ballot."
The lawsuit, however, also takes issue with a machine being used in Clark County — called the Agilis Ballot Packing Sorting System — to match signatures. The suit alleges Gloria has lowered the machine's "tolerance level" for detecting improper signatures. As a result, plaintiffs say, fewer ballots are being reviewed visually by county election officials, increasing the likelihood that "fraudulent and improper ballots are being tabulated by Clark County."
County election officials disputed this characterization of the machine as well, saying there is "no manufacturer's recommended setting." The setting, or score, used by the Clark County machines is 40, which county officials determined would accept all obvious signature matches, they said. The score of the signature is determined by factors such as writing style and the slant of letters.
So far, the Agilis system has accepted roughly 30 percent of mail ballot return envelopes, county officials said. That means the other 70 percent have gone through a manual verification process.
As for the call center complaint, election officials said that's not being used for counting. The call center is simply fielding calls from voters who need to correct their ballot signatures.
Cegavske declined to comment. In Clark County, ballot processing began on Tuesday.
This story was updated at 11:55 a.m. on Oct. 23, 2020, to reflect Cegavske declining to comment. It was updated again at 12:19 p.m. to include more information about a plaintiff, and again at 3:46 p.m. after a judge denied the temporary restraining order request. It was updated a fourth time at 5 p.m. to include a response from the Clark County Election Department.