Union sweetheart: Klobuchar's Culinary Health Center visit generates hearts & flowers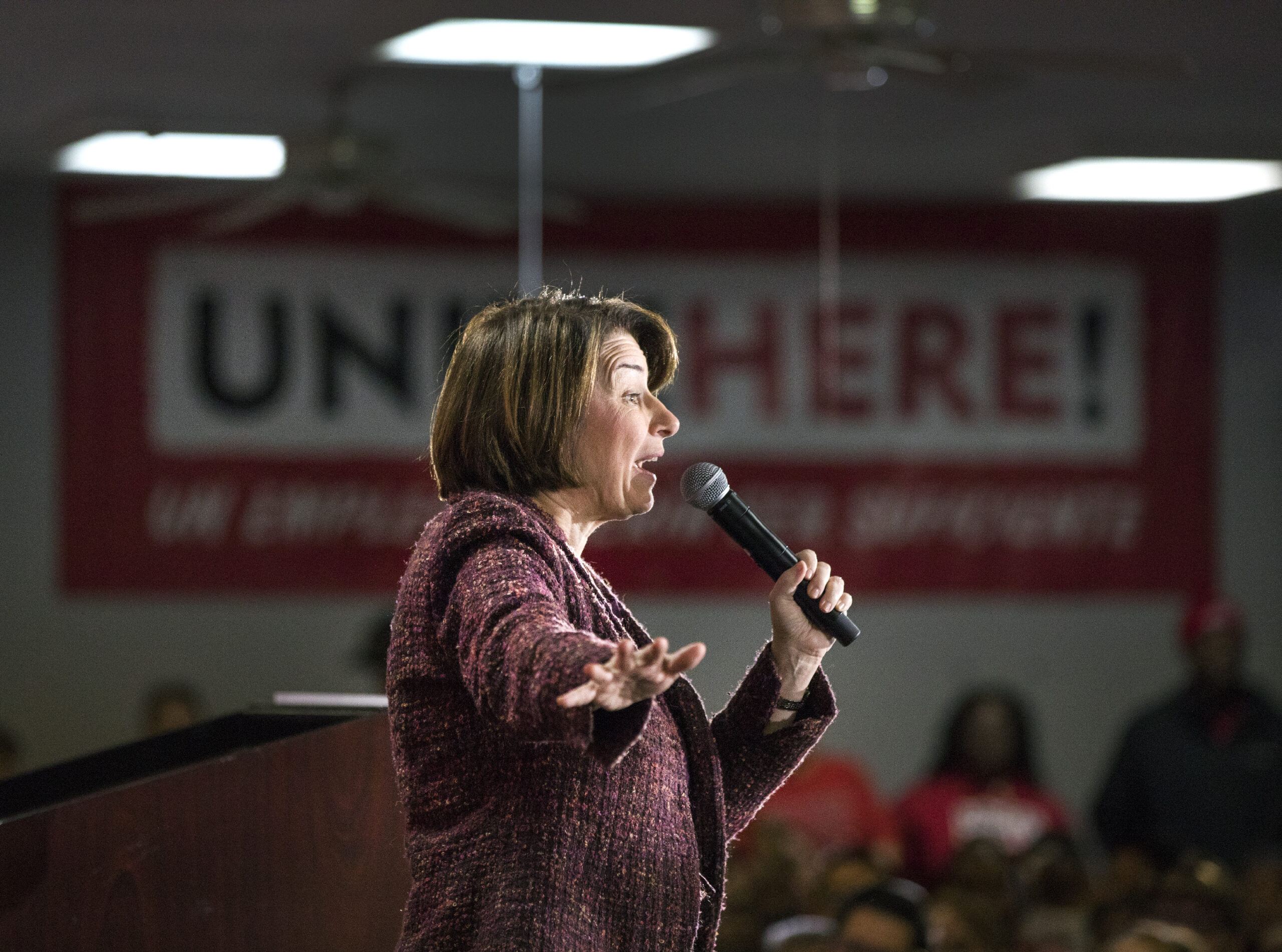 Culinary Union Local 226 Secretary-Treasurer Geoconda Arguello-Kline surely bruised a few hearts Thursday when she announced the powerful labor organization wouldn't endorse a Democratic presidential candidate ahead of the upcoming Nevada caucus.
But on Valentine's Day the union did manage to present candidate Amy Klobuchar with a box of chocolates in the form of a tour of its sparkling Culinary Health Center on North Nellis Boulevard. Other Democratic candidates have received the same courtesy invitation from Culinary in recent months, but with Klobuchar's poll numbers rising after strong debate performances, the timing of her visit couldn't have been better. The Minnesota senator made the most of the made-for-media walkthrough.
With a staff of 300, the Culinary Health Center logged 170,000 patient visits in 2019 and offers urgent, emergency, and pediatric care, along with dental, vision, and pharmacy services in a handsome setting located a short distance from thousands of union members and their families. In a country searching for answers to its health care crisis, it is a beacon of service. (And a plan is in place to add facilities to meet the growing needs of the 60,000-member union, UNITE HERE Health senior director of health policy Bobbette Bond said Friday.)
Set against the backdrop of Culinary's impressive medical facility, Klobuchar touted her generations-deep union roots and repeated her promise to improve on the Affordable Care Act and not chase what she considers a Medicare-for-all fantasy favored by candidates Bernie Sanders and Elizabeth Warren.
Culinary has been razzed and trolled by some of Sanders' supporters after it recently distributed a candidate scorecard that accurately noted the Vermont senator's promise to eliminate private healthcare plans such as the one the service workers union members have fought so hard to create and protect. Union leader Arguello-Kline likes to remind her audience that such benefits exist only because members have stood their ground and fought like hell. They won't be handing over their health insurance to the government any time soon.
"I do think it goes to one of the debates we've been having in this campaign, and that is over what we want to do to make healthcare better for people," Klobuchar said. "I've made my position very clear from the very beginning when we had one of the first debates. And I said to Senator Sanders, 'I know you wrote the bill, but I read it.'" By her reading, 149 million Americans would lose their current health insurance in the first four years under Sanders' plan.
"We actually need to make the affordable healthcare bill better," Klobuchar said, warming to the subject. "My argument here is, No. 1, the affordable healthcare act is now nearly 10 points more popular than the President of the United States. So I don't think we should be blowing it up, and I think that's a disagreement that I have with Sen. Sanders and Sen. Warren."
She's hardly the only Medicare-for-all skeptic. To many, a multitrillion-dollar price tag makes it the Unaffordable Care Act. And Klobuchar noted that two-thirds of Senate Democrats haven't signed on to the Sanders-Warren bill.
"That's another reason," she said. "We're not going to pass it. And since we're in Vegas, I'd say that if your number is not on the wheel, maybe you don't want to bet on that number. "
What's realistic? For starters, she said, a nonprofit public option and a renewed assault on prescription drug prices. Among other goals: adding coverage for mental health care, addiction treatment, and long-term care.
Then there's Sanders' S-word problem. Just because the incumbent appears to be a proud fascist doesn't mean voters are going to embrace a proud socialist. It's something Klobuchar recently made clear on the debate stage.
"If you recall," she said, "I was the only one on that stage that raised my hand and said that I didn't think we needed a socialist leading the Democratic ticket. I don't think that is where our party is, and I certainly don't think that is where our country is. I don't know why any other people didn't raise their hand, but they didn't. And I did."
Her grandfather was a Teamster and an iron ore miner. Her mother taught school and participated in one of the first teachers' strikes in Minneapolis. "I have a picture of her standing on the picket line in the middle of winter," Klobuchar said. And it never hurts to remind a press gathering that she's also the daughter of a newspaperman who was a proud Guild member.
Her feisty pragmatism hasn't yet put her within striking distance of Sanders and Joe Biden in Nevada, and others have been on the ground and on the air longer here. With Local 226 leadership taking a cautious approach, whether Klobuchar's labor background and health care stance translates beyond the photo-op and inspires Culinary rank-and-file members to caucus for her on Feb. 22 remains to be seen.
But don't be surprised if Amy Klobuchar receives a lot of love on Caucus Day in the Silver State.
John L. Smith is an author and longtime columnist. He was born in Henderson and his family's Nevada roots go back to 1881. His stories have appeared in Time, Readers Digest, The Daily Beast, Reuters, Ruralite and Desert Companion, among others. He also offers weekly commentary on Nevada Public Radio station KNPR. His newest book—a biography of iconic Nevada civil rights and political leader, Joe Neal—"Westside Slugger: Joe Neal's Lifelong Fight for Social Justice" is published by University of Nevada Press and is available at Amazon.com. Contact him at [email protected]. On Twitter: @jlnevadasmith

The Nevada Independent is raising $200,000 by Dec. 31 to support coverage of the 2024 election.
Tax-deductible donations from readers like you fund this critical work.
If you give today,your donation will be matched dollar-for-dollar.
Give + Get Matched
Featured Videos