A woman withdraws funds from an U.S. Bank ATM inside the Student Union building at UNLV on Wednesday, Dec. 19, 2018. (Jeff Scheid-Nevada Independent)
Universities collect big royalties while students pay higher banking fees
January 27th, 2019 - 2:15am
It may not rank as high as new bath towels or retro movie posters for the dorm, but an important item on many students' pre-college checklist is setting up a new banking account.
For students at UNR and UNLV, there's an easy answer — both schools encourage students to set up free banking accounts linked to their student IDs, backed by major financial institutions including Wells Fargo and U.S. Bank.
But the relationship benefits more than students  — each educational institution is paid more than six figures annually from the large banks, which in turn assess higher-than-average fees on the students.
Allowing college student ID cards to double as a prepaid banking card for on and off-campus expenses isn't a new idea, but the practice has come under more scrutiny in recent years amid reports of colleges and universities inking lucrative deals with big banks that later slap students with hefty overdraft fees and other fines.
Federal studies have indicated that average fees on linked accounts for college students are higher at schools paid to promote the cards. It's true at Nevada's universities, where average fees on linked accounts ($49.17 for UNR and $21 at UNLV) are higher than the average fees paid by students at colleges without a bank marketing agreement.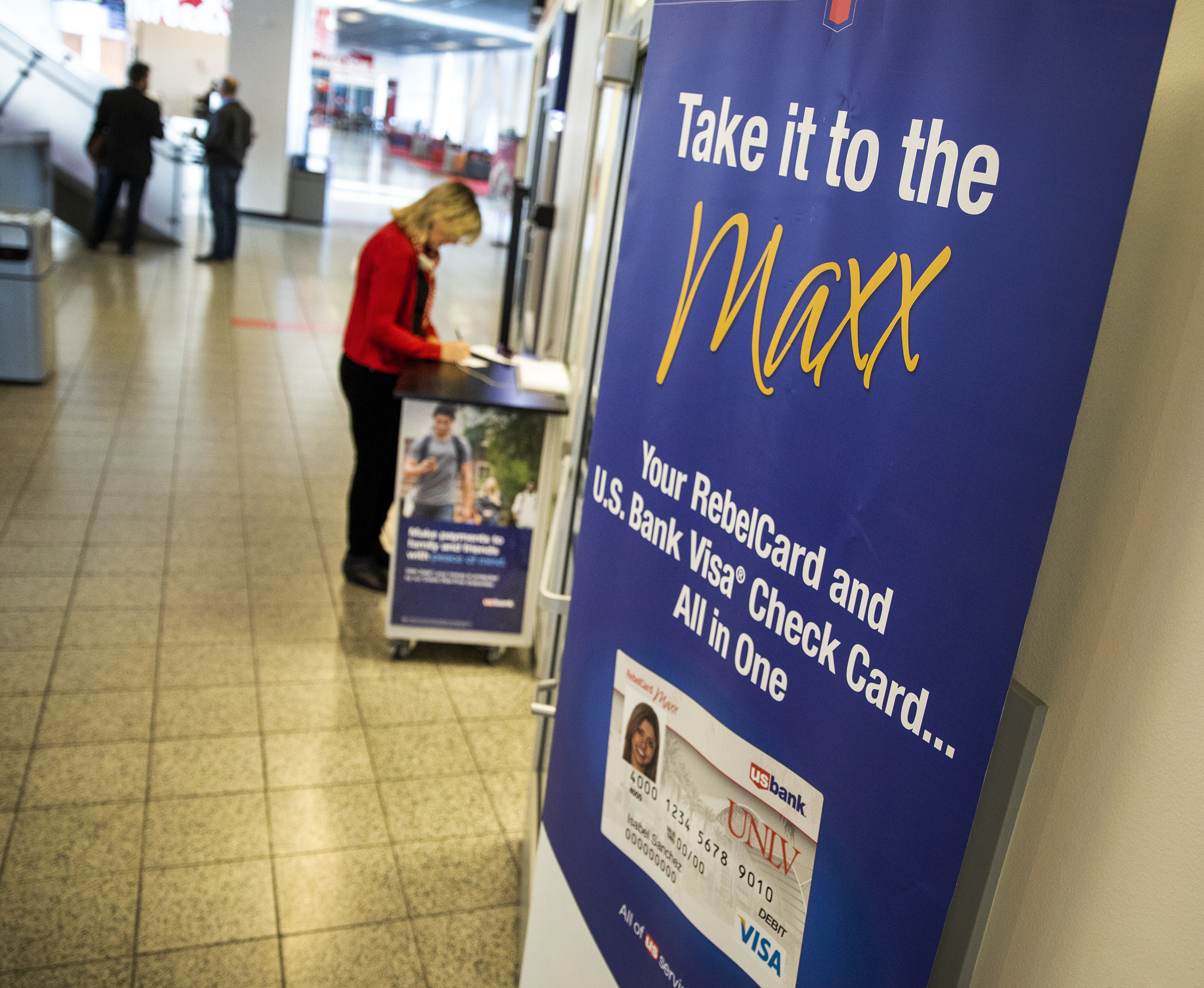 A 2017 Wall Street Journal investigation into the relationship between banks and colleges found that 112 universities took in a combined $18.7 million in the 2017 fiscal year, largely from bank royalties paid to schools. The newspaper's investigation found that 20 of the 30 colleges with the highest average fees assessed on students had partnered with Wells Fargo — a fact the bank said was because of "complex banking needs" such as meeting the financial needs of international students.
Additional scrutiny of the relationship between large banks and higher education institutions came in a February 2018 report by the federal Consumer Financial Protection Bureau (CFPB), which found students using college-backed banking accounts paid more than $27.6 million in fees over the 2016-17 academic year.
Notably, the study found fees were almost universally higher for students if they attended a school being paid by the banks to promote the accounts. Roughly 839,000 students paid an average of $11.93 a year in fees while attending schools without a paid promotion agreement, but the 482,000 students at schools with college-linked accounts paid an average of $36.52 in fees.
Wells Fargo was again found to assess the highest fees of any financial institution, accounting for more than half of fees paid out despite only holding about a quarter of all college-backed accounts.
"The Bureau and other government entities have expressed concern over the relationship between revenue sharing provisions in contracts and fees charged to student account holders," the report stated. "In particular, these provisions raise questions about potential conflicts of interest, including whether revenue sharing encourages higher-fee financial products that crowd out competition from providers of accounts for which student account holders would avoid high fees and/or accounts where all student account holders overall would pay less in fees."
The report was only made public in December 2018 via a Freedom of Information Act request submitted from a national progressive group and was not publicly published by the bureau itself. Former CFPB student loan ombudsman Seth Frotman, who resigned his post in February, accused the bureau's new leadership under President Donald Trump of suppressing the report.
"Anyone that looks at this data and the extent to which large banks continue to team up with colleges and universities to gouge the student body with overdraft fees should be outraged," he said in a statement published by MarketWatch.
Congressional leadership has also questioned the practice. Following the announcement of a slew of sanctions, including a restriction on growth by the Federal Reserve over years of bank misconduct, U.S. Sen. Dick Durbin of Illinois (the Senate Democratic Whip) sent a letter to bank CEO Tim Sloan in March asking him to halt expansion to future college campuses.
An aide to Durbin told The Nevada Independent via email that the senator is still concerned about the bank and "believes students deserve to know the dangers associated with Wells Fargo, including being sanctioned by the Federal Reserve, and how it has taken advantage of consumers by aggressive financial marketing on college campuses."
UNR has contracted with Wells Fargo for linked "WolfCard" ID cards since 2006, and the school reported having 14,415 linked banking accounts with students and faculty registered with the program in the most recent school year.
The average fee paid by a UNR student on their Wells Fargo account was $49.17, well above the national average of fees paid by Wells Fargo cardholders with college-linked accounts nationwide and at the high end nationwide. The median fee paid by students was $5.
The university has benefited financially from the relationship, receiving more than $610,000 from the bank since 2006, including a $75,000 royalty payment and more than $6,700 in card fees in 2018 calendar year. Like other schools, UNR's royalty payment is a variable rate based on the percentage of students and faculty with linked accounts.
The agreement between Wells Fargo also includes a $10,000 annual marketing budget, as well as the right to present the bank's services and open bank accounts during new student orientation, as well as the right to use the university's logo in certain marketing materials and on the cards themselves.
Penny Leathley, the director of the university's WolfCard program, said she hadn't noticed many student complaints with the program, stressing that it was free for students and that parents found the program useful to track spending and to allow freshmen students new to Reno to do their banking on campus.
"I know that Wells Fargo has had some bad PR over the last few years, but I think we have a very good program, they're very good to the students," she said. "So, I'm pretty happy with it."
Leathley said she was aware of the CFPB report on high fees charged to college students, including the higher fees charged by Wells Fargo, but couldn't speak to the fee amounts given that much of the account-holder proprietary information was kept by the bank.
"I know that information is out there, but our account is free, so I don't worry about it too much, I guess," she said.
Wells Fargo spokesman Tony Timmons said in an email that the bank was proud of the services offered to university students, stating that about four out of every five students continued banking with Wells Fargo after graduation.
"Before and since the CFPB's review on this topic, we have been pursuing customer-friendly actions that support students, such as sending automatic zero balance alerts, and removing monthly service fees on our Everyday Checking accounts for customers ages 17-24, a benefit we had already offered to our Campus Card customers," he said in an email. "We will continue to take additional steps to better serve our student customers and help them succeed financially."
UNLV holds a similar contractual agreement with U.S. Bank, which offers a "RebelCard" to college students, faculty and staff. The university was given a $70,000 "signing bonus," after signing the contract, and like UNR is given an escalating annual payment based on the percentage of students with linked cards, as well as royalty payments from an on-campus ATM, a $40,000 athletic scholarship, and $15,000 each to the card program and office.
In total, the bank paid $115,680 to the university in the 2017-18 school year.
In the 2017-18 school year, 752 students held "RebelCard" linked accounts, with an average annual fee of $21 and a median fee of $0. U.S. Bank spokesman Evan Lapiska said looking at the average fee was "misleading" due to the "number of variables and customer choices that can result in a fee being assessed."
UNLV spokeswoman Cindy Brown said in an email that the banking services offered convenience to students, and that the linked accounts were overwhelmingly similar to the fee and benefit structure of the bank's other offerings.
"There are no monthly maintenance fees, no minimum balance requirements, and all transactions at U.S. Bank ATMs are free," she wrote in an email. "Charges are consistent and typical of any type of bank account, including overdraft fees and transactions at non-US Bank ATMs."
Comment Policy (updated 3/21/19): We welcome reader comments on our stories. However, in keeping with our general policy of transparency, accuracy and accountability, we do not accept comments from anonymous accounts. Anonymous accounts are those without a valid first and last name. Any such comments will be deleted, and anonymous users will be blocked from commenting further. We also will block commenters who use offensive language, engage in personal attacks or state things that are verifiably false.
get our morning newsletter, The Daily Indy
INDYMATTERS PODCAST
CAFECITO CON LUZ Y MICHELLE
@TheNVIndy ON TWITTER