Students at UNR's Joe Crowley Student Union on Nov. 15, 2018 (David Calvert/The Nevada Independent).
UNR reverses controversial dormitory decision, will issue refunds and extend move-out timeline
March 19th, 2020 - 5:48pm
Update to original story on 3/20/2020 at 8:13 a.m.
The University of Nevada, Reno reversed course on its dormitory decision that caused outrage, saying Friday that it will issue prorated refunds and allow students to retrieve their belongings at a later date.
UNR officials announced that students who have left their on-campus housing will receive a prorated occupancy refund, which will be issued within 14 days.
Students also have until May 13 to clear out their dorm rooms, which will be locked until then, officials said. Other students who have been approved to remain on campus, such as those who are studying internationally, foster children or homeless, will be responsible for paying their room and board and meal contracts.
The university will issue prorated meal plan refunds to students who have left campus.
"We understand that families may be experiencing hardships and inability to travel as they deal with extremely trying circumstances related to the outbreak of coronavirus," university officials said in a statement. "We want to make our best effort to support the health and safety of our students, families and community and lessen any turmoil that is being felt during the uncertain time."
The university drew ire Thursday after telling students with the ability to move that they must clear their belongings out by March 25 and that they would not be receiving a refund. Parents and students complained the policy contradicted the governor's orders to stay home and maintain social distancing.
— Jackie Valley
This story was updated at 10:25 a.m. after the university sent an email correcting a statement it had made earlier about refunds.
***
Original story:
Switchboards at the University of Nevada, Reno lit up Thursday after the university issued an unusual directive: all students living in on-campus residence halls who have the ability to move back home should be packed up and gone within the next six days.
Complicating matters: This week marks the school's spring break holiday, and many students have already trekked back home amid mounting concerns over the spread of the novel coronavirus.
With spring break came another directive to students, this time in the form of a lengthy email from March 13, asking that they do not return to campus following the week-long vacation.
It was a sudden and daunting ask from the university at a time when many parents remain wary of sending their college-bound kids back through airports and at a time when hotels are shuttered by order of the governor.
Carlos Hernandez, whose son lives on campus but has already returned home, said he fears the process creates "needless exposure" for anybody involved in the move-out process.
"I feel like at a minimum, we should still follow the guidelines that the governor set out for the 30-day minimum, and to be reevaluated towards the end of that 30 days," Hernandez said. "I don't know why the students at the University of Nevada, Reno, are any different than any of the other human beings that fall within that order."
Specifically, parents and students were asked to go through the traditional move-out process — an often hours-long affair that involves thorough cleanings and inspections to avoid additional fees — with added provisions meant to enforce some forms of social distancing.
That social distancing includes limits on the number of people who can help a student move out, as well as additional spacing between pre-appointed move-out times meant to limit the number of people in a building at any one time.
In a statement released by the university following Thursday's frustrations, a university spokesperson reiterated those social distancing measures, adding that the move-out came at the advice of the university's student health center director, Dr. Cheryl Hug-English.
The move comes as system Chancellor Thom Reilly ordered Nevada colleges and universities to shutter their non-essential departments Tuesday, just hours after Gov. Steve Sisolak asked all non-essential businesses in the state to close their doors for 30 days in a bid to slow the spread of the novel coronavirus.
It's a closing that's so-far been anticipated by the state's universities, which began preparations to move to online instruction earlier this month.
But left as an open question, amid these closures, has been exactly how to address the thousands of students living on campus at both UNR and UNLV. Students at both schools had already left for the spring break holiday, and many had planned on staying home, intent on riding out the coronavirus pandemic from home.
At UNLV, students have been allowed to request refunds, with those with outstanding room and board costs allowed to prorate what's left.
But at UNR, not only must students still pay room and board for the rest of the semester, but they must be moved out by the end of the day on March 25. Parents were informed of the deadline in a pair of emails, both sent out on Thursday — and since then have inundated the university with complaints and mounting frustration.
For parent Scott Gulbransen, whose son flew back to Las Vegas on Monday, it was "an unmitigated disaster."
"The whole thing has just been very frustrating because of the [university's] communications and now to drop the bomb today to say you got to be out within six days and you haven't given them any other option — was very, very frustrating at a time when people are already stressed out anyway," Gulbransen said.
Both Gulbransen and Hernandez said they wished the university had been more transparent in its communications leading up to the move-out, and — if students and parents are still to carry the financial burden of room and board — that the university would allow families to utilize dorm rooms as a kind of storage space while the effects of the coronavirus pandemic in Nevada, including the wide-ranging economic effects, becomes clear.
"How many parents in Clark County have lost their jobs and now they're going to worry about this," Gulbransen said. "I'm fortunate mine is not dependent on the tourism economy here, but my wife works in a school. She's been furloughed from her job because she works at a school. So when you have stress happening in our household now we've got to worry about being in Reno in six days, it's just not smart."
Not all students have been asked to leave the university; Those who have no place else to go have been asked to fill out a request-to-stay form by this Saturday, and will have access to limited university facilities throughout the rest of the semester.
But for the thousands of students who can go back home, the next six days will remain a rush to solve the logistical hurdles of packing it all up a few months early.
Read the emails sent by UNR to parents and students below: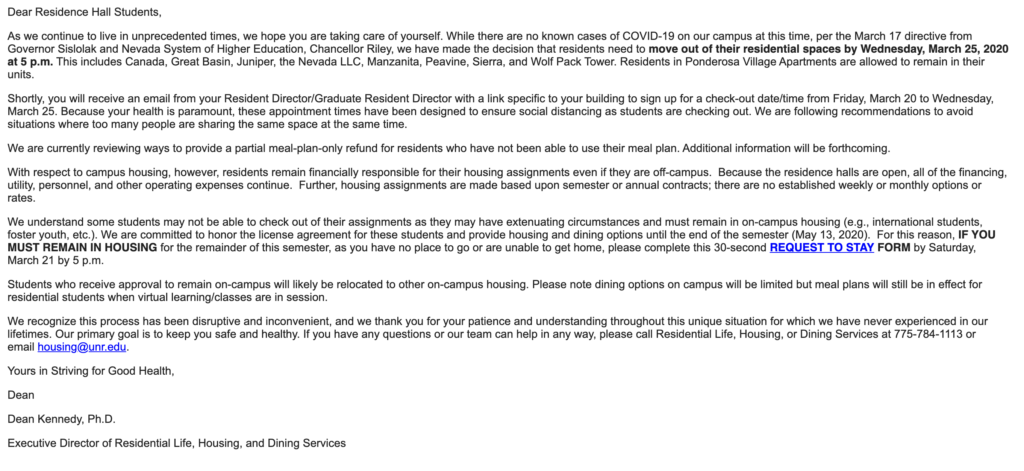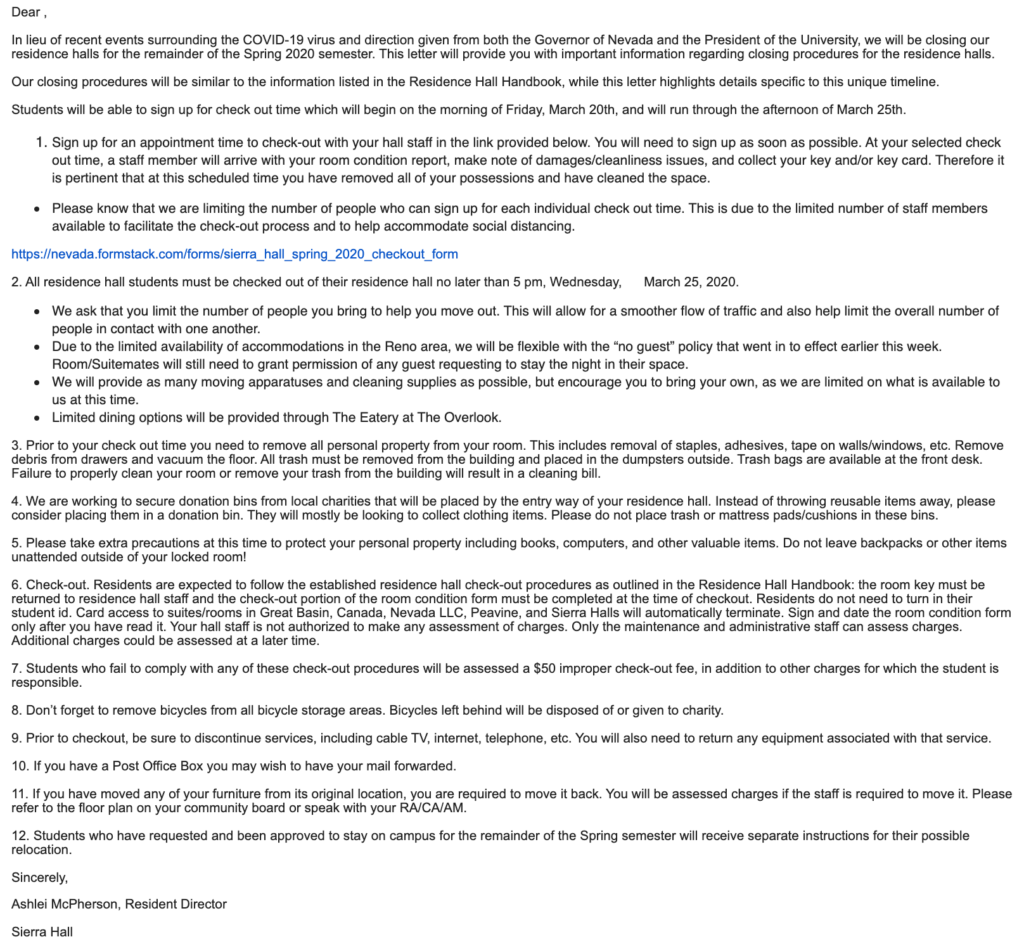 Stories
Candidate Trackers
Endorsements, Ads, Policies, Visits
& More
visit now
Comment Policy (updated 10/4/19): Please keep your comments civil. We reserve the right to delete comments or ban users who engage in personal attacks, use an excess of profanity, make verifiably false statements or are otherwise nasty.