Vegas' Trac-B harm reduction center aims to make sex work safer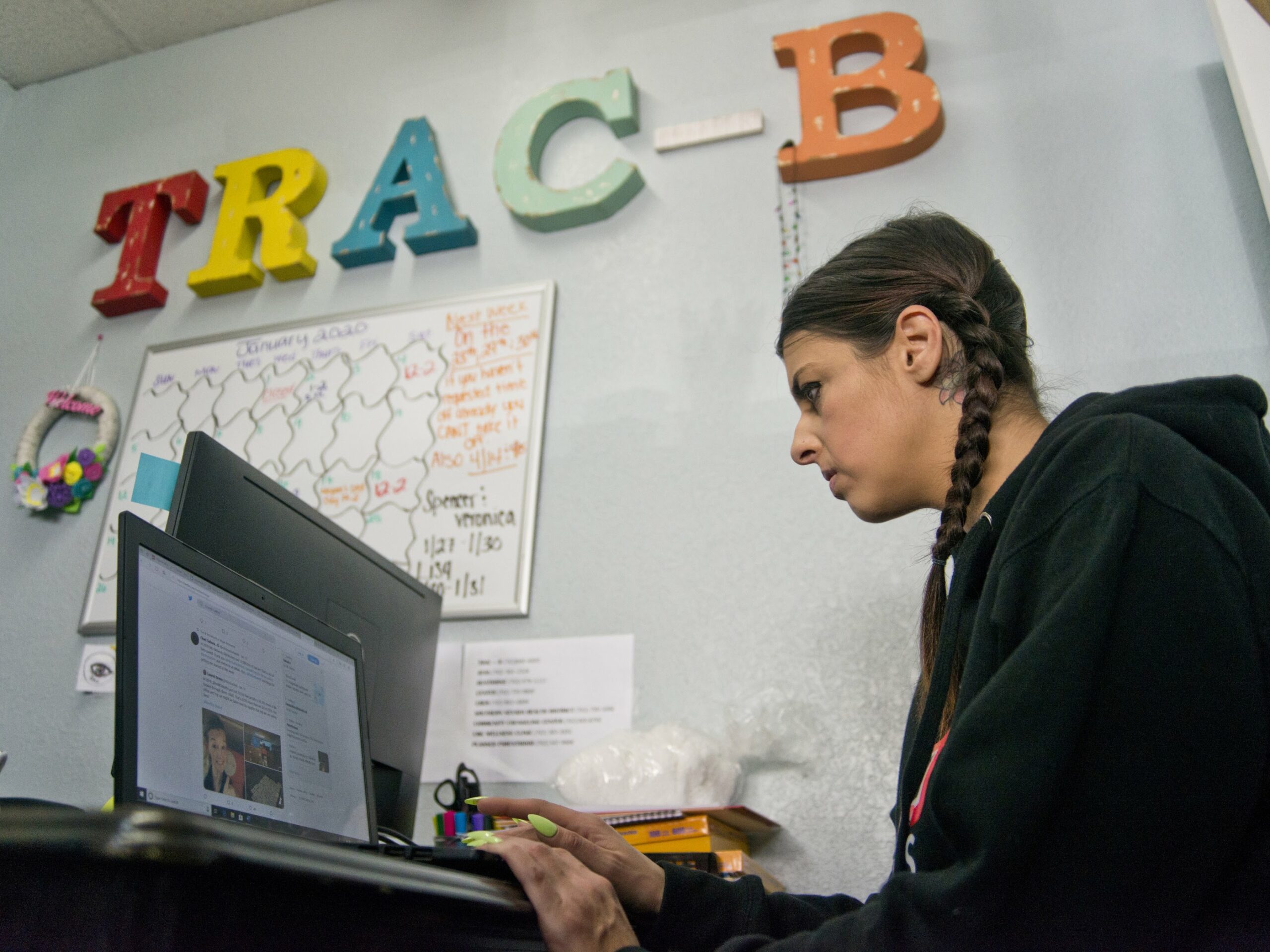 Christina Parreira opens her monthly safety meetings by checking in with each sex worker who attends, asking whether anyone has had any bad experiences or has been in any dangerous situations since last visiting the office.

These closed meetings, hosted by the Las Vegas-based harm reduction agency Trac-B Exchange in its downtown office, are generally attended by four or five people, most of whom are involved in high-risk street-based sex work and are looking for ways to make what they do safer. The center provides them with safety tips and kits containing free contraceptive devices.

"I have one on harm reduction for if you are working on the streets," said Parreira, who is a sex worker herself and leads the meetings. "So tips like not wearing a long necklace because a client could choke you with it. Putting your hair up, because he could pull your hair. Walking around the car and making sure that nobody else is in it. Things that unfortunately these women go through."

The meetings are a part of Trac-B's attempt to expand their outreach in the sex industry and make conditions safer for those involved. These efforts also include counseling and free STD testing.

Trac-B was started in November 2016 by Rick Reich, who had recently retired from the Southern Nevada Health District.

"We opened officially as a syringe exchange in February of 2017. And then we rolled out our syringe vending machine program in April of 2017, and we've just been expanding ever since," said Chelsi Cheatom, the organization's program director.

Harm reduction is a movement in social work that accepts that behavior such as drug use is a fact of life and aims to reduce the negative effects associated with that rather than ignoring or condemning them. Trac-B employs harm reduction strategies in dealing with sex workers as well as drug users.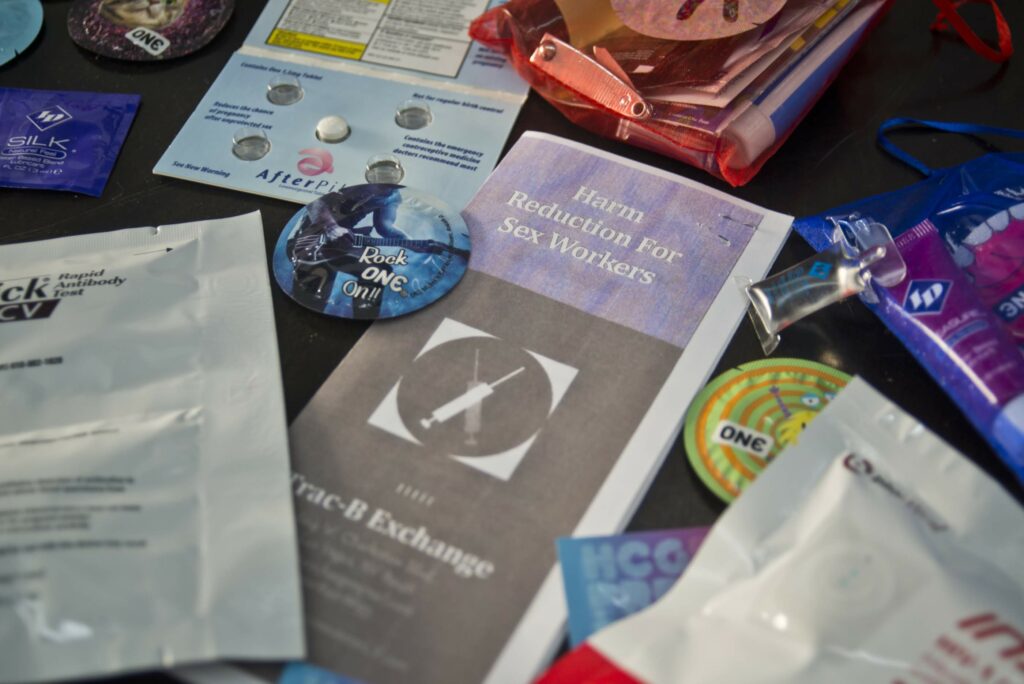 Trac-B Exchange's office may be small, but its impact is big. About 70 people come through per day seeking services the center provides.

On a normal day, the warmly lit office is bustling with activity as staff rush to assist every client who comes through the door. Even as she moves out of the main office to begin her interview, Cheatom is answering questions from volunteers, making change for customers and taking phone calls.

"We provide [anti-overdose drug] Naloxone; we do transitioning people into drug treatment through Trac-B; we do HIV and hepatitis C testing," listed Cheatom, "And then we recently started working with people in the sex industry to reduce their risk of STDs, HIV, but also to reduce their risk of arrest and violence."

The work Trac-B does with the sex industry has been ongoing but expanded with the help of Parreira, who coordinates sex work harm reduction services in addition to serving as the public relations and media specialist.

Parreira has worked in the sex industry for 11 years. She began webcamming — a legal form of sex work where models perform live in online chat rooms — to pay for her masters degree in clinical psychology. Since then, she has expanded her work in the industry and has experience stripping, working in phone sex and as a dominatrix.

Parreira is working towards her Ph.D. in sociology at UNLV and spent time working in a legal brothel as ethnographic research for her dissertation. Parreira's personal experience in the sex industry has made her aware of legal options in the industry.

She also says her experience makes sex workers more willing to approach her for counseling and other services. She compared it to peer recovery programs that involve former addicts — "peers" — helping those struggling with substance abuse.

"Generally sex workers won't really trust somebody running a program if they've never done it. So they have wanted to get somebody working in the industry," Parreira said, "They didn't have any sex workers working here, which is a little problematic."

While Trac-B is not the only resource center with programs aimed at sex workers, these programs are less commonly available than other types of harm reduction services such as those geared toward drug use.

"I've met people [in] harm reduction that don't even agree with it because they think it's all sex trafficking," said Parreira.

For Cheatom and Parreira, sex worker-targeted services are important because the majority of their sex worker clientele are involved in high-risk street work and may be unable to seek out other resources for fear of being arrested. Prostitution is illegal in Nevada if it takes place outside of a legal brothel, which are only allowed in counties with a population lower than 700,000. It is entirely illegal in multiple counties, including Clark and Washoe as well as in Carson City.

"We wanted people to have the opportunity to talk about violent situations, and anything bad that may have happened to them, so we could give them tips and pointers on how to prevent those things from happening again," Cheatom said.

Safety Services

Parreira provides one-on-one counseling services in the office day to day and even makes house calls in addition to the monthly meetings.

"I wouldn't really call it a support group," said Parreira. "It's not counseling, either. Just a group, like a peer support group, I guess. And it's only open to sex workers, so that it's face to face."

Trac-B also provides free kits that contain condoms, lube and pregnancy tests. Clients can also get Plan B, an emergency over-the-counter contraceptive pill that was given to Trac-B through a grant from the Sex Workers Outreach Project.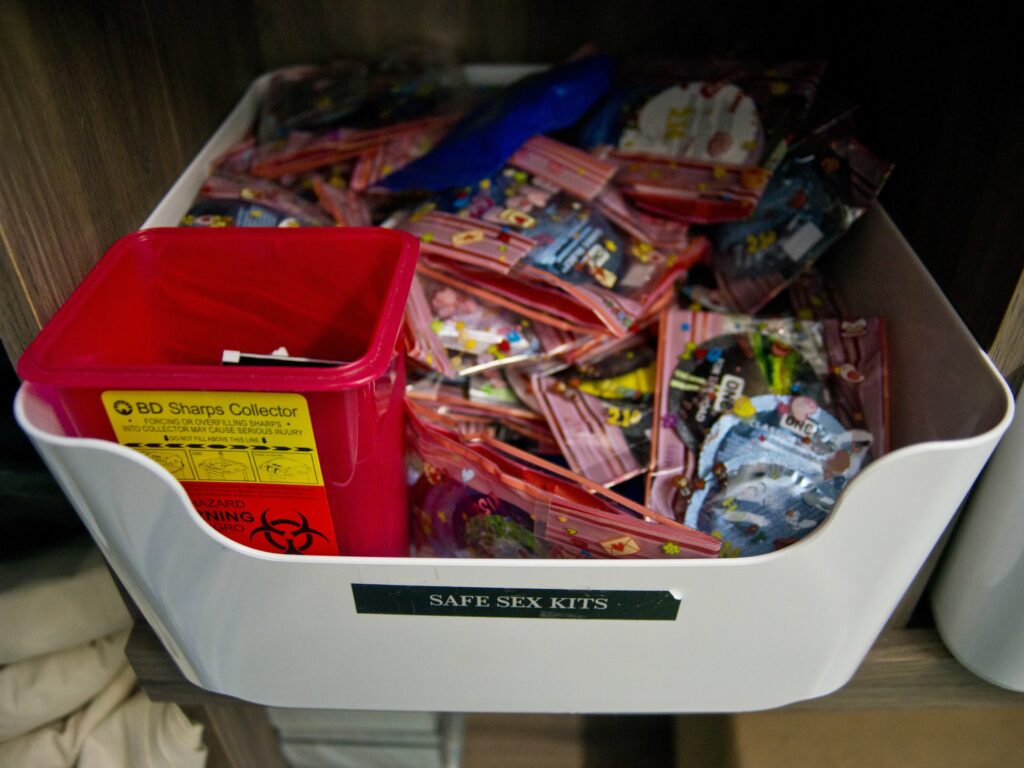 Workers are also given updated copies of Trac-B's "Bad Date List." Sex workers who have experienced dangerous situations such as robbery or assault can submit confidential reports with whatever information they have about the incident such as location, the name of whoever was involved and a description of the event.

Reports can be submitted online or in person at the office. In addition to handing them out at meetings, Trac-B distributes the list to all sex workers who come into the office and through a text and email list.

Trac-B works with law enforcement and The Cupcake Girls, an organization that provides support and resources to sex workers, to provide exit services for those involved in the sex industry who want to get out. Trac-B can provide counseling and safe housing, but often they refer clients to The Cupcake Girls, who Parreira says have more funding for exit services.

However, Parreira emphasized that they do not encourage workers to leave the industry unless they are asking for that assistance.

"It's harm reduction. It's client-centered. So, it's what they need and what they want," she said.

Legal Sex Work Workshops

This month, Trac-B hosted its first workshop for sex workers specifically focused on legal sex work options in the industry.

"One of the things that we realized when we were doing the advisory board meetings is that people don't necessarily always want to get out of sex work," said Cheatom. "But they also don't want to put themselves at risk."

For these workers, Parreira has developed a workshop that informs them about work in legal brothels, cam work and even text-based sex work.

"That's really what they're dying to know about, because they know that I do it," she said.

As of May 2018, there were 20 legal brothels operating in Nevada. Working in the legal brothel setting not only eliminates the risk of arrest but also makes it easier for workers to report incidents of harassment or assault. Street-based sex workers are often unwilling to report these incidents to law enforcement because of a fear of arrest on prostitution charges.

Legal brothels in Nevada are still a point of controversy, condemned by anti-sex trafficking organizations who say they are part of a system that encourages sexual exploitation. However, a federal court recently overturned a lawsuit that sought to end the legal sex industry in Nevada.

In addition to brothels, Parreira sees opportunity for legal sex workers in Las Vegas's growing porn industry. Trac-B is even hoping to have a booth in coming years at the AVN Adult Entertainment Expo, the nation's largest trade show for the porn industry, which is held in Las Vegas.

Expanding Outreach

According to Cheatom, a lot of the sex workers who the center reaches come in looking for other resources.

"Sometimes for us, it's a lot of crossover. So people that work in sex work and people that might be using illicit substances may cross over," she said.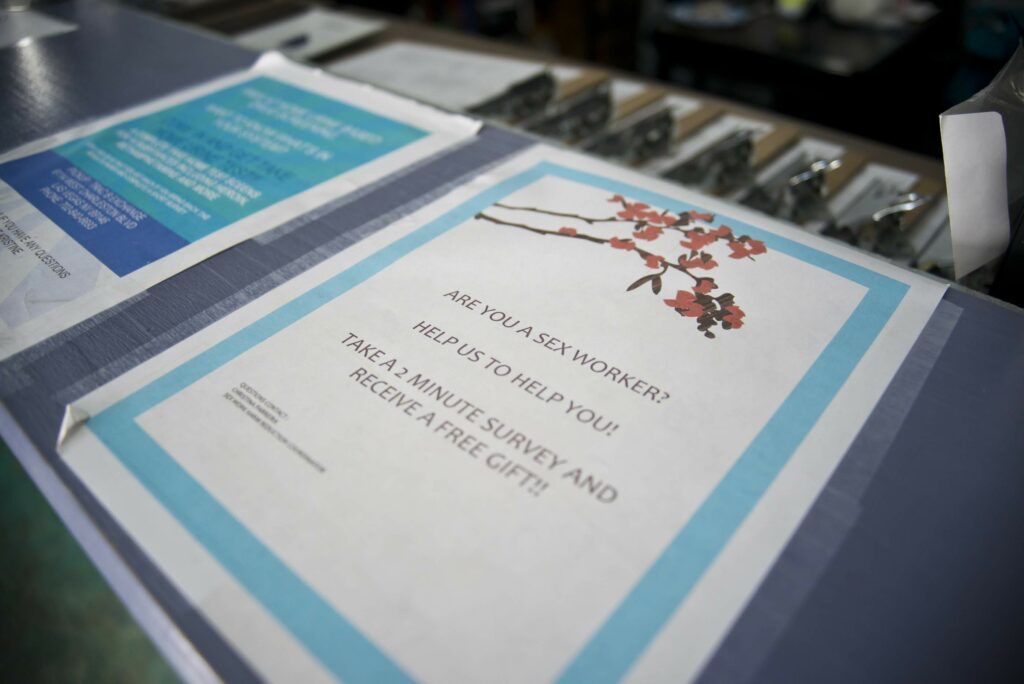 Parreira herself will approach people in office or during syringe-related outreach events to provide them with information if she suspects they may be involved in the industry.

"When I meet women that are in the industry, or I even sort of suspect, we have flyers for the program on the counter and I'll say, 'Hi everyone, I don't know if this applies to you or anybody you know, but if it does, here you go.' And I'll even say, 'I'm the coordinator and I am a sex worker,' and then their defenses come down and they're able to talk," she said.

Trac-B is hoping to expand outreach that would allow them to get information to sex workers who may not require their other services.

"We do outreach but it's not as robust as we'd like it to be. We'd love to be able to expand our outreach and reach more people. So we started partnering with other organizations like the Cupcake Girls. We post information about our training classes and also a bad date list at other community resource centers," said Cheatom, "We're trying to get the word out there."

Parreira has also sought to expand the center's social media presence. When she took over as the PR and media specialist, the organization only had a Facebook page. She has since started a Twitter account, an Instagram account, and even a YouTube channel and says a lot of workers have found information about Trac-B through Reddit.

"It's just a way to get the word out there," said Parreira, "These days you need social media, no matter what company you are."

A Safe Space

Parreira herself has received services from The Cupcake Girls and from harm reduction centers in the past. She and Cheatom had previously met when Cheatom was working with the Southern Nevada Health District in charge of HIV/STD testing for the brothel where Parreira was working. Parreira contacted Cheatom when she heard about Trac-B to find a way to get involved.

Parreira said it is important for her to be open about her experience as a sex worker as a way to de-stigmatize the industry.

"I'm a Ph.D. student, I'm out as a sex worker, everybody knows my real name," she said.

She said she hopes, going forward, to be able to provide support for all sex workers, working legally or not, dealing with any level of sexual grievance.

"It can be hard to be in the industry," said Parreira, "Even if you are making a lot of money and doing well."
The Nevada Independent is raising $200,000 by Dec. 31 to support coverage of the 2024 election.
Tax-deductible donations from readers like you fund this critical work.
If you give today,your donation will be matched dollar-for-dollar.
Give + Get Matched
Featured Videos