Video connects the dots on Laxalt's interaction with indicted Giuliani pals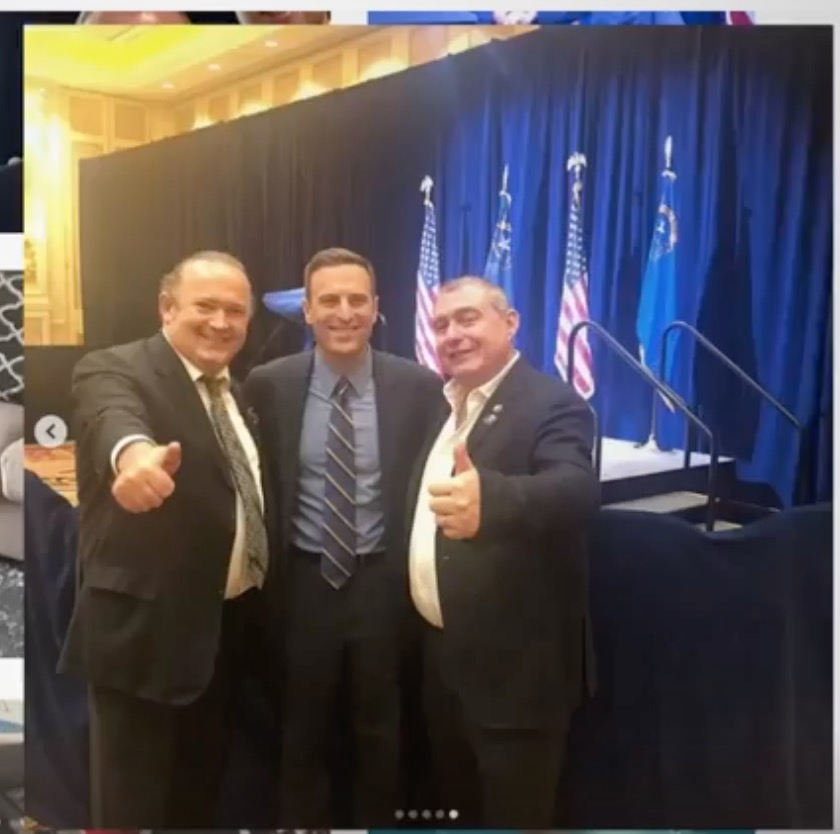 So far, Adam Laxalt has been Sgt. Schultz on his contacts with two Soviet-born men indicted earlier this month, one who gave him a $10,000 campaign donation.
But thanks to The Wall Street Journal, we now know more about Laxalt's interactions with Lev Parnas and Igor Fruman. The newspaper has posted a video of Parnas' Instagram account, and the nearly six-minute story has a section about the apparently illegal foreign money donations to then-gubernatorial contender Laxalt and his former aide, Wes Duncan, who was running for attorney general.
I slowed down the video to extract two photos of Laxalt – one at a fundraiser shaking hands with Vice-President Mike Pence and another getting cozy with Parnas and his partner. Fruman later donated $10,000 to Laxalt as part of what the indictment claims was a scheme to "green-light" a pot dispensary.
A Laxalt spokesman told the Review-Journal, which happens to be owned by the same man (Sheldon Adelson) who runs the place where Laxalt was pictured with the two men: Fruman "came to a Las Vegas fundraiser. Adam doesn't know the man."
(That later had an addendum tacked on by another Laxalt spokesman, Robert Uithoven, who gave another Sgt. Schultz statement and said the ex-attorney general "intends to return the donation." How and when he would return the money to the indicted Fruman is another question.)
We now know, thanks to the video, that Parnas and Fruman were at the Sept. 7, 2018, fundraiser at The Venetian, a no-media event that Parnas memorialized on Instagram: "Supporting Adam Laxalt for governor of the great state of Nevada!!!," Parnas posted next to the photos he took of Laxalt shaking hands with Pence and someone snapped of Fruman and him next to a smiling Laxalt.
The video connects some dots that were oblique in the indictment.
The indictment talks about the two men and their partners, David Correia and Andrey Kukushkin, and what they were doing around the time of the Venetian fundraiser for Laxalt: "In early September 2018, Parnas, Fruman, Correia, Kukushkin and (the foreign national alleged to have funded the contributions) met in Las Vegas, Nevada, to discuss the Business Venture (the pot dispensary). While in Las Vegas, Parnas, Fruman and Kukushkin attended a political fundraiser for a State candidate in Nevada (Candidate-1)."
So from the Wall Street Journal revelations, we now know what fundraiser they are referring to and for whom. And, more interestingly, we know that Kukushkin, who later claims to have met with Nevada officials, was at that event, too.
The indictment then details a multimillion-dollar plan to funnel foreign money into campaigns and buy political influence: "…the defendants….then used those funds transferred by Foreign National-1, in part, to attempt to gain influence with politicians and candidates."
The next part is significant: "For example, on or about October 20, 2018, Parnas, Fruman and Kukushkin attended a campaign rally for candidate-1 in Nevada…."
The Wall Street Journal video confirms that Parnas actually traveled to Elko (!) to be at a President Trump rally for Laxalt (and then-Sen. Dean Heller).
Parnas, the video shows, had a V.I.P. badge for that rally. That is, he was a special guest, and I find it hard to believe Laxalt was not briefed about him.
Soon afterwards, the supposedly illegal donations to Laxalt and Duncan were made – just days before the election. The timing was especially important, the indictment implies, because they realized they had missed the application for a dispensary license "unless we change the rules." And this: They "noted that they needed a particular Nevada state official, the position for which Candidate-1 (Laxalt) was running, to green-light to implement this."
Kukushkin, according to the indictment, later said he was "present at all the scheduled meetings with officials in Nevada."
Did that include Laxalt? We still don't know, and we reached out to no avail to Team Schultz.
Laxalt may indeed have no memory of these two men who were trying to ingratiate themselves to him, hoping he would become governor so he would green-light their pot business. I'm sure he took pictures with lots of people smiling into the camera, and I'm sure some of them were willing to attend events in Las Vegas and Elko.
Laxalt also may have no idea who Fruman was when he accepted $10,000 – candidates accept many, many donations, although you would think they would vet their max contributors, right? And didn't Laxalt's finely attuned prosecutor's antenna get suspicious at all during this time?
Are we to believe these two fine fellows who were Giuliani pals just happened to want to be seen with Laxalt and give him a max donation? And neither Laxalt nor anyone close to him ever met with any of the four indicted men to talk about what they wanted, as the scheme was well on its way last fall, according to the indictment?
You would have to be Sgt. Schultz to not believe that someone might think a cash-rich business such as the pot industry is ripe for money laundering. I wonder if the feds here are sniffing around, although the U.S. attorney, Nick Trutanich, used to be Laxalt's right-hand and might have to remove himself from any investigation.
The irony here, as reporter Chris Kudalis pointed out, is that Laxalt was opposed to pot legalization. Even after it was legalized, he made things difficult. So what would make these guys think a prospective governor could be persuaded to help them? Did they think he was an easily influenced pawn? And what would make them think that?
From a political perspective, Laxalt, who seems to be trying to keep his name alive for a future bid, will be haunted by the photo with Parnas and Fruman. His prospective opponents must be salivating.
But what do I know? I know nothing.
Comment Policy (updated 4/20/2021): Please keep your comments civil. We reserve the right to delete comments or ban users who engage in personal attacks, use an excess of profanity, make verifiably false statements or are otherwise nasty. Comments that contain links must be approved by admin.