VP Kamala Harris touts slowing inflation, budget bill victory during Las Vegas trip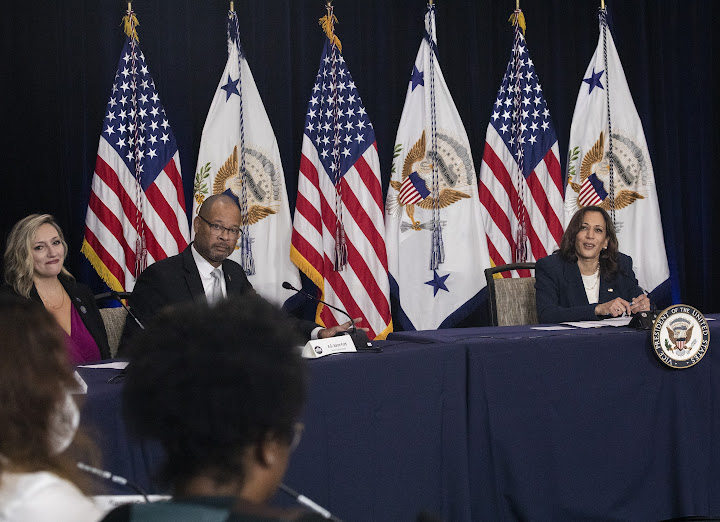 For Vice President Kamala Harris, a daylong swing through a stormy Las Vegas presented a rare opportunity for Democrats in 2022: A victory tour. 
Fresh off likely the most consequential legislative accomplishment of the year — passage of a massive budget measure through the U.S. Senate — and on the heels of apparently cooling inflation and surging jobs numbers, Harris spent most of her day touting the White House's successes.
"We vowed that we would address the urgent crises of today — the pandemic, the economic crisis, the climate crisis," she told a packed ballroom at the United Steelworkers convention in the MGM Grand convention center on Wednesday morning. "But we also vowed to implement our vision for America's future, a future in which every person has the opportunity to succeed and to thrive. And in the last 18 months, we have made clear, because of your help, that we are building that future."
During her roughly 20 minute remarks, Harris praised the provisions of the Democrat-backed spending bill, such as provisions allowing Medicare to negotiate drug prices, climate investments and corporate tax hikes, with some lines drawing brief standing ovations.
Later, Harris was whisked to another section of the MGM Grand, where she met with a roundtable of Democratic state lawmakers and abortion rights activists to discuss the state-of-play in a world without Roe v. Wade.
There, she continued to tout economic numbers, noting again that the month of July, taken by itself, saw 0 percent inflation, and high jobs numbers. But she also called out climate provisions of the Inflation Reduction Act, which she called "a historic investment in the climate crisis."
"I have been to Lake Mead," Harris said. "We all know what this means for western states, for the whole country — a $370 billion investment, which will be historic for our country, but also ensure our role of leadership around the globe."
Flanked by Attorney General Aaron Ford and more than a half-dozen lawmakers, including Senate Majority Leader Nicole Cannizzaro, Harris also continued a long-running message attacking GOP-led state legislatures that have moved to restrict abortion access following the Supreme Court's decision in Dobbs v. Jackson Women's Health.
"In many states, we're seeing an approach that suggests there should even be no exception in the cases of rape or incest," Harris said. "And I will tell you, having spent a large part of my career as a prosecutor — and I specialized in child sexual assault cases and violence against women — the idea that laws would be passed that after a person has endured such an act of violence to not allow her to exercise the self-determination then to make decisions about her body and her future is abhorrent."
However, Harris also lifted up a recent vote in Kansas to preserve constitutional protections for abortion access there as another victory, and proof that "this is a nonpartisan issue," and praised Nevada lawmakers for "fighting on the front lines to protect women."
And in another slate of meetings focused on labor, Harris met with representatives of the powerful Culinary Workers Union in a closed-door meeting, before touring the MGM Grand's pastry kitchen, deep in the bowels of the property, where she sampled from an array of bite-sized desserts while grilling the pastry chefs — all union members — on their craft.
Republicans, meanwhile, were eager to seize on the vice president's visit as an opportunity to pummel their Democratic opponents on the economy.
Republican governor candidate and Clark County Sheriff Joe Lombardo was among those who lobbed criticism. Before Harris' arrival, his spokesperson said in a statement: "It's only August, but Steve Sisolak is already bringing out his friend Kamala Harris to help his struggling campaign."
Though Harris did meet with top state legislators and spent part of her day with Rep. Steven Horsford — who also greeted the vice president at the airport and toured the MGM pastry kitchen with her — none of the other candidates at the top of the Nevada ticket made an appearance.
That includes Gov. Steve Sisolak, Sen. Catherine Cortez Masto, and the two other Democratic members of the state's House delegation, Rep. Dina Titus and Rep. Susie Lee, for instance, was set to host a separate labor event elsewhere in Las Vegas, and all three Democratic House members planned to appear at an event for seniors and veterans in North Las Vegas, which occurred around the same time as the vice president's visit.
Several vulnerable state Democratic lawmakers did appear at the roundtable, including Assemblywoman Michelle Gorelow (D-Las Vegas), and state Sen. Melanie Scheible (D-Las Vegas).
In brief remarks before media members were ushered out of the roundtable, the two lawmakers — alongside their colleagues — praised recent laws protecting abortion access in Nevada, including a 2019 law that rolled back some abortion restrictions, as well as Nevada's status as the first majority-female state legislature in the country, also as of 2019.
Other GOP statements took direct aim at the Democrat-crafted spending bill, the Inflation Reduction Act. That includes the Republican National Committee, whose spokesperson, Hallie Balch, called Harris' visit a "slap in the face" to Nevadans after Democrats voted to "raise taxes … during a recession."
Democrats behind the legislation have argued that the bill won't directly raise taxes for households making less than $400,000 per year — instead, raising revenue through the closing of loopholes and a 15 percent minimum corporate tax rate. Still, Republicans have pointed to the increase as a major failure of the legislation, especially following two quarters of shrinking gross domestic product figures, an often-used colloquial, though unofficial, marker of a recession.