Warren: If officials believe Trump cannot fulfill duties, they must invoke 25th Amendment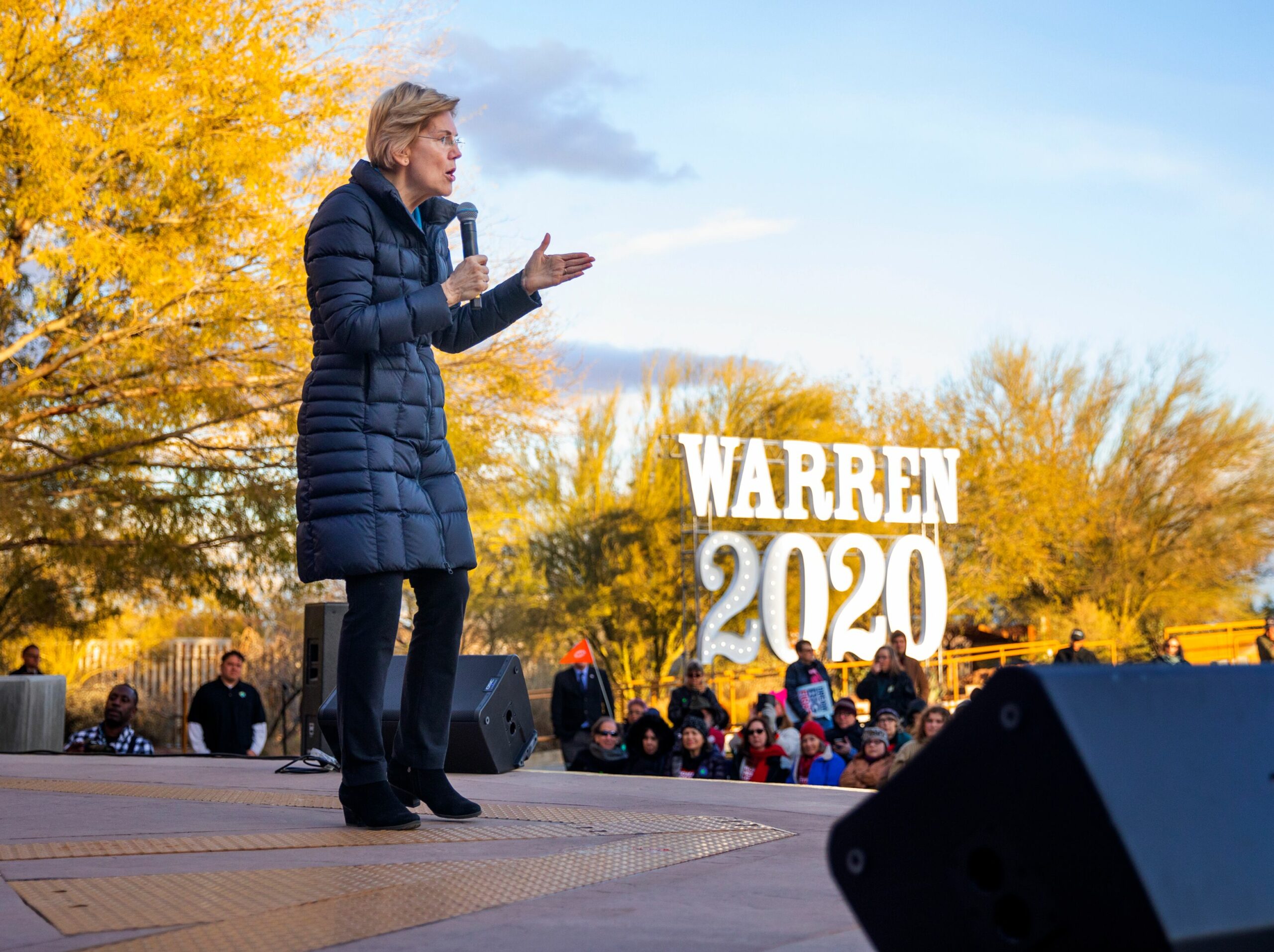 Massachusetts Sen. Elizabeth Warren said Sunday in Las Vegas that Trump administration officials have an obligation to invoke the 25th Amendment if they believe the president cannot fulfill his duties.
The comment came in response to former acting FBI Director Andrew McCabe telling CBS's "60 Minutes" that then-acting Attorney General Rod Rosenstein had considered the idea out of concern for Trump's "capacity and about his intent at that point in time," referring to the days after Trump fired James B. Comey as FBI director.
"My point here is that if they believe that Donald Trump cannot fulfill the obligations of his office, then they have a constitutional responsibility to invoke the 25th amendment," Warren, a Democratic presidential candidate, said after a rally in Las Vegas. "Their loyalty under law is not to him personally. It is to the Constitution of the United States and to the people of United States."
The comment came during a brief news conference following a campaign rally at the Las Vegas Springs Preserve.
The 25th Amendment was ratified by Congress in the wake of the assassination of President John F. Kennedy and provides procedures for the replacement of a president or vice president in the event of death, resignation, incapacitation or removal from office.
A spokeswoman for McCabe said Friday that he never participated in talks to invoke the 25th Amendment and that previous comments about the 25th Amendment made by McCabe have been taken out of context.
Warren's comments came as Republican Sen. Lindsey Graham said he will use his Senate panel to investigate both McCabe and Rosenstein.
At the rally, Warren largely stuck to an economic message, railing against Wall Street, large corporations and government corruption.
"What issue brought you here today, think about what it would mean if we had a government that instead of working for the lobbyists, instead of working for a handful of billionaires, instead of kowtowing to the giant corporations and their executives, instead worked for the people. Everything we care about would be different," Warren said.  
The rally was Warren's first visit to the Silver State since several surrogate speeches during the 2018 midterms, including a stop in Reno in June to deliver the keynote speech at the state Democratic convention.
At Sunday's event, she was introduced by Lisa Hendricks, a local organizer with the pro-gun control group Moms Demand Action for Gun Sense in America who touted the senator's stances on gun violence prevention. And though Warren congratulated state Democrats on the passage of the gun background check bill last week, Warren started where she finished: the economy.
"I want a government that works for little families, not for big corporations," Warren said.
Beginning with the story of her family — which she said was sustained by her mother's minimum wage job — Warren later drew applause with attacks on big banks, corporations and corruption in Washington, D.C.
"Washington works great for those with money and power," Warren said. "It works great for those who can hire an army of lobbyists and lawyers. When we have a government that only works for the rich and the powerful, that is corruption plain and simple, and we gotta call it out for what it is."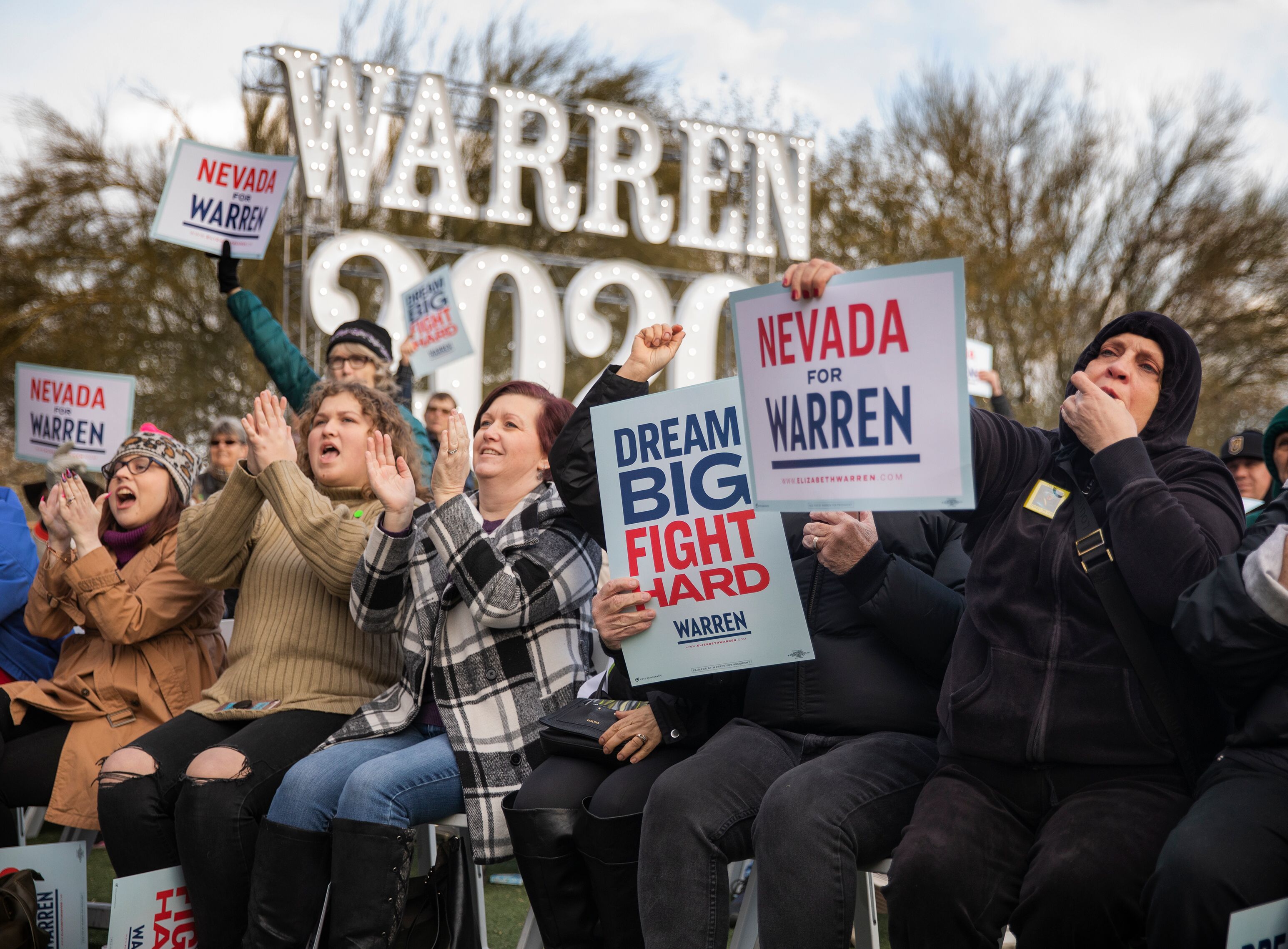 Warren also took aim at President Donald Trump as she touted her anti-corruption bill, introduced late last year.
"Start with the fact that the Trump administration is the most corrupt administration in living memory," Warren said. "But we've had problems in Washington for a long, long time, so how about some structural change?"
Warren's proposed bill would impose sweeping changes to lobbying rules, target financial conflicts of interest and strengthen enforcement of government ethics guidelines — initiatives she hit throughout her stump speech as she attacked the Washington status quo and called for hallmark progressive policies, including Medicare for all and universal child care.
To pay for all of it, Warren pointed to her January proposal of a "wealth tax," or a 2 percent tax on the wealth of Americans with more than $50 million in assets. That proposal quickly generated a debate over the way the federal government taxes the country's wealthiest citizens, with critics arguing it would be an administrative challenge at best, and unconstitutional at worst.
But polls show the measure is popular among a majority of Americans, and Warren played up its possible benefits.
"But just a 2 percent tax and we have the money to be able to pay for child care from zero to five, for early education, to bring down student loan debt, to make the investments in infrastructure and jobs right here in America," Warren said. "This is about everybody pays a fair share, and everybody gets an opportunity to build a real future."
Absent both from the rally and from a post-rally news conference was any mention of Warren's claims of Native American ancestry — claims that have generated controversy for the campaign, especially after her decision to release the results of a DNA test meant to prove that ancestry. The results of the test were panned both by Trump allies and some tribal authorities, who saw Warren's test as offensive.
The Massachusetts senator has since apologized, but criticism of the test has so far dogged the early days of her campaign. Most recently, a heckler holding a "Warren 1/2020" sign — a jab at her claim of Native American Ancestry — yelled, "Why did you lie?" at a Georgia rally on Saturday.
Following her speech, Warren took several questions from the audience, including on Planned Parenthood and immigration. She took the opportunity to rail against the GOP for their efforts to undermine Planned Parenthood and said that immigrants "made the country stronger."
"This is good for all of us, this is the America we want," Warren said. "We gotta straighten out our visa system, it's a mess, and let's say it: yes, we need border security, but we need border security that's about real threats, not about 12-year-old children."
Among the first to declare a bid for the 2020 presidential election, Warren is now just one of more than a dozen Democratic candidates, with more expected to declare in the coming weeks and months.
The crowd of about 500 wasn't dampened by unseasonably cold weather, still chanting "Warren, Warren, Warren" through a persistent, chilling wind. Even so, the turnout in Nevada was notably smaller than Warren's other weekend events in South Carolina and Georgia, which saw crowds of 700 to 1,100.
The Nevada Independent is raising $200,000 by Dec. 31 to support coverage of the 2024 election.
Tax-deductible donations from readers like you fund this critical work.
If you give today,your donation will be matched dollar-for-dollar.
Give + Get Matched
Featured Videos