Warren, in a feather boa, dances her way through Las Vegas Pride; surrogates march for other presidential hopefuls
Massachusetts Sen. Elizabeth Warren waved, danced and selfied her way down 4th Street Friday evening at the annual Pride parade in Downtown Las Vegas.
Clad in a rainbow feather boa, Warren ran out to join a crowd of about 400 — including the Green Valley High School marching band — on the parade route just a little before 9:20 p.m. Supporters holding glittering gold letters spelling out "WARREN," toting multicolored lightsabers and clad in rainbow-striped "dream big, fight hard, live proud" T-shirts had lined up hours earlier to hold the campaign's place in line.
The 70-year old senator, fueled by occasional sips of coconut water, danced her way down 4th Street to "Respect" and "Ain't No Mountain High Enough" beside drag queen Shea Couleé. At various points, she left her post behind a rainbow-colored "Nevada for Warren" banner to run out onto the sidewalk to take selfies with paradegoers.
"Oh my God, that is a long line of people," one of the hosts at the main stage noted as the Warren team rounded the corner.
Though most of the Democratic presidential campaigns that are making a serious play for Nevada were present at the Pride parade, none had a crowd as big as Warren's. She was also the only Democratic hopeful to show up to the event.
Eight lawmakers, who haven't yet endorsed in the presidential race, turned out to mingle with the Warren crowd before the parade: Assembly members Lesley Cohen, Shea Backus, Michelle Gorelow, Howard Watts, Sarah Peters, Selena Torres and Rochelle Nguyen and state Sen. Dallas Harris. Torres tweeted that she is "always happy to support LOVE" with her colleagues. Controller Catherine Byrne, an early Warren endorser in the state, was also in attendance.
At the end of the parade route, Warren waved and ran off down a side street and into a waiting car. She did not take any questions from the media or offer any formal comments at the parade.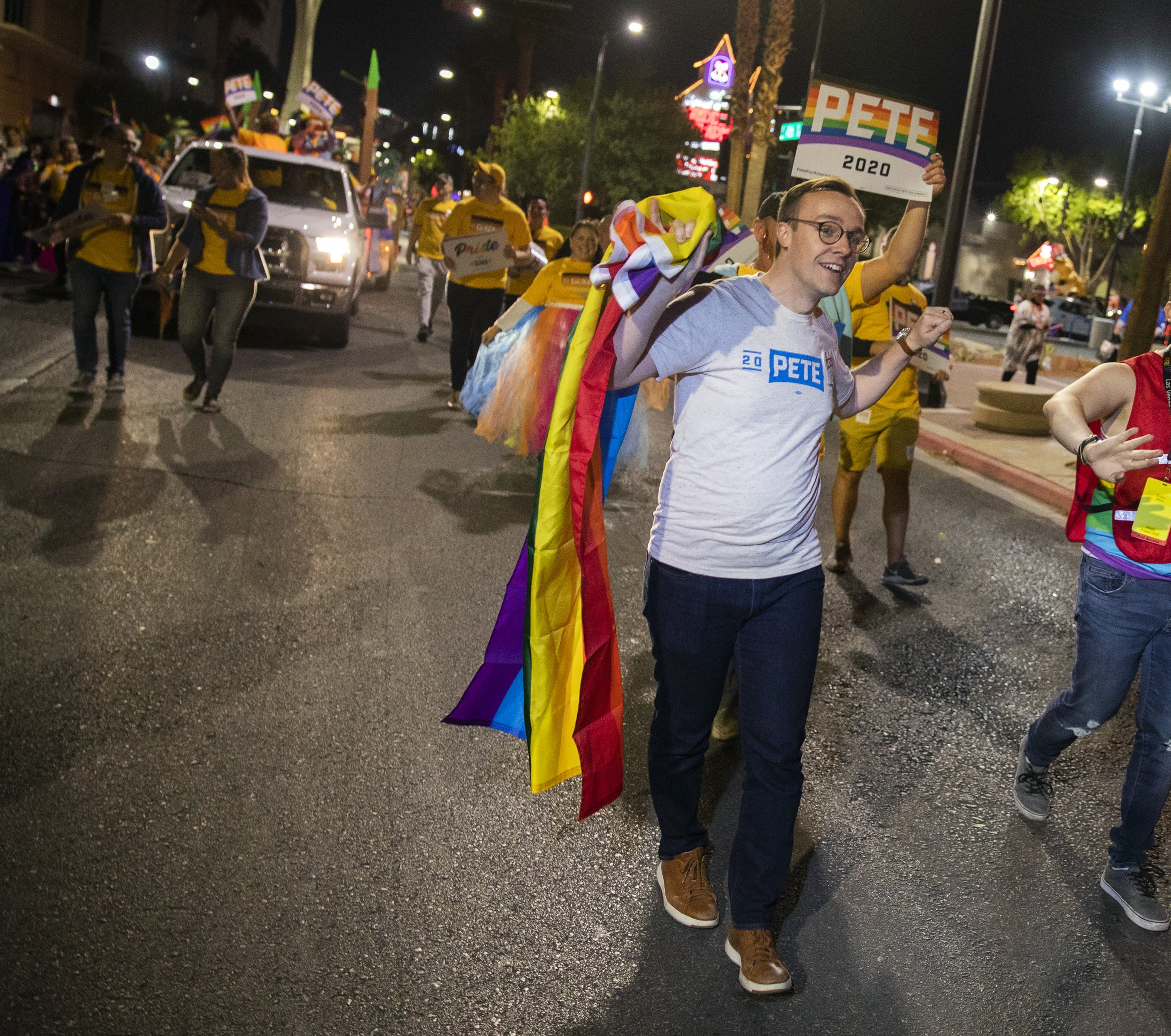 Several campaigns sent surrogates to attend the pride parade in lieu of the candidates themselves. Chasten Buttigieg, husband of South Bend Mayor Pete Buttigieg, helped cut the ribbon kicking off the parade, while Joaquin Castro, the twin brother of former Housing and Urban Development Secretary Julian Castro, and Doug Emhoff, California Sen. Kamala Harris's husband, also marched in the parade. Jill Biden, wife of former Vice President Joe Biden, was also on the stage at the ribbon cutting and spent some time with volunteers but did not stay for the full eevnt.
Gov. Steve Sisolak also made history at the parade by becoming the first Nevada governor to attend. Sen. Jacky Rosen, Rep. Dina Titus and Rep. Susie Lee also made appearances at the event.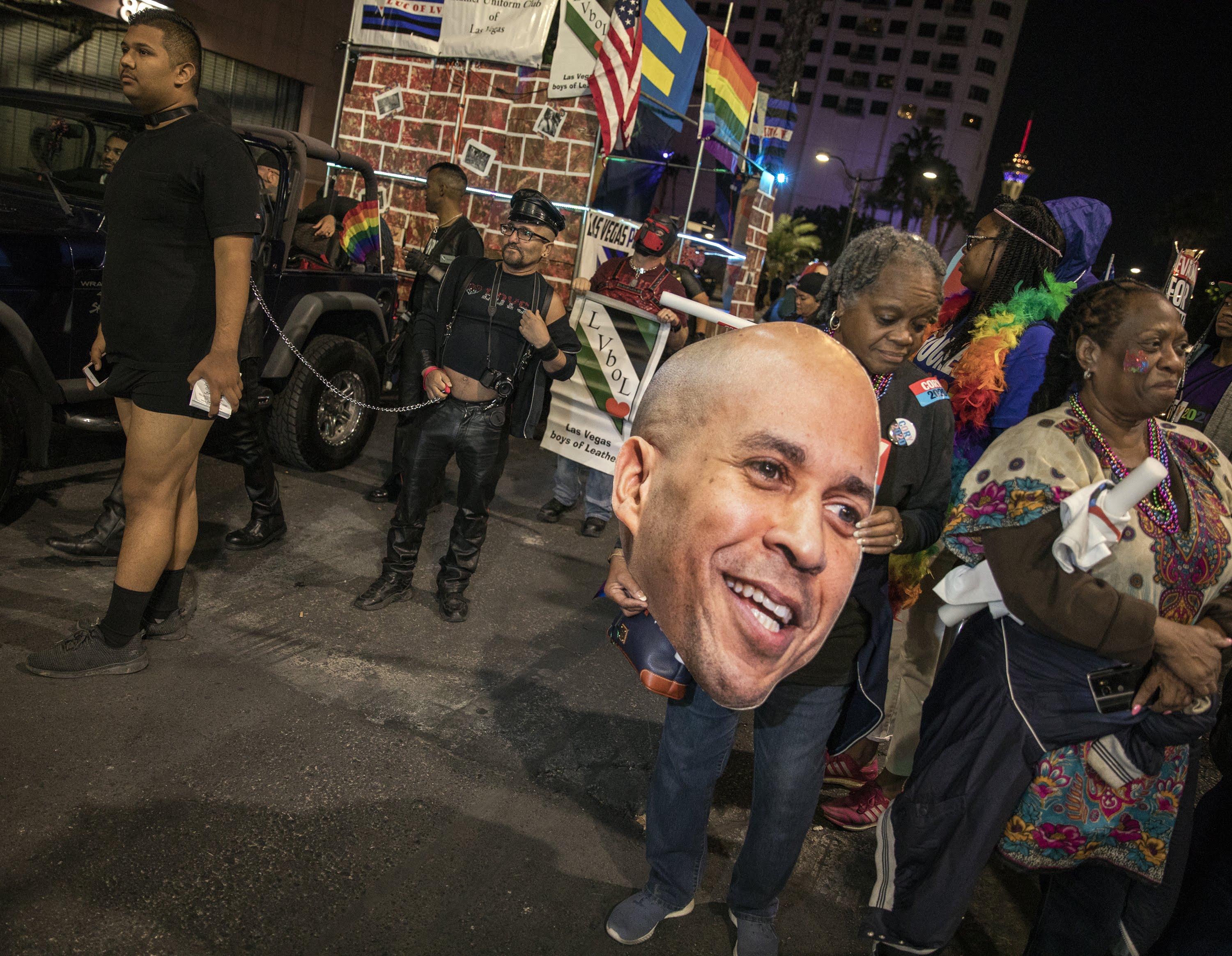 Updated 10-12-19 at 7:05 a.m. to note that Jill Biden, wife of former Vice President Joe Biden, did not stay for the full event but did in fact attend the ribbon cutting and chat with Biden volunteers.