People look on in silence at the site of a growing memorial on the Las Vegas Strip on Tuesday, October 3, 2017. (Daniel Clark/The Nevada Independent)
Weekend of campaigning by Democratic presidential hopefuls turns to elegy for El Paso, Dayton victims
August 5th, 2019 - 2:00am
Democratic presidential hopefuls came to Las Vegas this weekend with hopes of pitching their visions on labor, economic security and education. 
Instead, they found themselves grappling with the pressing danger of gun violence — in a city whose residents know it too well — after two mass shootings in El Paso and Dayton left 29 people dead in the span of 24 hours over the weekend.
Candidates scrapped their prepared one-minute opening speeches at a labor forum at UNLV on Saturday to talk about gun safety as the Texas shooting was unfolding. Former Texas Rep. Beto O'Rourke, an El Paso native, canceled his plans to travel to Northern Nevada on Sunday to return to his hometown. Vermont Sen. Bernie Sanders spent a portion of his forum on economic security at Cheyenne High School on Sunday talking about gun violence, while California Sen. Kamala Harris told parishioners at Victory Missionary Baptist Church earlier that morning that "good will fight evil."
In the wake of the shootings, candidates reiterated some of the top Democratic proposals for combating gun violence. Buttigieg, at the Saturday forum, advocated for universal background checks, red flag laws, a ban on the sale of high-capacity magazines and research on gun violence as a public health issue. Sanders called for an end to the straw purchases of guns and a ban on assault weapons, which he said are "designed for one reason."
"They are military weapons, and I don't have to explain that to the people of Las Vegas," Sanders said.
The city, which experienced the deadliest mass shooting in modern U.S. history, offered a somber backdrop for the latest iteration of the national gun violence conversation and also threw into relief how little has changed since that shooting claimed the lives of 58 people at a country music festival on the Las Vegas Strip almost two years ago. Nineteen presidential candidates were in town this weekend for a candidate forum hosted by AFSCME, the public sector workers union.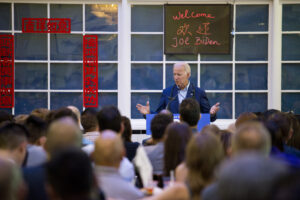 "Enough is enough is enough," Vice President Joe Biden told a crowd of about a hundred people who had gathered at Harbor Palace Seafood Restaurant in Chinatown as the situation in El Paso was developing on Saturday.
"It's been enough for the past five years," Biden said. 
Describing his experience speaking with victims of the Pulse Nightclub shooting in Orlando and the Sandy Hook Elementary shooting, Biden called such mass shootings "a sickness."
"The fact is that we can beat the [National Rifle Association], we can beat the gun manufacturers," Biden said, touting his work on the 1990s assault weapons ban. "Even the NRA members know better, even the NRA members know we need universal background checks.
Massachusetts Sen. Elizabeth Warren on Friday evening slammed the national gun lobbying association as "corruption in Washington," while New Jersey Sen. Cory Booker, addressing attendees of a Saturday evening service at Victory Missionary Baptist Church on the Historic Westside, promised to "bring the fight" to the NRA whether he wins the election or not.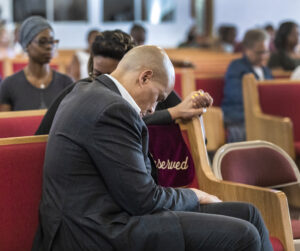 "I learned in prayer, 'I walk through the valley of the shadow of death.' I wasn't told to duck and cover in the valley of the shadow of death," Booker said. "I was told to keep on walking, keep on moving, keep on marching, and that's what it's going to take."
Harris had a similar message for the congregation on Sunday morning. One of her favorite songs growing up attending Twenty-Third Avenue Church of God in Oakland was "Order My Steps," she told them.
"Those words told us about 'lead me God,' and those words speak to me this morning, which is that we do need to be guided and the Lord will lead us there," Harris said. "But it is incumbent on us to do that that needs to be done."
Sanders, at the Sunday town hall, called on Senate Majority Leader Mitch McConnell to bring the Senate into a special session to address gun violence, as did Booker on Twitter. Harris, asked whether she would make a similar call for a special session Sunday morning, said that Congress needs to act.
"There are plenty of good ideas out there, I support probably all of them," Harris said. "We do not lack for good ideas. We have never lacked for good ideas. We have lacked for action by the United States Congress."
Though gun violence was a focus of candidates' events on Saturday and Sunday, many still found time to talk about other policy priorities during the weekend of presidential campaign visits. Sanders, for instance, drilled down into the payday lending industry during a campaign stop at the Gay & Lesbian Community Center of Southern Nevada, known as the Center, on Saturday afternoon.
"People go to payday lenders because they're poor," Sanders said. "Then you take advantage of their poverty and charge them outrageous levels which puts them in poverty forever." 
Progressive Leadership Alliance of Nevada Executive Director Laura Martin, one of the five panelists who accompanied Sanders, spoke about the dangers of payday loans trapping Americans into an endless debt cycle.
"There's more payday lending stores than [there are] McDonald's and Starbucks combined in Nevada," Martin said.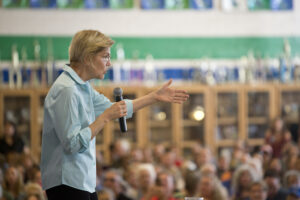 Warren drew the biggest crowd of the weekend at Green Valley High School in Henderson, where a crowd of about 750 people turned out to see her. At the rally, she touted her campaign's tentpole policies, all centered around what's become her three-word slogan: big structural change. Those changes include a so-called "wealth tax" on the wealthiest Americans, as well as structural reforms to both government and the economy.
Some of the candidates showed off their latest endorsements during campaign stops: Biden was introduced by Assemblyman Ozzie Fumo at a Saturday afternoon event at the Sun City MacDonald Ranch retirement community in Henderson; former Housing and Urban Development Secretary and San Antonio Mayor Julian Castro attended a party at Assemblyman Edgar Flores's house; and Harris appeared at a back-to-school town hall on Saturday at Nate Mack Elementary with two female state lawmakers who are supporting her — Assemblywomen Sandra Jauregui and Sen. Joyce Woodhouse. 
Others spent some of their time in Las Vegas connecting with the local community. Castro went to Three Square Food Bank in Las Vegas on Friday where he discussed the  importance of food banks to disenfranchised and struggling communities and helped assemble food boxes with the staff — donning a hairnet, washing his hands, and getting in line to package food.
"They say that the first rule in politics is to never put something on your head, but for this, I'll make an exception," Castro said.
Castro's visit came days after President Trump announced that he plans to amend Supplemental Nutrition Assistance Program (SNAP) qualifications, a move that jeopardizes 3.1 million recipients, including 46,000 Nevadans. 
"It's clear that even though we're out of the recession as a nation, people are still hurting," Castro said. "I know Vegas was one of the cities that got hit the hardest."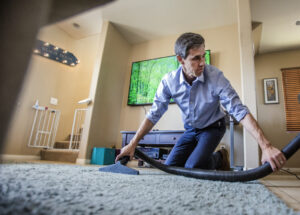 O'Rourke spent his Friday afternoon assisting home care worker April Perales in taking care of her client Shevawn O'Connell at a home in northwest Las Vegas. The former congressman helped fold and put away O'Connell's clothes and vacuumed the hair from her three dogs off of the carpet.
"Now I have to freaking vote for him, right?" O'Connell said. "Now I am."
The two Texans each additionally attempted to make inroads with Nevada's Latino community while at separate events in East Las Vegas this weekend.
O'Rourke was pressed at a Thursday campaign event at the East Las Vegas Community Center on his immigration plan, which includes waiving application fees for green card holders to apply for citizenship, ending for-profit immigration detention facilities and keeping families seeking asylum together in a community care program. 
One woman, who identified herself as a retired immigration lawyer, shouted into the crowd that his plan wasn't enough. She went on to praise Castro's 21st Century Marshall Plan that would help Central American countries fight gangs and poverty. 
In response, O'Rourke reiterated his own plan to bolster Central American countries, which he said is about "having the humility of understanding that not everybody wants to come in this country or be a U.S. citizen."
The following day, at the party at Flores's house in East Las Vegas, Castro touted to a largely Latino crowd the inroads he is trying to make in the state.
"We're moving around the state of Nevada," said Castro, listing the Nevadan towns he has visited during his campaign, including West Wendover, Elko and Boulder City.
One event attendee, vice president of the Nevada Alliance for Retired Americans Forrest Darby, shared his view on the difference between the two candidates.
"Beto pretends to be Hispanic, Julian is the real Hispanic," Darby said. 
(O'Rourke speaks fluent Spanish and goes by the Spanish nickname "Beto" but is not himself Latino.)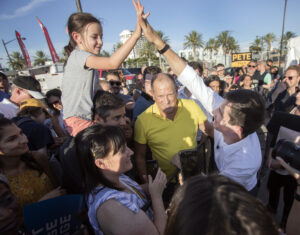 But it was South Bend Mayor Pete Buttigieg who, at a rally in the blistering heat at First Friday in downtown Las Vegas, put a ribbon on the importance of the presidential candidates' visits this weekend.
"As Nevadans, you have extra influence in this presidential process. You have power over this presidential process. You have your thumb on the scale," Buttigieg told the crowd, pausing. "Please use it well."
Jacob Solis, Taylor Avery, Trey Arline and Michaela Chesin contributed to this report.
Update 8-6-19 at 8:32 a.m. A previous version of this article described Assemblywoman Selena Torres as a supporter of California Sen. Kamala Harris. Torres has not yet endorsed in the race.
Stories
Candidate Trackers
Endorsements, Ads, Policies, Visits
& More
visit now
Comment Policy (updated 10/4/19): Please keep your comments civil. We reserve the right to delete comments or ban users who engage in personal attacks, use an excess of profanity, make verifiably false statements or are otherwise nasty.