An exhibitor demonstrates giving a hug to Octobo, a product by Thinker-Tinker, at CES on Wednesday, Jan. 8, 2020. (Jeff Scheid/The Nevada Independent)
What does the future of play look like? Tech-driven toys at CES offer a glimpse
January 10th, 2020 - 2:00am
Past a robotic litter box, rows of massage chairs, automated beverage dispensers and too many smart-home systems to count, a high-tech spin on a traditional toy snagged the attention of some CES passersby this week.
Attendees clutched the tiny spacecraft — made from a cardboard cutout and decorated with markers — and guided them through the air. Thanks to a magnetic insert, the spacecraft's journey appeared on a tablet in a video game-like presentation. The person's hand movements controlled the vehicle's destiny.
The Tori Explorer Pack, which was a CES 2020 Innovation Award Honoree, represents the big push in children's technology. It's no longer enough to simply captivate a child on screen. Now, companies are making interactive digital toys, blending traditional creative play with technology.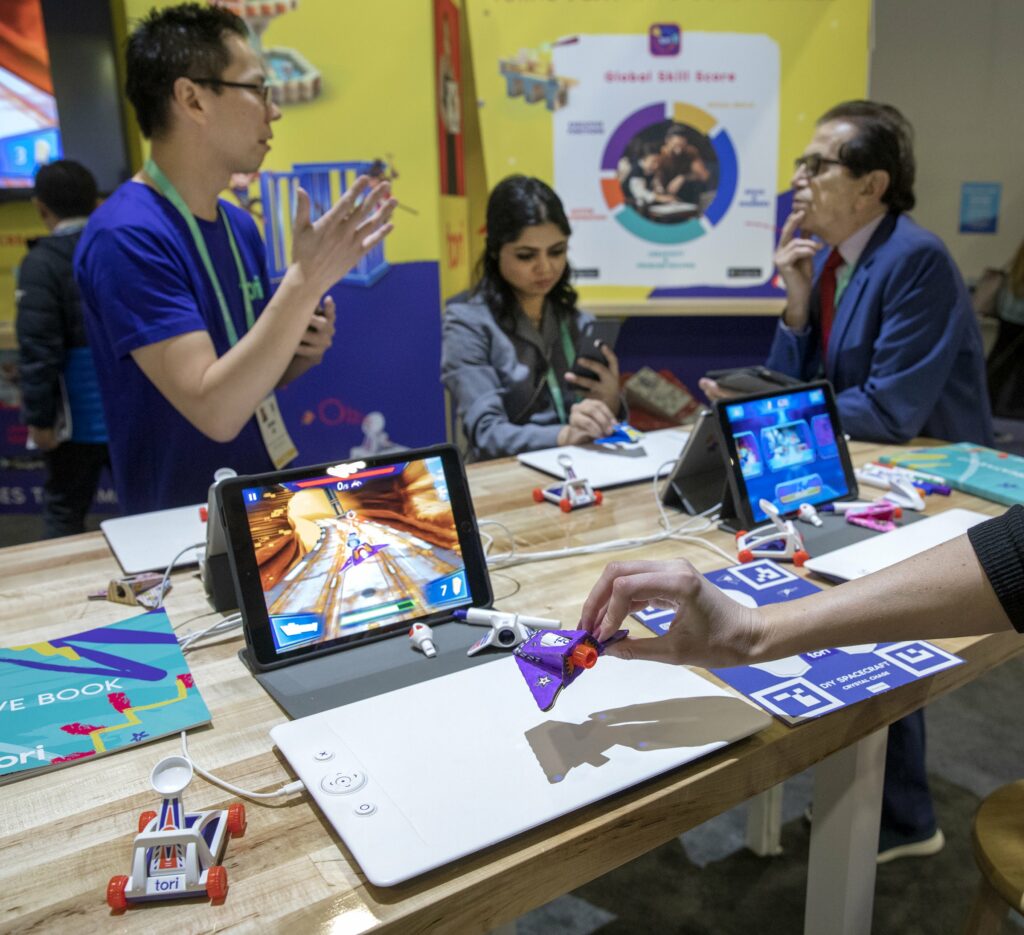 That was a major theme at the massive consumer electronics show, which runs through today in Las Vegas and offers a glimpse into the future of play and education technology. Officials from the American Specialty Toy Retailing Association, a nonprofit trade organization, said many children's products lining CES showroom floors are an outgrowth of the fidget-spinner craze several years ago.
"We realized at that point that our kids are really craving that opportunity to touch, to feel and have a tangible perspective on play," said Ahren Hoffman, business development director for the American Specialty Toy Retailing Association (ASTRA).
Octobo, which Thinker-Tinker markets as "the learning companion that comes to life," fits that bill. The octopus-shaped plush toy pairs with a tablet and provides learning games and stories through a multi-platform approach.
"So rather than kids building a relationship with a device or a tablet, they're building a relationship with an actual character," said Jourdan Johnson, a Thinker-Tinker product specialist.
The LeapBuilders 123 Fix-It Truck by LeapFrog works in a similar fashion. The truck is made up of "smart blocks" that produce sounds and phrases when plugged into the main unit, introducing young children to numbers and counting in the process.
Another product featured at CES — Orboot by PlayShifu — uses augmented reality for an educational play experience. Using a touchscreen device, an app, and a high-tech globe, children can learn about dinosaurs, the earth and Mars. For instance, on the earth globe, they can choose a location and scan it with the app, revealing information about animals, food, cultures, maps, monuments and inventions there.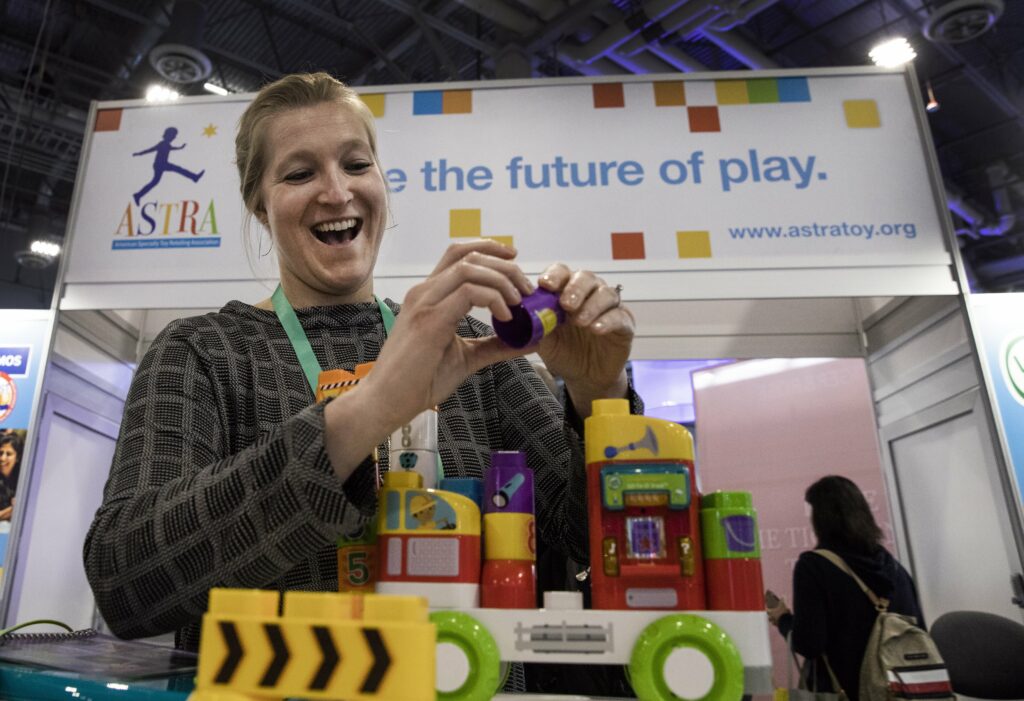 The tech-savvy toys and educational devices at CES, however, don't necessarily foreshadow the extinction of traditional toys such as blocks or craft supplies. In fact, Sue Warfield, ASTRA's director of member relations, said those mainstays are vital to children's development because they spark creativity.
"They have to be bored," she said. "They have to just sit there with blocks where there's not something telling you, 'build this.' They have to literally be bored."
Still, the toy industry experts said parents shouldn't totally tune out technology-driven play experiences, especially in an age when some kindergarten children are learning the fundamentals of coding and high schoolers are developing fully functional robots. They encouraged parents to follow the American Academy of Pediatrics' technology recommendations when choosing age-appropriate digital toys for their children.
"It's not going to go away," Warfield said, referring to computer-related toys. "It can't because (children) have to be prepared for the future, which will increase technology-wise."
Some of the products showcased at CES may even make learning easier. The Easy-Readbook by Guangzhou Childhood Technology Co., for instance, features a "talking pen" that helps children decipher letter sounds and words. And, for older students, a free smartphone app called Scribzee — which works with specialty notebooks —catalogues notes by scanning and saving them.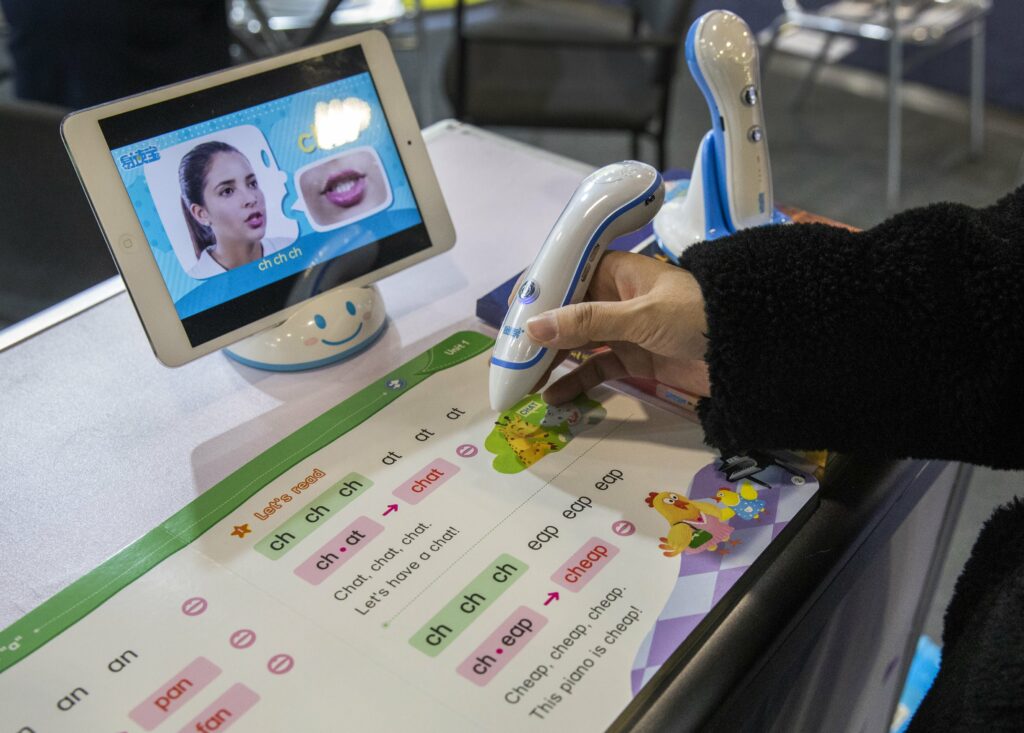 Stories
Candidate Trackers
Endorsements, Ads, Policies, Visits
& More
visit now
Comment Policy (updated 10/4/19): Please keep your comments civil. We reserve the right to delete comments or ban users who engage in personal attacks, use an excess of profanity, make verifiably false statements or are otherwise nasty.