What you need to know about the Reno, Sparks, Washoe County races on the ballot Tuesday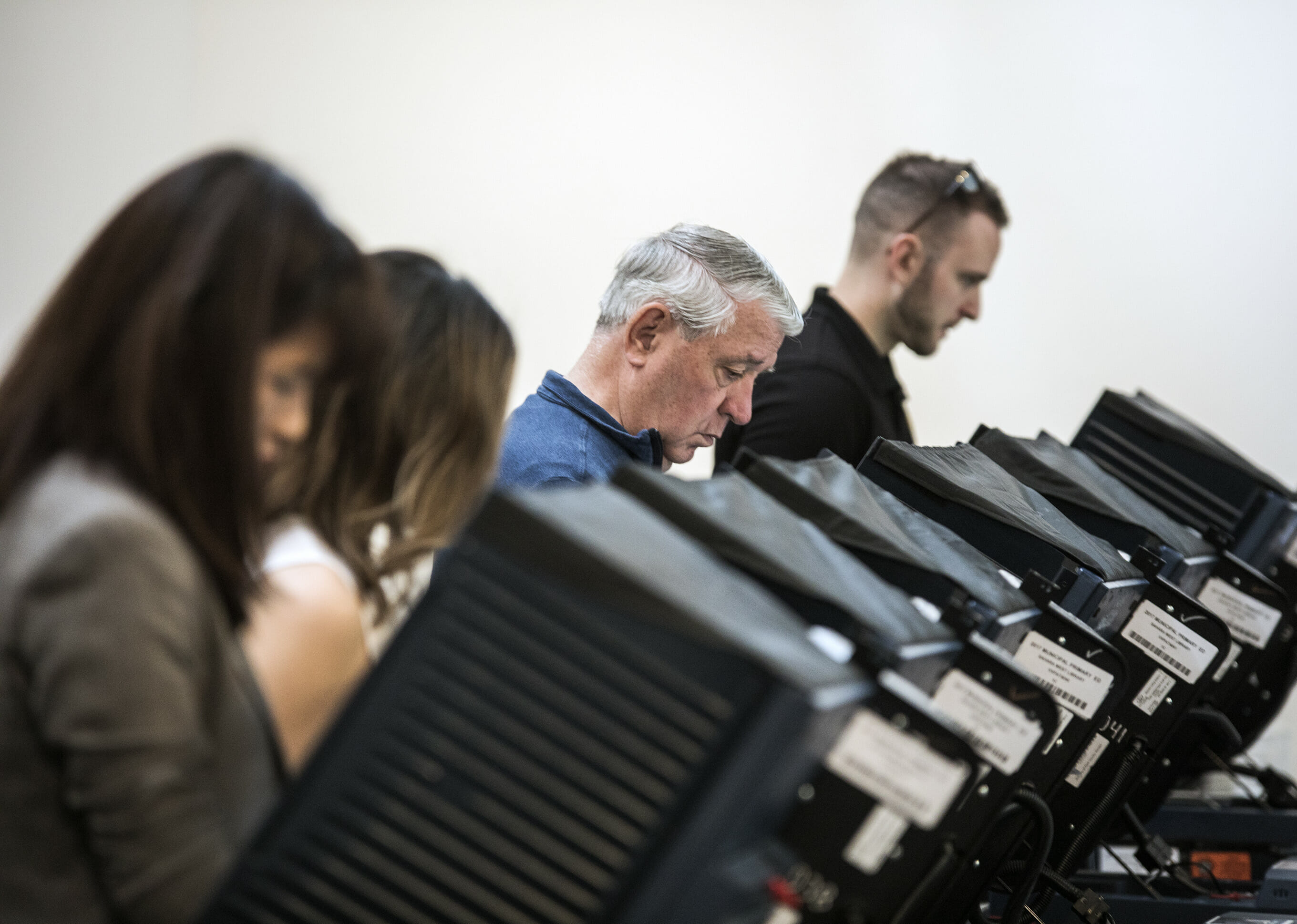 There might be only a few city races in Clark County, but there are dozens of crowded primaries in Washoe County, including mayoral seats and four council races in Reno and Sparks. Add that to a competitive Democratic primary in Assembly District 24 to replace retiring Assemblywoman Amber Joiner, and there are a number of interesting northern races to watch on Tuesday.
Reno Mayor Hillary Schieve and Reno City Council members Naomi Duerr and Paul McKenzie are running for re-election to four-year terms with the city. Likewise, Washoe County Commissioners Jeanne Herman, Kitty Jung and Bob Lucey are all running for re-election.
In almost all of the races, the winners of the partisan primaries (and the top-two candidates in the nonpartisan primaries) will face off against each other in a general election in November.
There are some exceptions, though. If a nonpartisan county or statewide candidate gets more than 50 percent of the vote in the primary, there is no general election. And in some cases, there is no competition to be had at all. In several legislative races, such as Assemblyman Mike Sprinkle's race, no candidates filed against the incumbents, ensuring those incumbents an automatic win.
With one day left to the primary, The Nevada Independent breaks down some of the races:
Reno Mayor and City Council
Three candidates who ran against Schieve four years ago are challenging the mayor again in a primary field of eight candidates. It might sound crowded, but in 2014, there were 19 candidates in the race.
Of the eight candidates, Eddie Lorton, a 56-year-old Republican businessman who ran in 2014, had received the most contributions — $91,635 — so far, followed by Schieve at $61,950. The candidate who had raised the third largest amount, as of June 8, was Azzi Shirazi, a Republican who has campaigned on several billboards. She took in $55,690, according to her filing.
Schieve, in a letter on her campaign website, touted her accomplishments in reducing the city's deficit and creating a Business Improvement District downtown, but said there is more to do.
"Housing remains unaffordable for far too many, our homeless do not have adequate services that demonstrate a commitment to our shared humanity, and public infrastructure requires further investment to sustain growth and maintain the quality of life we've all enjoyed over the years," she wrote in the letter.
Lorton, in a video on his site, said the city should be run more like a business. As the first point in his Reno 2022 Plan, he called on the city to pay off its debt by selling real estate it owns.
"One way that we can get out of debt is by liquidating our assets," he said in the video. "Part of those include numerous properties [the City of Reno has] downtown."
In the City Council races, the fields are less competitive. Duerr, the Democratic incumbent Reno City Council Ward 2, faces only two Republican challengers — Maria Davis and Joe Lawrence.
In Ward 4, the incumbent councilman, McKenzie faces off against Bonnie Weber, a former County Commission chairwoman, and Joseph Yott.
The top two candidates in each race will face off in the general election in November.
Sparks Mayor and City Council
As in Reno, there is also a mayoral primary in Sparks, just with half as many candidates.
There are four candidates running to succeed Mayor Geno Martini, who has served as mayor since 2005 and is not running for re-election. The candidates include Ron Smith, who currently sits on the City Council, Jeff Bonano, a digital artist with Custom Ink, Wendy Stolyarov, who works with a tech startup and Eric Waker, a middle school teacher.
One candidate in the nonpartisan City Council race is running unopposed. That guarantees incumbent Ed Lawson, who has served since 2010, will retain his seat in Ward 2 for another four years. In Ward 4, there is a more competitive race between three candidates — Charlene Bybee, the incumbent, Brian Hunt and Rudy Viola Jr.
The top two candidates in each race will advance to the general election.
Washoe County Commission
Unlike the other races, the Washoe County Commission primary is split on partisan lines. That means there are closed primaries for Democratic and Republican voters for these seats.  
In County Commission District 2, two Republicans are running against Commissioner Bob Lucey, the incumbent. The challengers are Kel Buchanan and Bret Edward Delaire. Lucey, who works in real estate and owns an animal hospital, was first elected in 2014. Lucey had raised $17,910, as of the campaign's first reporting deadline on May 21. The other candidates have not reported any contributions, but Buchanan has spent $38,054 on the race.
Buchanan is the president of HB Engineering Group, Inc. and opposes, as the first issue on his website, a proposed public lands bill, which the Reno Gazette-Journal has reported on. Lucey has been leading the effort on Washoe County's public lands bill proposal.
On the Democratic side, only one candidate — Stephen Wolgast — is running, which means that he'll advance to the general election, regardless of the vote.
In the other two commission district's on the ballot — District 3 and District 5 — there is an opposite scenario. In those two districts, you have two Democrats and one Republican running.
Incumbent Kitty Jung is facing a challenge from Austin Grush, a 19-year-old junior at the University of Nevada, Reno. He jumped into the race, in part, to address the housing crisis, according to the Reno Gazette-Journal. Jung has served two terms on the County Commission.
In District 5, Commissioner Jeanne Herman does not face a challenge from within her own party. But two Democrats, Lindsy Judd and Greg Smith, husband of the late state Sen. Debbie Smith, are facing off to unseat Herman come November.
Legislative Races
The big primary to watch here is in Assembly District 24.
As Megan Messerly and Riley Snyder explained in The Nevada Independent over the weekend, there is a competitive Democratic primary to replace Joiner, who decided not to run again. The competition is between Deonne Contine, the former Nevada Department of Taxation head, and Tom Stewart, a retail store owner and Sarah Peters, an environmental engineer.
Contine has raised more than twice as much money as Stewart, about $65,000, but Stewart has received several endorsements from locals, including Jung, Reno City Councilwoman Jenny Brekhus and former Attorney General Frankie Sue Del Papa.
At the same time, Contine has received several big endorsements from EMILY's List and a political action committee funded by the Pharmaceutical Researchers and Manufacturers of America, or PhRMA. Peters has the backing of several groups, including the Nevada AFL-CIO and the Nevada Conservation League.
The polls in Washoe County, Reno and Sparks open at 7 a.m. on Tuesday and close at 7 p.m.
Comment Policy (updated 4/20/2021): Please keep your comments civil. We reserve the right to delete comments or ban users who engage in personal attacks, use an excess of profanity, make verifiably false statements or are otherwise nasty. Comments that contain links must be approved by admin.