Nevada Prep students disembark from a school bus on Wednesday, Feb. 12,2020. (Jeff Scheid/The Nevada Independent)
Why a Las Vegas charter school made a pledge to parents and bought two yellow school buses
Just after 6:30 a.m. on a recent Wednesday morning, a yellow school bus bearing "NV PREP" vanity plates chugged out of a parking lot in central Las Vegas.
The bus made a left on Pacific Street and began its roughly 8-mile trek to Martin Luther King, Jr. Elementary School in the northeast valley. But rather than drop off students at this traditional public school, the bus picked up nearly 50 students waiting on nearby Bledsoe Lane.
The elementary and middle schoolers boarded the bus with varying levels of enthusiasm — giddy chatter, subdued smiles and hoodies pulled over their heads as temporary barriers in the chilly morning weather.
"Good morning … Good morning … Good morning," bus driver Maria Salazar chirped to each passing student, including her own three children.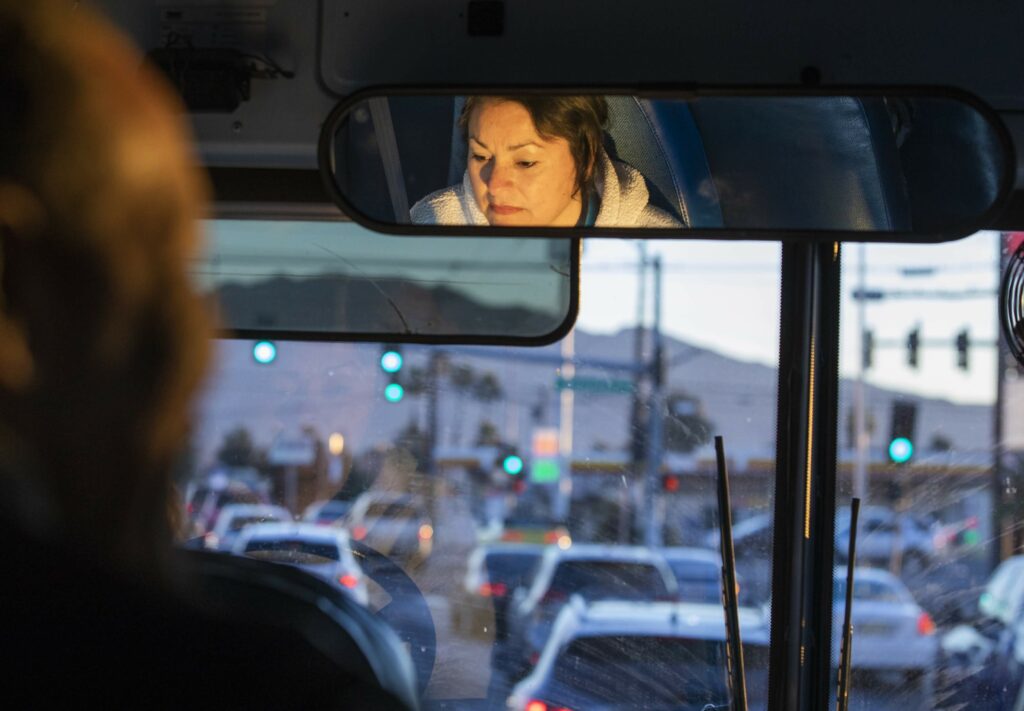 Their destination: two charter schools occupying a church and portable classrooms situated just east of Las Vegas National Golf Club. Nevada Prep, which serves students in fourth- through seventh-grade, bought two buses last year in its bid to overcome one of charter schools' greatest hurdles: transportation.
"We don't turn people away, and transportation is actually a huge part of that," Principal David Blodgett said. "If a kid can get to a bus stop, we can promise their family, as long as we all do our part, your kid can be ready for high school."
It may sound like a simple pledge, but for charters, the logistics of getting students to and from school are more complicated. Transportation laws for charter students vary by state. Sixteen states have laws directing how charter schools must provide transportation to students, according to the National Association of Charter School Authorizers. Some states, including Nevada, require charter schools to address transportation in their application, although it's not a binding requirement.
That arrangement leaves Nevada charter schools wide open to criticism, especially with many clustered around the suburban ring of Las Vegas: Are charter schools really a "choice" for students whose families don't have the time or resources to get them there?
And it's not just anti-charter activists sounding the alarm. The National Association of Charter School Authorizers released a policy paper earlier this year that didn't mince any words about the transportation ripple effect.
"Charter schools have a unique opportunity to break down barriers and open doors to all families," the organization concluded. "However, that isn't possible if entry is limited to those with the resources to get their child to school—a risk, if schools do not help families, especially economically disadvantaged ones, access transportation."
Veronica Brooks-Uy, a policy director for the NACSA, said transportation is one piece of a larger conversation.
"I think we are starting to have more explicit conversations about equity and access," she said. "That's not just true of the charter sector but more broadly in the education space."
That's certainly true in Nevada. One of the largest criticisms facing the Nevada State Public Charter School Authority is its lack of diversity.
By and large, its charter schools don't mirror the demographics of Nevada's student population: Thirty-six percent of Charter Authority students are eligible for a free or reduced-price lunch, compared with 65 percent of students statewide. Similarly, nearly 7 percent of charter students are English language learners, while double that amount — 14 percent — are across the state. The Charter Authority also enrolls a smaller percentage of special-education students than traditional districts (9 percent compared with roughly 13 percent.)
Charter Authority leaders acknowledge the issue and have crafted a five-year strategic plan to overcome it. A related growth management plan specifies transportation as one element of bridging the diversity gap.
"We certainly are looking at this as one of multiple ways that we can continue to reduce barriers that might be preventing or inhibiting access for students and families," said Rebecca Feiden, executive director of the Nevada State Public Charter School Authority.
Nevada Prep is one of two charter schools in Nevada providing bus transportation, Feiden said. The other is Discovery Charter School, which buses middle school students from its east Las Vegas location to its Summerlin campus.
The undertaking carries a hefty financial burden, though. Blodgett said Nevada Prep spent about $18,000 to buy its two buses, both of which were previously used in another school district. Maintenance repairs and gas costs — $300 to fill each tank roughly once every two weeks — make it an ongoing expense.
In Nevada, school districts and charter schools don't receive any additional state transportation funding on top of the per-pupil dollars, state officials said. Transportation costs are woven into the base per-pupil funding for each district, and charter schools receive the per-pupil funding from each student's home district.
There are regulatory hurdles to clear, too. Both of Nevada Prep's bus drivers came fully licensed, Blodgett said, which eased that part of the process. Now, they drive the bus routes and work in the school's kitchen during the day.
Salazar, a former Clark County School District bus driver, enrolled her twin boys and daughter in Nevada Prep when the charter opened in 2018. For the first few months, she and other parents juggled carpools from the neighborhood near Martin Luther King Jr. Elementary School, where her children previously attended.
After learning that one of their son's beloved teachers was moving to Nevada Prep, they — along with multiple other families — decided to follow suit. Salazar said she hoped the new environment would help her children excel, especially one son who always struggled.
"When they have to prove themselves, it's going to be the best education," she said.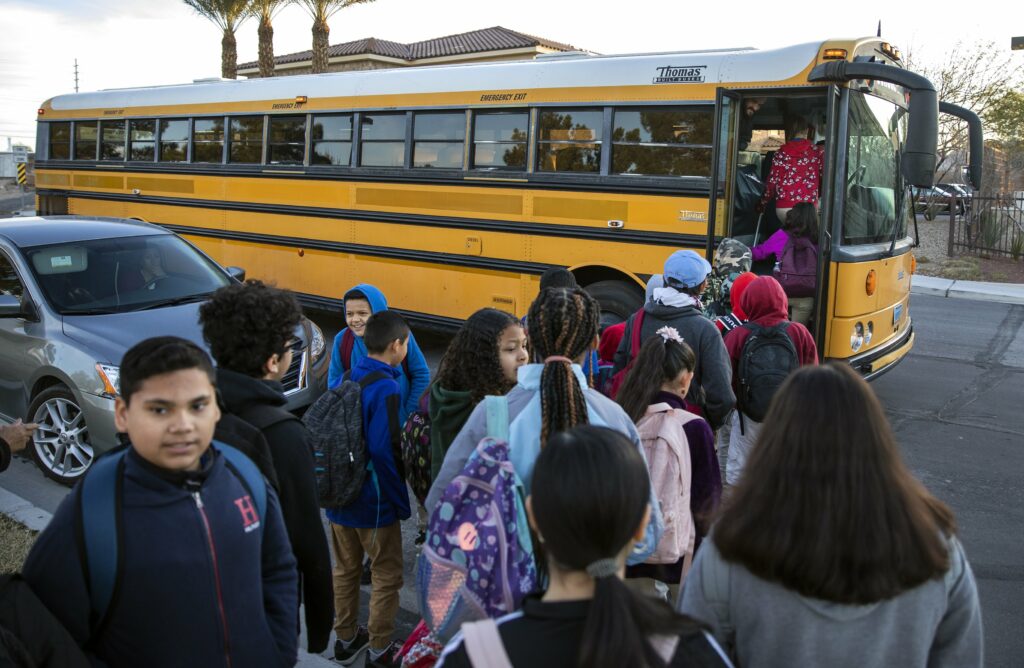 Nevada Prep, which is in its second year of existence, earned two stars for its elementary school and five stars for its middle school in the latest Nevada School Performance Framework results. Blodgett said he anticipates continued progress as the students continue aging up at the school. (The elementary school only had fifth grade at the time the star ratings were calculated.)
But he attributes part of the school's initial success to the transportation services. Nevada Prep allows students' younger siblings who attend Nevada Rise Academy, which sits on the same campus, to ride the bus, too.
For starters, the attendance rate for bus riders is higher than students who walk or get dropped off by parents, Blodgett said. It also gives students another setting to bond with their peers — not to mention reduces traffic headaches outside of the school.
The practical benefits, he said, outweigh the monetary cost.
"It's a huge expense," he said. "I think that's the biggest excuse schools make for not doing it, but it's also a pretty lame excuse, right?"
Feiden said she likes the approach Nevada Prep took by hiring bus drivers to serve a dual role in the school. It makes sense, she said, from both a budgetary and cultural standpoint.
"They're not just the bus driver," she said. "They're somebody you see at the school every day."
Other charter schools, however, are mulling transportation options beyond the traditional yellow school bus. Pinecrest Academy of Northern Nevada — which is opening later this year in the northern outskirts of the Reno metro area — is working with the Boys & Girls Club of Truckee Meadows to provide a shuttle service for future students, Principal Jami Curtis said.
The soon-to-open charter school is also looking into an app that helps coordinate strategic carpooling, and the Reno-Sparks Indian Colony has expressed interest in helping transport students, she said.
Officials from Pinecrest Academy of Northern Nevada expect to spend roughly $30,000 on transportation initiatives during the school's inaugural year. Along with a weighted lottery and free- and reduced-price lunch program, they hope the transportation options result in a more diverse student body.
"I think they all are important components and all aimed at the same thing, which is ensuring our school is reflective of the greater Washoe County School District population," said Amanda Safford, director of operations for Academica Nevada, a charter-management organization that services the Pinecrest network, in Northern Nevada.
As for whether buses will become a common sight at Nevada charter schools, Feiden said it's difficult to predict. But she noted the Charter Authority wants to see more discussion about all diversity initiatives, whether it be transportation, weighted lotteries, expanding school lunch programs or something else entirely.
"I think this is an area where we're going to be encouraging folks to talk to each other and share their experiences," she said.
At Nevada Prep, though, it's just another part of the routine. Salazar steered her bus into the school parking lot at 7:37 a.m. She dismissed boys first, then girls, bidding them all an upbeat goodbye.
"Have a good day, guys," she said over and over, until the seats cleared out.
Stories
Candidate Trackers
Endorsements, Ads, Policies, Visits
& More
visit now
Comment Policy (updated 10/4/19): Please keep your comments civil. We reserve the right to delete comments or ban users who engage in personal attacks, use an excess of profanity, make verifiably false statements or are otherwise nasty.