Why Dean Heller will not be re-elected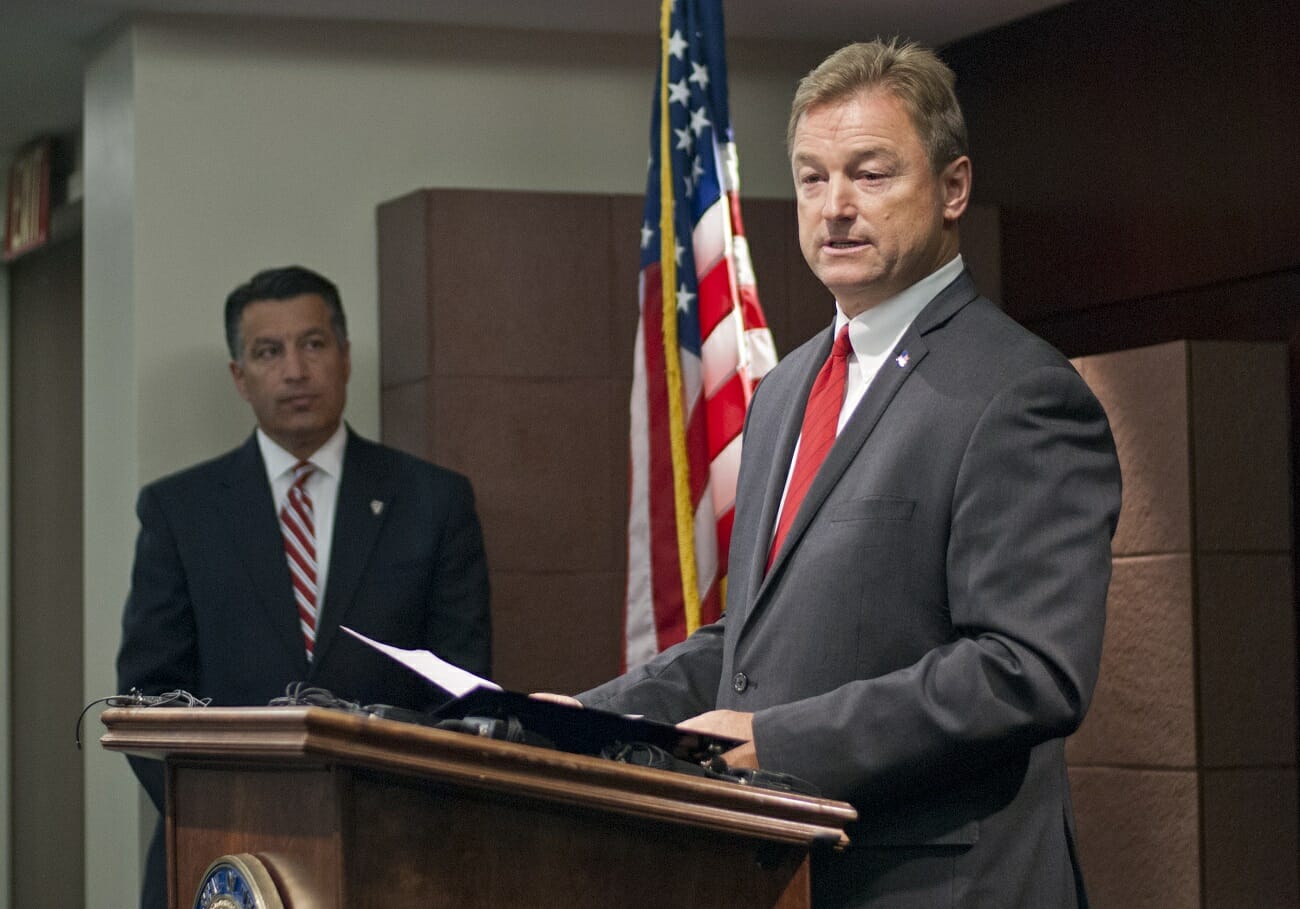 Dean Heller is dead, one in a series:
Five hundred days before voters decide his fate, Nevada's senior senator needed a life preserver. So with his poll numbers in the subterranean region, below President Trump's in Nevada, Heller grabbed onto one named Brian Sandoval, an immensely popular governor.
It's hard to describe the surreality of Friday's scene in which Sandoval, who was the first GOP governor to expand Medicaid and who has credited it with putting 200,000 more Nevadans on the health care rolls, protecting Heller, who has more than once called for a phase-out of the program. Suddenly, the protean Heller was against the cessation of expanded Medicaid after he was for it, against the new Obamacare repeal after saying he wanted to get to yes, and against losing his Senate seat after being willing to give it up to run for the job his new protector holds. (Heller really wants to be governor, not U.S. senator.)
It's hard to feel sympathy for Heller, who created many of his own problems because he is afflicted with Non-Straight-Answer Disorder. To wit: He told The Hill that he supports a seven-year Medicaid phase-out, then his staff initially refused to confirm it to the Reno Gazette Journal (before they did) and then he told KSNV that he would have chosen the outer end of whatever time frame he was given. Why he could not say – and he still did not Friday -- that he opposes a phase-out of any kind is unfathomable. (Ending the federal funding would destroy the state budget.)
Politics is no different than life: If you try to please everyone, you please no one.
And that is where Heller is now: He has a base problem because he was similarly equivocal during 2016 about the president and now is on record opposing the bill Donald Trump supports. And even though he is now on the side that indies and Democrats like on health care, they don't trust him to stick to his word.
(I must say that the releases and social media effusions from Democrats and progressives attacking Heller even after he did what they consider the right thing is Exhibit No. 1 of where we are in our cynical political life.)
My view is that Heller has left himself almost no wiggle room. Look at what he said on Friday:
He not only said the bill would kick too many Nevadans off health care, he also fretted that it "takes insurance away from tens of millions of Americans" and he said it is a lie to say it lowers premiums. There is no imaginable form of this bill that would allow Heller to walk all of that back. Even though the senator has made being on both sides a specialty (His Planned Parenthood peregrinations are dizzying), if he flips on the bill now, unless Medicaid is protected and no one loses health care benefits (chances=zero), he will be Jacob Marley.
The political calculus here was pretty obvious, even if it didn't come in the same week in which he got a legitimate opponent (Rep. Jacky Rosen):
Heller kept saying he would listen to the governor, knowing what the moderate Sandoval believed. And he also can read a poll. One GOP consultant told me that if Heller supported the bill, he was a corpse 500 days hence. So: Have the guy with the 70 percent approval rating give you cover – I'm sure all those daily protests and multimedia ad campaigns did not go unnoticed, either – and just say no.
People can say that Heller did this out of raw political expediency and doesn't believe anything he said Friday. He has earned that skepticism.
But unlike some, I don't look into a politician's heart (yes, they have them, too). It's quite possible that Heller believes what Sandoval clearly does: That knocking poor, elderly and disabled folks off health care is, well, you know, wrong.
But it's also true that Heller is much more vulnerable in a general election than a primary in swingy Nevada, although Friday's move comes with some risk, too.
Yes, the notion that Senate Republican Leader Mitch McConnell will threaten him with cutting off funds for his re-election in the most important Senate seat in the country is risible. But some of Heller's biggest backers are billionaires who work on Las Vegas Boulevard South, and they can be none too happy that their man just came out against their tax cuts.
A billionaire here and a billionaire there and pretty soon you're talking about real money against him.
There are no obvious primary candidates – Sharron Angle ain't what she once was, and Danny Tarkanian, who told me he hasn't considered it, might pick a better spot next year. But if someone, no matter his or her name, gets offered a pile of money to challenge Heller in a low-turnout June primary, that is trouble. (One group on the right already has started what is purported to be a seven-figure campaign against Heller to get him to yes.)
Of course, any anger directed at Heller by these donors is foolish. If they would pause counting their money for a few minutes and stop obsessing about how much more lucre they need, they might realize that the only chance to keep that seat in GOP hands is for Heller to do what he did.
Or is it? The senator may have saved himself for now, but his demise is inevitable.
I'm sure Republicans dream of a Dina Titus-Jacky Rosen primary. (I bet the veteran congresswoman from District 1 is none too happy that Team Reid pushed the newcomer from District 3). But that remains unlikely, and his numbers are just not survivable.
So: Dean Heller is dead, just as he was when he first ran for Congress in 2006 and when he first ran for the U.S. Senate in 2012.
Feature photo: Senator Dean Heller, right, and Nevada Governor Brian Sandoval speak with media inside the Grant Sawyer State Office Building in Las Vegas on Friday, June 23, 2017. Photo by Daniel Clark.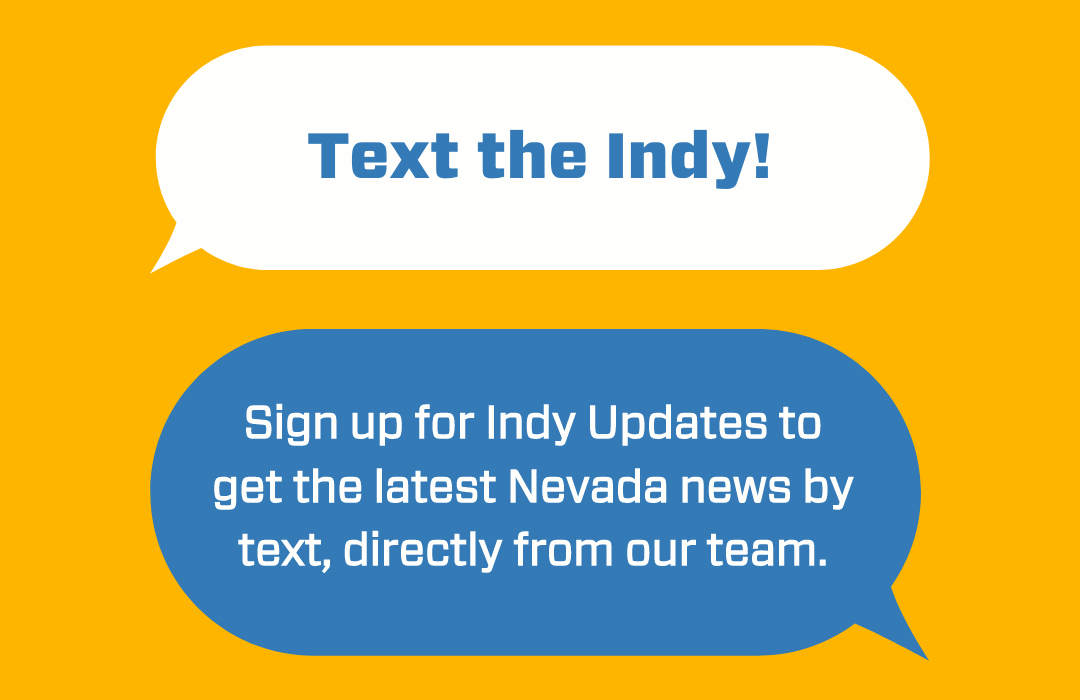 Featured Videos