With few fans in the stands, Legislature ready to play ball with A's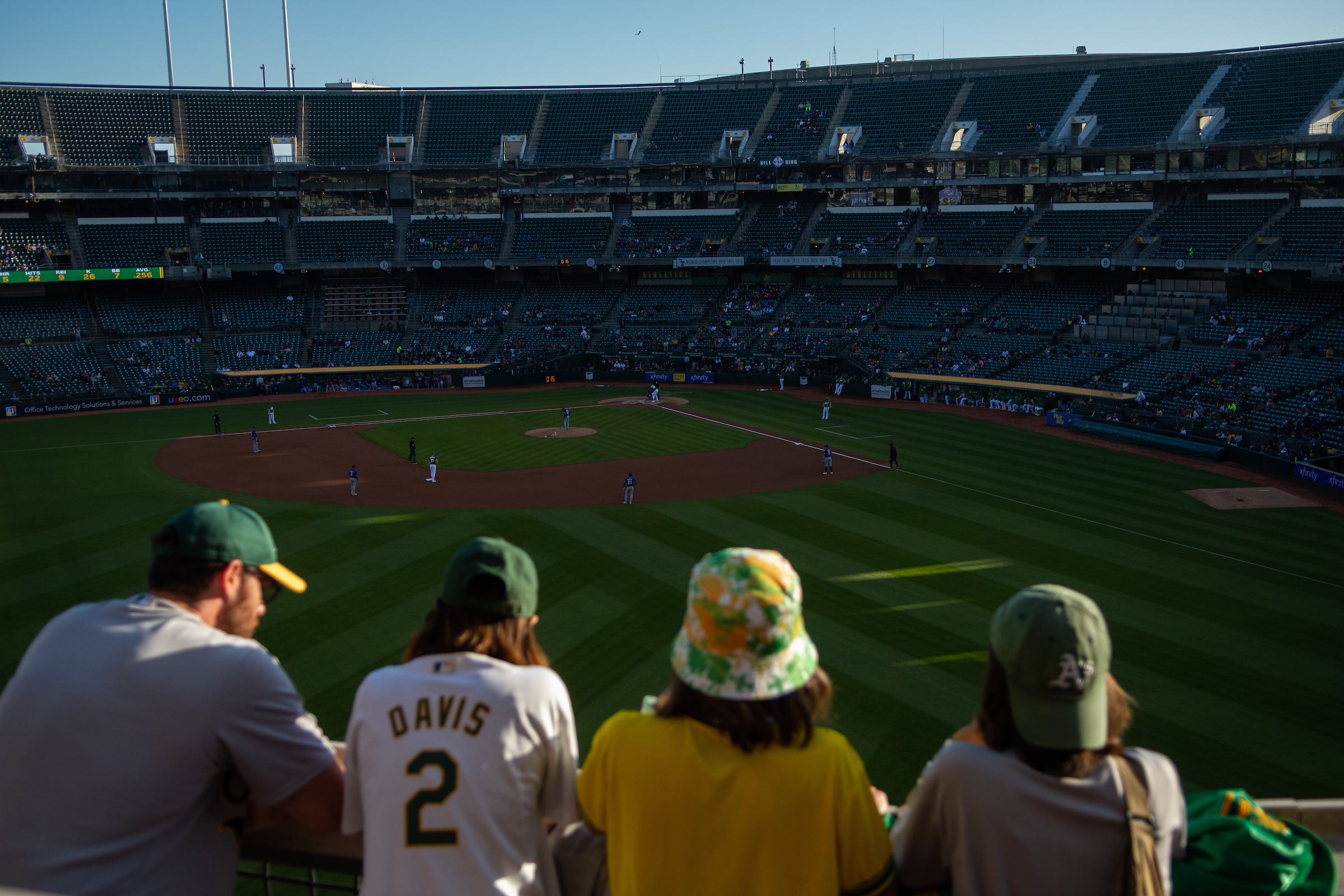 Some people loathe them, but I've always been a big fan of political dog-and-pony shows. Their tanning-booth sunshine, artificial crowd noise and Hallmark card sincerity get me every time.
When performed by professionals, few acts of illusion rival the creative accounting and impressive improvisation that take place. At some dog-and-pony shows I've witnessed, the risks of diverting millions in tax dollars into private-sector and special-interest projects have been made to vanish faster than one of the sainted Siegfried & Roy's white tigers.
That level of illusion is no mean feat in a state that squats near the bottom of the nation in such quality-of-life categories as public health, education and social services.
With that understood, we come to Monday's special Memorial Day performance at the state Legislature before the Assembly and Senate budget committees by advocates of handing $380 million in public financing to the Oakland A's to help pay for their proposed baseball stadium.
The only public hearing scheduled before a vote on the trifling matter of handing a fortune in tax breaks, credits and wholesale write-offs to the poorest performing franchise in Major League Baseball lasted close to six hours. I'd compare the hearing to an attempted bank robbery, but the banks are closed on Memorial Day.
The Nevada Legislature, a bank without locks, is traditionally so accessible to the wealthy that it should have a drive-up window. This session, the line for tax breaks is long with not only the A's billionaire ownership trying to score, but Hollywood stars Mark Wahlberg and Jeremy Renner advocating for the tax set asides to benefit Nevada's growing movie industry.
Unlike the A's, at least those guys have had some hits in recent years.
If Oakland's statistics on the field were as lofty as the numbers used to impress state lawmakers about viability of the team's move to Las Vegas, we'd already be icing the World Series champagne.
Some have noted that the legislative gathering took place without either A's owner John Fisher or team President Dave Kaval present to answer questions. Some might call their absence arrogant, or at least noteworthy, but seeing them in the hot seat would have violated the dog-and-pony show's vaunted traditions.
But it's also clear that much has been going on outside the public eye. Gov. Joe Lombardo has been supportive from the start, and the A's have the full-throated endorsement of state Treasurer Zach Conine, key legislators and business and labor stakeholders.
That still leaves a few empty seats in the grandstands.
The A's legislative lineup Monday included local economic analysis paladin Jeremy Aguero, Las Vegas Convention and Visitors Authority CEO and Las Vegas Stadium Authority chairman Steve Hill, and Conine. Together, they stayed on message, talked up the fiscal sobriety of the arrangement and successfully presented a Las Vegas A's infomercial.
That included lots and lots of numbers.
Here are a few of numbers that should raise doubts, or at least eyebrows, about the credibility of this deal.
First up, a remarkably precise 8,010 projected annual employment figures associated with the stadium. This is a joke without a punch line.
Sports teams are not big employers with just a few hundred full-time positions augmented by hundreds more part-time jobs. In a scathing assessment of the A's deal published in the Los Angeles Times, baseball industry reporter Bill Shaikin reported the team currently employs approximately 200 full-time staffers. Even factoring in the expected need to add personnel, that still leaves a lot more part-time beer and hot dog vendors than full-time positions.
Then there's the project's annual visitation estimates: 762,000 people with more than 2.6 million buying tickets to watch baseball games and concerts.
Throwing in the concertgoers, that's about what the Chicago Cubs drew at Wrigley Field in 2022.
The Las Vegas tourism machine is mighty. It draws more than 40 million visitors a year give or take a COVID-19 pandemic. But the A's managed to attract just 788,000 fans in 2022 and attendance is much worse this season. The worst in baseball, in fact.
Setting aside current reality, the A's haven't drawn 2 million fans at home since 2014 and have done so only twice since 2005. The last time they attracted approximately 2.5 million to the ballpark was 1992, a year which saw the team advance all the way to the American League Championship Series.
It's not a question of whether it can work. Of course it can work in Las Vegas. Pour public subsidies into a private development and watch the stadium grow.
But it's hardly news that professional sports stadiums are traditionally poor economic investment for communities. As academic researchers put it in 2022 in yet another revelatory takedown of the flawed public policy practice, "… the large subsidies commonly devoted to constructing professional sports venues are not justified as worthwhile public investments." That doesn't stop governments from cutting sweet deals "despite overwhelming evidence of their economic impotence."
A good dog-and-pony show can provide a degree of magic, not to mention political cover, but it's a poor substitute for sound public policy.
John L. Smith is an author and longtime columnist. He was born in Henderson and his family's Nevada roots go back to 1881. His stories have appeared in Time, Readers Digest, The Daily Beast, Reuters, Ruralite and Desert Companion, among others. He also offers weekly commentary on Nevada Public Radio station KNPR.
The Nevada Independent is raising $200,000 by Dec. 31 to support coverage of the 2024 election.
Tax-deductible donations from readers like you fund this critical work.
If you give today,your donation will be matched dollar-for-dollar.
Give + Get Matched
Featured Videos