With fire fears in the past, South Lake Tahoe casinos focus on future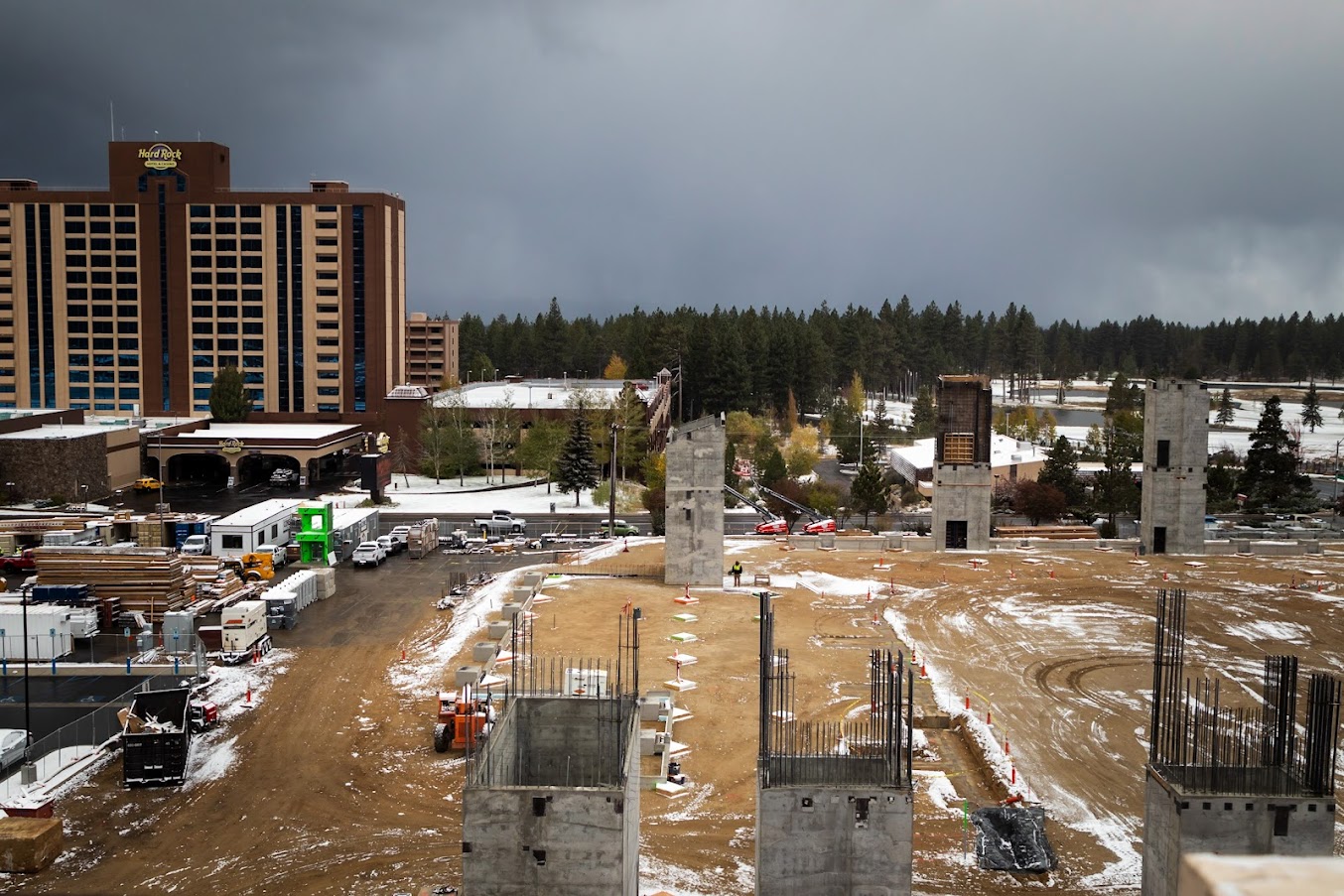 Northern California wildfires wiped away several weeks' worth of business from casinos in South Lake Tahoe.
The largest blaze, the Caldor Fire, produced heavy smoke that substantially reduced air quality and induced highway closures that halted visitation from Northern California customers. Gaming operations, which are normally crowded during the busy Labor Day weekend, were shut down for six days.
South Lake Tahoe casino operators knew the shutdown was temporary. But they feared images of the blaze could fuel a misperception by customers that Northern Nevada's picturesque gaming community was going up in flames.
In reality, the Caldor Fire, which consumed nearly 222,000 acres over a two-month period, never got closer than five miles from the city of South Lake Tahoe, which neighbors the Nevada community of Stateline.
Hard Rock Lake Tahoe Executive Director of Marketing Eric Barbaro said national headlines and images circulated during the fire "sensationalized" the effect on the Tahoe region.
"The communication wasn't clear. You would have thought Tahoe had burned to the ground and the lake was going to have an environmental impact for years to come," Barbaro said in early October. "This has been a two-month ordeal for the market. We're just getting back out of it."
Karie Hall, general manager of Harrah's Lake Tahoe and Harveys Lake Tahoe, said damage from the fire was non-existent in the populated areas of the community.
"We wanted to get that message to get out there, that Tahoe is just as beautiful as it ever has been," Hall said. "There was some structure damage, but the fire never got near the lake. It didn't get near any of our properties. We were actually an evacuation site for a lot of folks."
Beyond the temporary closures, the fire compounded fears of a more rapid decline in the region's gaming market, which saw peak gaming revenue more than two decades ago amid the growth of tribal casinos in Northern California and lasting damage from the 2008 recession.
But nearly two months later, the South Lake Tahoe gaming market appears to be rallying. Early snow falls during October gave hope for a busy winter ski season at the neighboring Heavenly Mountain Ski Resort, and resort operators say hotel reservations through Christmas and the New Year have been picking up.
"The market is recovering, guests are returning, and we look forward to a great ski season," MontBleu Resort Casino General Manager Tim Tretton said. "The early snowfall and colder weather have created a great base for the ski resorts resulting in an early season and lift in room bookings."
Doug Pierini, chief operating officer of the Western Region for Vail Resorts (which owns Heavenly), said the ski area's critical infrastructure was untouched.
"Thanks to the hard work and tremendous efforts of those on the ground, both resorts' winter downhill trails and features, resort lodges, equipment, chairlifts, and the Heavenly Tram and gondola all remain intact," Pierini said in an emailed statement in late September.
Tahoe casinos foresee a late 2022 opening for the long-planned $80 million Tahoe South Events Center. The 132,000 square-foot facility is being constructed at the corner of the U.S. Highway 50 and Lake Parkway on land that was once a parking lot for MontBleu, and will provide a location to host conferences, sports tournaments and concerts with a capacity up to 6,000 attendees.
"We first envisioned this in 2010, and we will be able to do so many different events," said Carol Chaplin, CEO of the Lake Tahoe Visitors Authority.
South Lake Tahoe's casino market is primarily made up of four casino resorts with three owners.
Hard Rock is owned by Las Vegas-based Paragon Gaming, which licensed the name and brand from Hard Rock International. Harveys and Harrah's are operated by Caesars Entertainment through a lease agreement with real estate investment trust VICI Properties.
MontBleu is expected to take on a new name later this month: Bally's Lake Tahoe. The property's operations were acquired earlier this year by Rhode Island-based Bally's Corp., which is in the process of buying the operations of Tropicana Las Vegas.
The only other gaming entity in South Lake Tahoe is a Dotty's slot machine parlor on Highway 50 near Harrah's.
Gaming revenues were soaring
The Labor Day shutdown came as the Tahoe market was on a rebound from 2020.
"Some people were having the best summer ever," Chaplin said.
The Gaming Control Board said the September revenue totals for South Lake Tahoe was $5.6 million, a decline of 69 percent from pre-pandemic September 2019. Control Board analyst Michael Lawton said the figure represented the region's lowest single-month revenue total in history — with the exception of April and May of last year, when gaming operations were suspended statewide at the onset of the COVID-19 pandemic.
Extended road closures in California drove the recent revenue decline. U.S. Highway 50, the primary artery into South Lake Tahoe from the Bay Area and through Sacramento, remained closed on the California side until Sept. 20. Highway 88, a road that helps connect Tahoe with Central California communities including Stockton, was closed until Sept. 16.
Still, South Lake Tahoe gaming revenue is up 13.3 percent for the first nine months of the year compared to 2019, when the market produced $225.6 million in gaming revenue. Before the September shutdown, South Lake Tahoe was 22.9 percent ahead of 2019 revenue totals.
"This illustrates how strong gaming had been running up until the fire," Lawton said.
Calendar year 2000 was South Lake Tahoe's highest-ever 12-month gaming revenue period at $352.6 million. But over time, competition from Northern California tribal casinos and the 2008 recession took away visitation. South Lake Tahoe's gaming totals through September are still down 28.1 percent from the 2000 record.
Over the last two decades, South Lake Tahoe casino operators have upgraded facilities and have made a renewed commitment to the market.
"There are some great properties and fantastic assets up here," Hall said. Caesars recently completed roughly $40 million in renovations at Harveys, including a remodeling of the hotel tower closest to the lake and adding restaurants, such as Gordon Ramsey's "Hell's Kitchen."
"There's more work to come, it's not announced yet... they're primarily focused on the Harveys' side, but Harrah's will get its love soon," Hall said.
During the COVID-19 shutdown, South Lake Tahoe lost one gaming operator. The small Lakeside Casino Resort never reopened after the state's 78-day shutdown was lifted. The ownership sold off the furnishings and interiors, including the gaming equipment, in an auction while the building and land were sold to Barton Health, which will turn the facility into a medical center.
"They had plans to sell before COVID, so it wasn't because of the pandemic," Chaplin said. "It was one of the times when it just didn't make sense to keep going."
A cooperative effort
After the fire danger subsided and South Lake Tahoe casinos reopened, operators said a combined effort was needed to boost the gaming market's prospects and assure visitors the region was open for business.
Similar cooperation took place before and after the casinos turned off their games between Sept. 1-6. The resorts served as temporary housing for firefighters and other first responders, as well as for a number of California-based employees who were forced to evacuate.
The casino parking lots were transformed into command centers for the agencies fighting the Caldor Fire.
"Our biggest concern was the community," said Hall, who grew up on the California side of Lake Tahoe before starting her career with Caesars. She has since managed several of the company's casino resorts on the Las Vegas Strip and in Atlantic City.
She returned to Tahoe to oversee the two properties earlier this year.
"Obviously, it's not always pleasant to close, but we were happy to have become a host property to our firefighters and first responders," Hall said. "We really felt like the community stepped up. We're all competitive and we all want to do well, but really try and work together because that's what is best for the entire region."
Tretton agreed the South Lake Tahoe community "came together in a way that I have never seen before to support firefighters, first responders, and all law enforcement."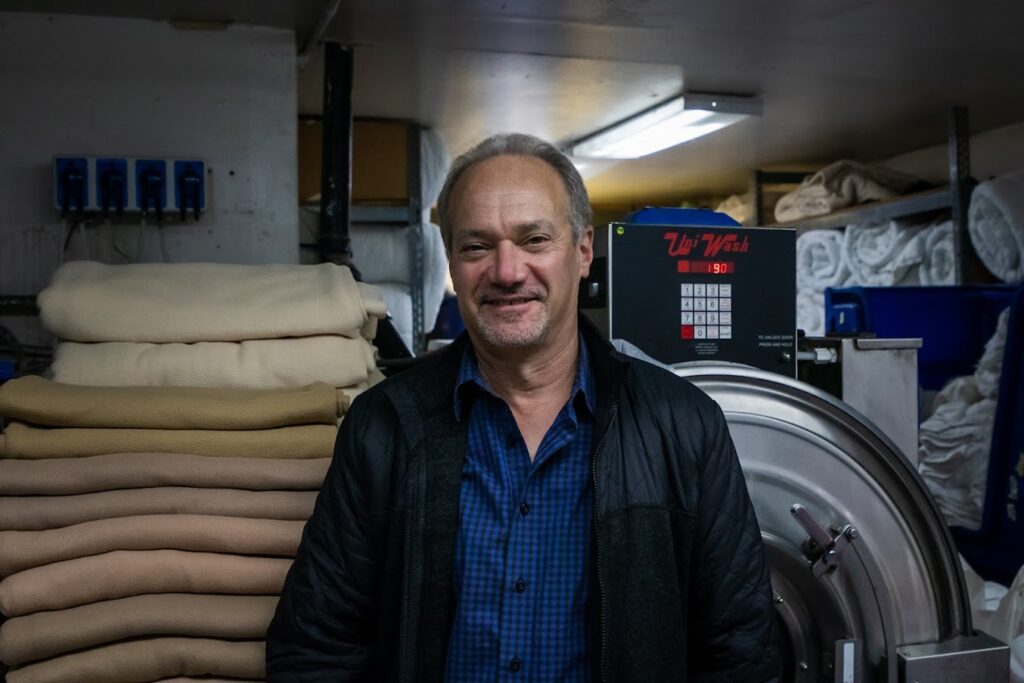 Barbaro said Hard Rock's back parking lot was filled with fire trucks from various local, state and government agencies. But with the immediate fire danger out of the way, the casino wanted to replace images of fire fighting with picturesque images of Lake Tahoe, showing customers the area remained untouched.
Hard Rock sent photographers to those locations, time-stamped and dated the photos, and put them out in direct mail and email marketing pieces to the property's database. The images were also distributed on Hard Rock's social media channels.
"We showed them Tahoe was still in great condition, beautiful and with no trees burnt in those areas," Barbaro said.
That cooperation efforts during and after the fire also included non-gaming businesses.
Jerry Bendel, general manager of the Forest Suites Resort, a 120-unit property on the California side tucked behind the Heavenly Village Shops and within walking distance of Harrah's and Harveys, jumped into action during the shutdown.
His onsite commercial laundry facility served firefighters staying at his property and the nearby casinos.
"We're all in this together," Bendel said. Forest Suites guests often visit the casinos for dinners, shows and gaming.
"A certain type of guests like to stay at the casinos, and we get guests who prefer this type of setting," Bendel said. "There is plenty of business for everyone."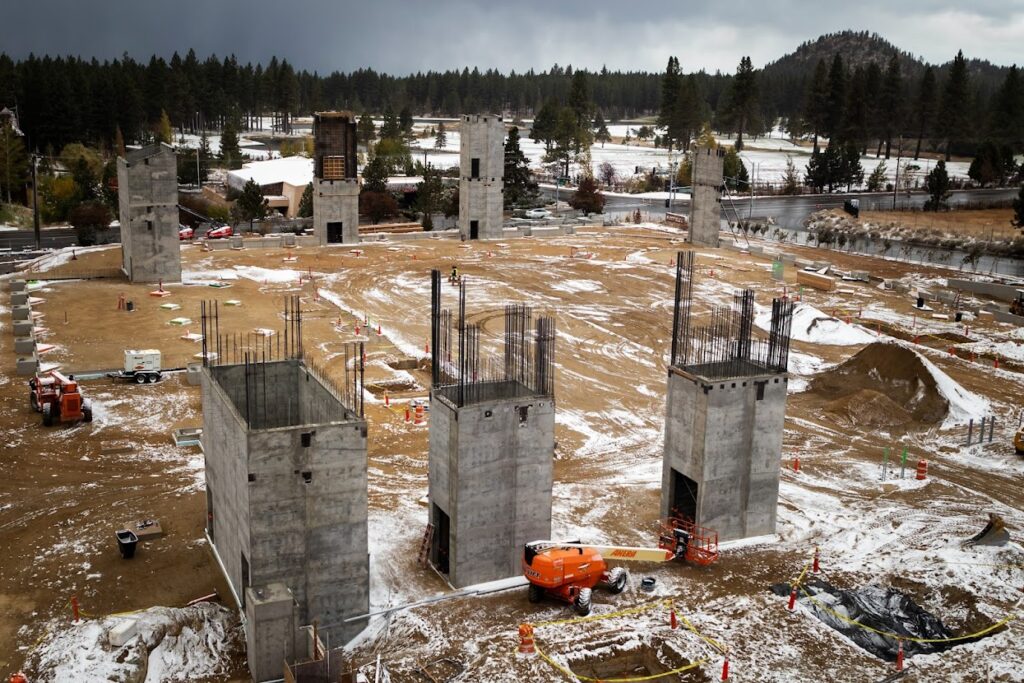 Events center will transform the market
Chaplin believes the business lost during the fire shutdown was temporary. Before the fire, Lake Tahoe brought in several high-profile events.
The annual American Century Celebrity Golf Championship was held at Edgewood Tahoe Golf Course in July following a one-year hiatus due to COVID-19. The event was televised by NBC.
In February, two National Hockey League outdoor games – Vegas Golden Knights versus Colorado Avalanche and Boston Bruins versus Philadelphia Flyers – were played on a specially constructed ice rink at the Edgewood 18th hole, and were also televised by NBC.
Chaplin said the images televised nationally offered Tahoe a tremendous marketing opportunity.
Hall added that the appeal of Lake Tahoe to outdoor enthusiasts hasn't changed.
"People here are coming for leisure, and they really want to ski, or they want to hike," Hall said, adding that the casinos' biggest competition is "nature."
The game-changer, Chaplin believes, is the Tahoe South Events Center, which will feature 4,200 seats for sports or entertainment and 6,000 seats for stage events.
Tretton said Bally's Tahoe is designing a long-range capital plan in conjunction with the events center, and Barbaro said the Hard Rock views the multi-use facility as a venue for conferences, concerts and shows that will benefit the entire market.
"It's an opportunity to bring some cool stuff here," Barbaro said. "It really opens up Tahoe to proving that it's a beautiful place to come visit and you could do anything you want here, whether it's personal or business."
The Nevada Independent is raising $200,000 by Dec. 31 to support coverage of the 2024 election.
Tax-deductible donations from readers like you fund this critical work.
If you give today,your donation will be matched dollar-for-dollar.
Give + Get Matched
Featured Videos