With Las Vegas F1 tickets costing thousands, who will fill the grandstands?
Lavish hospitality packages and eye-watering ticket prices have done little to dent economic projections for the inaugural grand prix.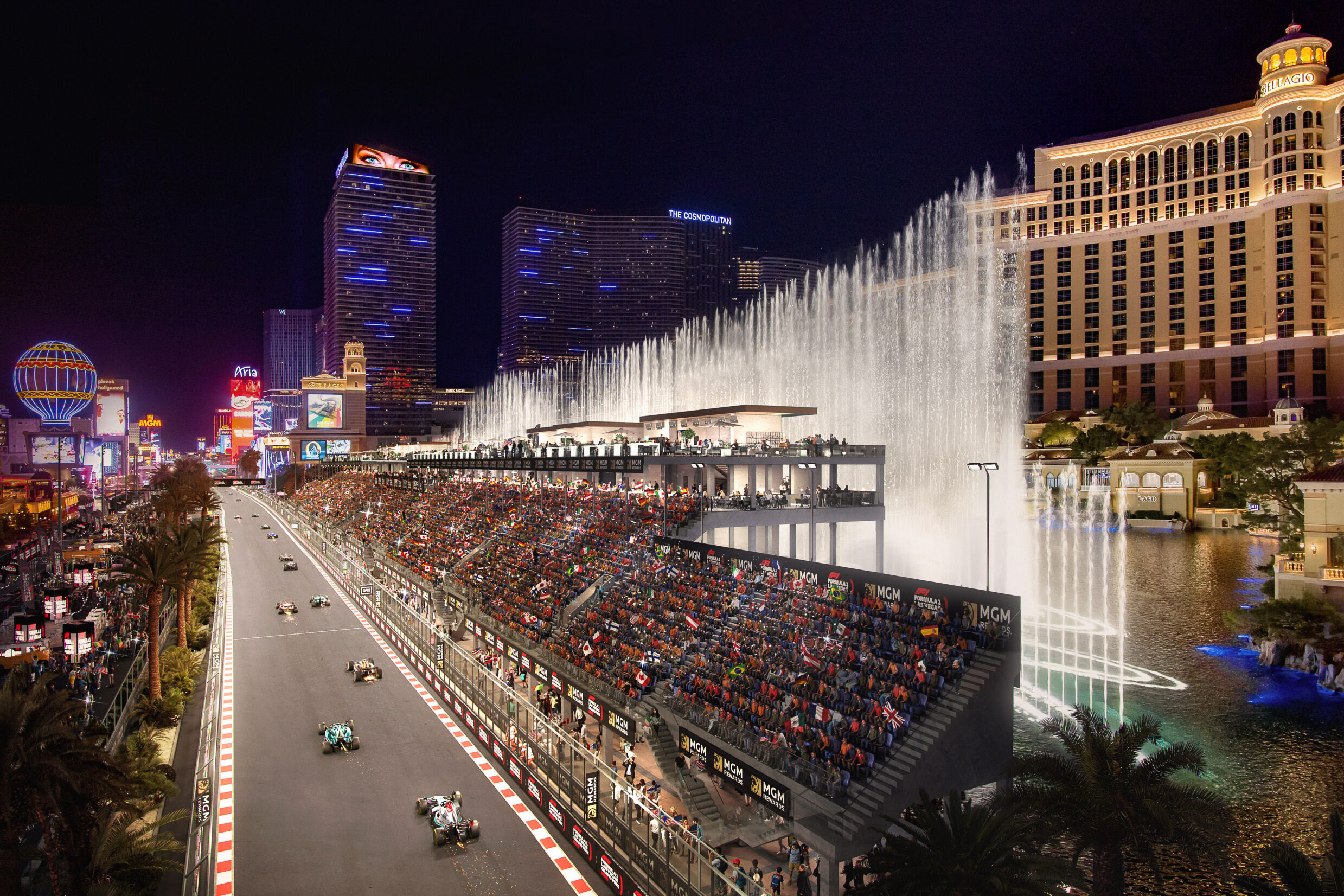 The first Las Vegas Formula One Grand Prix in decades is being billed as a spectacle like no other — promising some of the fastest cars in the world barreling down the Las Vegas Strip at close to 200 miles per hour.
Seeing that spectacle won't be cheap.
The lowest-price tickets — a three-day, $500 ticket that guaranteed standing room only and included food and drinks — were available only for a limited section of track around the Las Vegas Sphere, and sold out in minutes. In total, organizers have said the 3.8 mile-long track will hold up to 105,000 attendees.
The next level up, standard tickets for the grandstands ringing the back end of the track furthest from the Strip, run $2,000 each — a price that also encompasses all three days of the event, plus food and drinks. For $5,000, F1 unveiled last week a "heritage" ticket, with "elevated food offerings" in a shared hospitality area on Koval Lane.
It's not just expensive — it's expensive even by the standards of Formula One.
"Is it justifiable? I don't think anyone knows until we see just how big an event it is and how big a spectacle it is," said Andrew Balfour, founder and editor of the website F1 Destinations, a website specializing in travel guides for Formula One. "But it's worth noting that the hospitality ticket prices are essentially double or in some cases, more than double the equivalent at other races."
In January, economic firm Applied Analysis projected the three-day grand prix would yield $1.3 billion in total spending for Las Vegas on one of the city's sleepiest weekends, just before Thanksgiving.
But now just weeks away from the first on-track action on Nov. 16, some of the high prices have begun to soften, as some hotels have begun to discount high-priced suites in the face of lower-than-expected reservations. On Wednesday, race organizers announced a limited run of single-day tickets for Nevada residents starting at just $200 (though those tickets covered only a single day of practice running — race-day tickets still ran $1,300, while qualifying-day tickets cost $500). 
Still, economic analysts who spoke to The Nevada Independent said that those room rate cuts may not tell the whole story — especially for an event that so far has been geared toward the biggest spenders.
"If anything, some [operators] have even expressed even more optimism for what that weekend will bring despite what some of the room surveys hold," Barry Jonas, an analyst with Truist Securities, said.
Just how pricey is pricey?
As part of his work for F1 Destinations, Balfour compiled ticket price data for each of the 23 F1 races in 2023, an exercise he's been conducting for the better part of eight years, minus a brief pandemic hiatus.
According to his number crunching, the cheapest average three-day ticket can be found at the Hungaroring outside Budapest, Hungary — a cool $184. Vegas prices, by comparison, averaged $1,667 — more than double the average ticket to the historically ritzy Monaco Grand Prix ($677), and 50 percent more than the next most expensive race in Miami ($1,113).
Within the numbers are certain trends, Balfour said. Race organizers and the sport generally struggled in certain markets pre-pandemic, a trend that flipped once races were widely available to the public again in 2022 and fans returned en masse.
"Everyone made bank last year on tickets, everything sold out," Balfour said. "There was very little price sensitivity."
But a year later, Balfour said the struggle to sell out certain high-priced races has returned.
"We've already seen it earlier this year where Miami — priced higher than the average, much higher than the average but lower than Vegas — [where] the organizer did struggle to sell tickets," Balfour said. "And I know that there was a lot of discounting the last few weeks before the race."
Balfour added that there was a uniquely American component to the price gaps — races in the U.S. were already more expensive on average compared to the European grands prix. Compounded with an American corporate owner aiming to tap a new U.S. audience through online streaming and a hit Netflix show, Balfour said even prices at the Circuit of the Americas — the home of the U.S. Grand Prix roughly 15 miles outside of Austin — jumped by roughly 200 percent after the pandemic.
Now Austin, too, has struggled to sell out, he said.
"Even if you factor in the cost of flights, it's cheaper for a lot of Americans, especially on the East Coast, to go up to Montreal for the race than to travel to Austin, Miami or Vegas," Balfour said.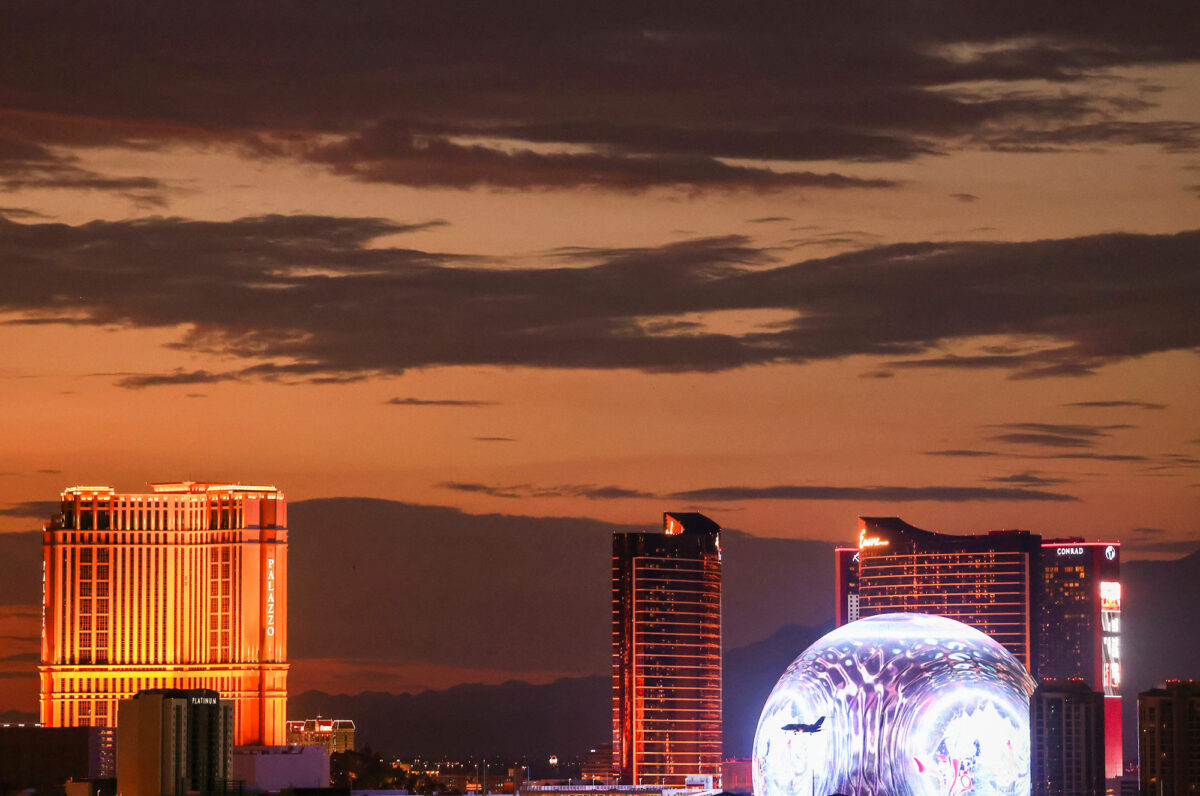 Las Vegas: Just built different?
So who is buying these tickets?
Brendan Bussmann, a managing partner of the Las Vegas-based firm B2 Global, described the Vegas grand prix as one aimed at a "global customer," a "higher end" ticket buyer already inclined to follow F1 on its journey around the globe.
"You could follow the Japan race from last weekend, Singapore before that," Bussmann said. "You've got Abu Dhabi at the end of the year, you've got Monaco — everywhere else in between. These are all world class cities with world class people that want to be a part of this."
To that end, Bussmann said, Vegas — with a track running through the heart of the city, a main straightaway following a good part of the Strip — will bear little resemblance to any other Formula One race on the calendar.
In Europe, most grand prix are held in decades-old, purpose-built racing circuits usually banished to the forests or converted from old test tracks and unused air bases. The sport has more recently taken to including more street tracks, but even those rarely run through a city center. Miami's track, for instance, runs around Hard Rock Stadium — a location technically in Miami Gardens, rather than Miami proper, and roughly halfway to neighboring Fort Lauderdale.
"Miami is not a particularly exciting track," Balfour said. "Some people have called it a 'car park circuit' like the Las Vegas race was [in the 1980s]."
Purpose built tracks exist in the United States, especially in oval speedways for NASCAR and IndyCar racing. But Charlotte, North Carolina, or Indianapolis, Indiana — meccas of motorsport they may be — are "never going to get the feel, the vibe, the energy that you can" on the Strip, Bussmann said.
"But if you really want to make a splash with this, there's nothing more exciting than putting a race car on the Las Vegas Strip at night to be able to showcase it to the world," he said. "Name me a better city in America."
How VIPs could fuel the weekend
Last month, the Las Vegas Review-Journal reported that room rates for the grand prix weekend had fallen as far as 60 percent in some cases from their original asking price.
That deceleration created early concerns that, Jonas said, have not ultimately dented expectations given the economic upsides appear "hyperfocused" at the highest end luxury properties on the Strip.
"Most of the major operators on the high, high end — you think Wynn, The Venetian — they really didn't talk about any deceleration," Jonas said. "They felt comfortable that their initial group packages were sold, and now they're sort of maybe looking at some of the non group deals."
Those group packages — which came with enormous price tags, such as the $1 million package offered by Wynn last year — "add up pretty darn quick," according to Bussmann.
"It's very seldom you get to bring in what I'll classify as a billion dollar event," Bussmann said. "When you encapsulate hotel room revenue, and taxes and gaming revenue, and all of those things into the immediate three days that [F1] will be here … Those are events you can't necessarily always put a price tag on."
Even as expectations for glitz, glamor and celebrity remain high, questions remain.
For starters, Formula One crowned a champion in Qatar this weekend — Max Verstappen, who secured his third career World Driver's Championship just by finishing second in Saturday's sprint — six full weeks before the Las Vegas race. Verstappen's dominance this year is near-unprecedented, with the Red Bull Racing driver securing victory in all but three of the last 16 grands prix, including a record 10 race wins in a row — and it's led the Dutch driver to defend his distance from the rest of the field as not boring for fans. 
"I don't want to say it's Verstappen-proof, but I would say Vegas is Vegas on its own," Bussmann said. "Vegas holds its own because of its standing as a sports and entertainment capital of the world."
Second, Balfour said inaugural races often face unexpected "teething" problems on race day — problems that extend well beyond the traffic headaches that have snarled Las Vegas roads for the past six months. Organizational issues, even food and hospitality, proved a problem for Miami's inaugural race, and could "invariably crop up in Vegas because it's a totally new racetrack in the middle of a big city."
"I think a lot of people with Vegas this year are just playing a wait and see game," he said.
Finally, Vegas will come with few of the other trappings standard for most other F1 races. Those can include so-called "support races" — Formula Two or Formula Three or Porsche Super Cup, extra races that keep the track live and give in-person fans more on-track action.
Balfour said two tranches of tickets released by F1 have sold well so far, "but there's still a lot of unsold inventory" — inventory that could lead to even more ticket discounts in the final weeks before race day. It's a discount, he added, that's already happened in Miami this year after attendance figures were lower than expected in the weeks before race day.
Those discounts could come to Las Vegas, too, if a sellout isn't clear.
"I don't think they'll be giving away tickets [in Las Vegas] but I think you'll see full grandstands on the TV," he said.
The Nevada Independent is raising $200,000 by Dec. 31 to support coverage of the 2024 election.
Tax-deductible donations from readers like you fund this critical work.
If you give today,your donation will be matched dollar-for-dollar.
Give + Get Matched
Featured Videos