Medical gurneys passed by at UMC Trauma Center on Thursday, July 20, 2017. (Jeff Scheid/The Nevada Independent)
With physician shortages in Nevada, Medicaid patients feel acute pain of long wait times
Three and a half years ago Nevada expanded its Medicaid program, providing government-funded health insurance to more than 210,000 low-income people, including many whom had long been uninsured.
But, as patients, doctors and insurers note, having a Medicaid card in pocket hasn't necessarily translated to speedy or seamless access to care. Struggling to make appointments with doctors and not knowing where to else to go, many Medicaid patients have turned to Nevada's emergency rooms for minor primary care needs as well as serious, longstanding conditions they hadn't been able to afford to treat without insurance.
Issues with access to care aren't unique to Nevada's Medicaid population. The Silver State frequently ranks among the worst for health care in the nation, and all of the state's 17 counties are designated health shortage areas because of the low ratio of doctors to patients.
But the barriers to treatment are compounded for Medicaid patients. Many of the already few doctors in Nevada won't take Medicaid insurance with its lower reimbursement rates, mountains of time-consuming paperwork and patients who often don't show up to appointments. Anecdotally, doctors say patients covered under the program sometimes have to wait weeks to see a primary care physician and months to see a specialist, though the insurance companies who contract with states to administer the program strive to help patients see providers more quickly.
Things that a middle-aged, middle-income, able-bodied patient might take for granted — finding a provider online, calling to make an appointment and driving oneself to the doctor — aren't always easy for the Medicaid population, made up of children, the disabled, seniors and low-income individuals. Though Medicaid members can access non-emergency transportation to medically-necessary appointments and some plans even offer free cell phones to communicate with providers, it's not always enough.
Those involved with health care in Nevada don't generally place the blame on any one part of the system. Insurers do their best to sign up enough primary care providers and ensure that the doctors they contract with are seeing patients quickly, but there aren't enough doctors, and contracted doctors don't always see Medicaid patients in a timely fashion. Doctors want to help low-income patients, but it might not make financial sense for their practice to do so. Patients want access to health care, but they often can't get an appointment, don't know how or simply won't take the time to wait and go to an emergency room instead.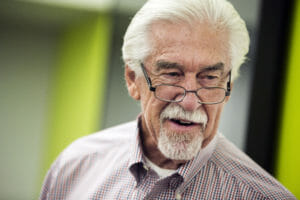 Dr. Dale Carrison, chairman of emergency medicine and chief of staff at the government-run University Medical Center, is one of the many physicians across the state who provides emergency room care to Medicaid patients.
"You have a group that have had no primary care, and now when they go to access the primary care, they find out it's a month before they're going to get in. There's a limited number of providers that take Medicaid. Everybody doesn't take Medicaid, and all specialists don't take Medicaid," Carrison said. "One of the problems with the Medicaid patients, even though they sign up under a particular plan, they still don't understand how to access it."
A rosy world in which there are a week to two-week wait times for routine primary care appointments and 30-day wait times for routine specialist appointments?
"That's a bunch of baloney," Carrison said.
It's bad for everyone, but it's worse for Medicaid patients, he added.
"The majority of patients have a wait before they can see somebody. I have well-insured patients that want to see a cancer doctor and find they can't get in within 30 days. If I told you you had cancer, how would you feel as an individual? You want to see somebody tomorrow," Carrison said. "It's not just Medicaid, but it's exacerbated by Medicaid."
Expectation vs. reality
There's the way the health care system is supposed to work.
A child wakes up with a fever and a rash, and her mother calls the pediatrician. The nurse on the other end of the phone says it sounds serious enough, so she squeezes them in for a same-day appointment.
Upon examination, the doctors decides the girl is probably fighting a routine bacterial or viral infection, though he can't be quite sure the source of her rash. He prescribes an antibiotic and refers them to a pediatric dermatologist to see within the next couple of weeks.
In her car outside the doctor's office, the mother calls the number of the specialist the doctor has given her. They're in luck — the dermatologist is able to squeeze them in for an appointment in two weeks.
She drives her daughter to the pharmacy, where the prescription for the antibiotic is quickly filled. They drive home. The whole process has only taken them an hour or two.
And then there's the reality.
There were 5,726 physicians with an active license to practice in Nevada, according to a 2016 report from the University of Nevada School of Medicine. That's roughly 201 physicians per 100,000 Nevadans, rates that range by county from 26 doctors per 100,000 residents in Lyon County to 345 physicians per 100,000 in Carson City. (Figures calculated per 100,000 — there are only about 53,000 people in Lyon County and 55,000 in Carson City.)
For comparison, the United States has about 251 doctors per 100,000 people, according to a 2015 report from the Association of American Medical Colleges. Nevada fell behind only Mississippi (185), Idaho (190) and Wyoming (197) for the fewest number of doctors per 100,000 residents. Massachusetts (432), Maryland (370) and New York (354) topped the list for most doctors.
Nevada has long grappled with a physician shortage, a product of accelerated population growth combined with too few opportunities to train and keep doctors in the state. Nevada had 1,982 active primary care physicians — about 70 per 100,000 residents — behind only Mississippi and Utah, according to the 2015 Association of American Medical Colleges report.
The numbers are even smaller for certain specialists, a problem that's particularly pronounced within the pediatric subspecialties. According to the Nevada State Board of Medical Examiners, which only licenses medical doctors (MDs) and not doctors of osteopathic medicine (DOs), there are only five pediatric pulmonologists and five pediatric ophthalmologists licensed to practice in the state.
"For Nevada, there is definitely a shortage of pediatric specialists. Even for general pediatricians, I would say we're barely enough, and we're scarily short for subspecialists," said Dr. Betsy Huang, president of the Nevada Chapter of the American Academy of Pediatrics. "Wait times are quite long for kiddos who need to be seen because there are so few. We can get urgent kiddos in, but a standard referral is a three to six month wait."
Huang said that pediatricians have had to rotate through Nevada from other states in order to meet the needs of patients here. She added that most general pediatricians and pediatric subspecialists accept Medicaid — or if not, there's generally at least one from every subspecialty who takes it — with Medicaid reimbursement rates for pediatrics not as low as those as they are for adult care.
But many doctors are typically reluctant to accept many, if any, Medicaid patients because of the financial and administrative burden they pose. Payments through Medicaid don't typically meet the cost of providing services, can take a long time to process and come with significant paperwork. To top it off, Medicaid patients are generally sicker and don't always show up to appointments, often because they have a conflict, such as with work, don't have the ability to call to confirm an appointment or don't have access to transportation to get there.
"Everything is also complicated by the fact that Medicaid doesn't tend to pay for the cost of service," said Catherine O'Mara, executive director of the Nevada State Medical Association. "Doctors say, 'I want to take all patients regardless of what their insurance is, but in order to make it work for my practice, I can only designate one day a week or two days a week to take Medicaid patients.'"
The number of providers who contract with each of the four managed care organizations that offers Medicaid in Nevada varies widely across the board. Aetna contracts with 278 primary care providers and 1,115 specialists, Amerigroup contracts with 725 and 3,838, respectively, Health Plan of Nevada with 2,199 and 3,440 and SilverSummit with 795 and 341, according to data presented by the companies at a recent meeting of the Medical Care Advisory Committee.
Insurers work to incentivize providers to accept Medicaid through various payment models and cutting down on prior authorization requirements.
Allyson Hoover, director of provider solutions for Amerigroup, told the committee that the company has struggled to contract with arthritis, rheumatology, skin cancer, dermatology and pediatric specialists. With two new managed care organizations recently entering the market, Hoover said that some doctors have been asking for payments of 200 percent or more of the Medicaid fee schedule.
"Again, what I've found is to sit down with them face to face and find out what they need. 'I cannot pay you 200 percent of (Medicaid rates) because I am a Medicaid provider. However, what is it that you need that we can help make things a little easier for you? What kind of tools can we provide?'" Hoover told the committee.
And even when companies do contract with insurance companies, there's no guarantee that patients will be seen within the wait times that insurance companies project in their member handbooks. All four insurers state that patients can expect to be seen by their primary care provider for routine care within one to two weeks and by a specialist within 30 calendar days of referral.
Hoover told the committee that providers are "aware of our access and availability time limits," which are stated in contracts between the insurers and providers, and that Amerigroup works with physicians on a weekly basis either face to face or on the phone to ensure they are abiding by them. But she admitted that getting patients seen quickly is "very challenging."
"There are — I'm going to be honest — very difficult times with specialties, in particular in Washoe County," Hoover said. "We do fly patients from Reno to Las Vegas if there's a need. We do work with many different specialists to assure we have coverage, but when it comes down in particular to pediatric subspecialties it is difficult."
The other managed care organizations reported similar difficulties connecting patients with certain subspecialists to the committee.
The state is responsible for ensuring that the insurance companies are meeting certain network adequacy standards, which is more of a broad goal rather than a set requirement that patients are seen within a number of days. In the event that insurers do fail to offer adequate coverage, the state has a number of methods of recourse, from sanctions up to collecting damages for breaches of contract.
But officials with the state Division of Health Care Financing and Policy, which administers the state's Medicaid program, said that any complaints they receive about patients not being able to access care are typically inflated and managed care organizations are prompt about resolving any problems once notified.
"All the ones I've had when I've been here, based on the urgency and the need they will go out of state, they will go out of network, there will be single case agreements or they'll get them into a (primary care provider) with some assistance that possibly the recipient wasn't aware of," said Tammy Ritter, the division's chief of managed care and quality.
Ritter said that her office also has processes in place to conduct so-called "secret shopper" surveys to see whether and how quickly Medicaid providers are accepting patient appointments and maps providers to see where any coverage gaps might be. (The managed care organizations also engage in "secret shopper" calls and other programs to ensure patients are getting seen by doctors.)
The managed care organizations have said that they ultimately are responsible for connecting patients with the care they need. But the primary care physicians who accept Medicaid say they feel some degree of responsibility for ensuring that their patients are receiving the care from specialists that they need.
"It feels from our end like a lot of that falls back on us. We have a patient that needs a referral, we do everything we can to make sure that happens. I keep hearing that the MCOs will make sure that happens. I'm not sure if the fault lies with our office for not turning it over soon enough," said Dr. David Fiore, a University of Nevada, Reno medical school professor and member of the Medical Care Advisory Committee. "I just know from our point of view when we see someone needs a specialist we spend an inordinate amount of time getting them in to see someone."
Fiore said that he's heard scores of stories about people — both on Medicaid and not — taking months to get an appointment with a primary care provider. He said that many offices in Northern Nevada won't accept Medicaid patients, which means the burden of providing primary care falls to the university and federally qualified health centers, community-based organizations that provide comprehensive primary and preventative care to people regardless of their ability to pay or health insurance status.
Medicaid patients in emergency rooms
But the burden of providing health care to Medicaid patients in the wake of the state's decision to expand the federal program has also fallen to another part of the system not designed to provide primary care — the hospitals. Medicaid patients represented 27 percent of Nevada hospitals' patient days (the unit in which hospitals measure their time) compared to 14 percent in 2007, according to the Nevada Hospital Association.
The association's president, Bill Welch, said the increases in the number of Medicaid patients seen by the hospitals hasn't decreased the number of uninsured individuals using the hospital, who are largely the state's undocumented population. While the uninsured population still takes up about 6 to 7 percent of the hospital's time, the number of individuals on Medicaid has more than doubled since Medicaid expansion, he said.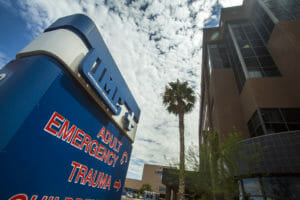 The hospitals say that the Medicaid expansion population, whose services are typically only reimbursed at about 53 percent of the cost of care, have caused significant financial strain. The association projects that hospitals paid $514 million of the costs of providing care to Medicaid patients out of a $1.07 billion total in 2015.
Patients don't need to pay a copay to visit either their primary care provider or the emergency room, while it may cost someone with commercial insurance a $200 copay to visit the emergency room instead of $50 to go to urgent care or $30 to see their primary care provider. That means oftentimes the only tangible difference for Medicaid patients between seeing a primary care physician and going to the emergency room is a weeks-long wait instead of an hours-long one.
"Doctors sometimes won't say they won't see the Medicaid population, but they'll say, 'I'm booked up for the next six to eight weeks but if you run down to the urgent care or to the ER you can get worked in in several hours,'" Welch said.
With the ongoing discussion to repeal-and-replace the Affordable Care Act in Washington D.C., Welch is worried about how potential rollback of the Medicaid program in Nevada could affect emergency rooms.
He is concerned that the Medicaid expansion population will have become accustomed to visiting the emergency room for their primary care needs and will continue to do so even if they become uninsured. Hospitals are usually only reimbursed at 3 to 6 percent of cost for uninsured patients.
"If I'm the expanded Medicaid population and you say, 'We're repealing the ACA and you no longer have coverage,' but I've been going to the hospital the last few years, I'm orientated into that mentality," Welch said.
Educating patients and doctors
The question for everyone involved in Nevada's health care system is what happens now, particularly under the looming possibility of a repeal-and-replace of the Affordable Care Act.
The first step, as pediatrician Dr. Huang noted, is ensuring Nevadans' access to health care. Without that, it will be difficult to attract doctors to the state.
"Having health coverage is important. If you don't even have health coverage, it's hard to have doctors available," Huang said. "Without the driving force of having the health care marketplace and insurer plans, it will be even harder for us to recruit."
But there are changes almost everyone agrees can be made to the status quo to facilitate Medicaid patients' access to care, such as educating patients about the proper way to engage with the health care system.
"That is the role of the district office, to be able to be that frontline for our Medicaid recipients," said Shannon Sprout, deputy administrator for the state Division of Health Care Financing and Policy. "I think that there's always an evaluation of what's working and not working within Medicaid and continuing to improve the systems. The community is always an integral partner at the state with us."
The managed care organizations conduct their own outreach through events and community health workers to try and engage and educate patients. They've also tried to solve barriers to transportation by even bringing the health care directly to the neighborhoods that need it the most, such as a mobile medical center that provides care to Health Plan of Nevada's Medicaid patients in the parking lots of homeless shelters, churches and community centers.
Doctors also say that higher reimbursement rates would make it easier for them to fit more Medicaid patients into their practices and would help attract other providers to Nevada. The Legislature passed a bill last session sponsored by Republican Assemblyman James Oscarson that would provide for periodic reviews of reimbursement rates.
They're also hopeful about the talent that could come out of UNLV's new medical school — which opened its doors for the first time for classes on Monday — though the difficulty will be keeping them in Nevada when so few residency programs exist here. Plus, it will be at roughly seven years before those students are ready to work as full time doctors after completing four years of school and three years of a residency program.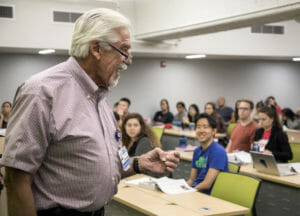 "If all 60 of these kids graduate from medical school, if all 60 of them go to a three-year residency, it will be seven years before they'll be available in Nevada," Dr. Carrison said. "It's going to help, but we have to look at this longitudinally — not to curb the enthusiasm, it's tremendous. Once the pipeline is full, seven years from now we'll be turning out 60 kids every year who will stay in Nevada."
In the meantime, federally qualified health centers (FQHCs) are working with hospitals to encourage patients to come to them as their source of primary care. One FQHC, the Community Health Alliance, has a partnership with the Renown Health System and St. Mary's Regional Medical Center and Northern Nevada Medical Center to identify patients who are inappropriately using the emergency department and encourage them to seek primary care at their clinics.
Community Health Alliance CEO Chuck Duarte said that patients can be immediately scheduled a follow up appointment at one of the clinics upon discharge from the emergency departments at Renown or St. Mary's. Still, 50 percent of Renown patients don't show up for their scheduled follow ups, but he said it's a step in the right direction.
"We've got capacity for primary care. The issue really is educating people who, in a lot of instances, are new to insurance or new to Medicaid about the appropriate use of services and how to access them," Duarte said. "It's an issue that I think needs to involve a lot of us in the community around health literacy."
Stories
Candidate Trackers
Endorsements, Ads, Policies, Visits
& More
visit now
Comment Policy (updated 10/4/19): Please keep your comments civil. We reserve the right to delete comments or ban users who engage in personal attacks, use an excess of profanity, make verifiably false statements or are otherwise nasty.