Workplace harassment allegations lodged against school trustee lead to settlement with deputy superintendent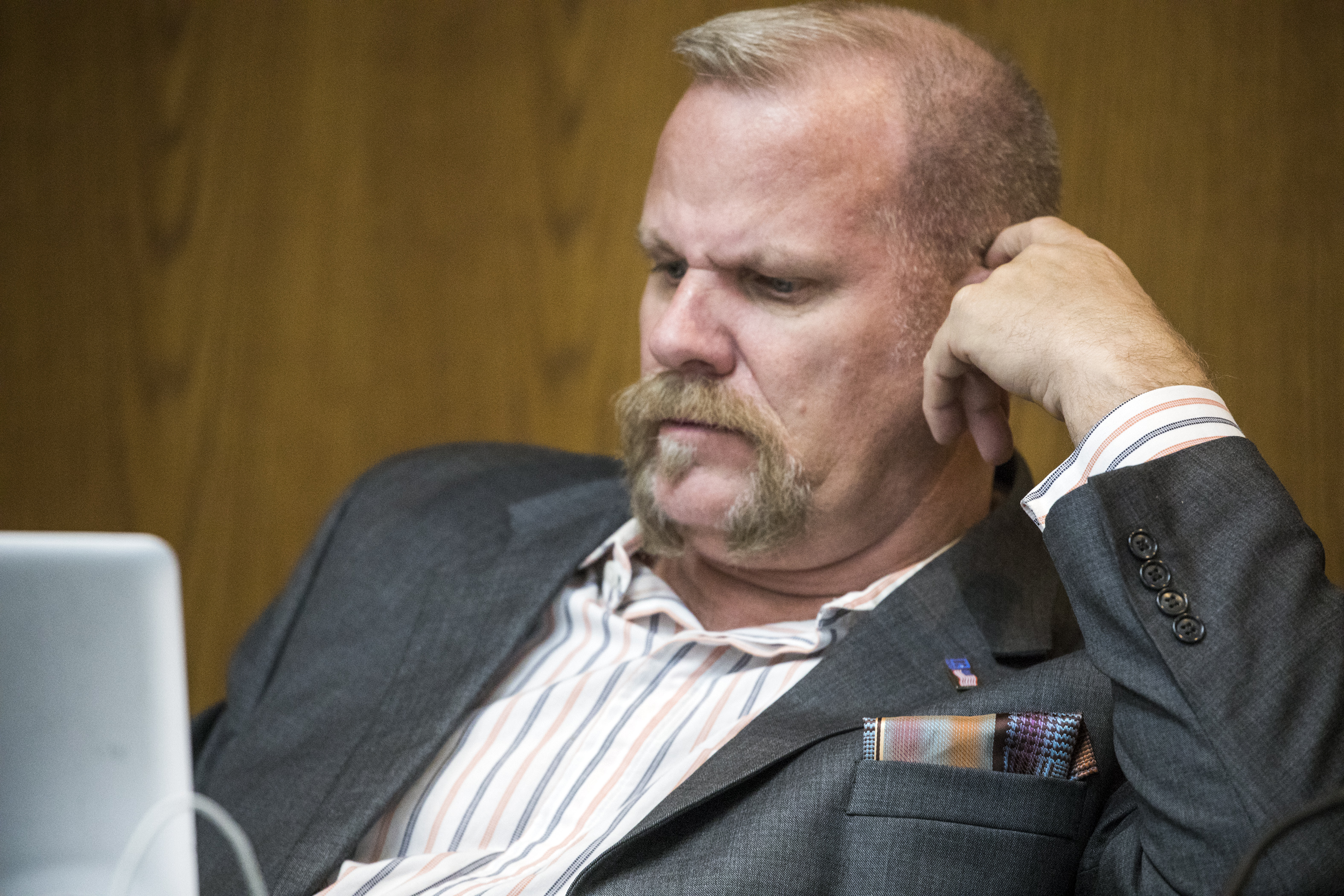 The Clark County School Board of Trustees has agreed to a settlement that involves allowing a high-ranking district employee to work from home after she accused embattled Trustee Kevin Child of workplace harassment and intimidation, according to district officials familiar with the negotiations.
Deputy Superintendent Kim Wooden filed a complaint this summer with the Nevada Equal Rights Commission against the school district for not keeping her workplace safe, a knowledgeable official said. NERC works with the federal Equal Employment Opportunity Commission to investigate workplace-related complaints.
Wooden's complaint stemmed from several incidents involving Child — whom outgoing Superintendent Pat Skorkowskly previously banned from visiting schools — over an 18-month to two-year period. The district officials, who requested anonymity because of the sensitivity of the situation, described two of the alleged situations that made Wooden feel uncomfortable and intimidated by Child:
Child entered her office uninvited and, when Wooden told him she had a headache, he said he could fix it. Despite Wooden telling him that wasn't necessary, Child walked around her desk and grabbed her hand, making her feel trapped.

Child stood between Wooden and her vehicle, preventing her from entering it, outside an event they were both attending.
"She felt intimidated by him," one official said. "She felt physically threatened by him."
Last week, the trustees came to a "general consensus" during a private, personnel-related meeting for a settlement with Wooden that would resolve the NERC investigation, the officials said. The settlement — subject to a formal vote at the March 22 school board meeting — involves a new contract for Wooden, which stipulates that she will be allowed to work from home on projects assigned by the superintendent and won't have to interact with trustees, according to the district officials with knowledge of the arrangement.
Wooden will keep her current salary and benefits. District officials said Wooden's current salary is $156,806.
The agreed-upon settlement, however, does not include paying any legal fees or monetary damages to Wooden, said the officials, who added that the deputy superintendent was simply seeking safety protections.
"She's not looking for a cash-cow payout," an official said. "She wants (Child) to be held accountable for his actions and his words."
Wooden could not immediately be reached for comment. Child declined to comment when reached by a Nevada Independent reporter.
***
Wooden's NERC complaint is the situation Skorkowsky referenced in a November memo he sent to administrators, clarifying his decision to trespass Child from district property.
"Part of my decision last week was made because the District has been notified by an outside government agency that it has received a complaint regarding Trustee Child's behavior," he wrote in the Nov. 2 memo. "The agency is investigating the complaint and its investigative process is confidential by law."
The complaint plunged the district into a tricky situation because it involved an elected school board member and not a district employee. If the complaint involved a teacher, for instance, the district could have transferred that employee to another building while the investigation occurred.
Even so, the district enacted safeguards in an attempt to protect Wooden, one of the officials said. Among them: revoking Child's parking privileges and only allowing him in certain parts of administrative buildings after signing in at a front desk.
But the district still wound up shelling out money to protect Child as well.
The reason: Mary-Anne Miller, the board's attorney, previously had counseled Child and he did not heed her legal advice, which amounted to a conflict, the official said. So the district hired outside counsel — Craig Mueller, who's running for attorney general — to represent Child during the settlement negotiations for an amount up to $10,000.
It wasn't immediately clear how much money the district ultimately paid for Child's legal fees. Mueller could not be reached for comment. 
Trustee Carolyn Edwards declined to comment on the content of the complaint or settlement, citing confidentiality reasons, but she said the district has a duty to protect its employees.
"We'll see how the board votes on Thursday," she said. "I really don't know how that's going to go."
****
The settlement for Wooden is the latest skirmish involving Child, a vocal trustee on the seven-member school board who has been critical of Skorkowsky in recent months.
Child's problems began early into his tenure as a trustee and, by December 2016, Skorkowsky announced that he couldn't drop by schools without an invitation. The decision was based on complaints the district had fielded regarding Child's behavior while visiting schools. The Review-Journal reported that those complaints included Child talking to young students about his wife's suicide and creating a hostile environment for district employees.
He also landed in hot water in 2016 when he posed a question on Facebook, asking whether his followers would run over protesters. The social-media post came a week after a gunman killed five police officers in Dallas.
Over time, the district issued stronger restrictions on Child's visitation after complaints continued. In October, Skorkowsky banned Child from directly contacting district employees or visiting district property. Skorkowsky said Child could only "carry out the specific duties of his position," which included pre-scheduled meetings with the superintendent and two employees designated as his liaisons as well as attend school board meetings and monthly parent meetings.
"Otherwise, he is not allowed on district property," Skorkowsky wrote in a staff memo. "I have directed staff to call School Police if he shows up at their school or district office building and does not comply with their request to leave."
Child has denied the accusations of inappropriate behavior. Instead, he has chalked it up to retaliation for asking tough questions about the district's financial matters and repeatedly calling for a forensic audit. The district did a series of budget cuts last year to overcome an estimated $60 million deficit.
The ongoing tension apparently hasn't dimmed Child's desire to remain on the school board, though.
Child's inaugural term on the school board ends this year, but on Thursday, he filed for re-election in District D, which covers portions of south-central Las Vegas and North Las Vegas. As of this morning, he has three challengers in that race — Eli Thompson, Irene Cepeda and Leobardo Martinez, Jr. The filing period ends tonight.
Child issued a statement after filing his candidacy Thursday, noting that he's committed to fighting back against "corruption in CCSD" and "bogus allegations spearheaded by the outgoing administration."
"When you're the lone voice on the school board asking the tough questions the administration doesn't want to hear, I've learned they try to come after you," he wrote in the statement.
In the 2014 general election, Child won with 52 percent of the votes in that district.
This story has been updated with a comment from Trustee Carolyn Edwards.
The Nevada Independent is raising $200,000 by Dec. 31 to support coverage of the 2024 election.
Tax-deductible donations from readers like you fund this critical work.
If you give today,your donation will be matched dollar-for-dollar.
Give + Get Matched
Featured Videos