2020 hopefuls make final pitch to voters ahead of Saturday's caucus
After a frantic two-week rush, Democratic presidential hopefuls fanned out across Nevada to hold events and campaign rallies in a final push before the state's presidential caucus on Saturday.
Friday saw not only a major campaign rally in Las Vegas by President Donald Trump, but also five major Democratic presidential hopefuls crisscrossing Las Vegas making their final pitch to voters and win momentum in the state's presidential caucus. Minnesota Sen. Amy Klobuchar was the lone candidate to make her closing argument in Elko and Reno.
Some candidates, like former South Bend Mayor Pete Buttigieg and California billionaire Tom Steyer, packed their Friday schedule with a hectic mix of meet-and-greets, round tables and conversations with voters. Other candidates, such as presumed front-runner Vermont Sen. Bernie Sanders, only scheduled one major public campaign event before Saturday.
Some 75,000 caucusgoers already voted early over a four-day period this week, putting immense pressure on the Nevada State Democratic Party to process the ballots and avoid a chaotic caucus process that befell Iowa Democrats in that state's caucus process earlier this month.
Here's how each candidate made their pitch to voters on Friday:
Coming off the Nevada debate, Warren keeps punching up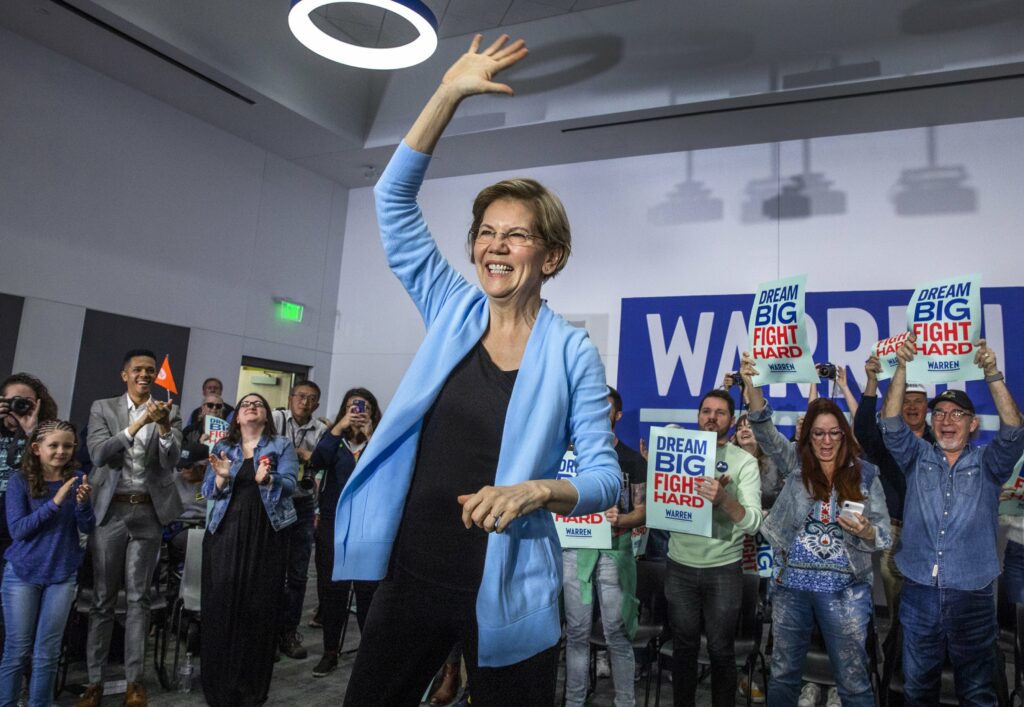 Under the shadow of a 25-foot tall Bailey, a giant replica of Elizabeth Warren's golden retriever, a lively crowd of more than 500 rallied around the Massachusetts senator at the Clark County Government Center amphitheater.
While waiting for the senator to speak, kids played with hula-hoops and some attendees sat on picnic blankets on the grass as they enjoyed food truck grub. Clark County Commissioner Justin Jones and former Housing and Urban Development Secretary Julián Castro introduced Warren before she walked on stage to mass cheers.
"You want to understand, every time someone tells you a woman can't beat Donald Trump, well I don't know about [any] woman but I'll tell you Elizabeth Warren can beat Donald Trump!" Warren said to a crescendo of applause.
Lots of sights and delicious smells coming from food trucks for @ewarren's #GOTC event. The giant blow-up of @FirstDogBailey is the best 🐶 pic.twitter.com/rna3utkLBP

— Shannon Miller (@shmiller9315) February 22, 2020
"And if anyone doubts whether I can beat him on a debate stage, I think we have the video from Wednesday — I'm ready for that man! … I think there's a 50-50 chance that Donald Trump looks at debating me and doesn't even show up."
The evening was punctuated with jabs at her opponents, starting with Vermont Sen. Bernie Sanders. A young audience member, Jacob, asked Warren what her plan was for gun violence despite a divided Congress.
"When other people who are running for president — and I say this just as a factual statement — like Bernie, who say they want to make real change but they will not roll back the filibuster, keep in mind that means. They have given a veto to the gun industry to prevent real change and gun reform," Warren said.
Sen. Bernie Sanders has said that he does not support ending the filibuster, a maneuver that he has used in the past. In 2010, Sanders gave an eight-and-a-half hour speech before the Senate denouncing what he called a regressive tax bill.
Warren said rolling back the filibuster would be key to addressing gun violence in the U.S. and added that Democrats "have to win not just the White House."
"We've got to win the Senate and put (Senate Majority Leader) Mitch McConnell out of a job," she said.
Warren also called out Michael Bloomberg, whom she particularly went after on Wednesday night for his trail of nondisclosure agreements with women who have brought harassment and misconduct claims against the former New York mayor.
Echoing what she said during Wednesday night's debate, Warren called Bloomberg out for blaming the 2008 mortgage crisis on redlining policies by banks.
"When @MikeBloomberg was busy blaming the 2008 crash on African Americans and families who tried to buy homes, I was right here in @clarkcounty having hearings former Sen. Harry Reid asked me to do," said @ewarren. pic.twitter.com/DbT2fvnehP

— Shannon Miller (@shmiller9315) February 22, 2020
"When Michael Bloomberg was busy blaming the crash on African Americans and Latino families who tried to buy homes, I was right here in Clark County holding hearings," she said.
Warren was referring to a hearing held by the congressional oversight panel that the former Democratic majority leader, Sen. Harry Reid appointed her to chair. The hearing was held in Las Vegas in 2008.
"We thought we'd just have a few witnesses come in, but people packed this auditorium we were in, they lined up outside, they wanted to be able to tell their stories. They desperately wanted a government that would be on their side."
—Shannon Miller
At Las Vegas rally, Tom Steyer says he needs Nevada to make sure there are "No Scrubs" in the White House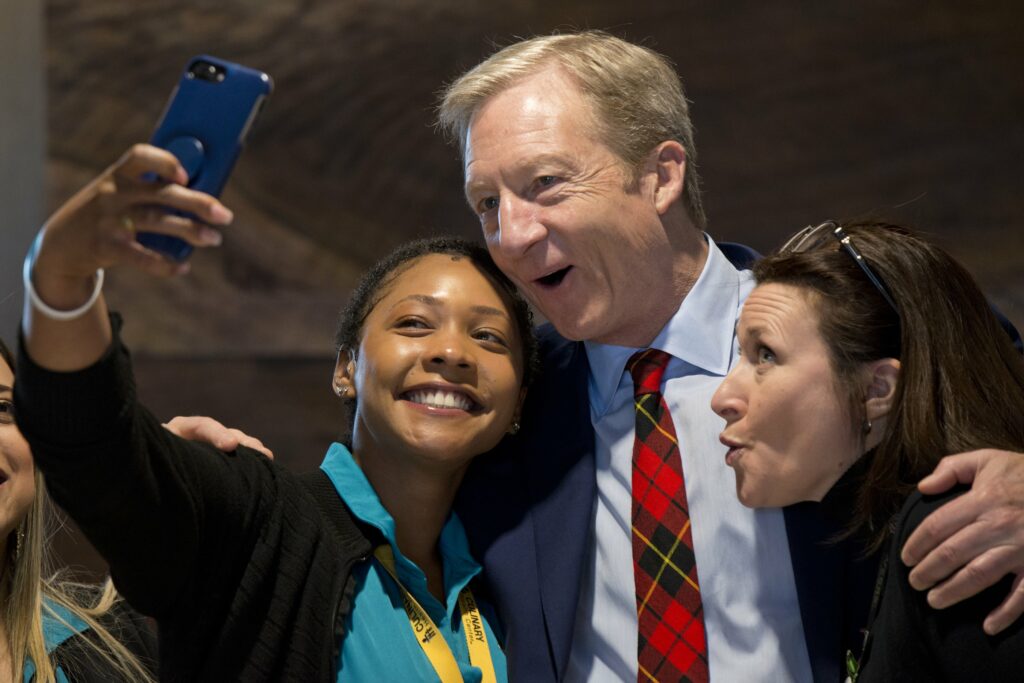 Tom Steyer held his "Battle Ready" rally in Las Vegas Friday, the night before the Nevada caucus, and the non-traditional candidate was introduced by some non-traditional guests — America's Next Top Model alum Bianca Chardei and iconic '90s girl group TLC.
Steyer took the opportunity to go after Trump, encourage his supporters to be "aggressive" at the Saturday caucus, and emphasize the importance of Nevada to the future of his campaign.
"This is the first place that you can claim that you pulled together the diverse coalition that is the Democratic Party, so if we come through tomorrow, that is going to be a statement to the entire nation, and the world about what it means to pull the Democratic Party together, and to go from there, and win," he said.
Lynn Arce chose Steyer as her top candidate when she cast her ballot during early voting. Friday was the first time she had seen the candidate in person, and she was not disappointed.
"I loved it. I loved it…. The fact that his family's involved and everyone's just really into it. They've got this energy about them. I thought it was fantastic," she said.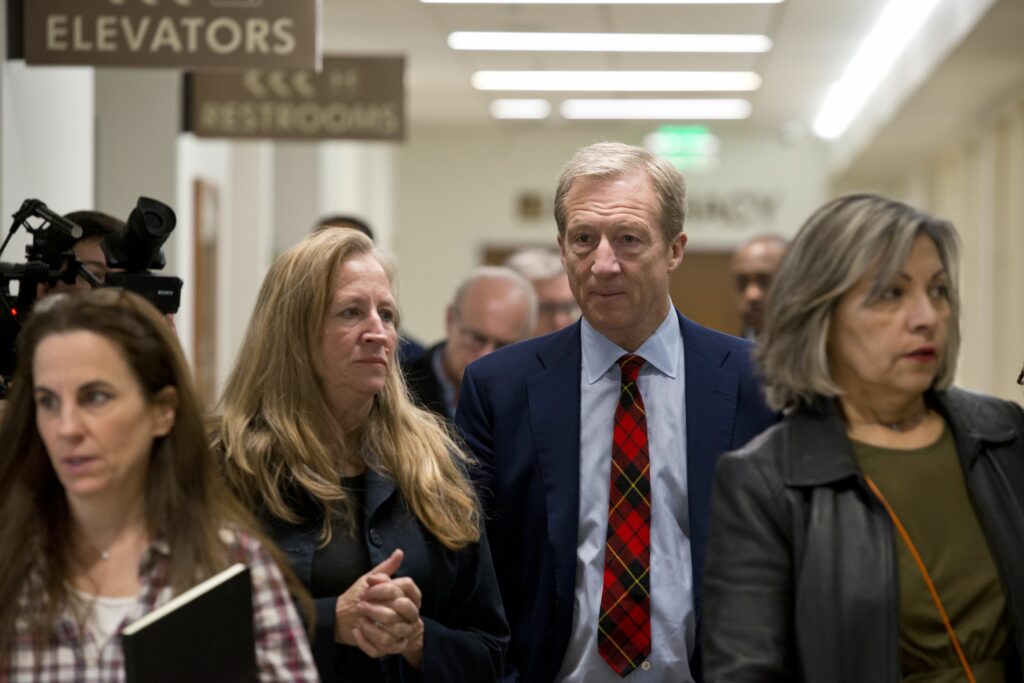 Pamela Thompson plans to caucus Saturday and says that right now, Steyer is her first choice. She came to the event tonight partially because of her young daughter.
"I just found out, and she loves Tom, because they show commercials all the time, and we just like him so we wanted to show our support," she said.
When the candidate left the stage to take selfies with his supporters, Swedish electropop duo Icona Pop took over, blasting remixes of "Jolene" and "When Doves Cry." Before the music started, Steyer made a prediction:
"If we win tomorrow, we're going to win the whole goddamn thing."
—Kristyn Leonard
Biden touts unions and diversity, slams Trump during his caucus eve rally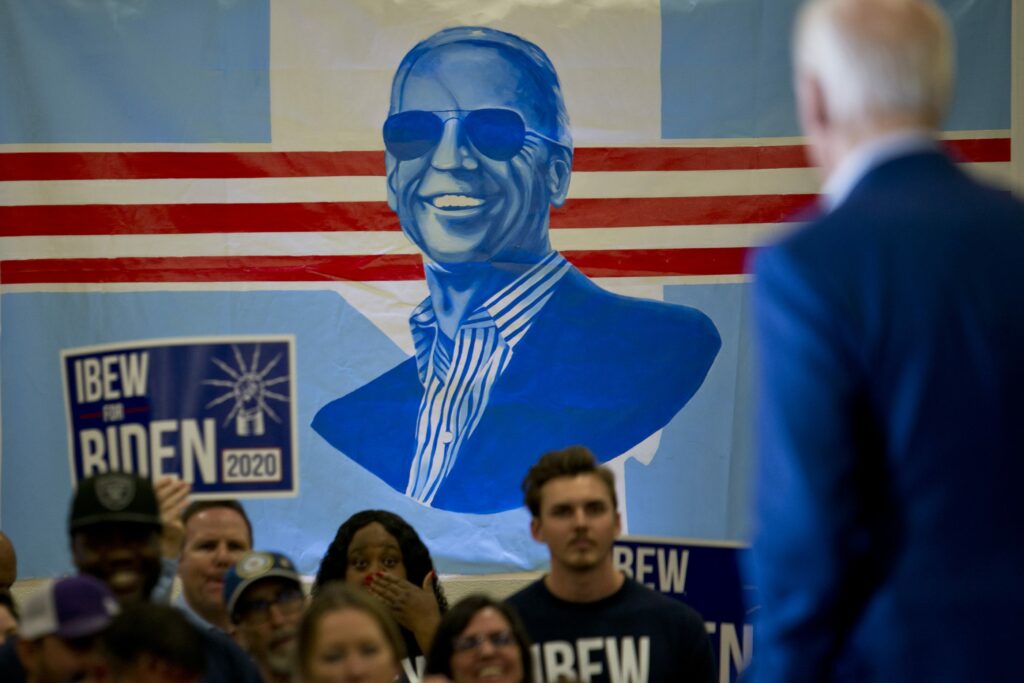 Former Vice President Joe Biden made his final pitch to Nevada voters Friday evening inside a Las Vegas middle school, where he touted the importance of unions and diversity while blasting President Donald Trump.
After coming off losses in Iowa and New Hampshire, Biden framed the Nevada caucus as a fresh start.
"It's the beginning of a representation of what the country looks like," he said. "I really mean it. It's the first in the West, and it makes a great deal of difference."
In a 30-minute speech, Biden vowed to bring back the middle class, strengthen unions, end legal protections for gun manufacturers and give Americans a public option for their health care — or as he put it, "Medicare if you want it."
He also lit into Trump for downplaying Russia's efforts to interfere in the 2016 election and the current Democratic presidential nominating contests.
"Give me a break," Biden said. "You can't be that stupid."
Turning toward his challengers in the Democratic primary field, Biden essentially accused former New York City Mayor Michael Bloomberg of false advertising, given his commercials that prominently feature former President Barack Obama, who hasn't endorsed anyone.
"Michael Bloomberg — his new best friend," he said. "You look at that ad and you think, 'God Barack must have endorsed him, man.'"
A protester interrupted his speech at one point, prompting his supporters to try to drown the man out with chants of "Joe! Joe! Joe!"
Biden interjected, saying "That's okay. It's not a Trump rally."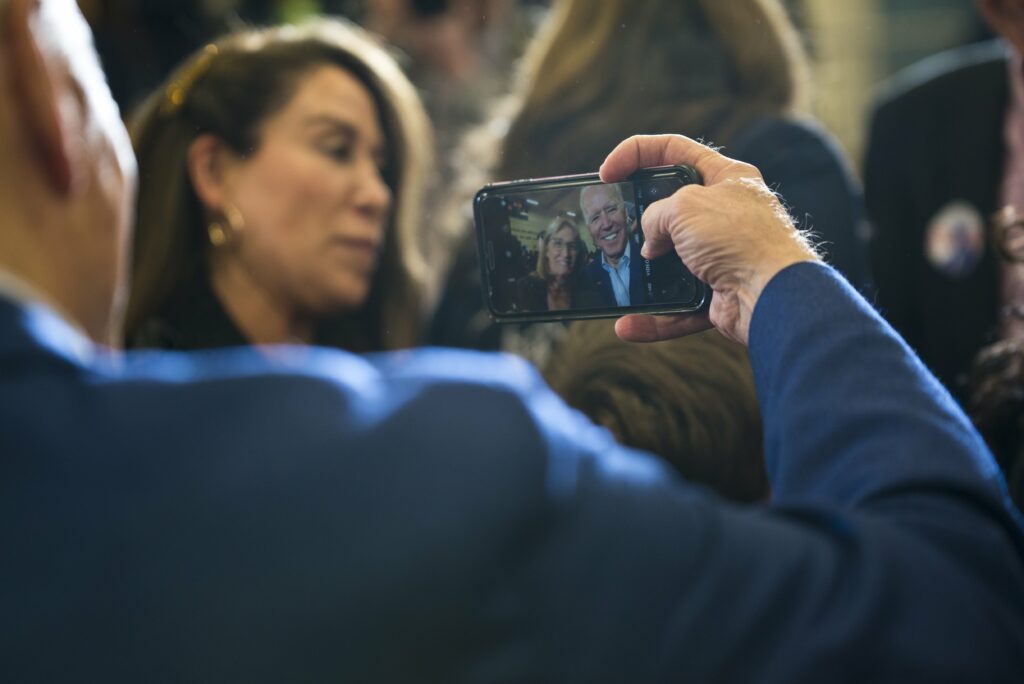 Ultimately, police led the man out after he continued advancing toward the stage.
Biden ended his speech by talking about Americans who face hardships every day, yet still put one foot in front of the other the next morning. In doing so, he touched on his own grief — the deaths of his first wife, daughter and son — and the help he received before bringing it full circle back to his race for the presidency.
"Folks, I refuse, I refuse, I absolutely refuse to give up," he said. "I refuse to keep this guy in the White House. We have to change this."
His audience for the caucus eve rally included people who were voting for him in Nevada as well as those supporting him from other parts of the country.
Frank Deer — a pharmacist in town from Union, New Jersey — attended Biden's rally Friday night, taking in the action of an early-nominating state. The 43-year-old said Biden's character and experience as vice president in the Obama administration appeal to him.
"I think Joe will continue with equal life and justice for everyone," he said.
The 43-year-old immigrated to the United States as a teen from Jamaica, following his mother, who worked as a maid, among other jobs, to gradually bring her seven children here. Deer said he'd vote for anyone but Trump, whose harsh language and policies toward immigration bother him.
Asked about Biden's chances winning the Democratic nomination, though, he paused.
"That's my concern," he said. "The fear is we may have the wrong person up against Trump."
But Nick Bonsanto and his wife, Michelle, plan to caucus for Biden in their North Las Vegas precinct. The couple abandoned the Republican Party immediately after Trump won the nomination in 2016 and registered as Democrats.
Bonsanto, who said he likes Biden's "crossover ability" to mend bridges, predicts he will fare better in a more diverse state like Nevada.
"I think he will be the adult in the room," he said. "We need someone with experience."
— Jackie Valley
Buttigieg makes the electability pitch one last time in Las Vegas rally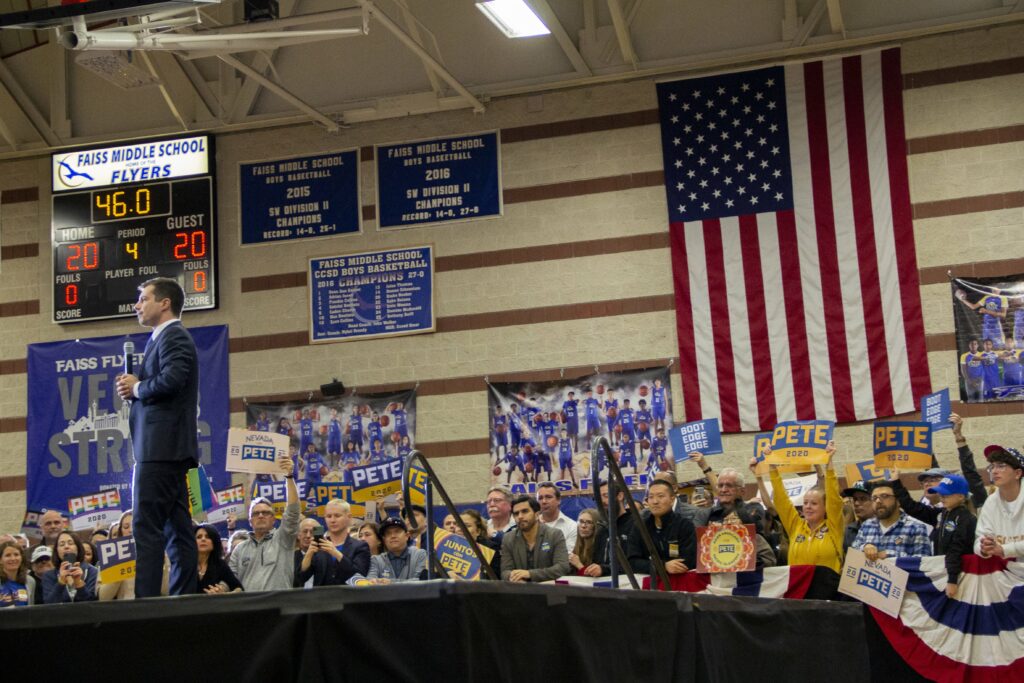 Nearly 1,200 waited patiently in the chilly evening air for a final get-out-the-caucus rally for former South Bend Mayor Pete Buttigieg in the southwest valley Friday night, with a line stretching fully around two sides of Faiss Middle School and overflow parking spreading into a nearby park.
In his last pitch to supporters before the Saturday caucus, Buttigieg honed his message on electability, casting himself as the only candidate in a still-broad Democratic field that "has to get this right" in order to defeat President Donald Trump come November.
"There are a lot of Americans who look at the campaign and see they're supposed to choose between a revolution or keeping the status quo, and don't see where they fit in that picture," Buttigieg said. "We've got to build a picture of belonging that lets everybody who wants to see change stand side-by-side, even if they don't agree 100 percent of the time."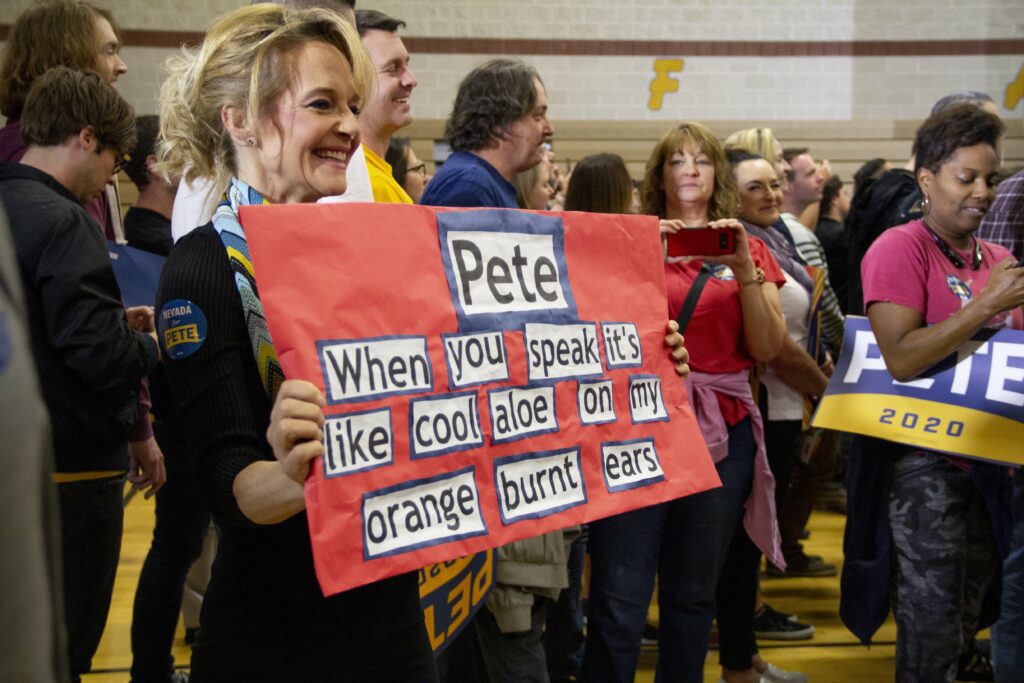 Much of the crowd were the Mayor Pete faithful, toting signs and cheering along with chants of "Boot-edge-edge" and "We want Pete." That included a first-time voter, 18-year-old Angelina Misch, who planned on caucusing for Buttigieg tomorrow morning and was drawn to him, in part, because her teacher was, too.
"It's a lot, especially for us, being young and with so many ways you could go," she said. "[This election] was super hard, you had to do your research."
But at least one rally attendee, Cynthia Reyes, told The Nevada Independent that she had already caucused for another candidate, Joe Biden.
"If Biden doesn't get through, then Pete's definitely my man," Reyes said. "He sounds like a normal person who's really going to help solve our problems."
— Jacob Solis
At Reno event, Klobuchar says "this is a national campaign," stresses rural outreach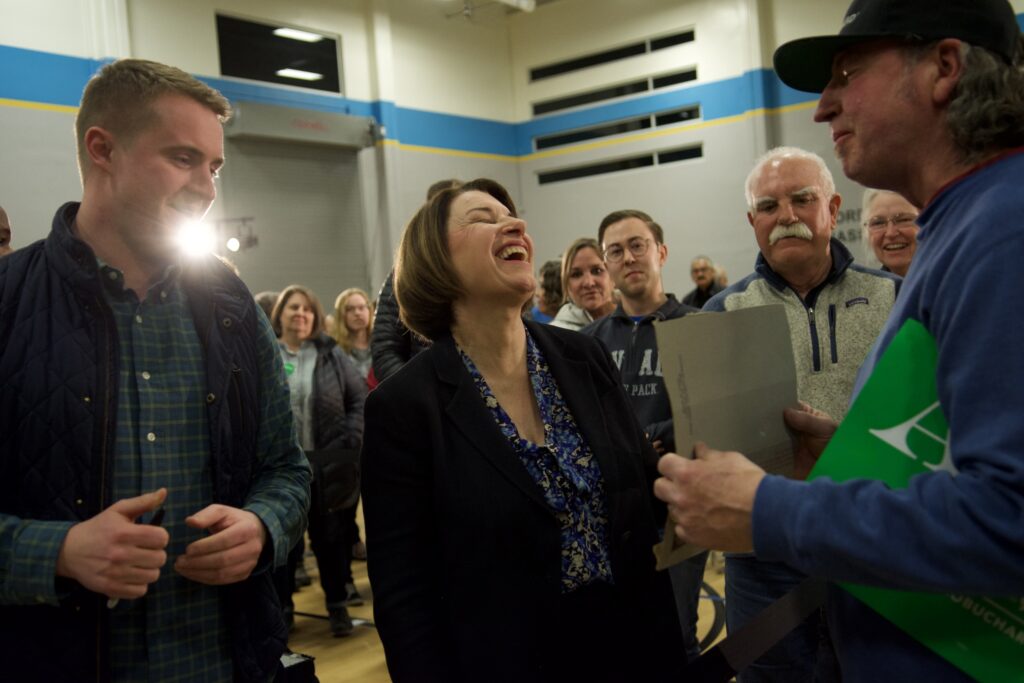 During an appearance at the Boys and Girls Club of Truckee Meadows, Minnesota Sen. Amy Klobuchar told Northern Nevada supporters that her campaign was "feeling good."
Coming off a campaign stop in Elko Friday afternoon, Klobuchar said that her organization tried to target both rural and urban voters, highlighting prior campaign stops in Fallon and Lovelock. Because of how delegates are apportioned to precincts, Klobuchar could pick up several delegates in rural areas if she performs well in the state's 2nd and 4th Congressional Districts, which include many of the state's rural communities.
"I am someone that always believed that you don't just go to one part of a state — or even the big cities — that you go everywhere," Klobuchar said.
The Minnesota senator pitched herself as someone who could unite Democrats and bring more voters into the fold in the general election. She conceded she has more moderate positions on issues like universal healthcare and free college tuition compared to many of her progressive colleagues. Instead, she stressed her support for a government-run public health insurance option that would add onto the Affordable Care Act. On education, Klobuchar voiced support for a significant investment in K-12 education.
Klobuchar also touted her work with progressives in her party and Republican senators.
"I find that common ground," she said.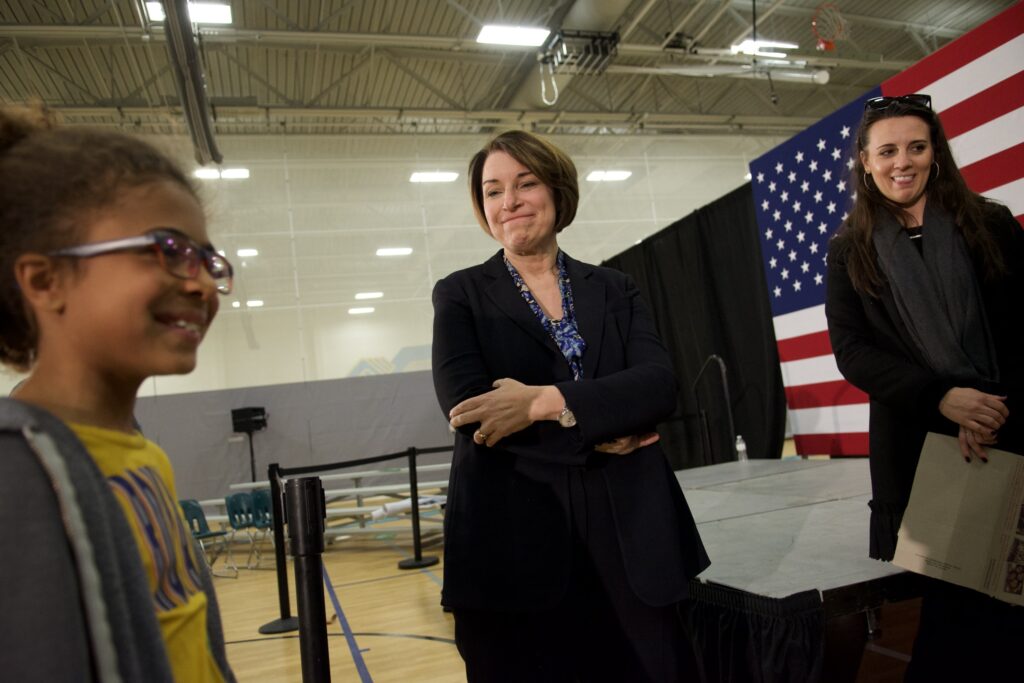 At the rally, Klobuchar cast herself as an antidote to President Donald Trump. She said she was concerned about Trump's lies and reports that Russia is trying to influence the election.
"We need to bring decency back to the White House," she said.
In Colorado yesterday, Trump mocked Klobuchar's debate performance, saying she "choked."
When she heard Trump's comments, Klobuchar joked that her reaction was: "I guess I have finally arrived." Klobuchar, who is polling toward the bottom of the pack in Nevada, higlighted recent newspaper endorsements from The San Francisco Chronicle and The Seattle Times, saying that "this is a national campaign."
"Every race I was in," Klobuchar said, "people were always counting me out."
— Daniel Rothberg
Out-of-state volunteers swept up in Bernie fervor in final pre-caucus canvassing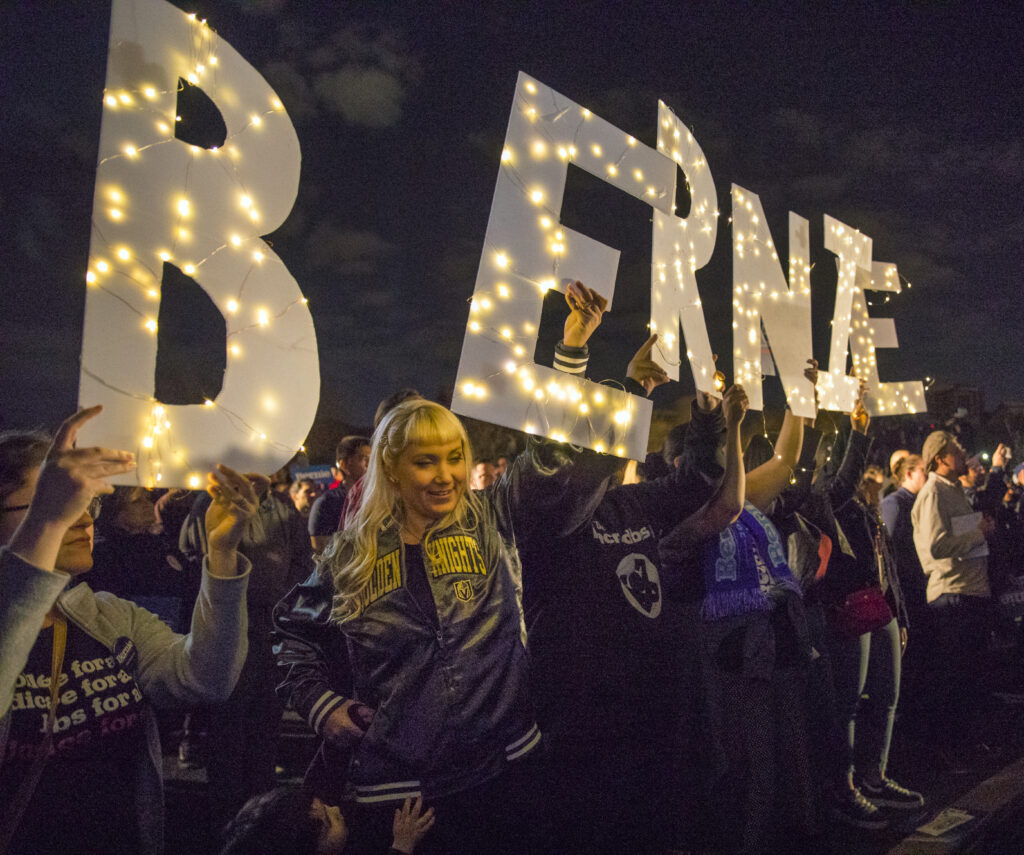 At Bernie Sanders' East Las Vegas headquarters on Friday afternoon, things sounded more like revival than campaign rally.
Nina Turner, a former Ohio lawmaker and Sanders surrogate, spoke in almost messianic terms about the Vermont senator to a group of 60 or so volunteers who had come to knock doors in a heavily Hispanic neighborhood. Sanders leads in recent polls, but that didn't dissuade members of National Nurses United and a group of youth from Arizona from giving up their afternoon to rouse voters on his behalf.
"If you were stranded in the ocean, who would you want to come save you?" Turner asked. "The person who got to decide whether or not you deserve to be saved? The person that is going to half-measure, give you a raft? Or somebody that's going to radically come to your rescue?"
After more than a half hour of fiery speeches in which speakers characterized Sanders' campaign as a movement of unprecedented magnitude, the volunteers, many wearing bright red shirts, were debriefed on what to say when they knocked on the doors of a list of Sanders-sympathetic voters. Don't spend too much time getting wrapped up in conversation, they said. Share your personal story about what converted you to Sanders, they added.
Luis Vasquez, the 22-year-old regional field director who oversees operations in East Las Vegas and occasionally danced around the office to the upbeat Spanish soundtrack, explained what he believes is behind Sanders' rising prospects.
"I think a change of mind has happened since 2016. We've had a lot of trauma. President Trump has [given us] a lot of trauma and the working class has been the brunt of that," he said. "They can't handle ... a slight change and fix it slowly. They need an instant change, an instant fix. They need something that is radical, that is quick, and that will immediately start getting people back to where they were."
One of the biggest themes in the pitch for Sanders, that Vasquez believes is behind so many in his territory backing the candidate, is his consistency.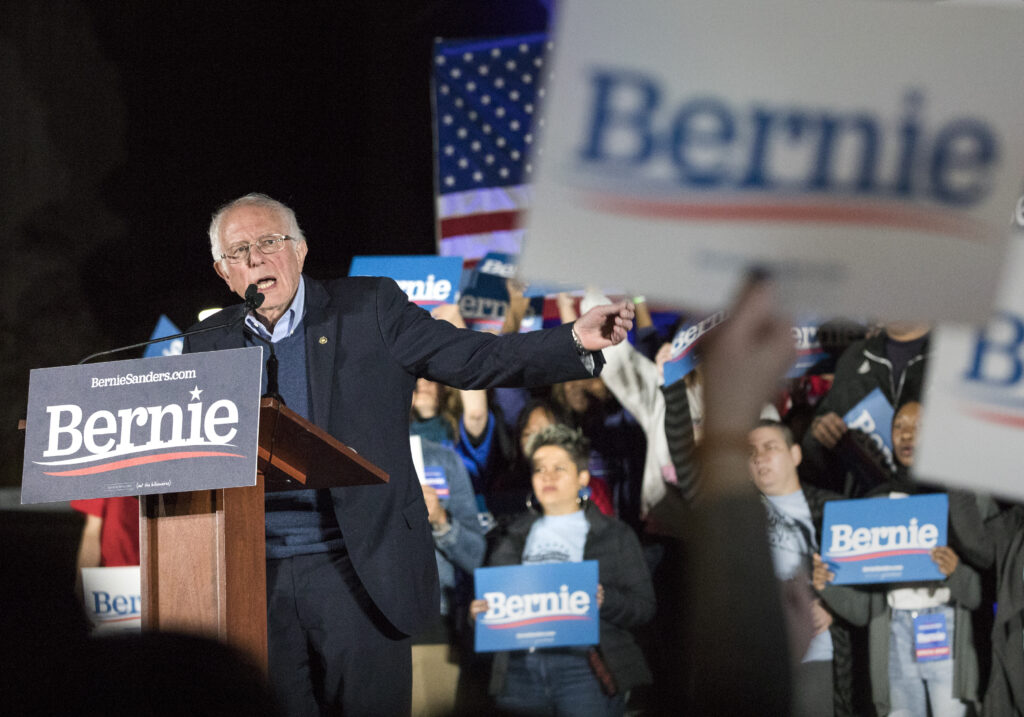 "We're able to inform people that yes, this isn't just a flavor of the month," Vasquez said. "He's been doing this year after year ... since the 1980s. Talking about the issues that you care so much about."
Sanders' consistent support for nurses was what drew nurse Luis Vargas from California to Las Vegas to knock doors for him.
"Bernie works with us," said Vargas, who's originally from Mexico. "He knows what we need and what we want."
Retired nurse Malinda Markowitz, 69, left the mini-rally even more convinced that Sanders will be the next president because of the diversity of the group that had gathered to lift him up.
"The Band-Aid effect has never worked," she said. "You talk to people, they know the only true person that's going to make a difference and get us out of the situation that we're in is Bernie Sanders. You know, he gives the hope for the average worker."
— Michelle Rindels and Luz Gray
Buttigieg canvasses East Las Vegas neighborhood with immigrant activist Astrid Silva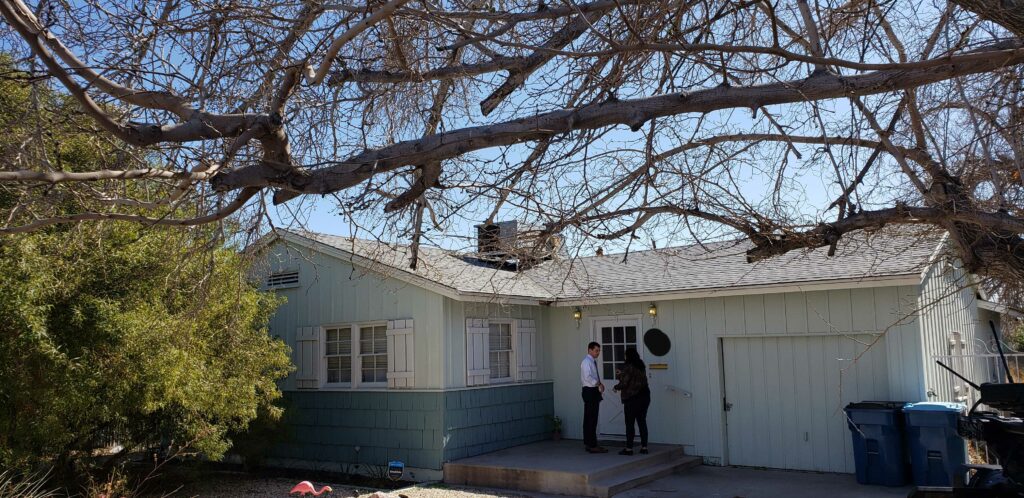 Prominent DREAMer Astrid Silva — whose advice is much coveted by politicians seeking to win over Latino voters in Nevada — tweeted a few weeks back that she would be impressed if someone came to her neighborhood and campaigned at homes that hadn't been pre-screened.
The one candidate to take her up on the challenge? Former South Bend Mayor Pete Buttigieg.
In the middle of the day on Friday, with a gaggle of reporters not far behind, Buttigieg made good on that promise, meeting up with Silva in an East Las Vegas neighborhood to knock some doors.
Nobody was home in the first two, but Kit Herron, 71, and her dog, Mickey, came to the door at the third house. Turns out, she's a supporter of President Donald Trump and still plans to vote for the incumbent even after meeting the Democratic candidate, who often talks of reaching out to "future former Republicans."
"I'm just tired of the bickering in our government," Herron told The Nevada Independent through tears after the encounter. "Granted, he's a loose cannon. He's got a terrible mouth, you know, but I think he's done a good job with what he's had to do."
The whole campaign stop lasted about 15 minutes, and Buttigieg was later whisked away in a black SUV to a roundtable on environmental issues elsewhere in Las Vegas. Herron, a former flight attendant, turned back to raking leaves in her front yard.
"He presents himself well," she said of Buttigieg. "If I was probably going to vote for somebody Democratic, I would vote for him."
As for Silva? She's not endorsing Buttigieg, saying instead that her support is behind her community. But afterward, she told reporters she was grateful for the stop, quick as it may have been.
"Right now is a really scary time to exist and so I appreciate that he took the time to come out here and see what's actually happening in our streets," said Silva, who pointed to a looming Supreme Court decision on the constitutionality of the Deferred Action for Childhood Arrivals (DACA) program that could have life-altering consequences for her and other DREAMers.
Gina Barrios was one of the people Buttigieg encountered in the neighborhood, as she was leaving to go to the grocery store to buy chicken. She took the opportunity to share with him issues she wants politicians to address, including an increase in homelessness in the area.
"No one has ever come around here," Barrios said in Spanish of the neighborhood where she's lived for several years. "I told him that I was happy that he came, so he could see how we are and how we live."
Barrios, who knew of Buttigieg from his TV commercials, added that she appreciated the efforts he made to communicate with Latinos and get to know their needs.
"We're trying to ensure that everything is for the good of this country," she said. "May the best person win and may God help them."
Antonio Zaragoza, who has lived in the neighborhood since 1999, didn't get a visit from Buttigieg but came out to see what was going on in the street. He said he participated for the first time in Nevada's caucus, voting early for Buttigieg, Sen. Bernie Sanders and former Vice President Joe Biden.
"It's good that they go house to house to see what everyone's needs are," said Zaragoza, 69, who works as a dishwasher at the Circus Circus. "No other candidate has done that."
But he's skeptical that the outreach to the Latino community will be permanent.
"They need our vote, but once they get the job, it's like they forget about Latinos," he said in Spanish. "They push us to the side."
— Michelle Rindels and Luz Gray