Trump rallies thousands in Las Vegas, says Democrats will have 'lots of problems' with caucus results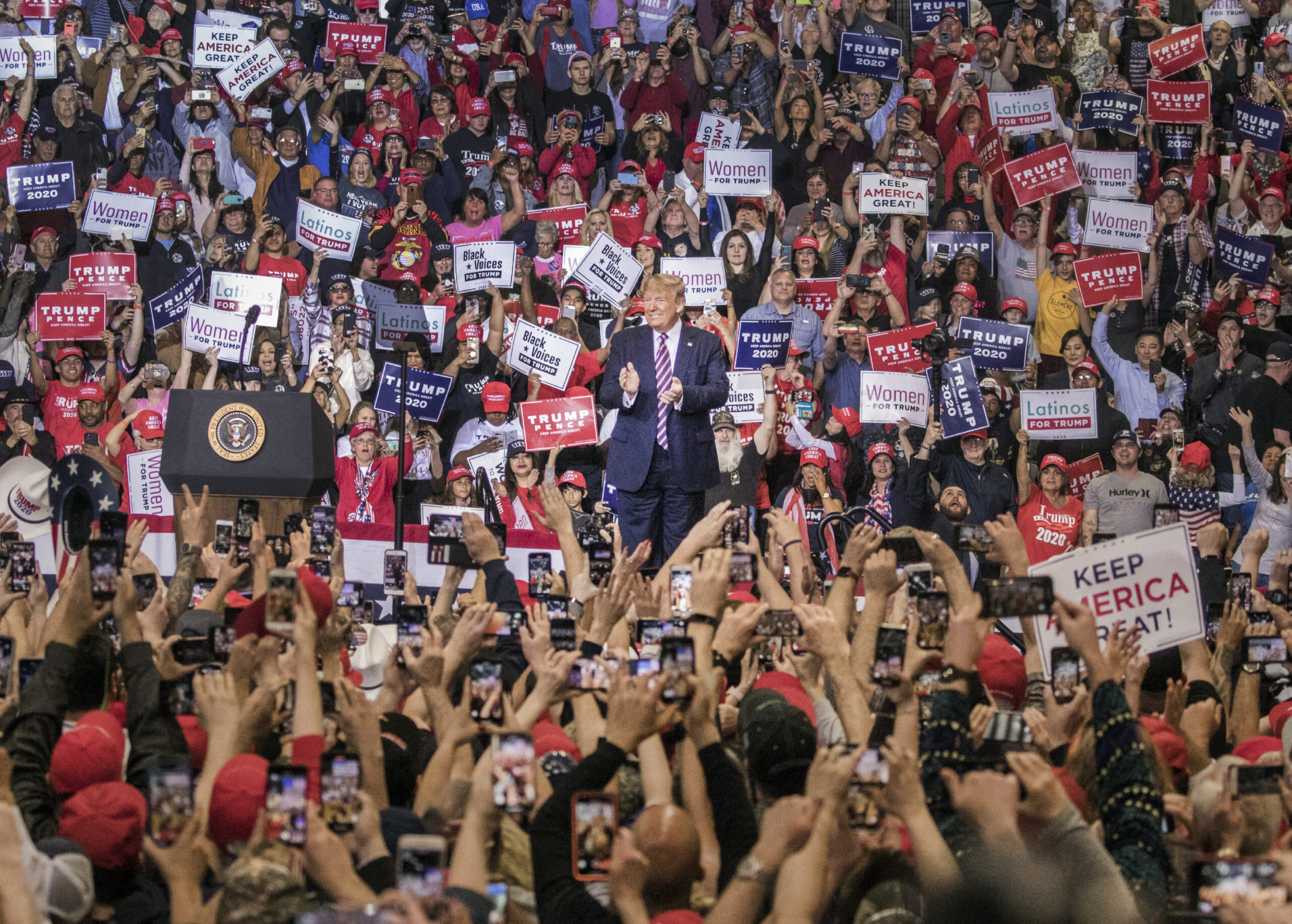 President Donald Trump suggested that Nevada's presidential caucus would end in chaos during a raucous campaign rally in Las Vegas, while attacking potential Democratic opponents and calling warnings of Russian interference in the 2020 election a hoax.
Trump, who rallied roughly 15,000 supporters inside and outside of the Las Vegas Convention Center on Friday, made the case for his 2020 re-election effort by touting high job numbers and low unemployment. But he took multiple asides to insult Democratic presidential candidates, tout his administration's efforts to stop licensing for a nuclear waste repository at Yucca Mountain, celebrate the 1980 "Miracle on Ice" men's Olympic Hockey team and complain about a South Korean film (Parasite) winning Best Picture at the 2020 Academy Awards.
The rally — part of Trump's first trip to the state since speaking at the Republican Jewish Coalition in Las Vegas in April 2019 — kicked off with Trump predicting that the state Democratic Party's upcoming caucus on Saturday would end in a fashion similar to the Iowa Democratic caucus earlier this month.
"They say they're going to have a lot of problems tomorrow. I hate to tell you this," he said. "Have you heard? I heard their computers are all messed up, just like in Iowa. They're not going to be able to count their vote. They're going to tell you about health care, they're going to tell you about our military, jet fighters and missiles, but they can't count votes. They just can't count them."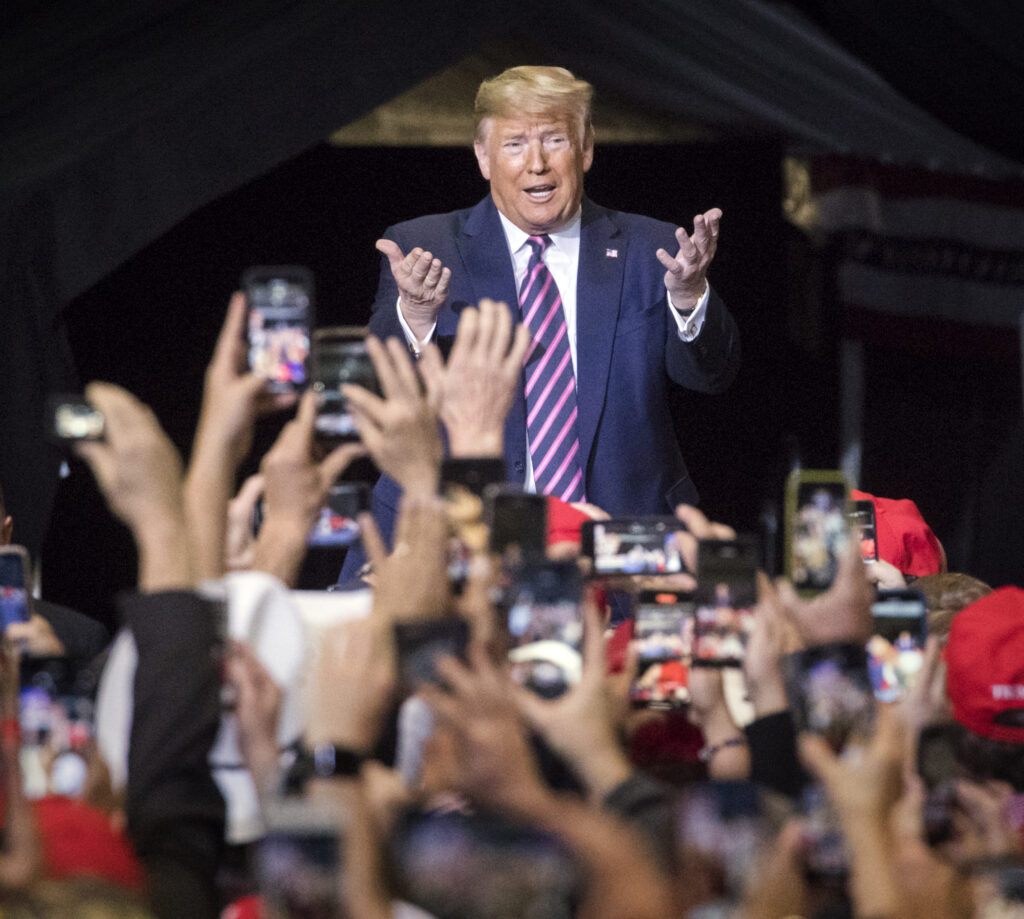 The rally is the latest effort by Trump's re-election campaign to provide a sharp contrast to Democratic presidential candidates by holding rallies and campaign events in early-voting states. In Nevada, Trump is hoping to rally support after narrowly losing the 2016 election here by less than 2 percentage points.
The president also weighed in on the ongoing tension over health care between the local Culinary Union and Vermont Sen. Bernie Sanders, who supports a Medicare for all single-payer system that the union has staunchly opposed.
"A lot of the Democrats are going to ruin the health care programs that these unions have," he said. "The unions have worked hard on health care, and they're going to ruin them. You're going to lose 180 million people off of great private health care."
Trump went on to say his administration would "cancel Obamacare" if it prevails in a lawsuit challenging the Affordable Care Act and promoted efforts by his administration to end "surprise billing" and to lower prescription drug prices, including allowing production of more generic drugs.
The president also boasted of his recent decision to pull financial support for building a federal nuclear repository at Yucca Mountain, saying the government would focus on "positive solutions and for much better reasons and alternatives."
"Why should you have nuclear waste in your backyard?" Trump said.
The rally attracted supporters from beyond Nevada's borders, though.
Just after 9 a.m. Friday — three hours before the president's scheduled arrival — people entering the back of the line were warned it was a two-hour wait. The announcement didn't dim the enthusiasm of Clara Stuart, 8, who donned a "Keep America Great" hat and was carrying a new piece of presidential merchandise.
"Trump socks!" she proclaimed, waving them in the air.
Stuart, her sister, Jayda, 10, and two friends hopped into line, gushing about their chance to see Trump. Her friends' mom, Sarah Hutchings, said the group woke up four hours earlier in St. George, Utah, and made the drive to Las Vegas.
Hutchings shrugged when asked about the Democratic presidential caucus happening here Saturday. Trump would win come November regardless, she said, motioning to the swarms of supporters surrounding her.
"You just look at these rallies," she said. "That's all the proof anyone needs."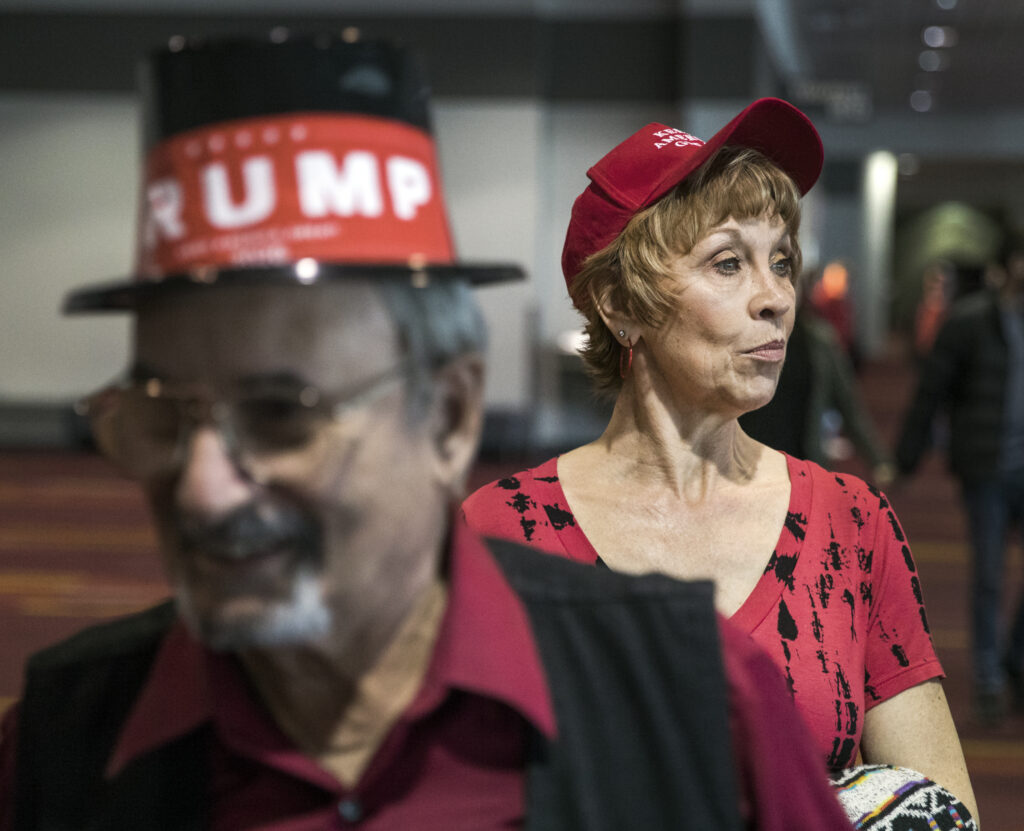 But that doesn't mean Trump supporters aren't clamoring for a particular general election match-up. Las Vegas resident Michelle Johnson, 64, said she's hoping the Democrats nominate Sanders, whom she described as a "socialist," so that Trump, whom she called a "nationalist," can go head to head.
Her vote will remain with the incumbent.
"I have loved Trump since I saw him on 'The Apprentice,'" Johnson said, referring to his reality show that debuted in 2004. "I watched every season."
The concert-like atmosphere inside the convention center included music ("Macho Man" played just before Trump's arrival) and a merchandise stand overrun by people trying to purchase hats and T-shirts.
But Angelique Ford, 52, already came decked out in Trump gear — a flag-themed cowgirl hat and aviator sunglasses along with a button featuring the president's image. This was her first time attending a Trump rally.
"I just like hearing about his accomplishments and his successes and the unsuccesses of the Democratic party," she said while waiting in line. "It doesn't bother me when he bashes them. Some of them need to be bashed."
The bartender from Bullhead City, Arizona, went on to analyze the Democratic presidential field.
"Bloomberg is kind of a noodle. Elizabeth Warren is a liar," she said. "Bernie Sanders is a communist. And Buttigieg — no experience really. I think Amy Klobuchar is probably the best candidate, but I don't think she can win the nomination."
Asked why she didn't include former Vice President Joe Biden on that list, Ford responded without hesitation: "He's done."
Trump's supporters predicted a swift re-election, even if Nevada goes blue again.
"He's going to win by a landslide," said Jeff Stanulis, an Elvis impersonator wearing a white-sequined suit. "They're all doomed."
The president's visit wasn't just about rallying his base. Prior to the rally, Trump held a fundraising event alongside Vice President Mike Pence and former Nevada Attorney General Adam Laxalt, according to an invitation obtained by The Nevada Independent. It cost $38,500 per couple for a "Photo Opportunity" with the president, or $2,800 per person for a pre-rally reception with Pence.
The campaign rally comes even as the Nevada Republican Party effectively canceled its caucus and plans a vote automatically binding its delegates to the president on Saturday at the party's winter meeting in Pahrump.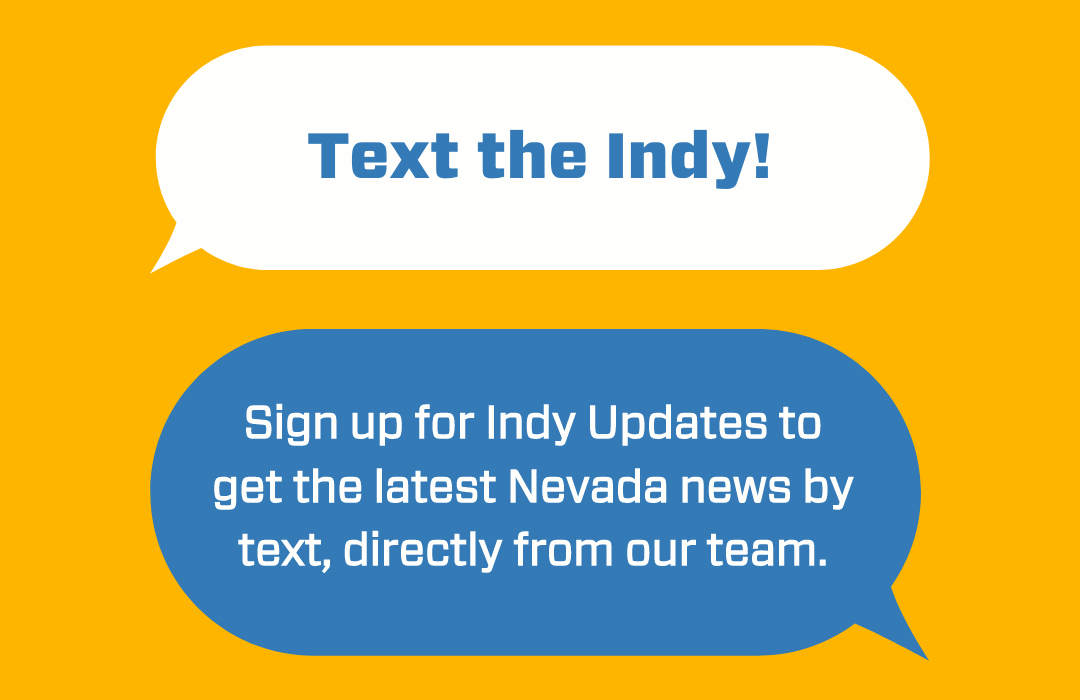 Featured Videos
Comment Policy (updated 4/20/2021): Please keep your comments civil. We reserve the right to delete comments or ban users who engage in personal attacks, use an excess of profanity, make verifiably false statements or are otherwise nasty. Comments that contain links must be approved by admin.