2022 hopefuls raised big sums in year before election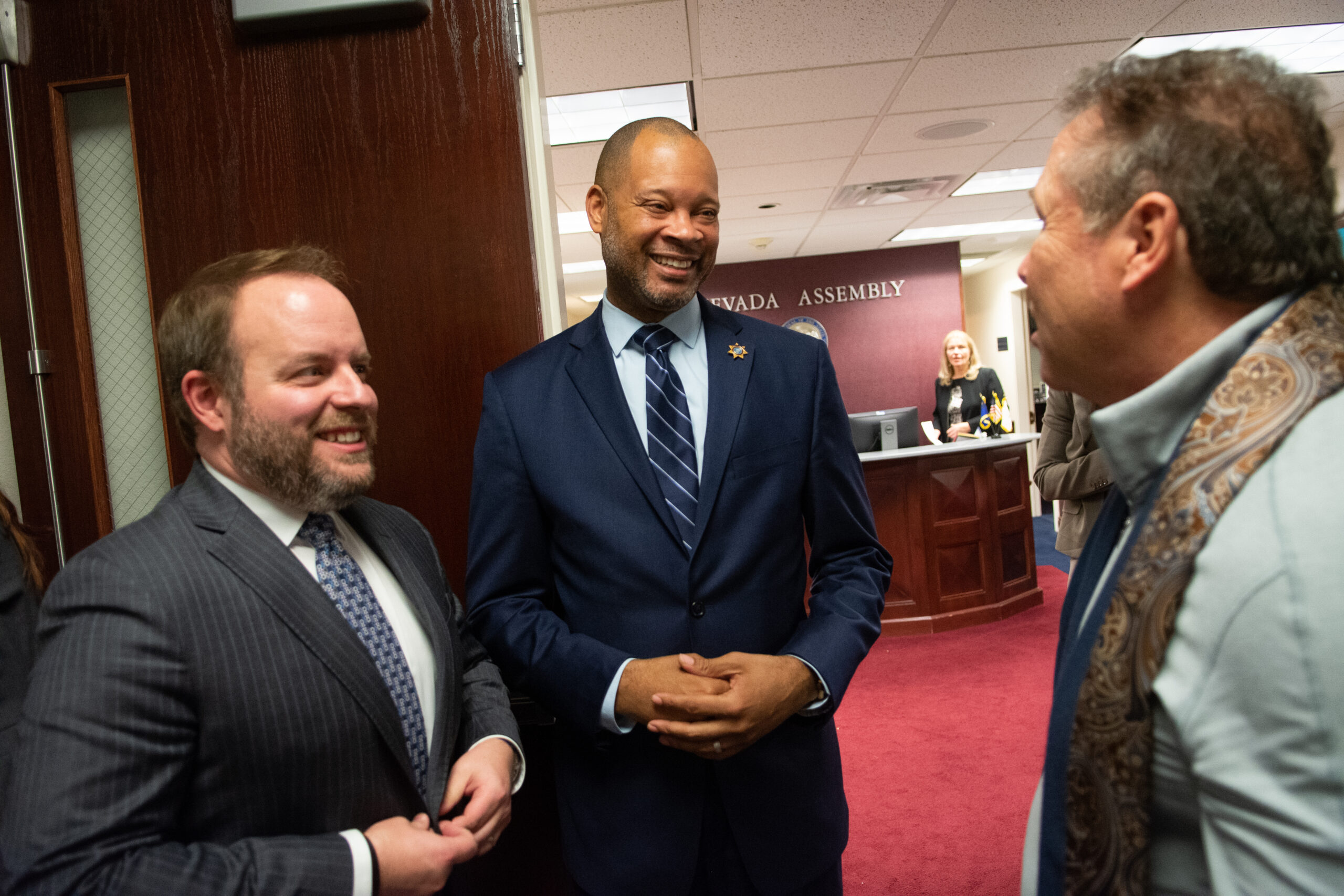 Tuesday marked the first major campaign finance deadline of the 2022 election cycle, with candidates required to submit their contribution and expense reports for the past calendar year. We run through all the biggest highlights below.
Governor: As an incumbent with no real primary to speak of, it's no surprise that Steve Sisolak has the biggest war chest of the contest — more than $8.3 million heading into a tough election year, about twice as much as the cash totals for every other Republican contender in the race. We wrote yesterday about the fundraising totals in the race.
Lieutenant Governor: Even though she was appointed in the last two weeks of 2021, Democratic incumbent Lisa Cano Burkhead raised nearly $78,000 in the waning days of last year for a campaign to keep her seat. She is expected to have the institutional support to push her to the head of the pack in the primary.
But others are making a splash in fundraising — namely Democratic Henderson Mayor Debra March, who reported raising more than $380,000 last year and having nearly $468,000 cash on hand.
Kimi Cole, the Democratic activist who would be the first transgender person to hold a statewide office anywhere in the country if elected as lieutenant governor, reported raising just shy of $34,000 in 2021 and has nearly $18,000 on hand.
On the Republican side, John Miller, the founding CEO of Las Vegas-based Lexicon Bank, has the fundraising lead on paper, reporting nearly $381,000 in contributions last calendar year. But it's worth noting that about $330,000 of that comes from a loan he made to himself — and candidates are generally a lot more stingy with their own money than with donors' cash.
Las Vegas City Councilman Stavros Anthony is reporting a bit more than $160,000 raised last year for a campaign that started in November. No stranger to running campaigns at various levels of government, Anthony has just shy of $267,000 cash on hand.
Anthony technically filed two reports, one for city council and one for lieutenant governor, but he is termed out of running for another term on the council.
Former state Treasurer Dan Schwartz reported raising nearly $37,000 last year, ending with about $7,400 cash on hand. All the money came from loans Schwartz gave to himself, and all expenses went to the company owned by his longtime campaign consultant Rory McShane.
Attorney General: Incumbent Aaron Ford, a Democrat, announced that his campaign raised $1.4 million through 2021 and has $1.5 million in cash on hand heading into the 2022 election cycle. His campaign touted the total as an off-year fundraising record for any attorney general candidate in Nevada.
Ford also announced the hiring of Zoë Kleinfeld as his campaign manager. She has past experience with the Democratic Congressional Campaign Committee and helmed a high-profile legislative race in Virginia.
Republican attorney general candidate Sigal Chattah announced that she raised $502,000 during the fundraising period, and enters 2022 with $312,000 in cash on hand.
Secretary of State: In the Democratic primary for the state's top election official Cisco Aguilar — an attorney and member of the Nevada Athletic Commission — has reported raising $485,000 in the past calendar year. In a press release, his campaign touted that the total "shatters" previous records for non-election year fundraising for the seat and he vowed that if elected, he would "remove barriers to voter participation and make our elections as transparent as possible."
Former state lawmaker Ellen Spiegel has reported bringing in more than $36,000 last year, spending nearly that much, and ending with more than $134,000 cash on hand.
In the Republican primary, Jim Marchant — a former Assembly member who is leading a coalition of so-called "America First" secretary of state candidates with the stated goal of trying "to fix 2020 like President Trump said" — led in fundraising. He reported raising nearly $136,000 last year, spending about $94,000 and ending with about $42,000 cash on hand.
Marchant's major contributions include rolling over more than $20,000 from his unsuccessful 2020 congressional campaign, and $10,000 from conservative businessman Don Ahern and Ahern's equipment rental business. Notable expenses include nearly $31,000 to the company of campaign consultant Rory McShane and more than $6,000 spent at the Trump Hotel in Las Vegas.
Republican Richard Scotti, a longtime lawyer and retired Clark County District Court judge who lost a reelection bid to the judgeship in 2020, reported raising more than $120,000 last year, spending nearly $38,000 and ending with more than $81,000 cash on hand. Scotti was chairman of the Clark County Republican Party from 2009 to 2010, and says on his campaign website that he wants to "restore election integrity" and "rescue the Constitution."
Sparks City Councilman Kristopher Dahir raised nearly $93,000 last year and spent $49,000, leaving him with a little more than $33,000 cash on hand.
Former TV reporter Gerard Ramalho reported raising about $40,500 last year, and has about $33,000 in cash on hand.
Treasurer: Treasurer Zach Conine, a Democrat, reported raising $435,000 through 2021 and has $437,000 in cash on hand. Likely Republican opponent Manny Kess did not file a campaign finance report by 6:30 p.m. on Tuesday.
Controller: Democratic incumbent Catherine Byrne filed a report indicating she raised no money last year, and spent only $650 on her campaign in 2021, for web hosting services through Go Daddy that were designated "in kind."
Republican Assemblyman Andy Matthews, however, reported raising more than $115,000 last year, spending nearly $35,000 and heading into the race for the accounting-focused cabinet role with more than $132,000 cash on hand.
Matthews, who didn't announce his bid for the state's lowest-profile cabinet role until July, spent the first half of the year in a swingy, hard-won Las Vegas-area Assembly seat.
Key legislative races
Topping the list of fundraisers in the Legislature last year was Democratic Assemblyman Steve Yeager, who holds the second-highest rank behind Assembly Speaker Jason Frierson. Frierson may leave the post if confirmed as U.S. Attorney for the District of Nevada. Yeager raised nearly $181,000 last year and has a war chest of $378,000 heading into the election year.
Frierson, on the other hand, raised less than $20,000 last year but went on a spending blitz from his campaign account, spending tens of thousands of dollars on staff support through consulting firm Hilltop Public Solutions and the Assembly Democratic Caucus. He also spread the wealth among other Democrats facing tough races in 2022, giving $5,000 each to Sisolak, Ford and Assembly colleagues in competitive districts. And he gave $100,000 each to the "Leadership in Nevada" PAC administered by consultant Megan Jones, of Hilltop, and the caucus.
Others who made strong fundraising showings include Republican Assemblywoman Heidi Kasama, who raised $137,000 and has $116,000 cash on hand as she defends a swingy Las Vegas-area Assembly seat, and Daniele Monroe-Moreno, who holds an Assembly leadership position. Monroe-Moreno raised more than $84,000, and has more than $163,000 cash on hand.
State Senate Majority Leader Nicole Cannizzaro (D-Las Vegas) reported raising $125,000, spending nearly $73,000 and will start the year with $160,000 in cash on hand.
Other races: Clark County District Attorney Steve Wolfson reported raising $887,000 throughout 2021, spending around $88,500 and ended the year with $1.2 million in cash on hand. Top donors included a bevy of Strip properties, prominent Democratic Party donor Stephen Cloobeck and well-known defense attorney David Chesnoff, who contributed $20,000 through his law firm and as an individual.
Wolfson's fundraising totals dwarfed likely opponent Ozzie Fumo, a defense attorney and former Democratic assemblyman who reported raising $37,000, spending $6,000 and ended the year with about $28,500 in cash on hand.
In the race for Clark County sheriff, former Undersheriff Kevin McMahill led the pack with $1.3 million raised and $1.1 million in cash on hand. Tom Roberts, a Republican assemblyman and retired Metro assistant sheriff, reported raising $116,000 and has $102,000 in cash on hand.
Editor's Note: This story appears in Indy 2022, The Nevada Independent's newsletter dedicated to comprehensive coverage of the 2022 election. Sign up for the newsletter here.
Updated on 1/20/22 at 9:00 a.m. to correct that Stavros Anthony cannot run for another term on the Las Vegas City Council.
The Nevada Independent is raising $200,000 by Dec. 31 to support coverage of the 2024 election.
Tax-deductible donations from readers like you fund this critical work.
If you give today,your donation will be matched dollar-for-dollar.
Give + Get Matched
Featured Videos