Alejandro Estrada and his daughter Ruby, 4, gather in support of Deferred Action for Childhood Arrivals program during a rally in front of Lloyd George Federal Courthouse on Wednesday, Dec. 6,2017. (Jeff Scheid/The Nevada Independent)
A judge dealt a victory for DACA. What now for Nevada's DREAMers?
January 10th, 2018 - 2:28pm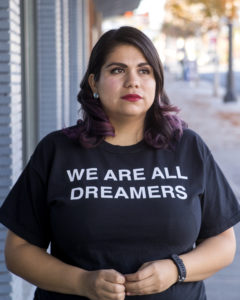 Nevada DREAMer Astrid Silva said she'd been getting lots of calls and texts since a federal judge ruled late Tuesday in favor of an Obama-era program that protects young immigrants from deportation.
Many of them were from the mothers of DREAMers — young people brought to the country illegally as children — who were thrilled by what they viewed as a resolution to their children's immigration conundrum.
But it's not so clear-cut a victory.
"I think that that excitement will only be fully realized when we have an actual bill in Congress and it's passed and it's signed and it's actually done," Silva said in an interview on Wednesday. "But I can't bring myself to take away that happiness when we've had such a difficult year."
In a ruling issued late Tuesday, federal District Court Judge William Alsup, who is based in San Francisco, blocked President Donald Trump's move to shutter the Deferred Action for Childhood Arrivals program better known as DACA. The program was ordered to be phased out by U.S. Attorney General Jeff Sessions in September.
The injunction ordered by Alsup essentially requires the DACA program to continue to operate as it was before the ordered shutdown. It allows for current DACA recipients to renew their enrollment in the program, but doesn't allow for new applications.
"It was certainly a victory for the brave and courageous DACA recipients who challenged the president in court," said Marielena Hincapie, executive director of the National Immigration Law Center, in a call with reporters on Wednesday. "But this is a preliminary injunction, which is temporary and DACA recipients … [need] a permanent solution that only Congress can provide."
A process allowing people to renew their DACA permits has not yet been announced. Experts warned people that it's a prime time for "notario" fraud, in which scammers offer bad legal advice, and DREAMers need to avoid action for the moment.
"They can't do anything. They need to sit down and wait," said Las Vegas immigration attorney Kathia Pereira. "DREAMers need to stay informed. It's not the time to fill out any forms or send in any applications."
Hicapie also said the decision is expected to be appealed, and noted that the Trump Administration has been aggressive in appealing cases such as its travel ban from Muslim-majority countries. Federal officials may even skip the Ninth Circuit Court of Appeals (which Trump criticized in a tweet on Wednesday) and take the DACA case directly to the U.S. Supreme Court.
"We're likely to see a little bit of legal ping pong in the courts as the case," she said. "So we're really talking days, weeks, months before actual relief."
The DACA program shielded more than 12,400 young immigrants in Nevada from deportation since its inception, and has come to cover more than 689,000 people nationwide. The program, which was created through executive order by President Barack Obama in 2012, shields young undocumented immigrants brought to the U.S. as children from deportation and confers several benefits, including work permits, on recipients.
"The rescission will result in hundreds of thousands of individuals losing their work authorizations and deferred action status," wrote Alsup, who was appointed to the federal bench by President Bill Clinton in 1999. "This would tear authorized workers from our nation's economy and would prejudice their being able to support themselves and their families, not to mention paying taxes to support our nation."
Michael Kagan, director of the Immigration Clinic at UNLV, said in an interview that the decision was "fairly bold" given skepticism around the legal arguments made by the plaintiffs and that an appeal was all but assured, but said the decision would bring relief and hope to DREAMers waiting for an answer from Congress.
"Independent of the legal issues, on a personal level, I'm very happy for a lot of people I know who will benefit from this, even though I also would caution that this litigation is probably only beginning," he said. "There's a lot of practical questions right now that are hard to answer."
One of the big concerns, Pereira said, is that the judge's favorable opinion doesn't take away the president's ability to decide DACA's fate.
"The president has the power to cancel DACA. What he can't do is do it in an arbitrary or capricious way, which is the argument in the case," she said. "There are ways to cancel it properly, so to win this case wouldn't help much because the president could simply go back and cancel DACA again."
Activists are pushing for Congress to pass the DREAM Act as part of a spending bill needed by Jan. 19. On Tuesday, members of both parties had a meeting with Trump in which he insisted on a border security wall as part of a "bill of love" that would also address DREAMers' plight.
"I really believe that Trump actually wants a victory himself," Hincapie said. "I think from the White House meeting yesterday it was clear, and his disdain for judges makes me think that he's not going to want a judge … to take this victory away from him."
Silva said she hopes all the members of Nevada's congressional delegation who have expressed support for DREAMers will step up to the plate and back a fix. She also said she's frustrated because she feels people like her have become political bargaining chips.
"I've seen a few of [Trump's] DACA tweets regarding the wall and this morning that he did a good performance at the DACA [meeting]," she said. "There's actual people being affected by this and if what it is to them is a game or a performance, I think it's terrible. But I also think that the American people are seeing what is actually happening and hoping they're paying attention."
An average of 122 DACA recipients have been losing their protections each day since the program was terminated, according to the group United We Dream. DREAMers say the rollercoaster of developments surrounding the program that allows them to live and work legally in this country has taken a toll.
"DACA is not an on and off switch for people's lives," said Adrian Reyna of United We Dream during a call with reporters. "As a DACA recipient myself, I want to note that living a life with this level of highs and lows is incredibly difficult."
From the Editor
The Nevada Independent
is a 501(c)3 nonprofit. We need help to attain the elusive goal of sustainability. We depend on recurring donations from you, the readers who believe in our mission of nonpartisan, transparent journalism. I know you are busy. I know you have many commitments. But if you would take a moment to
support our work
or bump up your current donation, I would be forever grateful.
Thanks for all of your support.
Best,
Jon Ralston
get our morning newsletter,
The Daily Indy
Thanks to everyone who made our October #IndyGive drive a huge success.
With your help, we raised more than $461,000 and welcomed 397 new donors to The Indy family.
If you are new to The Indy, please take a moment to read more about our nonprofit news venture — and consider supporting our work.
@TheNVIndy ON TWITTER