People gather at the "Welcome to Fabulous Las Vegas" sign Thursday, Oct. 6, 2017, during a vigil for the 58 victims of the Route 91 Harvest festival concert. (Jeff Scheid/The Nevada Independent)
A mournful Las Vegas sets its eyes defiantly on the future in wake of mass shooting
October 8th, 2017 - 2:05am
Thousands of solar installers, utility executives and energy consultants flooded the halls of the Mandalay Bay Convention Center in September.
Sunlight filled the well air-conditioned walkway. Julian Spector, a clean energy reporter, was one of the 18,000 attendees who traveled to the resort from more than 80 countries for an international solar conference. Four weeks later, the sprawling casino would become the origin of the deadliest mass murder in modern U.S. history.
"(Mandalay Bay) has this beautiful, airy, tropical and coastal attitude," said Spector, a reporter for Greentech Media, who attended the annual Solar Power International conference. "One of the jarring things is how quickly and drastically a place can change its meaning."
Every year, more than 40 million visitors come to Las Vegas, and the city is designed to ferry crowds through open spaces with the least amount of friction possible. Along the Las Vegas Strip, security is multilayered and extensive, but for the most part, it's in the background.
Security officers analyze the web of cameras embedded throughout casino properties, where it is said that there is often more surveillance than at the airport. Top casino security directors meet monthly with law enforcement officials to share intelligence and discuss issues. Workers are trained to spot terrorists. The region's power-brokers have long recognized it could be targeted, but few would have predicted that it would take the form it did Sunday night.
Security experts have called the rampage in Las Vegas — perpetrated by a gunman perched high in a Mandalay Bay hotel room — an anomaly. The hail of bullets left 58 dead and nearly 500 others injured.
The suspect, who took his life as police closed in on him, left a quiet trail. Stephen Paddock, a 64-year-old retiree from Mesquite, left no known manifesto, no Facebook post. Unlike most mass shooters, who fire near their targets in a closed space like a movie theater or school, the gunman opened fire from a 32nd floor hotel room, nearly 500 yards from his target below: a country music festival with 22,000 attendees.
In the wake of the attack, lawmakers, businesses and police have spread a consistent message to the tourists who drive the region's economy: Las Vegas is safe. But will visitors feel that way?
"One of our concerns, surely, that all of us have as Nevadans is the safety of the place," said Michael Green, a history professor at UNLV who has written about Nevada's development. "For the people who market Las Vegas, who lead the resort industry, I think they will be watching public perception very closely."
#VegasStrong
Visitors know Las Vegas as a town of freedom, indulgence and play where "what happens here, stays here." This week, the city had a simple message in response to the outpouring of support it has received from the global community:
"We've been there for you during the good times. Thank you for being here for us now."
The message, understated in black-and-white billboard advertisements, was released by the entity responsible for marketing the city to the world — the Las Vegas Convention and Visitors Authority (LVCVA).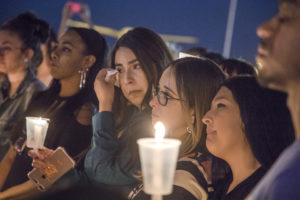 Las Vegas residents, in the hours and days following the attack, have emphasized the strength of the community. The message: You may think you know us — the famed boulevard dripping with lights of every color, clubs where you can dance until dawn, slot machines with promises of untold fortune — but we are also the first responders who immediately jumped into action, doctors and nurses who dropped everything to speed to the hospital and community members who waited in line for hours to donate blood.
That sense of community is felt keenly here on the ground, but it's one the LVCVA wants to share with the world. The LVCVA, through its advertising contract with R&R Partners, released a television ad narrated by former tennis star Andre Agassi, a Las Vegas native, emphasizing the city's strength.
"Strength is valet parkers who become medics, mothers who become emergency responders, sisters who shield brothers because they love them with a love that has no bounds," Agassi says in the ad, which features no music and slowly zooms in on the Strip skyline as it gradually blooms into color. "Strength is first responders who tirelessly carry visitors and locals alike to safety until sunrise. It's our medics and surgeons, all of them, who come running to the calls of those in need. It's the police who turn over every stone to make this city safe again. It's the local businesses that became sanctuaries for people to run to."
Most Las Vegas visitors exclusively spend their time on the casino-dotted Strip, a quick glance during their descent into McCarran International Airport their only interaction with the sprawling suburbia that supports it. But this week the world got a glimpse into the spirit of the roughly 2 million people for whom Las Vegas is not "Sin City" but home.
"I liken it to what our parents used to say. 'If you've been in the bunker with somebody, you're friends for life,'" said Billy Vassiliadis, the CEO of R&R Partners whose job it is to sell Las Vegas to the world. "I think a couple million of us have been in the bunker here for a week. It's created a sense of community and oneness."
The balancing act with security
But the question from casino executives — after the initial shock and sympathy for the victims and gratitude for first responders — has been how to protect Las Vegas' visitors moving forward, Vassiliadis said. The question is how to do that without impinging on the Las Vegas experience.
"You've got to remember that the emotional essence of what a Las Vegas visitor has when they're here is freedom, personal freedom. 'I can stay up all night. I can eat at 4:00 in the morning. I can go golf. I can go to a pool,'" Vassiliadis said. "There's a sense that 'I'm not stuck in somebody else's schedule, somebody else's routine.' There's a real sense of freedom here."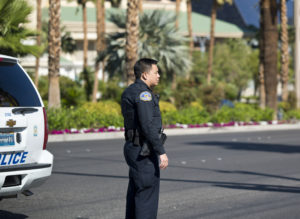 Some guests might feel comforted by a visibly enhanced security presence, whether that's adding more cameras, installing metal detectors or hiring more uniformed security guards. Others might be unnerved by it. Too much visible security could stoke fears of being monitored or serve as a constant reminder of the lingering possibility of another attack.
"If people begin to feel that they're constantly eyeballed, that they have no privacy, that there's no escape, that could be a problem then," Vassiliadis said.
Although Vassiliadis said it largely remains to be seen whether resorts decide to implement better technology so that the enhanced security feels invisible or focus on visible deterrence with a more obvious security presence, some operators are already taking action to boost security.
Ripple effects from the shooting stretched beyond Las Vegas. Macau regulators urged six casino companies to continue strengthening security, according to a government notice. Some entertainment venues expected tourists to be shaken by the attacks and concerned about the safety of outdoor activities. Austin City Limits, an outdoor festival this week and next, offered its guests refunds if they were worried about security. Rose Bowl operators in Los Angeles increased security at a Coldplay concert, according to multiple news reports.
Wynn Las Vegas and the Encore set up posts to scan guests and check bags on Monday. Wynn did not respond to a request for more details on how long these precautions will stay in place.
In a KTNV interview last year, CEO Steve Wynn told The Nevada Independent Editor Jon Ralston that his company, Wynn Resorts, hired former Marines and Navy SEALs to bolster security. Wynn said that at every entrance retired Marines, in plain-clothes and armed, monitor traffic. He also revealed the casinos have a counterterrorism unit staffed by former Navy SEALs and intelligence agents along with hidden metal detectors.
"What Las Vegas does have, like New York, but more so, is great concentrations of people," Wynn said. "We have all these arenas and showrooms. These massive amounts of people on the Strip."
But implementing airport-style security in Strip hotels, as some have suggested in the wake of the tragedy, would "become very problematic for our visitors," Vassiliadis said. High-level security would create unwieldy bottlenecks at entrances to every casino, with 60 percent of Las Vegas's visitors spending time at between five and 10 casinos during their stay, according to a study last year.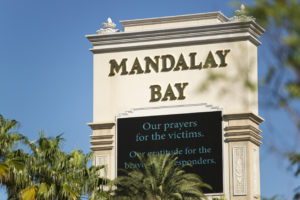 MGM Resorts International, which owns Mandalay Bay, has stepped up security at its resorts this week, though it has remained vague on the details. A spokeswoman for the company said MGM Resorts works with local and national law enforcement to keep security procedures at its properties up to date and is always "improving and evolving."
"Security continues to be a top priority at all of MGM Resorts as our Security team is working tirelessly to protect the safety of our guests and facilities," said MGM Resorts spokeswoman Debra DeShong in a statement. "MGM Resorts has increased its level of security to add to the level of comfort and safety of our guests and employees. The Company has procedures in place related to the safety of our guests and employees and it remains of utmost importance for our security team."
Despite the potential risks, Mehmet Erdem, an associate professor at UNLV's hospitality college, said Las Vegas has the "safest environment" for a tourist, with the latest high-tech cameras and hotels that can afford to keep a large roster of security personnel both in uniform and in plainclothes.
"If I was a tourist choosing a city to go to in North America and I had to choose one city, my bet would still be on Las Vegas," Erdem said.
Still, built-in safeguards can't prevent the unfathomable. A.G. Burnett, who chairs the Nevada Gaming Control Board, said that appears to be the case this time — at least based on the initial investigation.
"It's really unfortunate that this guy was able to sneak through the cracks," he said.
The tragedy undoubtedly will spur discussions among Strip property and law enforcement officials about what more they should be looking for from a security standpoint, including subtle signs, if any, that may have gone unnoticed preceding the mass shooting, Burnett said.
The Gaming Control Board deployed more plainclothes staff in Nevada casinos this week, which Burnett described as a cautionary move not based on any looming threat. The regulatory agency already has plainclothes staff wandering casinos looking for cheats, criminals and otherwise odd behavior, but like other law enforcement agencies hoping to quell unease, it beefed up their presence.
"I just want to have a presence there," Burnett said. "There's no threat. This is a one-time deal. I want to make clear: We're not worried about anything, but I think it's a sensitive time, and I just want to have plainclothes folks around and about."
Several casino operators have already reached out to local security consultants in the wake of the incident. At least two consultants declined interview requests by The Nevada Independent, saying they were too close to the situation.
Lenny Davis, a security consultant and a retired federal agent for U.S. Customs and Border Protection, said no one wants to turn the casino into an airport but that there were elements of airport security that casino operators could replicate.
"The only way to really deter this is to do an X-Ray of bags before they go upstairs," Davis said.
"Not going to stop us"
Las Vegas had a new message for the world Friday morning: "What happened here is not going to stop us."
Playing off the "What Happens Here, Stays Here" slogan, a new video released by the LVCVA shows a black-and-white timelapse of the Las Vegas Strip, with lights flashing on the boulevard, planes passing overhead and cars bustling up and down Interstate 15.
"What happened here was wrong. Unbelievable. Senseless. But what happened here is about everyday heroes. Compassion. Strength. What happened here is not going to stop us," the text of the video says.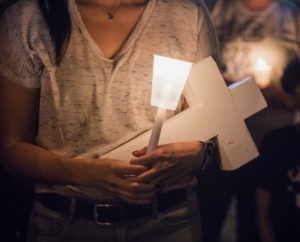 Las Vegas's economy saw a temporary, but significant, depression in the wake of the 9/11 attacks, with visitors afraid to travel by plane. But Vassiliadis said the social-media chatter his firm has tracked has actually revealed a sense of defiance among visitors, many of whom still plan to keep their travel plans to Las Vegas.
"Absolutely not! I refuse 2 let anyone intimidate me, or change my plans. My gf is goin 2 Vegas on the 12th, bachelorette party," tweeted Chris Sprague.
Kentucky resident Bernie Boone, 53, was among those visitors who didn't let tragedy derail his family's travel plans. They arrived Monday night to an uncharacteristically quiet Las Vegas.
"This is the United States," he said. "I'm not too overly concerned. We're not in a war zone. We have a lot of police. We have a lot of good citizens."
And so Boone, his wife and their two children — a 15-year-old daughter and 13-year-old son — spent their first few days visiting the Grand Canyon, Hoover Dam and Red Rock Canyon National Conservation Area before exploring the Strip on Thursday.
Boone said he felt safe and would be happy to visit again in the future. He chalked the tragedy up to a societal problem rather than a Las Vegas one.
"Society in general has just lost respect for human life," he said, before drifting into commentary about guns. "I don't particularly want guns banned, but that's what's doing all this carnage."
Vassiliadis said Las Vegas will likely see some impact as Orlando did in the wake of the Pulse nightclub shooting and Boston did following the Boston Marathon bombing, but that a lot of the concern among would-be tourists is about gun violence in general and the safety of large-scale events. Analysis his firm conducted has shown that the fear of violence isn't necessarily localized to Las Vegas but a broader concern about all the mass shootings and violent incidents that have occurred in recent years.
"It is, 'What the heck is going on? Why is there so much violence in this country?'" Vassiliadis said. "People are talking about Sandy Hook, Virginia Tech, all of the various mass shootings that have gone on."
Erdem, with UNLV's hotel college, said that other than a "short-term minimal effect," people are going to still come to Las Vegas. "I don't see this negatively impacting our community at all," Erdem said.
Nevada's elected officials are similarly optimistic that visitors will embrace Las Vegas.
"I'm hopeful they will, and I'm confident that they will," Sisolak said. "This could've happened in Lansing, Little Rock, or Las Vegas. This is a deranged individual who rained his terror down. Las Vegas is safe."
But asked whether the shooting will fundamentally change Las Vegas, Assembly Speaker Jason Frierson said, "It's impossible for it not to."
"When you think about all of the conventions, when you think about all of the activities, when you think about New Year's Eve, this will most certainly change Nevada," Frierson said.
Still, many of the major conventions have called the LVCVA to reassure the tourism agency that their plans have not changed and they are continuing to prepare for their conventions in Las Vegas, Vassiliadis said. The National Business Aviation Association, IMEX America and the American Health Care Association have each affirmed that they will move forward with planned conventions during the next two weeks.
"We are in contact with the hotels and event sites and will be working with them to implement any additional needs during our event," the AHCA said in a statement about its convention, which will be held from Oct. 15 to 18 at Mandalay Bay. "A safe Convention & Expo is our number one priority. We look forward to seeing our long term and post-acute care community in a few weeks."
Even officials from McCarran International Airport — the gateway to Las Vegas for so many of the city's visitors — are pondering how to give people that extra bit of reassurance. Although safety has and always will be the airport's top priority, McCarran spokeswoman Christine Crews said staff is also aware of the role they play in setting the tone.
That's why, after the shooting, airport officials immediately cut the "Viva Las Vegas"-type music and show advertisements normally playing in the terminals: It wasn't the right way to greet travelers on such a somber day.
"McCarran is the first and last look at Las Vegas for millions of individuals every year," Crews said, noting the airport's customer service-centric philosophy. "We take that responsibility very, very seriously."
As Las Vegas enters its next chapter marred by tragedy, Vassiliadis said the tourist mecca will gradually start inviting visitors back to the city known for good times. He expects entertainers, celebrities, athletes and even employees to participate in that process — showcasing that, yes, Las Vegas remains the same at its core.
"All the reasons you came to Vegas are still here, whether you like Celine Dion or you like going to Cirque or if you want to go to a sporting event. If you want to run into Britney at a club or J. Lo, this is the only place that's going to happen," Vassiliadis said.
And yet all is not the same.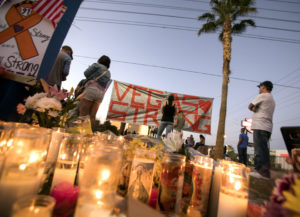 The iconic "Welcome to Fabulous Las Vegas" sign has morphed into a makeshift memorial. Flowers, prayer candles and a poster with "Thank you LVMPD" written in glitter letters dotted the landscaping below the landmark Thursday afternoon, while tourists lined up to snap selfies and sign a giant "VEGAS STRONG" banner.
Then a crowd of uniformed Metro Police officers arrived, followed by a pickup truck there to make a delivery — 58 white crosses bearing hearts in the middle. Red hearts for civilians slain. Blue hearts for law-enforcement officers killed. One by one, the Metro officers carried the crosses to a patch of artificial turf behind the sign.
Towering above the line of wooden crosses, which soon attracted onlookers and camera crews, the message always present on the famous sign's back side bid visitors farewell:
"Drive carefully. Come back soon."
Michelle Rindels contributed to this report.
Disclosure: MGM Resorts International is a major donor ($250,000) to The Nevada Independent, as is R&R Partners ($33,500).
INDY FAST FACTS
Jason Frierson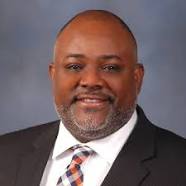 Job
: State Assembly Speaker
Party
: Democrat
In current office
: 2010-2014; 2016-present *Assembly Speaker since 2017
Birthdate
: March 19, 1970
Education
: University of Nevada, Reno (B.S.) University of Nevada, Las Vegas (J.D.)
Other public offices held
: None
Total donations:
 $1,702,298 (10/26/09-6/7/18)
Top donors
: MGM Resorts $43,035 Nevada Realtors PAC $31,000 Station Casinos/Zuffa $30,250 Southwest Gas $30,000 Boyd Gaming $29,500
From the Editor
The Nevada Independent
is a 501(c)3 nonprofit. We need help to attain the elusive goal of sustainability. We depend on recurring donations from you, the readers who believe in our mission of nonpartisan, transparent journalism. I know you are busy. I know you have many commitments. But if you would take a moment to
support our work
or bump up your current donation, I would be forever grateful.
Thanks for all of your support.
Best,
Jon Ralston
get our morning newsletter,
The Daily Indy
Stars & Struggles
Take a peek into today's education world through the lens of Sunrise Acres Elementary School in Las Vegas.
@TheNVIndy ON TWITTER