A rural district's solution for reopening schools? Six-week courses for older students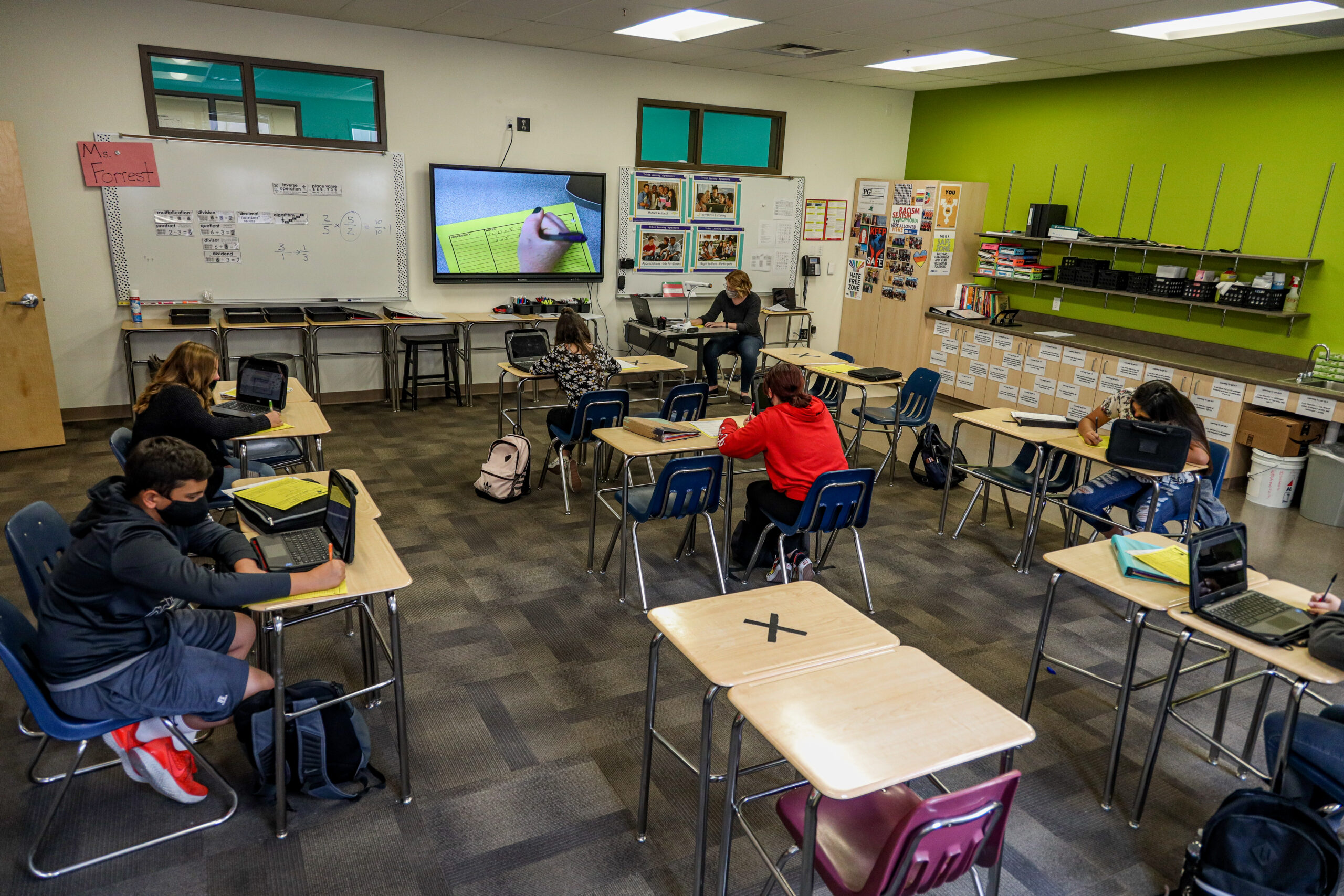 This piece is part of a collaborative reporting project called Lesson Plans: Rural schools grapple with COVID-19 created in partnership with the Institute for Nonprofit News and several member newsrooms. The project is made possible by a grant from the Walton Family Foundation.
---
The math problem projected on a board inside a Churchill County Middle School classroom was a doozy.
It featured parentheses, exponents and symbols for multiplication, division, addition and subtraction. Take one wrong step, and it would doom the outcome. So as their teacher walked through the order of operations, the seventh-graders' eyes darted back and forth between the projector screen and their own Chromebooks.
"I got 81," a girl said, after multiplying two numbers.
Her five other classmates occupied desks spaced a cow's length apart from each other. They donned face masks and kept supply-filled backpacks at their feet. A giant bottle of hand sanitizer awaited anyone entering the classroom.
The pandemic-era oddities didn't seem to faze the students running calculations. After a second student chimed in with the same multiplication product, their teacher guided them to the next operation.
"That brings us to our final step," she said. "Addition and subtraction, left to right."
For this in-person lesson to occur, educators had to solve a complicated problem of their own. School districts across the nation rearranged desks, bulk ordered disinfectants, mandated face masks and reduced classroom populations in a bid to bring students and staff back safely while keeping the coronavirus at bay. This rural district in northwest Nevada also overhauled students' learning schedules.
Gone are days of back-to-back classes from early morning through mid-afternoon. Now, Churchill County students in secondary grades take two courses at a time in six-week increments. They meet five days a week for each 85-minute class, which allows for morning and afternoon cohorts. Cleaning occurs during a break between the two groups of students, who, when not in school, are supposed to be doing independent study.
The condensed courses represent a radical shift in K-12 education, which has long clung to rigid schedules that make students juggle multiple subjects at once. The pandemic, however, has forced educators and students out of their comfort zones. Where some may have seen a logistical nightmare — scrapping traditional middle and high school schedules for six-week classes — Churchill education leaders saw a chance to be creative.
"If we do not take this opportunity to change things as a whole system, we just wasted a lot of time," said Amy Word, principal of Churchill County Middle School.
The success of the pedagogical experiment, though, hinges on this question: Will it work for students?
Pathway to innovation
The 3,100-student Churchill County School District sits about an hour east of Reno. Its anchor is the small town of Fallon, home to a Naval Air Station, a tree-lined Main Street with local shops and eateries, and farms growing cantaloupe, alfalfa and other crops.
For a community steeped in tradition, though, the school district has been more of a pioneer. Two years ago, Churchill County Middle School was one of four schools statewide that joined a competency-based education pilot program. The idea behind competency-based education is that children should progress to higher levels of learning after mastering skills and concepts. In other words, students should move at their own pace, not be bound by the strictures of a grade level. If they can accelerate, they should; likewise, if they need a few extra weeks to master a concept, they should be given that time rather than retake an entire course.
Last winter, the Churchill County School District expanded the competency-based education initiative across all of its schools.
Churchill Superintendent Summer Stephens said the move aligned with the district's desire for "multiple paths to graduation, multiple paths to learning and creating a personalized environment for all kids — not just certain kids in certain programs."
Their work was in the early stages when a microbe later dubbed COVID-19 slipped into communities around the globe. Suddenly, schools sat empty like lonely relics of a simpler time. As district leaders contemplated how best to approach the current academic year, they didn't want to lose sight of those ideals. Stephens said they witnessed student engagement plummet during remote learning in the spring. Some students lacked a device or internet connectivity. But the superintendent also feared students' interest waned because they needed the human connections that can't be easily replicated over a computer screen.
For that reason, Stephens shied away from a hybrid schedule that would rotate groups of students between in-person and remote learning on different days. They needed daily face time.
"If we don't see kids, we can't connect with kids," she said.
Ultimately, the district settled on a morning-and-afternoon hybrid schedule. Under the reopening plan, every student receives three hours of in-person instruction each day. The remaining hours involve independent study at home. The more novel aspect of the plan, however, is the six-week course schedule for middle and high school students.
It breaks the first semester into three chunks, with students taking two classes at a time. The condensed timeline means longer class periods (85 minutes) paired with an accelerated learning schedule. District officials saw the six-week courses as a way to foster more in-depth learning and reduce students' course load. Because of coronavirus-triggered capacity limits, it simply wasn't possible to have everyone in the building at the same time.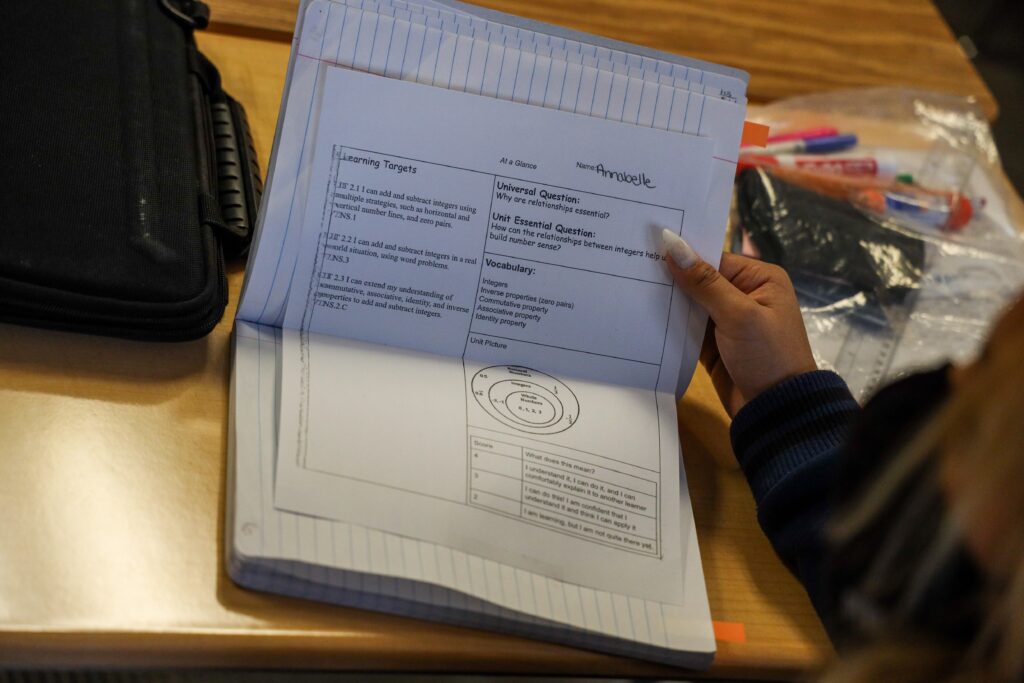 Although arguably a bold move, Stephens said the six-week courses dovetailed with the district's existing initiatives. As part of the move toward competency-based education, teachers had created learning guides, educators say have been especially handy with the condensed courses.
The guides spell out the skills or concepts students should understand in each content unit, giving them a roadmap to track and assess their own learning. For instance, a guide may include histograms, scatter plots and line graphs as learning targets for a math unit, with quartiles, pie charts and correlation listed as related vocabulary words.
"We are trying to reimagine what school can look like," she said.
But district leaders didn't want the reimagined school day to overwhelm students, particularly the older children navigating six-week courses. So they built a reentry week into the start of the semester. It was time solely devoted to bolstering study skills and forming bonds between teachers and students. The reentry week also gave staff time to assess students' mental health and wellness after an elongated absence from the school environment.
Scott Winter, principal of Churchill County High School, said the ease-in approach ensured that all students received the same preparation, not just those in certain classrooms.
"It's probably a necessary piece now, just to make sure we're all able to communicate," he said. "We're all knowing those expectations, and, again, how to learn differently."
Nothing about teaching or learning during a pandemic is quite normal. The Churchill County School District's plunge into an entirely new course model epitomizes the virus's effect on K-12 education. It disrupted longstanding systems and is now spearheading reforms. For starters, it thrust the digital divide into the spotlight, forcing communities to reckon with technology shortcomings and inequities. Then, as schools crafted reopening plans, it gave unorthodox ideas a new platform.
Churchill County's willingness to take a risk didn't surprise Robin Lake, director of the Center on Reinventing Public Education at the University of Washington Bothell. She said rural school districts tend to be more nimble and open to experimentation.
"Rural districts oftentimes have this kind of built-in innovation mindset where they just say, 'Why the heck not?'" she said. "They just go for it."
The nonpartisan education research center has been analyzing district reopening plans from across the country. Lake pointed to the Oakland Unified School District as an example of another one that has tweaked its course schedules. The urban school district in California, which remains fully remote for the time being, has adopted nine-week "mini-mesters." It essentially split a semester's worth of courses into two quarters.
The jury's still out on how students will fare in the long run. Even with careful planning, Stephens was frank about the many unknowns heading into the second half of the year and beyond.
"We just won't know until we get there," she said.
But the beginning six weeks are providing some clues.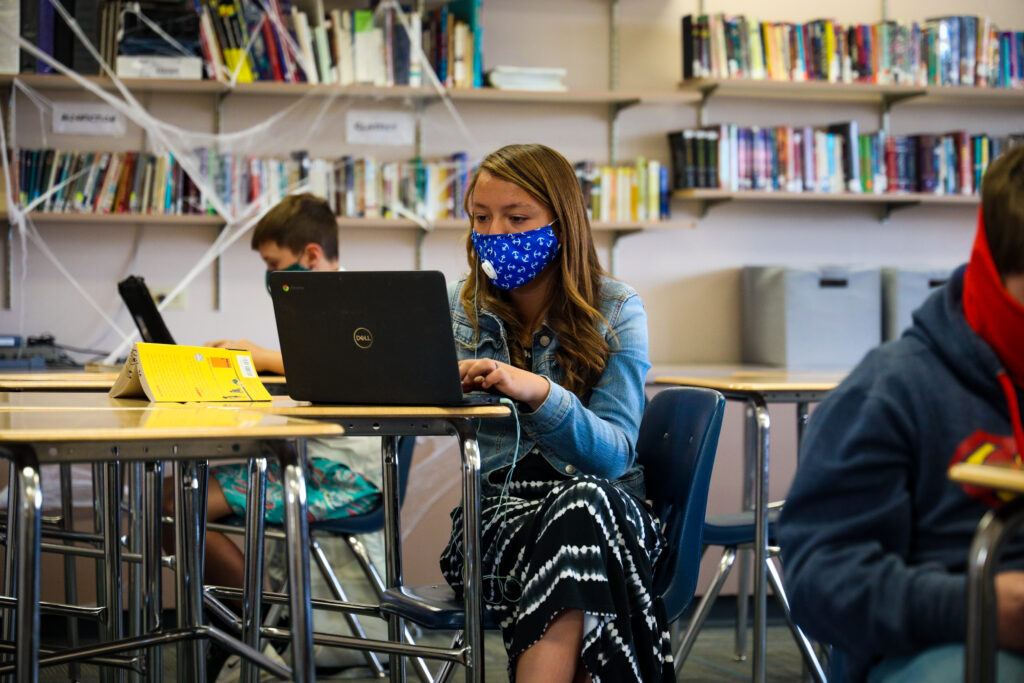 Downsides and benefits
The compressed courses bring an obvious downside — gaps between subject material. In Churchill County, for instance, students taking English during the first six-week session won't pick it up again until late January. Stephens acknowledged that could be tricky for subjects that require frequent practice or repetition, such as math and foreign languages.
With students only attending in-person school in the morning or afternoon, that leaves half a day for remote learning. In theory, students could be brushing up on those math, reading or language skills during those hours, Stephens said. That could take the form of required reading, study sessions or online learning programs, among other options. The high school also is offering a "zero hour" for physical education and certain career and technical education courses. The extra class period allows students to hone, say, their welding and carpentry skills.
Still, Lance Lattin, the high school Spanish teacher, worries his students will forget their vocabulary and won't be able to master language skills. A student's absence during the six-week term, he said, could further set them behind.
"If you get behind at this accelerated pace, you're in deep trouble, especially if it's a course that builds, right?" he said. "So like math or language or something where you're building on that previous knowledge, if you get behind it, it would be very easy for a kid just to get overwhelmed completely."
So far this school year, the district has had one staff member and five students test positive for COVID-19. But on a daily basis, they're dealing with a handful of students excluded from school because of symptoms or possible exposure. Those students shift into distance education mode until they can return.
It's far from ideal, Stephens said, especially if students wind up missing 10 or 14 days of school. That wipes out a third of the term. Teachers are recording lessons or having students join by video conference — anything to keep them up to speed.
But Melissa Waite, a sixth-grade math teacher, said it's not always a two-way street.
"The biggest struggle is those kids who have to be sent home, you know, for a medical reason — quarantine for whatever — they do not get on," she said. "And they don't do the work."
The 85-minute courses, however, have revealed other benefits. Tamra Herschbach, an agricultural science and math teacher at the high school, said the extended class time each day provides a better balance between learning modes.
"I enjoy it because, especially with what the subject I teach, we can really dive in deeper to the material and we do a lot of hands-on projects," she said. "So we have that time — the lecture, go through what we're going to do and then they can go into the lab and work on their projects."
The hybrid schedule also naturally reduced class sizes because of the morning and afternoon cohorts. Plus, about a quarter of the district's students chose to continue remote learning, which was an option. That means classes have at least half as many students, if not fewer. One middle school class only has four students.
If anything, Churchill teachers say this experiment shows the efficacy of small class sizes. They're seeing greater classroom participation and minimal behavior issues. And while prepping for the longer classes requires a new thought process, the tradeoff is a smaller grading workload.
"We don't have to deal with the discipline problems. It's almost non-existent," said Gary Jamieson, a seventh-grade social studies teacher. "We get a chance to get to know the kids. If we have a discussion in a classroom of 32 kids, it is very difficult to have a discussion and get participation from everybody. Now, I require the kids to all participate."
Additionally, the setup has made it easier for educators to spot students who are struggling. Before, if students were struggling in one class, they were likely falling behind in other subjects as well, said Derild Parsons, the district's director of learning and innovation.
With just two courses at a time, getting those students back on track isn't as daunting. That alone, he said, could be a game-changer.
"When someone is starting to struggle, it comes across a lot quicker," Parsons said. "What I'm noticing is that teachers know why the students struggle. They're able to start to work on some solutions."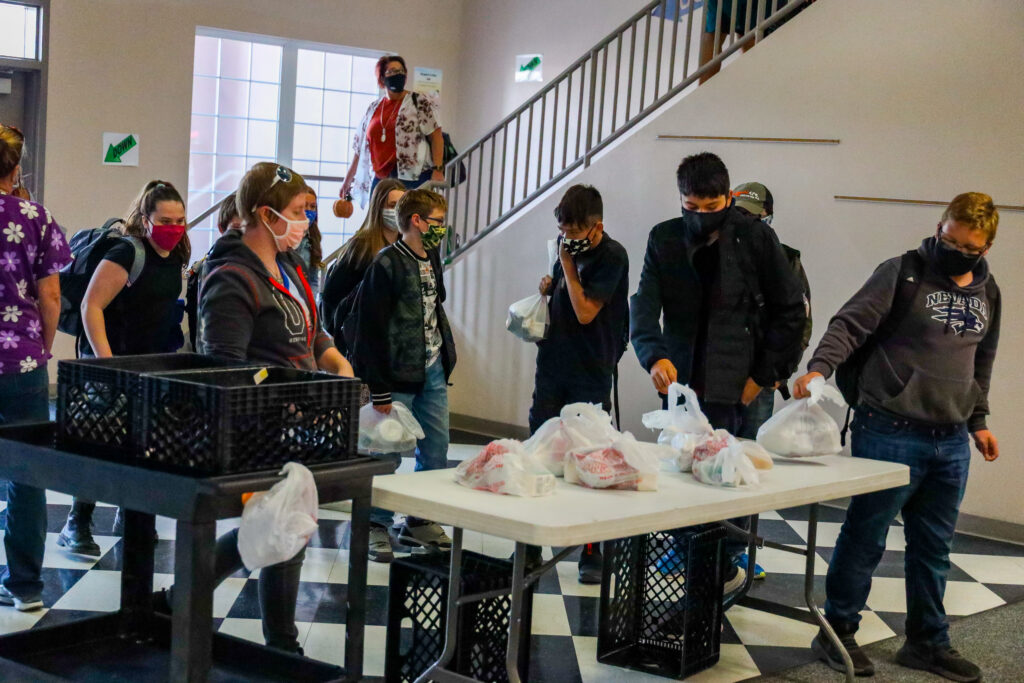 While sitting in an art class, seventh-grader Dax McCourtney offered a measured take of the new schedule: "I like it, but I don't."
Fewer classes mean less variety throughout the day, he said, but it's easier to keep up despite the faster pace. After months stuck behind a computer, it's also nice seeing friends, McCourtney said.
But the cohort system, designed to promote social distancing and limit the number of interactions, has thrown off the usual social dynamics. Students see far fewer classmates each day and eat lunch off campus. (All students receive to-go bags of food for breakfast and lunch.)
Not regularly seeing friends registered as Skia Gilmore's primary complaint. Otherwise, the seventh-grader praised the format. She enjoys the fewer disruptions in class and extra hours at home with family.
"I like English better because we actually get to have those deep conversations about it," she said.
The noticeably quieter hallways — now marked with arrows that dictate traffic patterns — have made it a strange senior year for 17-year-old Matthew Sorensen. No one quite knew what to expect, and a postponed football season came as an initial letdown. But days away from the end of his first six-week term, Sorensen gave a mostly positive review.
"Somedays, I feel like it's kind of an overload. Like, you get studying for the weekly quiz and then it's like, we've learned a ton just this week and you realize just how much it's been. And some days I felt like my brain's about to fry," Sorensen said. "But it's done in a way that you kind of have time to process it."
It's not just the students adjusting. Karl Marsh, who teaches Japanese and science courses at the high school, said the new model has leveled the playing field between veteran educators and their younger coworkers.
"What's interesting is this year, we're all kind of like first year teachers. There's kind of a different camaraderie among all of the teachers," he said. "It puts us all in that same boat. And so we're able to help each other in a way that's been unique from previous years."
In many school districts, reopening planning created tension between administrators and educators in the field. Contentious board meetings, some lasting late into the night, made headlines around the nation. No decision, it seemed, could bring unity.
But, in a rare twist, several Churchill County educators applauded district leaders for the attention to detail that went into their reopening plan, including a community-wide effort to round up child-care options. Amber Timberlake, a middle school science teacher, said anxiety was running high among educators this summer.
"The fact that they took the time to really, really, really think about what we were going to do when we came back, I mean, as a community, was the bee's knees," she said.
Timberlake, who has a master's in family therapy, once considered leaving the teaching profession. But she said the district's forward-thinking mindset, starting with the move to competency-based education, has made her stay.
Is she concerned elements of this model will be forgotten when the pandemic ends?
"No, I don't know how we would," she said. "It would be so hard."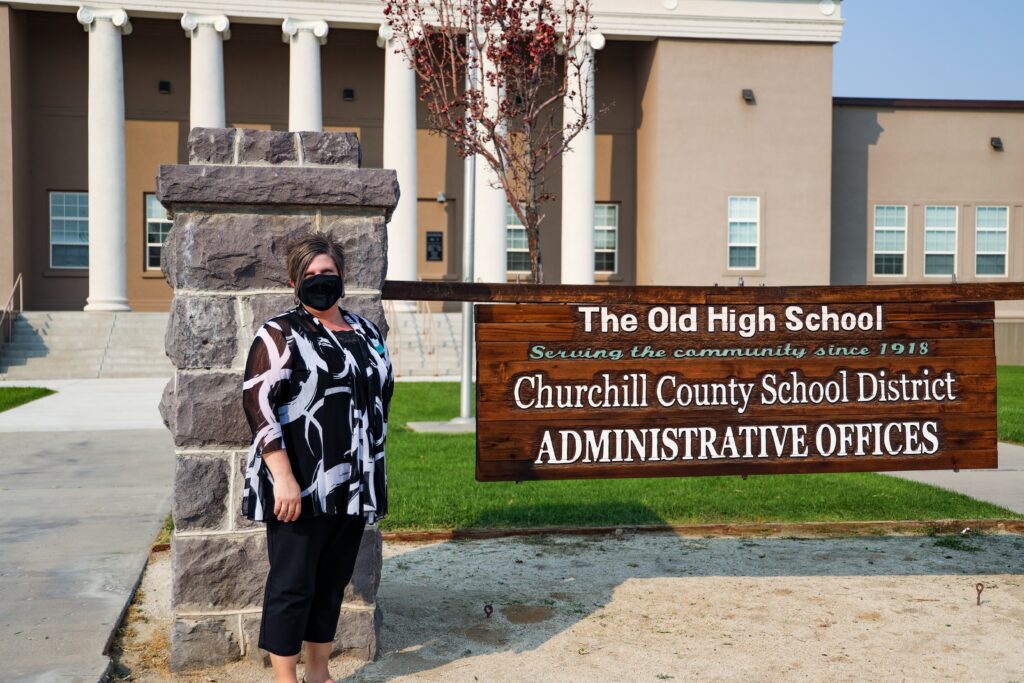 Lasting change
The first six-week session wrapped up last week. Without missing a beat, students began their two new courses on Monday. There were some moments of déjà vu. Middle school teachers held signs bearing their names to help students find the correct classrooms. And first-day procedures in the time of COVID-19 — establishing seating assignments and ingress and egress patterns — happened all over again.
This transition didn't include a re-entry week. Students dived straight into academics, which makes Word, the middle school principal, a little nervous.
"That might have an effect on those relationships," she said. "That's usually what gets a kid to buy in."
It's one more variable to track during this learning experiment. Word said she noticed fewer students failing classes during the first six-week session. Children with failing grades, she said, usually had multiple absences. But it's too soon to draw any lasting conclusions because the real test occurs when students resume subjects after the course gaps.
That's why the district has refrained from making any long-term commitments. The superintendent, principals, teachers and other staff members are monitoring the operation, taking notes along the way. Will the second semester look the same? Maybe. Or maybe not. Stephens said the district could keep the six-week system, move to quarter-based courses or make other tweaks as necessary. It will partly depend on coronavirus-related restrictions. But she doubts the district would fully revive its pre-pandemic method of delivering education.
"We wanted to be flexible and agile," she said.
It appears students may want flexibility as well. When the first six-week term ended, 24 middle school students returned to in-person learning, while 10 moved back to distance education. But the high school observed an opposite migration flow: Thirty-four students switched to distance education, and five resumed in-person learning.
State Superintendent Jhone Ebert said she is keeping tabs on the innovations — and student outcomes — happening in Churchill County.
"We're in a space where we want to make sure that children are learning and we can't do what we've always been doing," she said.
In the education world, that has been easier said than done, Ebert said. No one wants to gamble with a child's education, hence leaders' hesitancy to shake up existing learning models. But she said the pandemic has created an opening. Not unlike scientists racing to develop a vaccine, educators should be giving themselves permission to try new approaches right now.
Lake, whose work revolves around rethinking public education, agreed. She urged parents and students to help by voicing their desire for more reforms.
"I think we all know that things could be better," she said. "And now is a really important time to find out how that could be."
This piece is part of a collaborative reporting project that includes the Institute for Nonprofit News, Charlottesville Tomorrow, El Paso Matters, Iowa Watch, New Mexico in Depth, Underscore News/Pamplin Media Group and Wisconsin Watch/The Badger Project. The collaboration was made possible by a grant from the Walton Family Foundation.
The Nevada Independent is raising $200,000 by Dec. 31 to support coverage of the 2024 election.
Tax-deductible donations from readers like you fund this critical work.
If you give today,your donation will be matched dollar-for-dollar.
Give + Get Matched
Featured Videos