New ads from a group trying to ban brothels in Lyon County feature images of women packed like meat. Courtesy: End Trafficking and Prostitution PAC.
Ads in campaign to ban brothels in Lyon County show women packaged like meat
August 30th, 2018 - 1:55am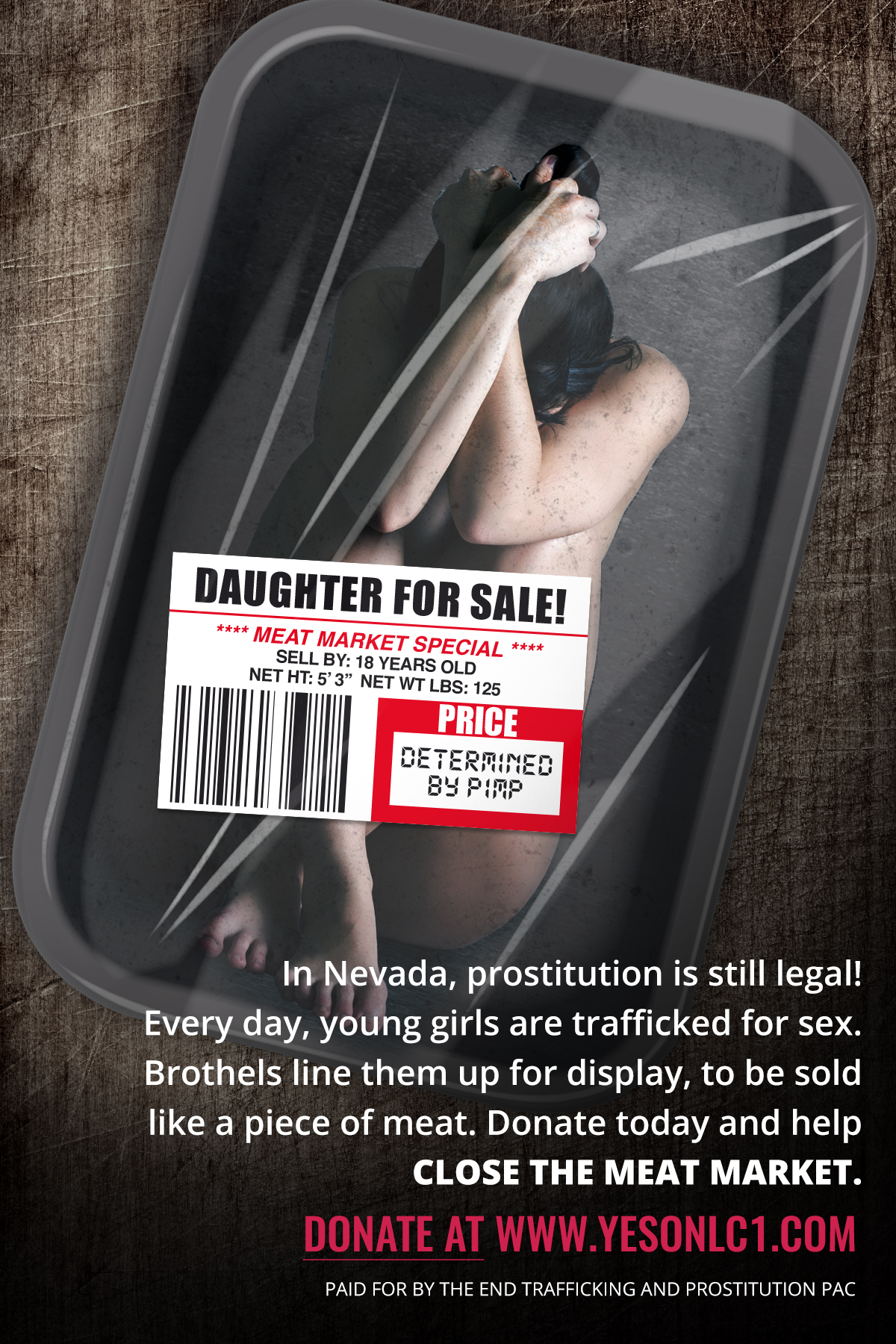 A campaign to outlaw brothels in Lyon County is launching ads showing images of women curled up in the fetal position and packaged in plastic-wrapped foam meat containers.
The End Trafficking and Prostitution PAC, which is urging voters to approve Question 1 in Lyon County, says it's launching a campaign called "Close the Meat Market" through mailers, digital and local TV ads. It's aimed at voters in Lyon County, which has four operational brothels, all owned by Republican Assembly candidate Dennis Hof.
"Brothels coerce young girls into the sex trade, make them line up for display, and sell them like a piece of meat," said campaign spokeswoman Brenda Simpson. "This campaign is about whether voters in Lyon County will continue to let that happen."
The PAC has sought to link legalized prostitution to increased illegal prostitution, citing a 2012 study on the matter.
It also seeks to downplay the contribution that brothel taxes make on the local economy, saying on its site that brothel revenue accounts for less than 1 percent of county revenue. Lyon County brothels bring in $384,000 a year in brothel license, liquor license and business license fees from the four establishments, while the county brought in nearly $46 million in revenue in fiscal year 2017.
Lyon County voters will weigh in on an advisory question in November, but it's non-binding, and any formal move to eliminate brothels will have to come from the county commission.
The campaign also preemptively pushed back against positive portrayals of brothels and legal prostitution.
"You will see over the next few months that pimps will make some of these women glamorize their situation in the media to make you think what's going on in the brothels is good for Nevada," Simpson said. "In reality, this ballot question is very simple. It's beyond political, religious or business views. It's about humanity."
From the Editor
The Nevada Independent
is a 501(c)3 nonprofit. We need help to attain the elusive goal of sustainability. We depend on recurring donations from you, the readers who believe in our mission of nonpartisan, transparent journalism. I know you are busy. I know you have many commitments. But if you would take a moment to
support our work
or bump up your current donation, I would be forever grateful.
Thanks for all of your support.
Best,
Jon Ralston
get our morning newsletter,
The Daily Indy
Double your generosity!
Between now and Dec. 31, every donation of up to $1,000 will be matched by a group of national foundations in support of local, nonprofit journalism.
Your donation is also tax deductible, so don't delay — give today.
#NewsMatch
@TheNVIndy ON TWITTER