Advocates demand residency for TPS holders, stop in Las Vegas during national campaign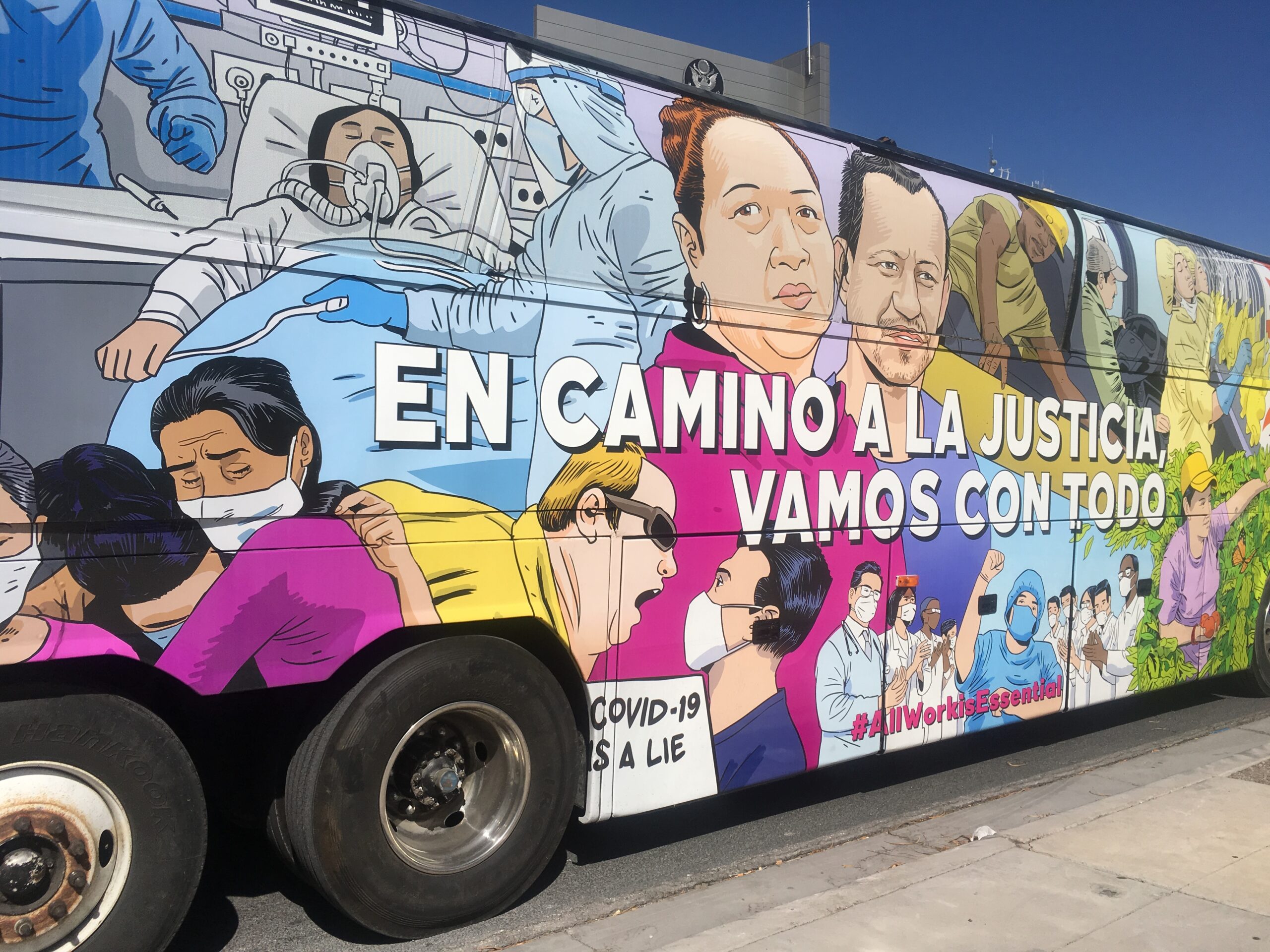 Francis Garcia has seen her 20 years of legal protections in the U.S. granted through the Temporary Protected Status (TPS) program as "peace of mind." But on Monday, she led chants in Downtown Las Vegas calling for permanent residency for beneficiaries because the clock is ticking on those once dependable protections.
Originally from Honduras, Garcia works as a housekeeper for a Las Vegas casino, but with the Trump administration's decision to end TPS for six countries and a recent court ruling allowing the termination plans to continue, Garcia and thousands of other Nevadans will lose their work permit in January and could have to leave the country — and leave behind some family members — next year.
"We are just the target of the president who is trying to eliminate any immigrants," Garcia said. "If we … stop the program and we get deported, half of our life is going to be here."
The Monday demonstration was part of a national campaign to demand permanent residency for the more than 400,000 TPS beneficiaries in the U.S., including more than 4,000 in Nevada. The program grants legal status to people from countries the Department of Homeland Security deems as being unsafe to return to because of war, natural disasters or other crises. Protections for people from designated countries are granted for up to 18 months and then either renewed or denied.
The "On the Road to Justice" bus tour from the advocacy group National TPS Alliance took off from Los Angeles last Monday and will travel across the country until Nov. 13 to call for permanent residency for TPS holders, highlight the work of immigrants during the pandemic and encourage eligible voters to go to the polls on Nov. 3.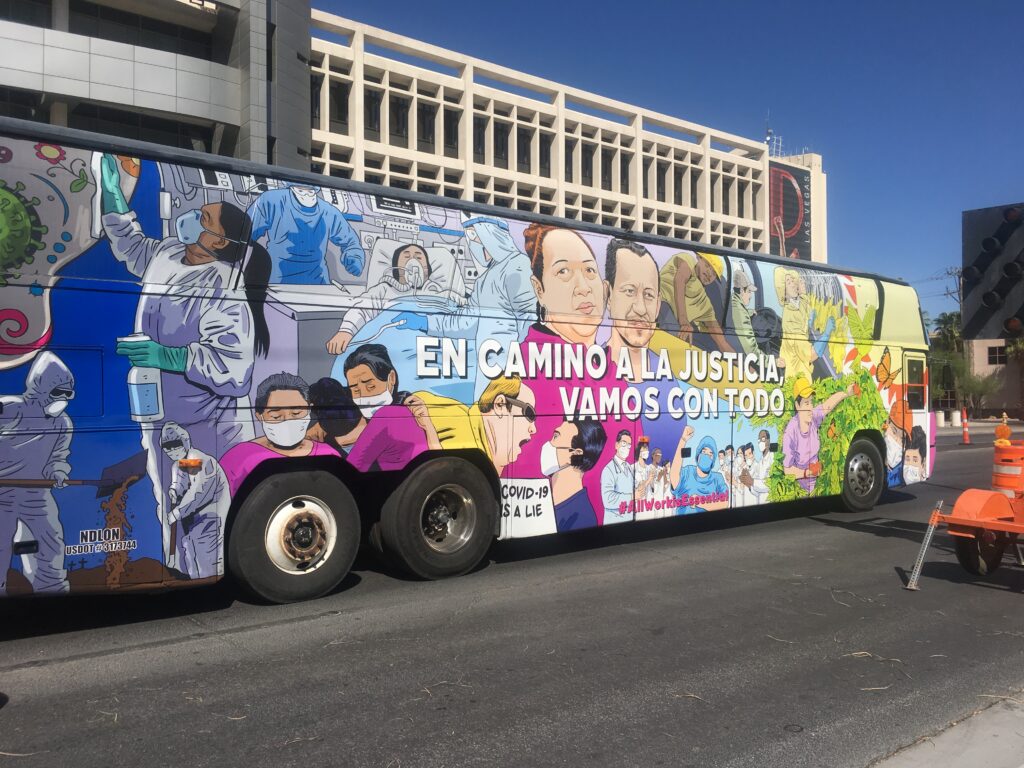 The "La Libertad" or "Freedom" bus, dipped in a rainbow of portraits of essential workers, COVID patients and families — and with the words "on the road for justice, let's give it our all" in Spanish emblazoned on the side — circled the block half a dozen times during the press conference. Several cars honked at the crowd as they drove down Las Vegas Boulevard.
At the mic, Walter Martinez, a member of the Nevada TPS Committee and a bus rider, called for children in attendance, ranging in age from kindergarten to high school, to come to the front and called out to legislators and judges, asking whether they are going to separate TPS recipients from their U.S.-born children.
About 450,000 U.S. citizens live with a TPS beneficiary. Of those, 280,000 are children under the age of 18 who would be faced with an unclear future should TPS expire and their parents be deported.
Three children spoke to the crowd and expressed uncertainty about what would happen to them if their parents were deported. A middle-school aged girl said her older siblings were too young to take care of her and that her only other family member in town is her aunt, another TPS recipient with three of her own children. A 10-year old said hesitantly that she would go to foster care.
Garcia said her oldest daughter would have to take responsibility for her other two U.S-born children if she had to return to Honduras.
"It's not only to just go or give her the responsibility, but my heart is gonna stay here. It's impossible to move from your kids." Garcia said. "With all the pain in my heart, they would have to stay because my country is not a place for my kids to stay. It's not only because it's a very poor place, but also they're not going to have this ability that they have over here. And this is their country. This is their country. So taking my kids over there is to take all the opportunities from their hands."
This is the National TPS Alliance's second national bus tour during the pandemic and a follow-up from their first one in 2018. Martinez told The Nevada Independent in Spanish that the campaign is taking all necessary precautions to protect bus riders and participants from the coronavirus, including administering COVID-19 tests periodically.
While the local TPS committee has had meetings with federal legislators in the past, including Democratic Sen. Catherine Cortez Masto, Garcia said they are still waiting to hear from representatives about meetings.
"Everybody say they are with us, but actually they don't do nothing concrete to show they support — just by words. We need now to see actions," she said, referencing the dead American Dream and Promise Act, HR6, from last summer that would have given TPS recipients permanent legal status among other immigration reforms. She said political parties "point fingers" at each other, passing blame for inaction, but that ultimately, "nobody cares."
A spokesperson from Cortez Masto's office said that National TPS Alliance had not requested a meeting with the senator before the demonstration but that Cortez Masto plans to meet with organizers in the future.
In addition to permanent residency for TPS holders, Martinez said he wants to see comprehensive immigration reform, including protections for those under the Deferred Action for Childhood Arrivals (DACA) and those who are undocumented without any protections. He said Congress needs to think about families, many of whom contain members with mixed immigration status, when considering legislation.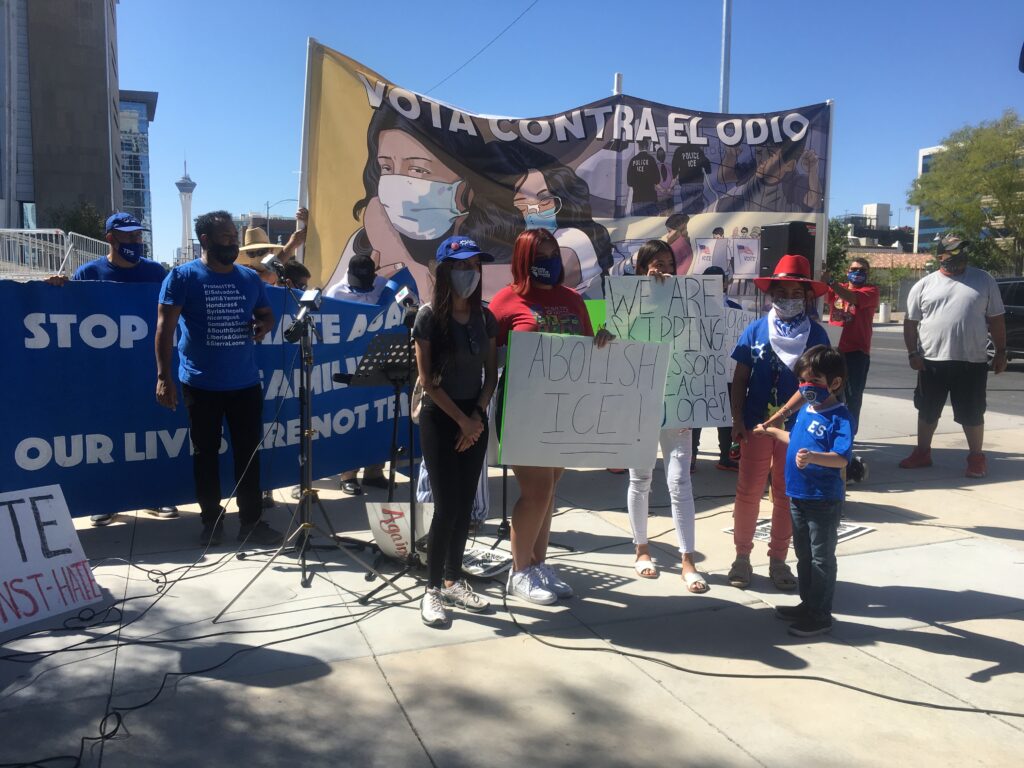 The three children spoke about watching their parents risk catching the coronavirus to continue working and supporting their family. One girl with a sign saying "We are skipping our lessons to teach you one!" emphasized the billions of dollars in taxes her father and other TPS recipients pay.
A 2019 report from the University of Southern California, the National TPS Alliance and the left-leaning Center for American Progress found that $4.6 billion in federal, state and local taxes each year come from households with at least one TPS recipient, at least one person who is TPS eligible or at least one person who is part of the similar Deferred Enforced Departure program.
"I think it's really important to understand the kind of threat that these folks face, especially at a time where this administration isn't only going after people without documents, they're willing to tear documents apart from people who have actually been paying taxes for 20 years," said Erik Villalobos, communications manager for the National TPS Alliance.
Speakers from the local TPS committee and the Arriba Las Vegas Workers Center called for all eligible voters to go to the polls in November and encouraged them to follow the messages in English and Spanish on their signs: vote "against racism" and "against hate" and vote "for those who don't divide the family."
"We really can't even get to permanent residency if we don't talk about the election, and if we don't push to making sure that the election is in favor of these families," Villalobos said.
Garcia said that her children have been watching politicians and their moves on immigration.
"Maybe I cannot vote, but my kids can do it," she said.
This story was updated at 11 a.m. on September 30, 2020 to include information from Sen. Catherine Cortez Masto's office about meeting with the National TPS Alliance .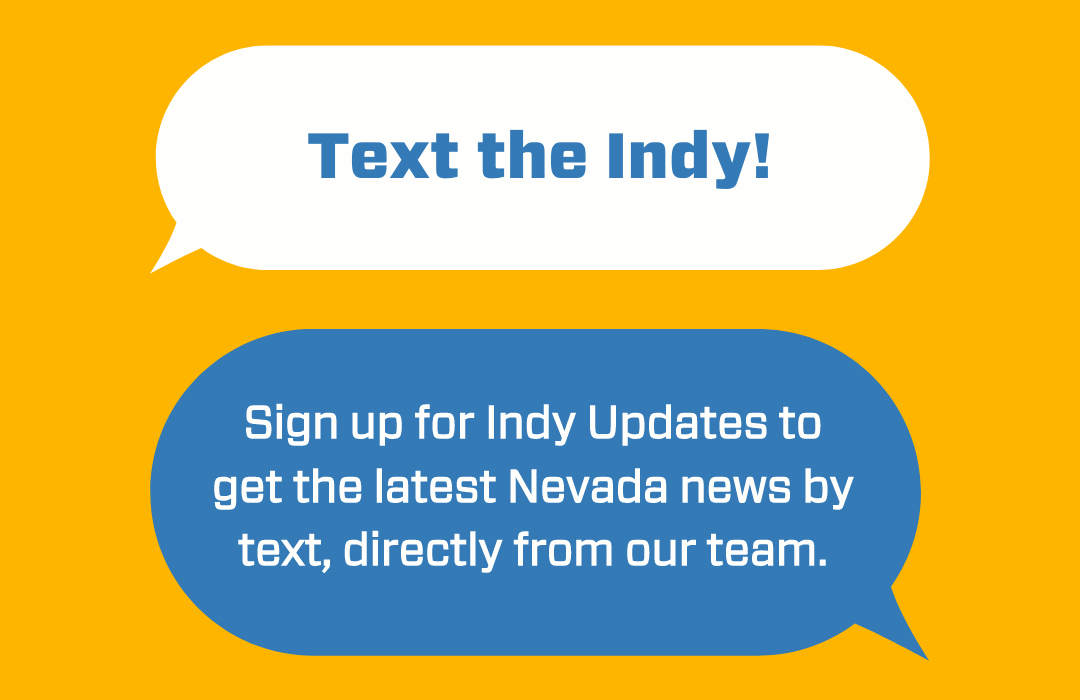 Featured Videos